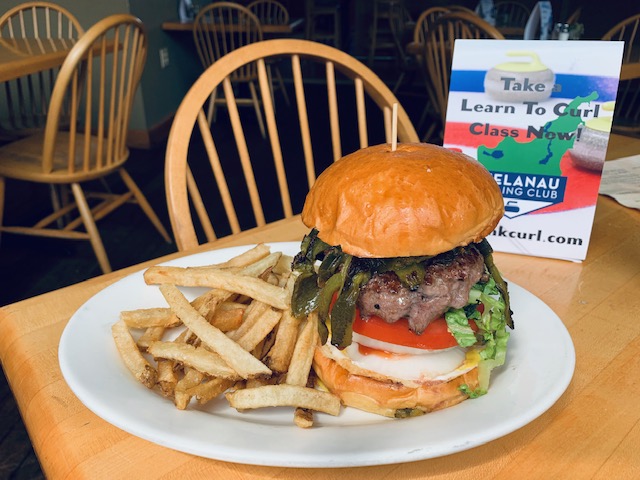 Broomstick Kitchen & Taphouse
Eat, drink, and curl inside the former Maple City schoolhouse.
Burgers, brews, bacon and brooms — curling brooms, that is — turned out to be the stuff of restaurant dreams come true for Joey Reutter of the Broomstack Kitchen & Taphouse in Maple City. Reutter co-owns Broomstack with his wife, Jen, and their friends — and now business partners — David and Theresa Gersenson. Located in the village's historic schoolhouse, this "eatery with a twist" opened to a welcoming audience this past February.

Joey Reutter took the long and winding road to becoming a restaurateur. It began in his hometown of Lancaster, California, in the Mojave Desert. "I'm a desert rat," he said, with a wide smile. The road from there eventually led him west over to University of California Santa Barbara, where he earned a BA in cultural anthropology. Then it led him south, down the coast to San Diego, where he met his future wife, Jen. And with her, the road eventually led him east and finally north to Michigan. Jen is a Detroit native who spent her summers in Leland, and when she and Joey got serious, she brought him back to her home state and up to her beloved Leelanau Peninsula for a visit — not just once, but several times. "I fell in love with the area," he said, "and I somehow knew, 'This is where we're going to end up.'"

MICHIGAN BOUND
"I've wanted to do a restaurant my whole life," said Reutter. "My next-door neighbor's family in Lancaster had a Mexican restaurant called Nico's that had very good food, and the idea of someday having my own was exciting to me. All of my first jobs were working in food service, and I had the most fun with that, so it just kind of reinforced my intentions. I talked to a lot of people about it, and they all said, 'Don't do it — it's too much work, and the failure rate is through the roof,' but the idea never really left me. I had no aspirations to be a chef, though. I like to be at the front of the house, to experience the action and the reactions from people when you put a plate with really nice food in front of them and see them enjoy their meal — that's what really makes me happy."

When Joey and Jen finally did decide to make the move to northern Michigan full-time and open a restaurant, they did it with careful planning and foresight. "We agreed that while we had stability in California, we would start our family, and if we could get here before the kids were in school, then we would be in good shape and on schedule," said Reutter. "In early 2017, we sold our business in San Diego [an aquarium design, installation, and maintenance company that they had run for 13 years], sold our house, sold our cars, and put all of our chips in Leelanau, saying, 'Let's go for it.'"

First settling in Cedar (they now live in Maple City), the couple spent their first few months getting the lay of the land and enjoying the summer with their two sons. In the fall, they started looking for jobs and ended up at the Sylvan Inn in Glen Arbor as innkeepers. During their time there, they got to know owners David and Theresa Gersenson, who eventually became their partners in the Broomstack venture.

BACK TO SCHOOL
"When we met David, he was just about to leave to go to a curling camp," said Reutter. "I told him I was looking for a winter activity, and he asked me if I wanted to go with him. I did, and it really appealed to me. I grew up bowling, so that skill set transferred over well. Today, I'm part of the Traverse City Curling Club. David and I became not just curling buddies but friends, and we started talking about different business ideas. At one point he asked me, 'What is it that you and Jen want to do?' And I said, 'We came here to open up a restaurant.' And he said, 'Well, do you know about the place in Maple City?'"

That "place" was the nearly century-old former village schoolhouse, which had housed several incarnations of restaurants and bars since was closed in the early 1960s. "We went and looked at it, and we saw that it had really good bones," said Reutter. "And though the kitchen was small, we realized that there was a lot of potential here. We also knew that we would have to make it an attraction if we wanted to make a go of it. And I said, 'I would add a curling facility,' and David said, 'Yeah, I would, too.' To do that, though, we would have to create a whole new structure. And that's really where David's passion comes in. He's a very passionate guy — to quote him, he had found what he wanted to do for the rest of his life, and that was curling on dedicated ice [see sidebar]. And he said, 'You know, let's go in on the restaurant. We'll be partners on the property, and I'll build the curling facility.' So that's what we did."

They had a clear vision of their project, too: "We all wanted the restaurant be a family-friendly, community-centered place – to cultivate an environment where people would be comfortable coming in with kids, and where anyone from near or far would feel welcome," said Reutter. "We would have 20 different beers, including a significant number of Michigan craft brews, and serve grass-fed burgers and pizza. And the adjoining curling facility would be our attraction and bring in more people."

A tall order indeed, but as planned, Broomstack (from "Broomstacking," curling slang for socializing with teammates and opponents, often over a drink, after a game) opened on February 1, 2019. "We hit the ground running," said Reutter. "We didn't announce publicly what the actual date was going to be. We just asked our friends if they wanted to be the first customers, and they all showed up. And then 15 snowmobilers came in, and then 10 more snowmobilers after that — we're at the northernmost point of one of the county's snowmobile trails. After that first wave, people continued to come in, and I said to myself, 'I think we've got something here.'"

(BROOM)STACKED
Reutter started the restaurant with a very condensed menu, and has been adding to it since, although he still wants to keep it streamlined. "We've run specials, and from the feedback we've received, some of those specials have landed on the menu," he said" The newest additions: buffalo or Asian chicken wings, chicken or beef tacos, and a cherry chicken salad sandwich.

The burgers and pizzas are the most popular things on Broomstack's menu. Among the former, made with one-third pound of grass-fed beef from Hampel Farms in Buckley, standouts include the Spartan burger (roasted and marinated poblano peppers topped with Leelanau Cheese's fromage blanc) and the Cowboy burger (bacon, house BBQ sauce, and cheddar, topped with an onion ring). All burgers are stacked — and we do mean stacked — with lettuce, a thick slice each of tomato and sweet onion, pickles, ketchup, mustard, and mayo on a house-made brioche bun.

The pizza here is Sicilian-style — made with a high-hydration dough that is aged for three days and stretched by hand before being pressed into a square pan for proofing. It's then baked off in one of the kitchen's special deck ovens, forming a thick crust, which is topped with brick cheese, house-made red sauce and other ingredients, then baked a second time. Reutter says the Animal pizza (bacon, pepperoni, soppressata and Italian sausage) and the Joey's Fav (pepperoni, bacon and jalapeño) are the top customer picks.

IN THE KITCHEN
"I guess I chose this kind of food because I really like burgers and pizza, and I know how to cook them," said Reutter. "And bacon — you've gotta have bacon." Cue the intriguing Peanut Butter & Bacon burger and the menu's only dessert, the Bacon Blondie (a peanut butter-caramel-bacon bar, served warm and topped with vanilla ice cream and chocolate sauce). "They are both crazy good," said Reutter, "and once people try them, they love them. What we serve is simple American fare, all made from scratch, with as many local ingredients as we can source. We use fresh meats and vegetables, hand-cut our potatoes for fries, and make our own pizza dough, sauces, and dressings. It takes a little longer, and it costs a bit more, but you get a better product."

Heading up the kitchen at Broomstack are Tim Griffith and Pat Robertson. "We are so lucky to have found Tim," said Reutter. "He was a tremendous help in getting this thing off the ground, putting in just as much time as I did. I definitely had an idea of what I wanted, but I needed help in executing it. Pat is an old friend of of mine from San Diego who has been a cook his whole life and was living in Marquette. So I called him and said, 'Hey, I'm in Michigan! I just opened a restaurant, and we could use some help in the kitchen — do you want to come down?' He came right away, and he has been a great asset, taking us to another level."

When they bought the property, after honing the concept and menu for the restaurant, the new owners focused their attention on cleaning and refurbishing the interior of the building, including brightening the space by opening the large bank of boarded windows at the back and improving lighting. Original floor boards were also exposed and refinished. Homage is paid to the old schoolhouse in the form of vintage photos, desks, books, globes and small framed chalkboards lining the walls. "We wanted to do the schoolhouse vibe," said Reutter, "because this building has a lot of history, and most of the of local residents have a connection to it in one form or another."

Broomstack Kitchen and Taphouse is located at 172 West Burdickville Road in Maple City. Serving lunch and dinner 11am to 10pm Sunday through Thursday, and 11am to midnight Friday and Saturday. (231) 228-8869, www.eatdrinkcurl.com, or search "eatdrinkcurl" on Facebook or Instagram.

THE SHEET AND THE STONE
Curling may be the next big thing, sports-wise, in our neck of the woods. Broomstack Kitchen & Taproom already has formed The Leelanau Curling Club, where curling classes, leagues, and events for groups ranging from kids to seniors are offered year-round. As a dedicated facility, the sheet(surface of the ice) at the club is used only by curlers — not shared with skaters or hockey players, as at a regular ice arena — to ensure a consistent playing surface for the curling stone (or rock) when it is thrownby a player from one end of the sheet and guided by a second player with a broom(or brush) on its way to the house (the target where points are scored) at the other end.
Trending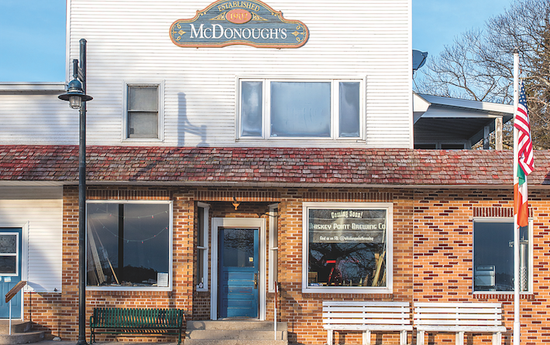 Welcome to Michigan's Most Remote Brewery
After years of planning and honing his beer-making skills, this spring, Patrick McGinnity plans to open Beaver Island&rsqu...
Read More >>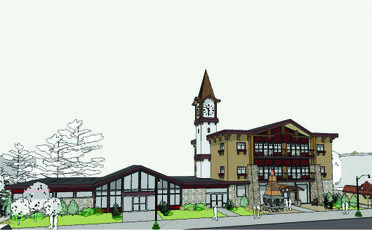 Gaylord: A boomtown Up North
Gaylord native Gary Scott had moved to Indiana, where he and some partners started a business to invest in distressed prop...
Read More >>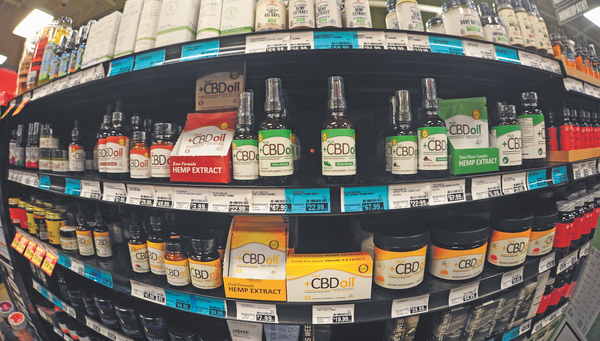 CBD Laws: Dazed and Confused
The sign outside of Family Video in Kalkaska lets drivers know the store has more than just movies. The sign reads: &...
Read More >>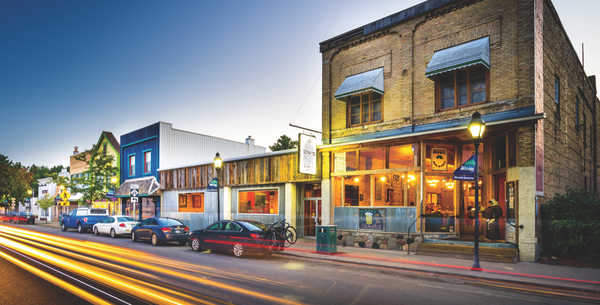 Small Up North Towns on the Rise
Spotlight on Bellaire (pictured)Seems Traverse City isn't the only place in the region making those "Best...
Read More >>
↑