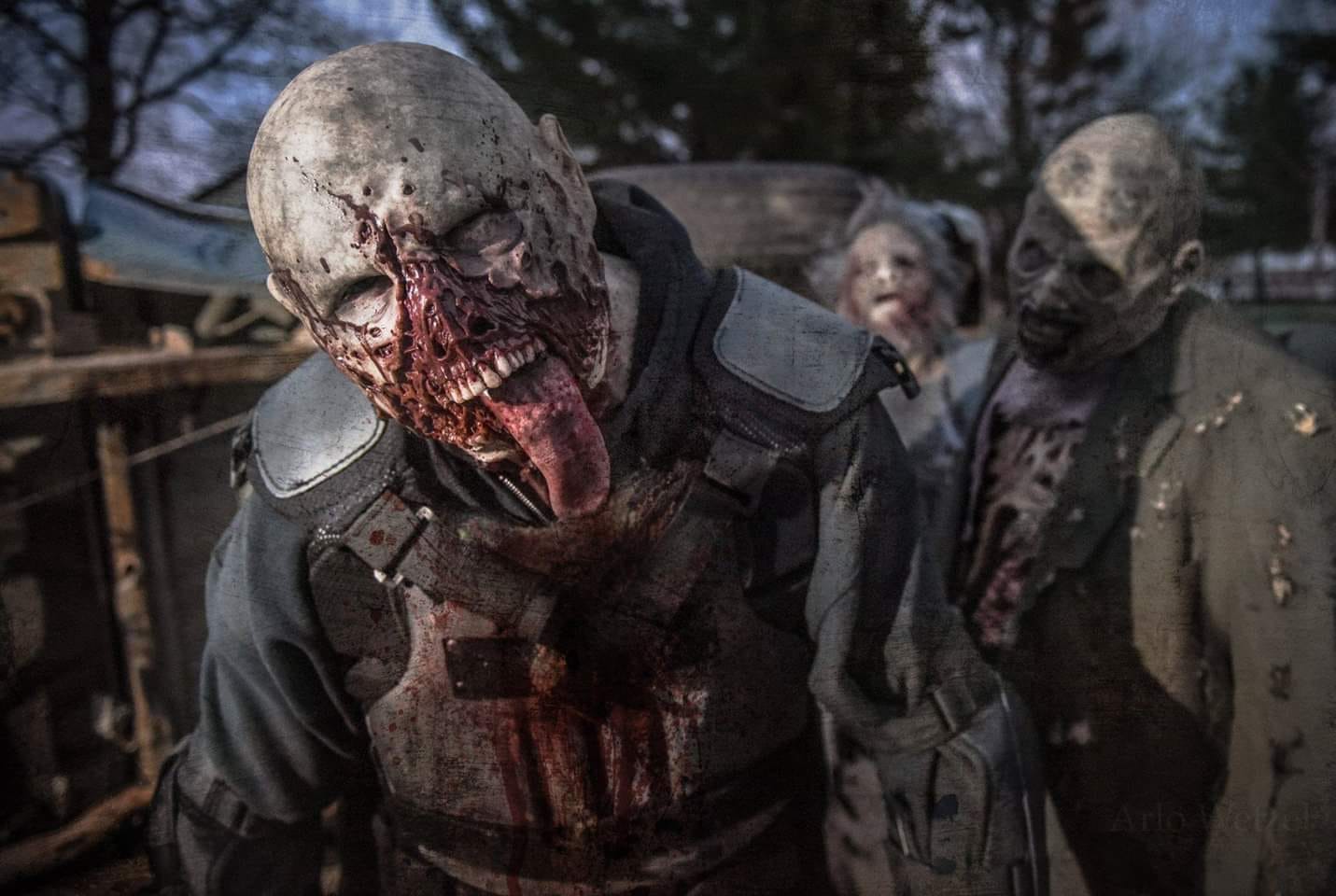 13 Ways to Get Your Halloween On
Go wicked — or wonderful.
Which do you prefer: trick or treat? Whether you're seeking scream-worthy scares or hoping more for candy, laughs, and family friendly fun, northern Michigan has the Halloween event for you. Consider Northern Express your guide to the best Halloween parties, haunted houses, ghost hikes, and other All Hallows Eve attractions in the area. Here, a list of 13 must-do Halloween events, some sweet … some spooooky.
THE FAN FAVORITE
Screams in the Dark (pictured above), Traverse City
If you're looking for a truly terrifying Halloween experience this year, you can't miss Screams in the Dark Haunted Attraction. Hosted each October at the Northwestern Michigan Fairgrounds in Traverse City, Screams in the Dark is frequently recognized as not only one of the top Halloween attractions in northern Michigan but also one of the finest in the entire state. For the past two years, Screams in the Dark has topped TheScareFactor.com's fan-voted list of Top Must-See Haunts in Michigan. Not surprisingly, the event is growing some serious teeth: Screams in the Dark recently bought 30 acres of land and aims to establish a permanent location by 2022.

A big part of the appeal here — and the reason for the high rankings — is the value. Rather than packing its screams and scares into a single haunted house, Screams in the Dark builds its own world and populates it with multiple attractions. Trudge through the zombie-ridden Swamp of Suffering, explore the shadowy halls of Dreadmoore Manor, or put your fear of clowns to the test at Pandemonium. Each Screams in the Dark attraction is more terrifying than the one before it, with well-planned scares throughout and some of the most realistic (read: disturbing) costume and makeup work of any haunted event in Michigan.

Just be sure to heed the warnings on the Screams in the Dark website: Most of the attractions "may be too intense for younger guests." That doesn't mean the little kids can't go with the big kids; in addition to the terrifying Swamp of Suffering, Dreadmoore Manor, and Pandemonium, Screams in the Dark also offers a more family friendly (albeit, still creepy) Haunted Hayride & Haunted Trail. Pricing for just the hayride and trail is $7 per person, while tickets for the entire park are $17 per person ($12 for attendees 11 and under). The attraction runs Fridays, Saturdays, and Sundays in October up to Halloween. Friday and Saturday hours are 7pm–11pm; Sundays are 7pm–10pm. Tickets can be purchased at the gate.

THE NOT-SO-SCARY SEVEN
Owl Prowl, Bellaire
If you're interested in some after-dark wanderings but not so into the terrifying sights and sounds of midnight monsters and zombies, try an Owl Prowl at Grass River Natural Area in Bellaire. Hosted Friday and Saturday evenings through the end of October, this 1.5 hour event gives attendees a chance to learn about (and hopefully get a glimpse of) some of the owl species that call northern Michigan home. The Owl Prowl starts with an indoor presentation covering facts about and the conservation of owls, then transitions to an atmospheric nighttime hike through the wooded trails of the Grass River Natural Area. Bring a flashlight, comfortable hiking shoes, and clothing appropriate for a crisp, chilly fall night. Tickets, $5 per person, can be purchased online at www.grassriver.org, or over the phone at 231-533-8314.

Haunted Lighthouse, Northport
Situated at the very tip of Leelanau Peninsula a little over eight miles north of Northport, the famed Grand Traverse Lighthouse is one of the oldest — it was first constructed 1852 — and largest lighthouses in all of Michigan. It is also, according to legend, haunted. The ghost of Captain Peter Nelson, who served as lighthouse keeper from 1874 to 1890 – and who died two years later — is believed to reside there still. Over the years, visitors and volunteers have reported hearing disembodied voices in the lighthouse and mysterious footsteps echoing on the hardwood floors. You can judge for yourself whether you believe in the legend: Each day from Oct. 19 until Oct. 27, the Grand Traverse Lighthouse Museum will open its doors from 10am to 4pm for haunted lighthouse tours. It's spooky but not scary —think pretend spiders and web décor; not spirits shrieking from the other side — making it an ideal family activity for this time of year.

Halloween Hoopla, Boyne
Speaking of family friendly, folks looking to celebrate the season should haul their candy-loving kids to Boyne Mountain Resort the weekend of Oct. 25–26. That's the mountain's "Halloween Hoopla," a two-day extravaganza featuring a costume parade, free wagon rides, a bonfire with complimentary s'mores, haunted chairlift rides, a haunted house, pumpkin bowling, family Halloween movies, trick-or-treating, and much, much more. The fun culminates for kids with the Waterpark After Dark Glow Night inside the resort's Avalanche Bay indoor waterpark. But there's plenty of fun for grown-ups, too, including a costume pub crawl and a costume contest. Many of the events are free and open to anyone, while others are only for guests staying at the resort. Check out the full weekend itinerary at www.avalanchebay.com/upcoming-events/halloween-hoopla.

Hayo-Went-Ha's Halloween Bash, Central Lake
Got a mixed bag of fright-seekers and scaredy cats? On Oct. 26, the YMCA-affiliated Camp Hayo-Went-Ha brings the best of both sides of Halloween with a two-part bash — a jam-packed day of fun and a night of thrills. It kicks off with the Family Fall Festival (1pm–5pm), featuring ziplining, archery, fall-themed arts and crafts, a 50-foot climbing wall, hayrides, face painting, a scavenger hunt, and what the Hayo-Went-Ha staff have dubbed a "Hallo"weiner Lunch. Tickets are $6 per person or $20 for groups of four. When dusk falls, the Torch Lake Trail of Terror opens, skewing the celebration into scary territory "not recommended for younger participants." If your crew is game for both the fun daytime activities and the after-dark adventure, you can get more bang for your buck: Ticket prices for the Trail of Terror are the same as for the Family Fall Festival, but festival attendees can get on the trail for free.

Howl-O-Ween Costume Parade and Yappy Hour, Traverse City
What's better than seeing a bunch of dogs in Halloween costumes? Nothing. Absolutely nothing. The third annual Howl-O-Ween Costume Parade Yappy Hour — hosted by Real Estate One and Woofers on the Run — is your chance to see pups dressed to impress (or, let's be honest, amuse). Better yet, turn your pooch into a hot dog or a pumpkin and join in the fun. Added incentive: The event, which starts at 6pm Tuesday, Oct. 29 at Real Estate One, 511 E. Front St., offers a photo booth for use by costumed, leashed dogs (and their humans). The parade takes off at 6:30pm, winding through parts of downtown Traverse City before concluding at The Little Fleet for a well-deserved "Yappy Hour." Best of all, the entire event is intended as a benefit for the Cherryland Humane Society. Dog owners wishing to participate are asked to make a minimum $10 donation to Cherryland; Real Estate One will match 50 percent of all donations. Costumes for dogs aren't required, either, so you can participate even if your pup isn't jazzed about being crammed inside a foam hot dog bun. On-site registration only.

Zombie Prom, Manton
If you're still feeling the Halloween spirit even after Oct. 31 has come and gone, consider Zombie Prom 2019 your last chance to celebrate. Hosted at Manton Pines RV & Campground Resort by stellarMIproductions, Zombie Prom is a Halloween-themed music festival that lasts all day Saturday, Nov. 2. Arrive at 11am for a costume contest, games, concessions, and hayrides. Music starts at 2pm and runs until midnight, with the live band lineup including the likes of Barbossa Brothers (Michigan-bred bayou folk), the Darrell Roger Band, Fangs and Twang (twangy monster country out of Ypsilanti), and the Neighborhood Dogs (cow punk, rockabilly, experimental and doom surf rock). Rock radio station Q100 will broadcast live from the event between 2pm and 4pm and will have a "Spin to Win Prize Wheel" set up for attendees. Tickets are $15 in advance, $20 at the door. Kids 12 and under get in free with a ticketed adult. Advance tickets are available online at www.mynorthtickets.com.

Halloween Classics at the State Theatre, Traverse City
It's not Halloween until you've watched at least one of your favorite Halloween flicks. Traverse City's State Theatre has you covered this year, with special screenings planned for a few late-October staples. First, on Friday, Oct. 25, catch a "Friday Night Flicks" presentation of The Rocky Horror Picture Show. The 11pm showing is planned as an "interactive event" this year, with "boisterous singing along," pre-show entertainment, and a $10 ticket price that includes a prop bag. Next, on Sunday, Oct. 27, swing by at 6pm for the "Sanderson Sister Soiree" — an $8 holiday special screening of the film Hocus Pocus, complete with prizes, party favors, and the State Theatre's "own special brew." Finally, spend Halloween evening watching Michael Keaton ham it up in Tim Burton's Beetlejuice. The State's $5, 8pm screening will feature a costume contest with prizes. Tickets for all three events are available at the State Theatre box office or online at www.stateandbijou.org.

THE FRIGHTENING FIVE
Ghost Hunting, Kingsley & Traverse City
Do you believe in ghosts? You will after this ghost hunting tour let by folks from the Ghost Farm of Kingsley. You'll be armed with genuine ghost-hunting equipment ("as seen on TV," the Ghost Farm promises) and guided by experienced ghost hunters at your choice of two locations. The first: at the heavily wooded Ghost Farm property in Kingsley (a three-hour tour, available each Wednesday night leading up to Halloween), which legend says is haunted by three ghosts, two being "The Colonel" and "The Dark Lady." The second: the gothic grounds of the old Northern Michigan Asylum, which is today the site of The Village at Grand Traverse Commons … and many still-abandoned old State Hospital buildings. It's a pretty chilling place for a nighttime hike under any circumstances, but one made even more atmospheric by the company of a true ghost hunter. The ghosts hunts at the former asylum will happen nightly now until October 27. Both events start at 8pm and cost $40 per person. You can book your spot for either tour at fareharbor.com/embeds/book/hauntedtraversetours.

Ghostship Haunted House, Manistee
At any time of year, the S.S. City of Milwaukee in Manistee is one of the coolest ships in Michigan. Dating back to the 1920s, it is the lone surviving vessel out of a series of six sister ships built by the Manitowoc Shipbuilding Company in Wisconsin. Exploring the boat makes for a neat tour any day, but it's especially exciting in October, when the S.S. City of Milwaukee transforms into a Ghostship Haunted House for four weekends in a row. All five decks of the vessel are stacked with scares, surprises, gory monsters, and un-dead clowns. Limited visibility, steep staircases, and strobe flashes combine with the setting of the old ship to make this event the stuff of nightmares — well before you encounter any actors, props, or terror scenes, of which there are many. The Ghostship is open 7:30pm–10:30pm every Friday and Saturday throughout October. Tickets are $10 each and available at the door. If attending with a group of 15 people or more, you can save $1 per person.

Right Brain Brewery Zombie Run, Traverse City
It's up to you on whether to file this one under "scary" or not. On the one hand, it takes place in broad daylight, at 9am on Saturday, Oct. 26. On the other hand, most participants take the name of the event to heart and do their best to look like terrors straight out of The Walking Dead. Either way, it's one of the most unique and fun races that northern Michigan has to offer. Celebrating its 11th anniversary this year, the Traverse City Zombie Run is a Halloween tradition that mixes three of the best things in the world: a refreshing morning run, wild Halloween costumes, and beer. The race starts and finishes at Right Brain Brewery, leaving plenty of time after (and maybe even before?) to enjoy a pint. As the organizers of the Zombie Run say: "Who says you can't drink before noon? Besides, you're dead anyway." Registration is $35 for adults and $25 for students 17 and under. Go to www.tczombierun.com/registration to learn more.

Murder at the Speakeasy, Traverse City
What do you get when you combine the gangsters and flappers of the Prohibition era, the dynamics of the board game Clue, and the charms of Traverse City's most mysterious underground establishment? You'll have to buy a ticket to find out. From 5pm–8pm Monday, Oct. 28, 123 Speakeasy in downtown Traverse City will host a murder mystery party. Every person who buys a ticket will receive a character assignment with notes on their background and temperament, as well as a few costume suggestions. Costumes aren't required, but playing into the Roaring Twenties theme will surely make the party more fun. Guests can purchase "Suspect Packages" if they'd like to be on the list of potential killers, and one guest will end up being the murder victim (but will still be able to help solve their own murder, as a ghost, naturally). Your goal is to solve the crime before anyone else can, but you'll also enjoy dinner, dessert, and drinks along the way, with everything (including tax and tip) included in the $100-per-person ticket price. The "Suspect Package" is an extra $20. Tickets can be purchased here.

Zip of Terror, Boyne
Ziplining is thrilling during daylight. But do it in the darkness of a late fall evening over a ski hill populated by terrifying creatures, and you'll have the Zip of Terror, one of northern Michigan's most innovative and enjoyable new Halloween traditions. On Oct. 25 and 26, from 7–11pm, Boyne Mountain Resort will host zipline adventure tours through its darkened property. The journey starts with a chairlift ride up the ski mountain. The journey back down is fraught with haunted scenes, heart-thumping scares, and plenty of horror-film gore. Boyne will provide helmets and glowsticks; you bring your guts. Zipline tours, $69 per person, leave every half hour. Tickets must be purchased in advance on the Boyne Mountain website, and Boyne advises attendees to register sooner rather than later, in order to avoid sellouts. Go here to reserve your tour.
Trending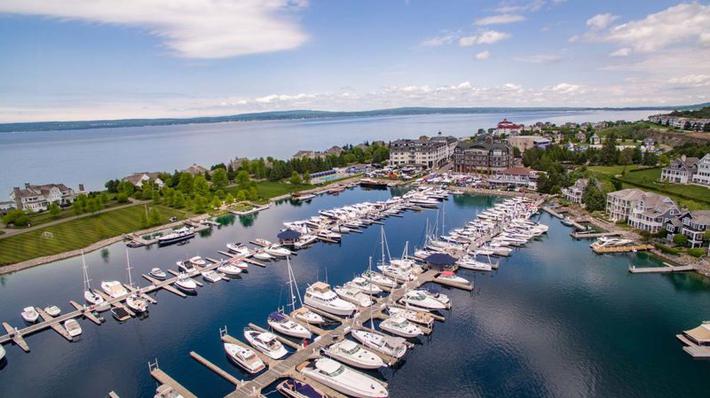 We Like Big Boats, and We Cannot Lie
Since buying your own yacht isn't likely this year due to supply and demand issues, what's the harm in dreamin...
Read More >>
Ending the Filibuster
The filibuster, much in the news lately, has an interesting if not usually glorious history. From the French word...
Read More >>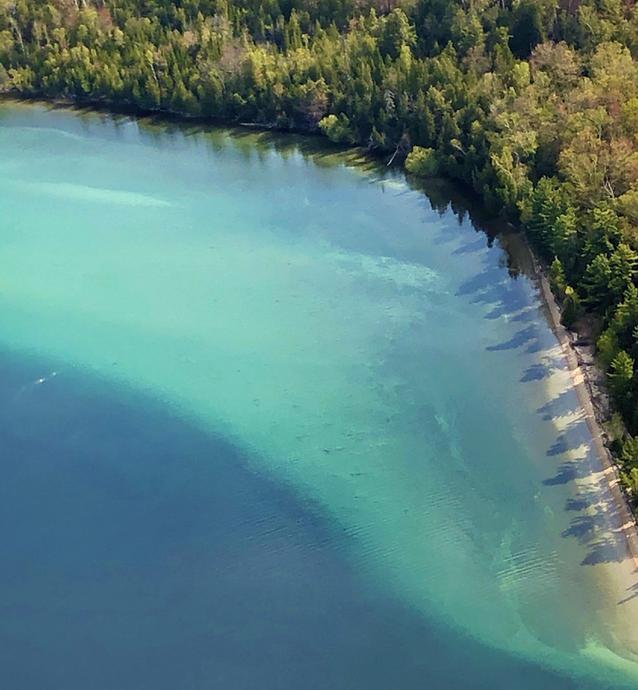 Torch Lake Takeover
You don't need to live on the shores of Torch Lake to know how breathtakingly gorgeous it is. A massive inland lake ...
Read More >>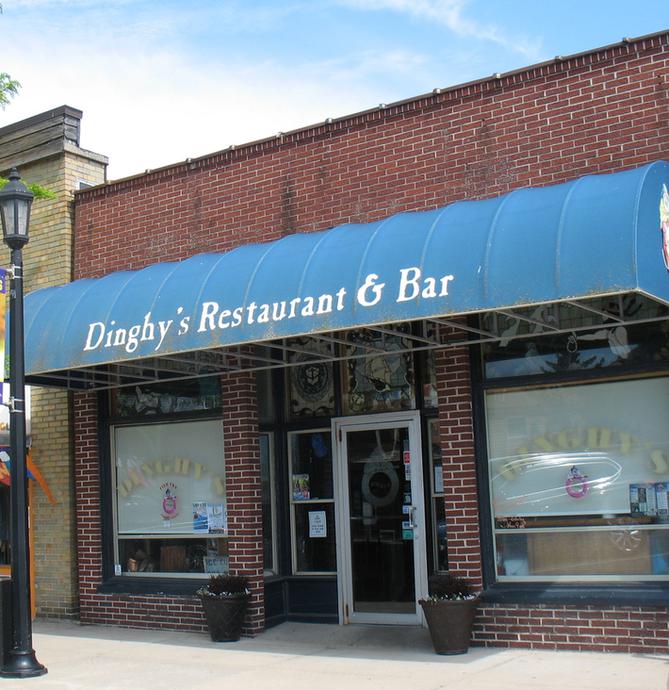 Dinghy's Restaurant & Bar
Kelly Sandman chuckles at a customer's joke, runs a cloth across a section of the 33-foot-bar, then greets a famishe...
Read More >>
↑