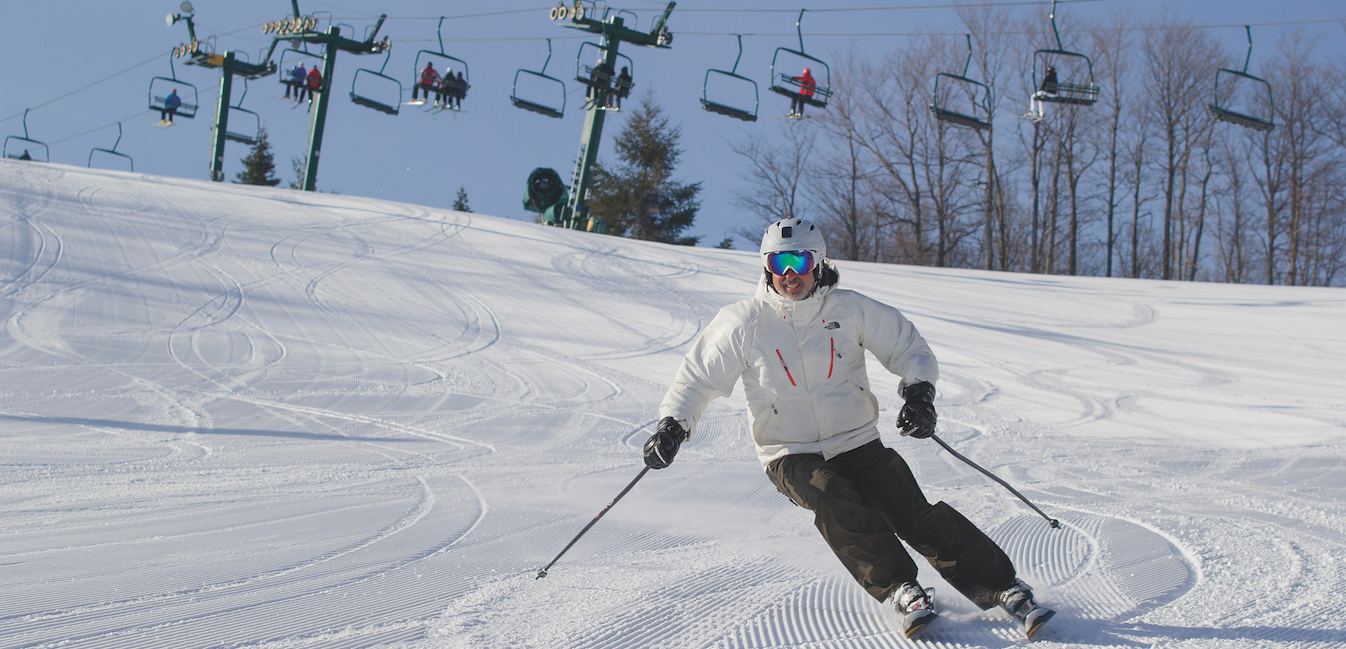 2018 Ski Report
Start shredding.
The early blast of winter gave heart to winter enthusiasts across the region. With cool ocean temperatures in the Pacific, indications are that this will be a La Nina year, with more storms in the Midwest and Great Lakes; Accuweather suggests the Great Lakes region will have cold temperatures and above-average snowfall totals.
That's music to the ears at the region's ski hills and resorts. From Harbor Springs to Gaylord, Glen Arbor to Traverse City, skiers, snowboarders and snowshoers have much to look forward to. Here's a summary of what is new and/or exciting at the region's winter hotest — err, cold spots.
Otsego Club, Gaylord
The big news here is that for the first time ever, the slopes will be open to anyone. While the golf course has been public, its storied ski club remained private until this year. Mike Bedells, the general manager, said the dwindling numbers of members made it impractical to continue down the same path.
"One thousand members can't support the resort," he said — particularly when there is a total of some 200,000 skiers in Michigan. "Now is the time to follow the trends."
So the resort is advertising on radio and TV, putting up billboards on I-75 and using social media to spread the word. Bedells said the goal is to let both those coming up from downstate and those from nearby know about the new policy. "We're an hour closer [than other resorts] to metro Detroit, and now locally people can use the club too. There are a lot of local people who have wanted to ski here," he said.
The Otsego Club continues to enhance its snow as well, with 25 new guns and new groomers. It will even offer groomer rides for kids to the river cabin. Asked if such rides would only be open to youngsters or whether adults might be able to get a ride, Bedells replied, "Anybody skiing is a kid at heart."
Nub's Nob, Harbor Springs
Let it snow? More like make it snow. Like many other resorts, Nub's has invested in more snowmaking equipment, with 10 new guns, a new 250 horspower snowmaking pump, and upgraded piping and distribution changes. Now in its 60th season, Nub's also has a new Pisten Bully Groomer, its second in two years. General Manager Ben Doornbos said the investment of time and money in our snowmaking system will benefit all of those using the slopes.
"We added about a mile of larger diameter piping to get more pressure to the top of the slopes. The guns up top were not performing as well, now with better pressure we make more (snow) faster," he said.
Keeping up the appearance extends to other areas besides snow. The Purple and Red chairlift received a fresh coat of paint, and the rental building was also recarpeted. Doornbos said there's eye candy indoors as well.

"There's more art around the lodge. There's a 25-foot long art installation of 60 years of Nub's Nob," Doornbos said. There's also a large mural courtesy of artist Mary Bea McWatters.
Doornbos said the resort does a ton of business in rentals, and with that in mind Nub's invested in 1,000 new pairs of Nordic ski boots. Spending a day in an uncomfortable pair of boots isn't good business. "We take time to measure their feet. You'd be amazed at the technology and the fit," said Doornbos.
Shanty Creek Resorts, Bellaire
Shanty Creek wants to keep the snow coming and make sure it's where it will benefit customers the most. So the resort has added a handful of new snow guns with new pumps and enhanced plumbing, according to Chris Hale, vice president of sales and marketing at the resort. Also new is a Prinoth Snowcat groomer. Hale said the improvements will be felt across the 80 acres of skiable terrain the resort offers.
That includes areas previously unavailable, or at least off-limits. "Sally's Alley is an area we previously called out of bounds," Hale said. That didn't stop some skiers, so this year the area will now be open and accessible. "People poached it, so we thought to make it safe and give people what they wanted."
There will also be events to celebrate a special birthday: Schuss Mountain turns 50 years old this year. "We'll do things throughout the year" to celebrate, said Hale. Among the events will be the Tanenbaum Blitzen, taking place Dec. 23 at Ivan's, the restaurant at Schuss. It will include a torchlight parade, a high school choir leading carols, a tree-lighting ceremony, even a visit from Santa. There will also be a display highlighting the ski area's past, "a nostalgia tour" according to Hale, with vintage ads, rack cards, etc. The resort will also be giving away a pair of skis from Shaggy's.
It will also host the King of the Hill, a Nordic race circumnavigating Schuss Mountain. The King of the Hill trail will be open to the public all season, as will the 5K dedicated trail for fat biking and snowshoeing.
Boyne Mountain, Boyne Falls/Boyne Highlands, Harbor Springs
More snow and more powder equals more skiers and snowboarders — and more fun. The Boyne twins are enhancing their proprietary Low-E fan guns with new nozzles they tout as the most energy-efficient marginal temperature snowmaking system in the world. Erin Ernst, Boyne's communication director, says they cut energy usage by over five percent. "We help Mother Nature out," said Ernst. "It expands the terrain and gets more slopes open.
"We rolled out this snow-making technology in 2015/16, one at Boyne Highlands and one at Boyne Mountain. Now these nozzles are on all our 460 snowguns." Ernst said making snow is particularly important in the early part of the year: "They're crucial to getting our season started."
Boyne Mountain also has a new PistenBully 400 Park Pro, the better to groom the hills. Also new are lights in the Ramshead Park, while eight lift houses have received an Alpine motif makeover and the tubing park has a new lane, bringing the total to five.
For those who like to be outdoors but may prefer a little less work, six new electric fat-tire bikes give them that option. Effortlessly traverse most any terrain on the resort's five kilometers of trails. Of course, if you prefer pedal power, the resort has human-powered fat tire bikes available as well.
At Boyne Highlands, the newness includes culinary and beverage options. The cafeteria will offer cinnamon rolls, donuts and cookies, while Southern favorites and the Ramen Station will also be new. Sunday brunch at the Country Club of Boyne will welcome those who want to start their Sunday in a more leisurely manner.
The Homestead, Glen Arbor
At the Homestead, the first thing people will notice this year is what's there, and what's not there. The building housing Camp Tamarack has been moved, lock, stock, floors and doors. "It hasn't been used for child care for over a year, and we wanted to put it to good use," said Tom Bartholomew, the senior manager of outdoor recreation at the Homestead.
It will be revamped as a rental space; the resort is working with an architectural design firm to determine how to best renovate it in what could be called Phase 2 of the move. Actually, that's really Phase 2.5; Phase 2 will utilize the space where it was, which Bartholomew said will be a combination of outdoor food and beverage and recreation options.
Other spaces that will be reopened this winter are the resort's famed restaurant, Nonna's, which was closed this summer, and its downstairs companion, Beppi's pizzeria, which has been closed for a couple years. Bartholomew said the menus at both will be revamped and expanded.
On the slopes themselves, visitors will notice new uniforms for the instructors, equipped with what Bartholomew called all the bells and whistles. One thing they may not notice is that many of the holes and divots on the hills have been filled with earth, which means the resort will not have to resort to filling them with more snow than the surrounding vicinity. That gives the resort more snow to spread elsewhere. "That means a shorter time from when we make snow to when we open. To fill those with snow took a long time," said Bartholomew.
Crystal Mountain, Thompsonville
The Benzie County resort began an extensive renovation two years ago, and it is now with the opening of the new lodge it is finished. It features 25 rooms, the Mountain Market, lobby bar and rooftop bar. Brian Lawson, the resort's public relations director, said the lattermost will be open to host revelers on New Year's Eve, with a view of the torchlight downhill parade.
Lawson said the resort has also made some changes to its outdoors as well. They include opening up Tuck's Trail and switching up the terrain park. The resort also swapped out its rental fleet of skis and is now using all Burton snowboards.
Last and maybe least — but maybe not — is the fact that a Waffle Cabin is now open next to Crystal's ski school. The franchise produces what Lawson calls "phenomenal waffles" with a host of toppings. Keeping with the winter theme, the only other franchise in Michigan is at Boyne Mountain.
Caberfae Peaks, Cadillac
The early snow meant good news at Caberfae, where GM Pete Meyer said the low temperatures have already enabled the resort to add to Mother Nature's bounty. That's due in part to its upgraded snow-making equipment. "We've added a lot more firepower, both guns and water supply," Meyer said.
The other changes will be apparent to the eyes as soon as patrons near the facility, as both the roads and the exterior of the hotel have received makeovers. "We changed a lot on the interior last year, this year we did the balconies and added extra trusses," said Meyer. The result is a look that fits nicely into the high-end northwoods feel so many resorts favor. "It's a really nice upgrade to the lodge."
He also noted the cooperative effort between Caberfae Peaks, Haring Township and the Wexford County Road Commission, which has resulted in a smooth, widened roadway. "It was really broken down, not great going through the potholes," said Meyer.
And though it opened last year, Meyer said the triple chair lift provides great service to skiers and snowboarders. "It was very well received, and cleaned up a lot of congestion," he said.
Mt. Holiday, Traverse City
Traverse City's "hometown" slopes will also be home to more snowfall this year. "We're very excited for the season. We did fundraising to purchase snow guns," said Ann Pettyjohn, the facility's director. And with new snow comes a new snow groomer.
"We're excited to expand the terrain park and offer new features," she said, such as new rails, a new lift and expanding the tubing hill.
Pettyjohn sees the week between Christmas and New Year's as even more important to Mt. Holiday than to the other ski areas. "It's especially critical for small places like us. You see young people on the hill with their new presents."

The communal aspect is something she and the staff enjoy. "What drew me here is the sense of community, kids and families," she said, noting it's not uncommon for people who used to ski at Mt. Holiday to now see their grandchildren schussing down the slopes. "We're here in the middle of a neighborhood. You see the same families in the restaurant. Because we're small, you find a misplaced jacket, and you know who it belongs to."
Trending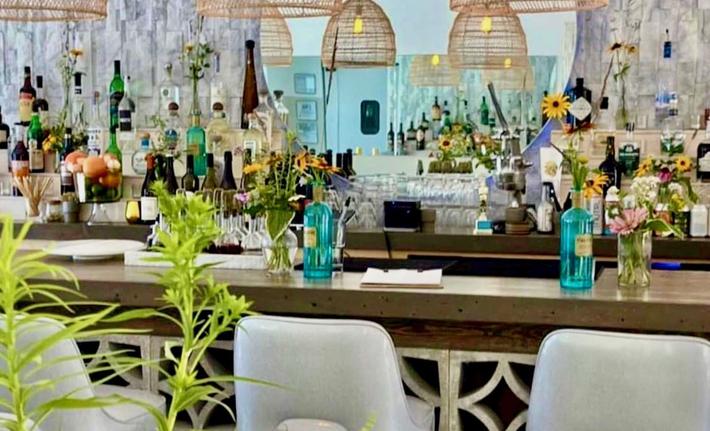 Your Fall Restaurant Guide: Six Spots to Stop for a Bite in Northern Michigan
The weather may be cooling down, but the culinary scene in northern Michigan is heating up. This summer, we explored six n...
Read More >>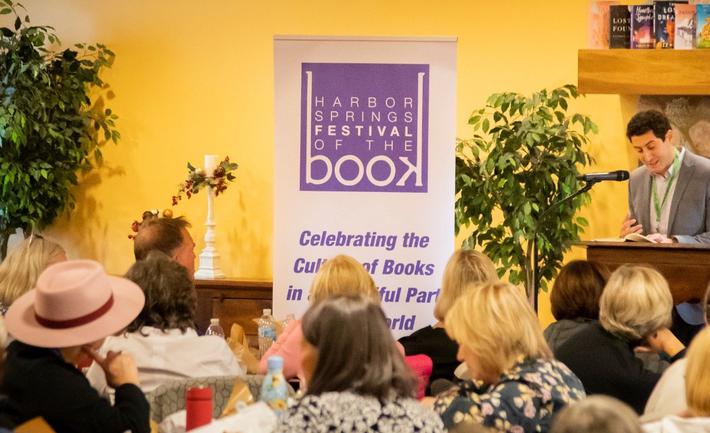 A Weekend of Books
It's a bookish weekend in Petoskey, Bay Harbor, and Harbor Springs! (Be still, our literary hearts!) First up is the...
Read More >>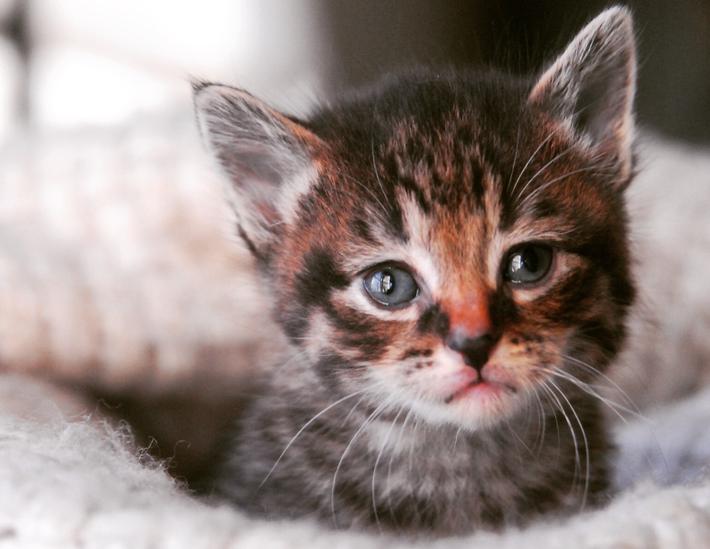 Make Your Pet Famous!
Every fall, Northern Express puts together our Pets Issue, which features stories about our beloved furry friends. As part...
Read More >>

Transformation on the Trail
It's no secret that the Boardman Lake Loop Trail in Traverse City is a popular spot for a stroll. And after a summer...
Read More >>