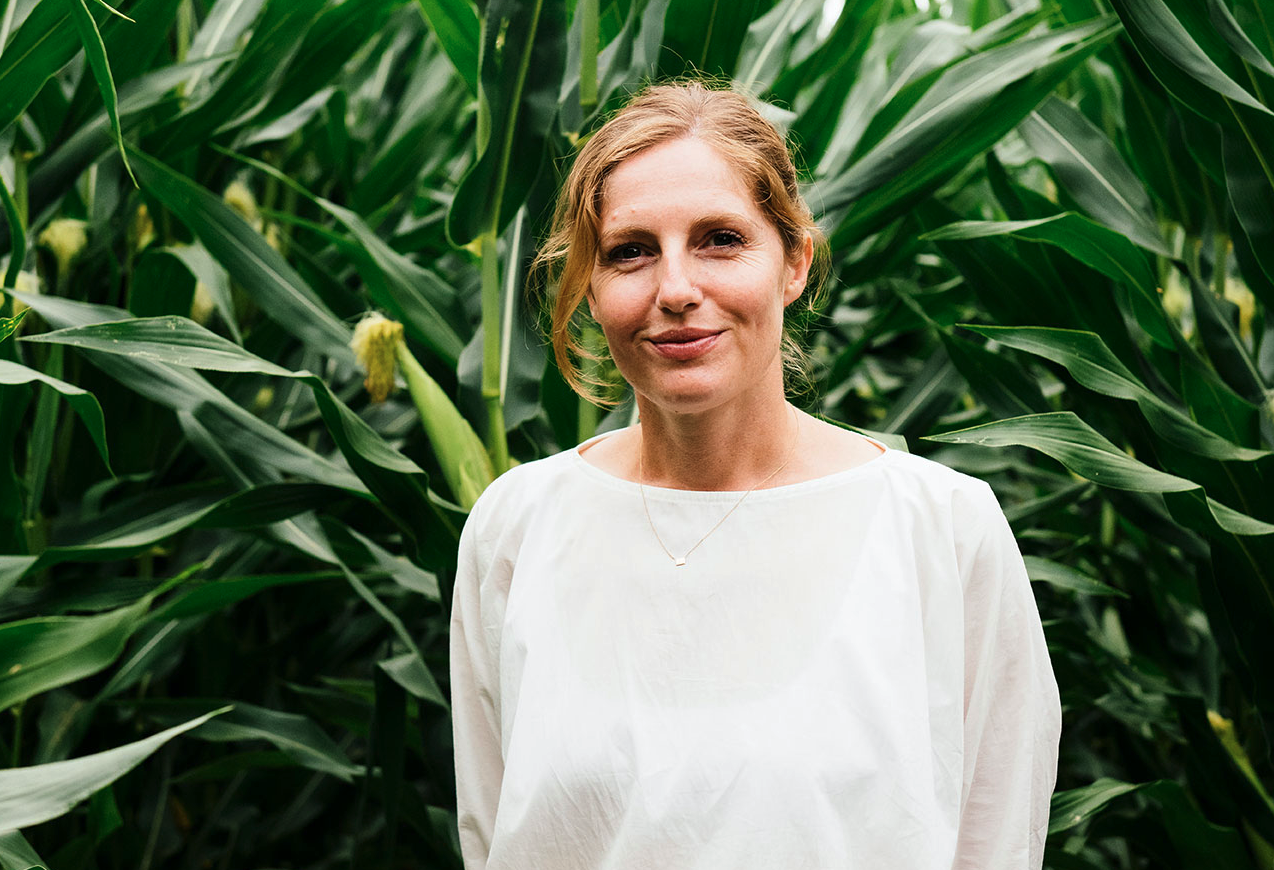 Fascinating People
Meet the 20 Northerners of 2021
Abra Berens
The Bestseller
Abra Berens (pictured above) grew up on a farm south of Holland and began cooking at Zingerman's Deli while attending the University of Michigan. Then it was off to cooking school in Ireland; back in the states, she spent eight years at Bare Knuckle Farm in Northport. She credits those two stops with helping her focus on cooking from the land. Berens turned to cooking at Local Foods in Chicago before taking on a similar role at Granor Farm in Three Oaks, where she remains, though this past summer she helped out cooking at Farm Club in Leelanau County. Oh, and she wrote a best-selling cookbook, "Ruffage, A Practical Guide To Vegetables," which garnered accolades from The New York Times and Bon Appetit and a James Beard Award nomination. Berens just finished curating an online cooking course through Leelanau County libraries, and she has two new cookbooks coming, one this fall on grains and legumes. She and her husband are eyeing a return to the northland. "Getting back is our goal, finding a house or land," Berens said.

Gus Schmidt
The Last of the Greatest
He's one of an estimated 300,000 WWII veterans still alive, and Bronze Star recipient Gus Schmidt celebrated his 97th birthday last week at a small gathering in Charlevoix hosted by his son Chuck. Schmidt served in the U.S. Army in Europe, including the Battle of the Bulge, and received a proclamation acknowledging his service signed by Gov. Gretchen Whitmer, Lieutenant Gov. Carlin Gilchrist, Sen. Wayne Schmidt and Rep. Ken Borton. Son Steve, who lives in California, and daughter Claudia, the well-known singer who now lives in Connecticut, were unable to attend, though Claudia had visited him the week before. She said the lifelong Michigan resident didn't speak much about his time in the service until he attended a gathering where he reconnected with his fellow soldiers from the Lightning Brigade, and the stories began to flow. She's always admired his open-mindedness, calmness and caring; he volunteered at a homeless shelter and delivered for Meals on Wheels well into his '90s. "He's very inspiring," she said. Asked what his rank was, Claudia responded, "He's my dad. That's the most important thing."
Ean Guenthardt
The Dragster
Most 13-year-olds dream of someday driving their own car. Ean Guenthardt has no need for such dreams — he's already going 85 miles per hour in his. Fortunately, that's not on public roads; it's on the racetrack. The Manistee teen has been interested in racing for years, but it really came to the fore when he won a raffle sponsored by the Discovery TV show Street Outlaws. "I got paired with Barry Nicholson in Oklahoma," said Guenthardt.

He and his dad, Tim — a former sprint car racer himself — got to work, and then Ean Guenthardt got into serious drag racing. So serious that they started, along with dad's firefighting and shrink-wrapping jobs, a furniture refinishing and construction business to help pay for his racing. ("Ean works, too," said Tim.) The two travel across the Midwest, though the pandemic scuttled much of last year's planned racing season. Fans can follow along on the Guenthardt Racing Facebook page.
Mark Fisher
The Rethinker
Realtor Mark Fisher has lived on Lime Lake for 45 years. "When Betsy and I moved here, there were two ski boats on the lake. Over the years that's changed," he said. So has he. He spent years trying to get approval from the DEQ so he could build on seven acres of shoreline before scrapping the plans and working with other lakeshore owners to preserve it. "Just because you're in real estate doesn't mean you aren't a good person," he said. "We're here to make a living but … as you get older, you get a little more sensible."
A member of the Lime Lake Association and the Good Harbor Bay Watershed planning committee, he worked with the Leelanau Conservancy and neighboring landowners to create Lime Lake Preserve, which protected over 1,000 feet of natural shoreline. What happens now? "Nothing. There's loons, eagles nesting, lots of undisturbed wildlife," he said. "It's the best thing."
Fred Falting
The Eagle Eye
Fred Falting never set out to be famous — at least not for collecting roadkill. For that, you can blame his mom. "My purpose in life is not moving dead animals," the Charlevoix resident said by way of emphatic explanation.
In fact, though he makes a living through design and sales, he's gained notoriety for providing feasts for eagles — this at his mother's behest. She's the one who originally asked family members hunting on the family's 80-acre property to leave the guts of any felled deer in the field so eagles soaring overhead would be compelled to descend on the property.
The ask has been fruitful; as many as 20 to 30 eagles will gather at a time, much to the delight of Falting's mom and, anymore, to Falting himself. With the seasons and opportunities for hunting limited, Falting spends a lot of free time on the road, keeping his eyes peeled for wildlife that's fallen victim to vehicles, all for the benefit of the majestic birds.

He's well aware of what it looks like — and how it smells. "I make it look like I'm a crazy person," he said of his efforts. "I wear a respirator." The DNR approves of the enterprise, as does the local photography club, whose members have shot numerous photos of the birds feeding.
Carolynn Taylor
The Emergency Midwife
During her 20-plus years working at the Beacon & Bridge gas station on M-115 southeast of Cadillac, Carolynn Taylor had some noteworthy experiences. But nothing comes close to what happened Sept. 30. A pregnant customer, Jessyca Griswold, had stopped in to use the restroom when she suddenly began screaming in pain. "I knew when I heard her it was labor pains," said Taylor. The staff at the station sprang into action. While she helped Griswold, another employee dialed 911. What was it like? "Awesome. And messy," said Taylor, who became the designated assistant as she'd had kids herself. "It was nothing like in the movies." Taylor said she'd previously called ambulances for truckers and for fellow employees, "but this one was the most out there." Jessyca and new baby Trip are doing well, as is Taylor, who has no plans for an encore. "Hopefully it will be a nice relaxing year," Taylor said with a laugh.
Jon Sangeorzan, MD
The Specialist
Before the advent of the novel coronavirus, most people had never heard of Dr. Anthony Fauci. So perhaps it's no surprise that Jon Sangeorzan, M.D., an infectious diseases physician at McLaren Northern Michigan, isn't well known to the public. That may change. He has always been interested in pharmacology and therapeutics, and when it came time to determine treatments for the novel coronavirus, that fell to the committee Sangeorzan heads. "We focus on the best use of anti-microbials," he said.
And because of that focus, McLaren Northern Michigan became the first in the region to offer COVID-19 treatments using two new antibody infusions. Both are synthesized from naturally occurring antibodies found in patients recovering from COVID-19, but the difference here is that these antibodies aren't directly taken from human plasma, something that improves safety and expands options for those who decline human blood product.
Sangeorzan said these two are utilized to keep people from having to be hospitalized. "The NIH [National Institutes of Health] recommended an outpatient monoclonal antibody by Lilley."
Recommend is a really strong word for the NIH, he added. Sangeorzan anticipates more treatments to come as he and other specialists investigate the disease. "Every time there is a public health emergency, there are lessons learned."

Shiloh Slomsky
The Native Incubator
For Shiloh Slomsky, helping people succeed and thrive is more than just a mission; it's a way of life.
Several years ago, Slomsky sat on the board of directors for Odawa Economic Development Management Incorporated, the non-gaming economic development arm for the Little Traverse Bay Band of Odawa Indians. She was leading a five-year grant process called SEEDS (Sustainable Employment & Economic Development Strategies), which brought high-level STEM education into more than 10 northern Michigan schools. She saw firsthand how giving people valuable skills and education could create a host of changes in their lives.
"I saw that there was a need, especially in the Native American communities, for business ideation," Slomsky explained. "I was feeling this deep need of wanting to do more."
Slomsky ultimately teamed up with Kyle Anderson, a member of the Grand Traverse Band of Ottawa and Chippewa Indians, and Thomas Wilbur, a member of the Oneida Nation of Wisconsin, to launch Arrowhead Incubator, a nonprofit whose mission is "to empower Native American industry, employment, and small businesses for the social and economic advancement of present and future tribal generations and communities."
Launched in 2019, as an "incubator within an incubator" at Traverse City's 20Fathoms, Arrowhead has already been able to support 25 new entrepreneurs. The incubator's services are open to any indigenous entrepreneur, regardless of tribal affiliation or blood quantum.
"Whether you're Mayan, whether you're Hawaiian, whether you're Navajo, whether you're Anishinaabe, whether you're Shoshone, whether you're Cherokee, we just wanted to help you," Slomsky said.
She added: "Even though there's economic development within tribes, it's really kind of missing at the ground level, with small startup businesses. And those small businesses have a huge impact on communities, whether it's tribal or non-tribal. Upwards of 60 percent of new job growth is from small businesses."
Courtney Wiggins
The Changemaker
Entrepreneur; vibrational sound healer; herbalist; practicing pagan; badass BIPOC changemaker. These are just a few of the ways that one could describe Courtney Wiggins.
Wiggins owns Joyful Noise Sound Therapy, an alternative healing business that uses Himalayan singing bowls for therapeutic purposes. The bowls, which Wiggins says are "specifically made for enhancing vibration" can help patients reach highly relaxed or meditative states when a certified practitioner places the bowls on the body and uses the combination of sound and vibration to bring about sonic healing.
Wiggins also owns a second business: Blessed Be Tea and Apothecary, a partnership with friend Allie Robinson dedicated to crafting unique and "witchy" herbal teas.
Last June, feeling distraught about the murder of George Floyd at the hands of a Minneapolis police, Wiggins says they "needed an outlet for the hurt and the anger and the frustration." Those emotions formed the basis for Northern Michigan E3 ("Educate, Elevate, and Engage") which organized a Black Lives Matter protest in June that drew more than 2,000 people to the Open Space in Traverse City. At the event, it was Wiggins who read off the organization's demands, which included everything from ending racial profiling in northern Michigan to requiring anti-bias training for local law enforcement.
The better part of a year later, Wiggins says E3 is still "plugging away" at making those demands happen, with signs of progress in sight. The Grand Traverse County Sheriff's Department, for instance, is in the process of implementing body cams for all officers — a step the Traverse City Police Department has already taken.
As for the wider community, Wiggins feels confident that locals are moving in the right direction in terms of antiracism and equality.
"I think there is an open-mindedness within this community," Wiggins said. "There are a lot of people that have signed up for 'Understanding Racial Justice' training [with local organization Title Track]. That leads me to believe that people really want to understand and improve on racial tensions that do exist. I know it's difficult for many people to see that there is diversity here in Grand Traverse County. But there is: We have a lot of people of color here, and we should acknowledge that."
Ben Scripps
The Returning Champion
Last spring, Cadillac resident Ben Scripps achieved a lifelong dream: He appeared on the game show Jeopardy! Not only that, he beat the other contestants — twice.
During the first show, which was taped in March and ran in mid-May, Scripps got off to a quick start, beating the buzzer on the first three questions, answering them correctly, and jumping out to an early lead. Then — gasp! — he fell behind, ending the first round in third place. But Scripps eventually bounced back, winning the game in Final Jeopardy. When he returned the next day, host Alex Trebek said of the champ: "He was up and down more often than a yo-yo." Scripps went on to win that game, too.
Unfortunately, his third appearance wasn't a charm; Scripps made a big bet on what would turn out to be an incorrect answer to a Daily Double, ultimately losing to competitor Nathan Berger, of Portland, Maine.
Nevertheless, you can't say the guy wasn't lucky. Scripps had been trying to get on the show for a dozen years, diligently taking the qualifying tests as often as allowed, in hopes of one day being selected for an audition. In August 2020, he finally was. Following a series of in-person tests in Chicago — 50 questions, a mock game, and a "personality" interview — he learned he had made it, nabbing one of 400 slots among 2,500 interviewees, themselves whittled down from the 80,000 who take the qualifying tests each year.
After all that, winning or losing Jeopardy understandably didn't matter so much to the superfan. "Being on Jeopardy! was literally a life-long dream," he told Northern Express. "When I was a kid in the Grand Rapids area, the whole family would be in front of the TV at 7:30 to watch, and I knew right from the start I wanted to be on the show, even if I was only 11 at the time. The whole thing is still a little surreal to me, but it was also the most fun I've ever had in my life."
Brad Dohm
The Wayfinder
An unassuming hero? Brad Dohm would concur with the first part, though not necessarily the second. But there can be no denying the role the Michigan DNR conservation officer and experienced tracker played in finding a missing three-year-old who had wandered away from her home this past summer. Dohm was able to use his skills to find her light- and tiny-footed trail through the nearby woods, eventually spotting her in a field.
To hear him explain how he used his knowledge of the area, the likelihood of where she had gone, and his ability to see signs of toddler passage makes his work sound logical. But those skills have been hard-won through years of hunting and trapping, serving in the Armed Forces, and both taking classes in tracking and teaching them. He said he typically uses his skills for enforcement, not for rescue, but was glad he could help. "The only issues I saw were she was dehydrated, and her legs were all red. She had about 10,000 mosquito bites," Dohm said. "She said she was hungry and wanted her mom."
Deanne Bennett Criswell
The Hopeful Ascendant
When President Joe Biden announced his choice to lead the Federal Emergency Management Agency, ears in Manistee perked up at his choice. Deanne Bennett Criswell grew up in the area, attending schools in Freesoil and Manistee. Her proud mother, Geri Morong, is among the family members still living in Manistee.
"She went to kindergarten in Brooklyn, then we moved to Freesoil. She graduated from Manistee Catholic Central," said Morong, but noted those academic roots were just the beginning.
Among the degrees Criswell has earned since is an MA in homeland security from the Naval Postgraduate School. She worked at FEMA during the Obama administration before being handpicked to serve as commissioner of the New York City Emergency Management Department — a pattern she continues to follow, noted her mom.
"New York called her, and she went to work for the mayor," she said. "She didn't even apply … . Then Biden's people called her and asked if she'd like to speak to the president-elect," said Morong.
If confirmed, Criswell will become the first woman to lead the agency.
Liam Dreyer
The Voice
For a year and a half, Liam Dreyer has been serving on the Charlevoix Downtown Development Authority (DDA). The difference between him and the other members? Dreyer is only 15 years old.
Dreyer is technically a "non-voting student member" on the DDA, which means he can participate in discussions and share opinions or insights, but doesn't get to vote on final decisions. He's the second student member in the Charlevoix DDA's history, and the youngest.
While Dreyer might only be 15, he's not exactly new to the arena of local government. His mother was involved in Charlevoix's city administration when he was growing up, and he first began attending city council meetings around the age of 10. At first, he was just tagging along with his mom; before long, he started getting up during public comment to voice his opinions.
"I think that might have caught some people's attention," Dreyer said. "Because when the student position opened up on the Charlevoix DDA, the mayor asked me if I wanted to apply."
Dreyer calls the DDA experience so far "deeply rewarding" — so much so that he's doing his part to create similar opportunities for other students in Michigan. He's the founder and CEO of Government for Tomorrow, an organization that has already helped create non-voting student board positions in communities like East Jordan and Boyne City, and which is in talks with "about 10 more cities" — including Traverse City — to generate similar opportunities.
While Dreyer acknowledges that serving on a local government board is terrific experience for any public-service-minded student, he also sees the Government for Tomorrow mission as being beneficial to local governments.
"More opinions mean better decisions," Dreyer said. "If you have that youth opinion on your board, you're going to be more confident that the decision you're making affecting your community appeals to all demographics, which is an incredibly valuable thing."
Matthew Elliott
The Gamer
When Matthew Elliott describes his new business as "kind of like every kid's dream," he's not exaggerating.
Elliott is a co-founder and co-owner of The War Zone, a Traverse City-based battleground for Nerf wars. To make their toy-gun-battle arena different from any other, he and his business partner, David Batdorf, not only combined what they love about airsoft and paintball fights with aspects of their favorite video games — Halo, Call of Duty, Fortnite — but also developed their own technology that tracks the moment a player gets hit by a Nerf dart, replacing the more common old school honor system with more accurate automatic scoring.
Making the battle even better, the two opted not to focus on free-for-all death-match-style play; instead their The War Zone borrows a variety of objective-based game modes from their video game inspiration, like "diffuse the bomb" and "king of the hill."
Listening to their inner kids seems to be working. Despite launching right before the pandemic hit, Elliott says The War Zone has been able to gain "a substantial amount of traction" with customers — initially, private events for families and, as restrictions have lifted, so many popular public events that The War Zone is already reaching capacity at its current 3,000-square-foot facility on Woodmere.
Relocating to a larger space is on the to-do list for 2021, as is attracting investors who can help take the War Zone model and grow it into a national or even global franchise. The business got a small boost toward that goal recently, winning the February pitch night at TC NewTech. "We're looking to secure our first round of professional funding through our seed round, and we won the pitch contest, which got us in contact with many different investors," Elliott said. "So that's kind of where we're sitting right now."
Ian Murphy
The Defiant Survivor
Ian Murphy never sought to be the face of his own business, let alone a lightning rod in a Michigan controversy. But when a second round of state-mandated closures forced restaurants to shut their doors last fall, Murphy — owner of The Iron Pig, a "fast-casual" barbeque restaurant, in Gaylord — said he saw it as an ultimatum: Comply with the orders and watch his restaurant fail, or defy them and give himself and his employees a fighting chance.
He chose the latter.
Since refusing to comply with a Michigan Department of Health and Human Services order that banned in-person indoor dining at restaurants from Nov. 18 through Feb. 1, The Iron Pig has seen both its food license and liquor license revoked, been fined by the state, and won both eager support and vitriolic ire from members of the general public.
Though he's been painted as a "COVID denier" and a "right-wing Trump-ite," Murphy insists that he is neither, and that keeping his business open was not a political statement. He does, however, believe the state overreached — first by leaning on a law that typically applies to health code violations (safe food storage, not serving raw meat, etc.) to shutter restaurants over perceived COVID risks; second by failing to follow due process of law in formally notifying restaurants that they were ordered to close.
Mostly, though, Murphy saw his act of defiance as an act of survival.
"I just made the decision that if they do take everything away — whether it's bankruptcy because we can't make it, or they take away our liquor license and food license — we go out of business either way," Murphy said. "And ultimately, I'm the type of person that would rather fight for everything that I can, in every way I can, because I would hate to be two or three months down the road saying, 'Man, I wish I would have done this, I wish I would have done that.'"
The Iron Pig is currently operating in compliance with Michigan capacity requirements, curfews, and other safety protocols, with its food license reinstated. The restaurant's liquor license suspension runs through March 15.
Jamie Chapman
The Exchanger
A 2008 graduate of Traverse City Central High School, Jamie Chapman jokes that she's already on her second career. The first one brought her within a stone's throw of Olympic glory; the second has her working for a pair of famous entrepreneurs at the epicenter of the red-hot cryptocurrency trend.
After high school, Chapman headed to the Ivy League, majoring in environmental studies at Dartmouth College in New Hampshire and captaining the school's rowing team. After graduating in 2012, she spent four years as a professional rower, first training with a developmental team in Vermont, then moving to Princeton, New Jersey, to train with the United States National Rowing Team.
A two-time Elite National Champion, Chapman raced in the 2016 Olympic Trials and came in fourth, just missing the cut for the Olympic team. A week later, she quit the National Rowing Team and officially retired from the sport — though she still stays active by training for and racing in triathlons.
Chapman's second career came when she moved to New York and started working for Gemini, a cryptocurrency exchange founded in 2014 by Cameron and Tyler Winklevoss. (If those names sound familiar, it's because — in addition to being Olympic rowers themselves — they famously sued Mark Zuckerberg, claiming he had stolen their idea to create Facebook.) When Chapman joined the company, it was a 35-person startup; now, it boasts 400 employers and is known as one of the most secure cryptocurrency exchanges in the world.
Chapman is a product manager for Gemini, which means she works on the key functions and features that allow account holders to buy, sell, and manage cryptocurrency. It's big work — particularly given a recent boom in cryptocurrency that has caused a spike of interest for companies like Gemini.
What strikes Chapman most about the job is how different it is from being a full-time elite athlete. In her rowing days, Chapman spent four days a week practicing almost nonstop, from early morning to late afternoon. Working a "normal job" requires a different timetable and a different level of focus and emotional investment — particularly now that Chapman is (for now at least) working remotely from northern Michigan. Still, she's enjoying the journey and, especially the contrast.
"I've already had one career and I'm already on my second one, which is pretty cool," she laughed. "How many careers can we all have in our lives?"
Sheryl Guy
The Eye (of a National Hurricane)
It was only a good-faith error, the kind that anyone could make in the course of their job.
In October, in the lead-up to the November election, Antrim County Clerk Sheryl Guy and her team had to make a late-in-the-game change to add a new trustee candidate to the ballot in the Village of Mancelona.
As part of that process, the team updated the election software for their Mancelona voting precinct, so that it could properly tally votes for the new candidate. But because the county clerk's office didn't realize they also had to update the software for the county's other 15 precincts, the tweak caused communication problems between some of the county's vote tabulating machines and its central election management system.
The result? Thousands of Antrim votes cast for then-presidential incumbent Donald Trump were tabulated as votes for his challenger, Joe Biden. And because Antrim elections tend to go strongly red, Biden's projected victory there raised suspicion. Then it caused national pandemonium.
For the past four months, Guy — herself a Republican who won re-election in November — has been one of the key figures in a national debate about election legitimacy, fraud, party politics, and conspiracy. In her words, she has found herself "in the middle of a storm that has no end."
Biden didn't keep the improperly tabulated Antrim votes. Trump ultimately won the county by over 3,700 votes, but it didn't matter either way; Trump lost Michigan by more than 154,000 votes. Still, the Antrim incident has been used by Trump supporters to poke holes in the legitimacy of the 2020 election results. Guy and her team have borne some of the brunt of that debate.
"It's been horrifying," Guy told Northern Express. "It was such a small issue, that we resolved, that just blew up beyond our control. We've had people saying we should be shot; we've had people who told us we were frauds, that we're stupid, that we're not American, that we don't believe in democracy."
The debate is still ongoing: A lawsuit filed against Antrim County by the Trump legal team is moving forward, and Guy remains in the public eye. Despite the uproar, she says she's committed to serving out her four-year term — her last, as she eyes retirement after two previous terms and nearly 40 years in the clerk's office.
Heather Spooner
The Open Book
If you've taken a photo with the wing mural in downtown Traverse City, found at the corner of Boardman Avenue and Front Street, then you've engaged with Heather Spooner's work.
Spooner, a local artist, painted the wings in front of an audience as part of a Friday Night Live event in the summer of 2018. She's the owner of Ampersand Lettering Lab, a one-woman studio that has also crafted menus for numerous downtown TC businesses, painted A-frame signs for the Sara Hardy Farmers Market, and made custom pieces for many local weddings.
Since the start of the pandemic, which wiped out much of Spooner's wedding business, the artist has pivoted by offering online script lettering courses and launching "the Letter League," a pen pal league with 450 people involved worldwide.
In another life, Spooner was a fifth-grade teacher in Georgia. As she describes it, she was following the path she thought she was supposed to follow: She was at the top of her class in both high school and college. She had a good job, a boyfriend she was engaged to marry. But that path began to change when, on her way home to her native Michigan for the summertime, Spooner met a new friend: a fellow Georgia teacher and Michigan native.
Today, that "airplane friend" is Spooner's wife, Christy. Several years ago, feeling disenchanted with public education in Georgia, they both quit their jobs and jetted off for a year in New Zealand. Then they moved to Traverse City, where Spooner started Ampersand Lettering Lab. The name, she says, has a profoundly personal meaning — one that serves as her daily reminder to be nobody but herself.
"When Christy and I were first together, the ampersand was our little secret 'I love you' to each other," she said. "Because we both could have still lost our jobs if we had been found out. It's a normal keystroke on a keyboard, so no one would question it if they saw it in an email. But we knew what it meant. I thought taking the thing that I hid behind for so long, and making it the face of my business, would make it so I would never hide anymore."
Richard Rossman
The Legal Force
The National Association of Former United States Attorneys (NAFUSA) is a collective of more than 300 former U.S. attorneys — and it's led by a northern Michigan resident.
Richard Rossman's resume is an impressive one. He's been a public defender and a state prosecutor. He's worked in private practice and as part of large lawsuits. Decades ago, he served as a U.S. attorney for the Eastern District of Michigan. "Most rewarding" of all, he says, was being appointed by the Clinton Administration in the '90s to serve as the chief of staff for the Department of Justice's Criminal Division.
For the past 10 years, Rossman has been executive director of NAFUSA, whose active members include everyone from Chris Wray, current director of the FBI; to Robert Mueller, who led the special counsel investigation into alleged Russian interference in the 2016 presidential election.
Rossman fell in love with northern Michigan years ago when providing legal representation for a local bank. Though he and his wife just retired to Leland three years ago, Rossman has deep ties to the area: He and his law firm incorporated the Fishtown Preservation Society, and he served as the organization's first president, long before he lived here permanently.
When asked what recent years have looked like for NAFUSA, given increasingly polarized partisanship in the political arena, Rossman notes that the organization is committed to welcoming members from any party. As such, NAFUSA itself never takes stances on political matters — though several members serve as frequent "talking heads" on networks like MSNBC and CNN. Still, fraught national debates over issues like executive power, election legitimacy, immigration, and the reach of first and second amendment rights have stirred the pot for NAFUSA.
"Those issues have put stress on our organization," Rossman said. "We're geared to be nonpartisan and above the political fray, but the fact that these issues are so complex, and so difficult, and so partisan the last few years, I think has made it difficult. We've had a lot of a lot of people wanting us to dive into these issues and take sides."
Ken Taylor
The Rocket Booster
Ken Taylor wants you to understand something: He isn't wealthy. He and his wife are former teachers. They worked all their lives and were, as he terms it, "somewhat frugal." And with their years — both turn 81 in 2021 — have come some revelations: First, the power of compounding interest is not to be underestimated. And second, as he says, "I heard that you can't take it with you in the great beyond."
That's why, a few years ago, when the longtime Beaver Islander heard a few good folks from his beloved community could use a boost — help with nursing school loan debts, college tuition payments, a few overdue bills for fuel oil and groceries — he sent some checks to relieve the pressure.
He saw the good it did, so he decided to do more. He posted a note on Facebook and the Beaver Island forum that he'd pay off the school debt of any nurse or teacher following their profession— even if they no longer lived on Beaver Island. Nearly a dozen reached out. He did the same for a few college students who needed tuition help. When the high school AP English class' trip to England ran short of its funding, he paid the off the balance. For the few years Beaver Island was without a dentist, through no fault of their own, he bought and provided free tickets from Island Airways for those in need, so islanders could fly back and forth to see one on the mainland. He did the same for people that needed cancer treatments and other recurring visits.
He's also made contributions to the Beaver Island Community Center, of which the Taylor's are also a founding family; the Beaver Island Historical Society; the robotics program of the Beaver Island Community School; waitresses who were furloughed due to COVID restaurant restrictions, and the local food pantry. Last year, he went bigger, gifting member's of Beaver Island's graduating class tuition, although there were only four graduates, something to help them in their schooling. He plans to do the same for any member of this year's graduating class who asks. All recipients are "either Beaver Island people or closely connected to families that lived on Beaver," he says.
The Taylor's no longer live on the island themselves — "We had to move off Beaver Island to be near our son because of my wife's Alzheimer's" — and he isn't interested in tallying up the total number of people he's helped or dollars he's spent. "Who's counting," he says. Don't expect him to provide a photo either: "Probably keep my picture out of the article as I am 80 and have not seen a barber for over a year."
But know this: "I do this because I follow the old adage that we are one big family, and we need to help others. My reward has been the box of thank you notes I keep near my computer — not the money I have in the bank."
Trending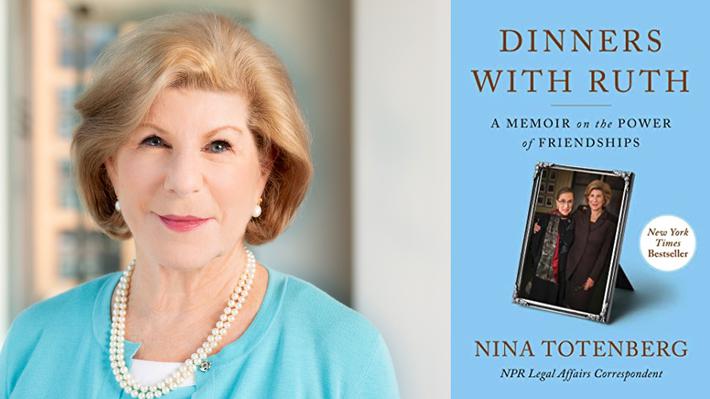 Dinners with Ruth
In the theme of Galentine's Day and female friendships is NPR legal affairs correspondent Nina Totenberg's boo...
Read More >>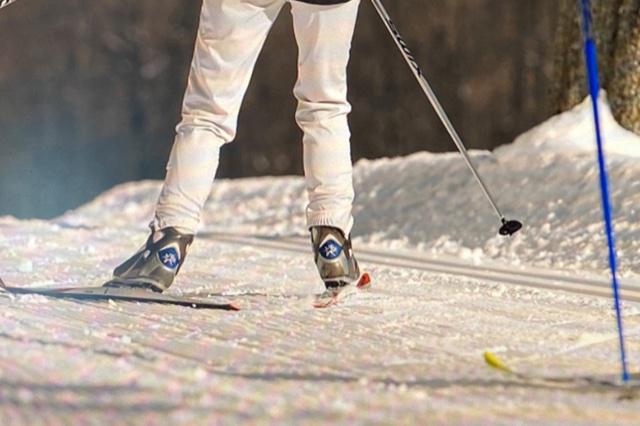 Shooting Ski-t
Take aim when you pair cross-country skiing with airsoft during Crystal Mountain's Airsoft Biathlon on Sunday, Feb. ...
Read More >>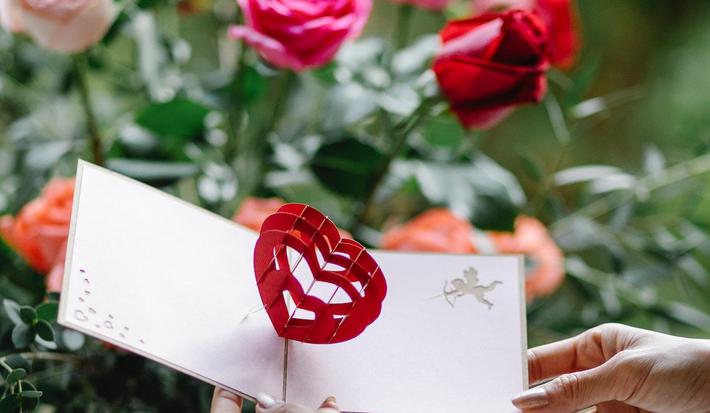 The Lost Art of Valentines: Three spots to find (or make) the perfect card
Remember the days of giving valentines in elementary school? Of perfecting each card and sentiment and placing each sparkl...
Read More >>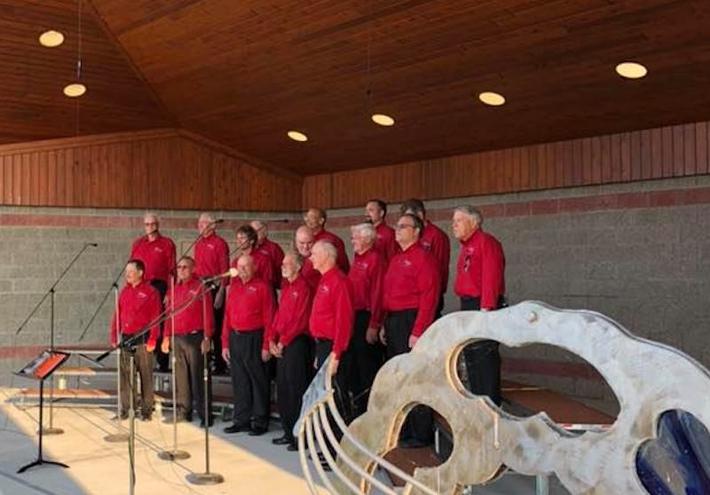 Singing Valentines
If you need a fresh way to show your love and gratitude this season, then perhaps a singing valentine is up your alley. Th...
Read More >>