The Ultimate in Outdoor Dining
No reservations needed for these open air, chef-prepared meals
We love the variety of outstanding food and beverages available here in the North country, from our restaurants, markets, and roadside stands to our bakeries, breweries, wineries, cideries, and distilleries. But rather than praying for an open table while hungry tourists and pandemic restrictions duke it out, why not plan a spring picnic for your pod — preferably one where the planning and meal is done for you?
Here at Northern Express, we're all about making it easy for our readers. So we've come up with three picnic adventures for a party of four, each complete with at least one menu of local to-go foods and drink, plus a picture-perfect location suggestion. All you need to make it happen? Suitable spring weather — perhaps the one thing even the North's gifted food, drink, and picnic purveyors can't provide.
The Place: Boyne City's Avalanche Preserve
With 320 acres of sloping forested terrain, Avalanche offers activities year-round, from hiking, mountain biking, jogging, and disc golf to sledding, snowmobiling, cross-country skiing, ice skating, and archery. Right now (when the weather cooperates, anyway), it's prime picnic season on the mountain, and accessing its spectacular views from several viewing platforms is, well, easier than a miles-long hike uphill. A mere 437 steps will get you where you want to go here — and help work up that appetite. Access from Wilson Street and from the historic Waterworks Park and trailhead on Division Street.

The Picnic: With a menu encompassing a variety of Latin favorites, Red Mesa Grill in downtown Boyne City (yes, there's one in Traverse City as well) goes beyond Mexican. Some favorites don't travel well, however; bummer about that amazing French fried ice cream. Sigh. Nevertheless, options abound. General manager Justin Gibbert suggests the Twisters, a popular choice among the hand-held crowd. We'll go with a couple Caribbean Shrimp Twisters (cilantro lime tortilla with shrimp, garlic Serrano aioli, and pineapple salsa) and, in a nod to the veg-heads among us (guilty!), two Black Bean Cake Twisters (chihuahua cheese, red rice and black bean cakes, with roasted corn salsa). Then some burritos to share, say one roasted pork and one chicken.
To round things off, stop at Provisions Wine Market and Deli. Sandwiches and pizza can also be yours, but if you're already set with your Red Mesa meal, we reccomend grabbing a few cans of Bubble Butt Rosé Seltzer and some sangria. (You can even outfit your party with an eco-friendly cooler or picnic basket that comes complete with glasses, plates, flatware, and a corkscrew. Feeling extra festive? Pick up some chocolate caramel corn for dessert, part of the stash of Bruce's caramel corn you'll find at the Alpine Chocolat Haus.

The Price: Assuming you eschew all the other treats available at Provisions and the Chocolat Haus (next time!), you're at approximately $98 before tax and gratuities.


The Place: Beulah Village Park
This spacious, shady park is in the heart of downtown Beulah. Walk to shops and restaurants (more on that in a minute) or walk across the parking lot to the sandy public beach on the shore of beautiful Crystal Lake. The park offers a spacious pavilion, grills, picnic tables, tennis, and pickleball courts, and is almost entirely shaded by majestic hardwoods. Time it right, and you can catch one of the free Music in the Park concerts, assuming that's a thing this year.
The Picnic: There's no shortage of restaurants right downtown, but let's start by driving up the hill to Benzonia and the Roadhouse Cantina. A favorite of Northerners from all over the region, The Roadhouse can provide all your to-go favorites — like an order of empanadas, tasty Chilean pastries that are filled with seasoned mashed potatoes, green peppers, onions, corn, Monterey Jack, and cream cheese, then fried golden brown. Tacos are always a fine warm-weather favorite. For ease, get four taco dinners, each with three (chicken or beef, hard or soft shell) tacos plus rice and black beans.
Want more casual eats? Head back to Beulah and swing into East Shore Market to fill out (most) of the rest of your menu. Pizza for a picnic? Maybe, but you can get that at A. Papano's on the north side of town. The sandwiches are fab, so we'll get a Vegan (hummus, artichokes, pickles, olives, onions and whatever other veggies are on hand) and Rome Kansas (roast beef and capicola meet provolone and Colby cheese; both come with lettuce and tomato and are served hot). Maybe someone in your group is extra hungry, so we'll throw in a couple of half subs: an Omni with turkey, cucumber, reen peppers, onions, and Havarti and Swiss cheese; and a roast beef with horseradish sauce and grilled onions and peppers.
Gotta have something to drink, right? Head across the street and down a block to Five Shore Brewing and pick up a growler. There's an embarrassment of craft beer riches to choose from, but for your picnic purposes,, we'll opt for the All Five, a double dry-hopped IPA, featuring a tangerine and melon aroma with lemony, citrus flavors.

The Price: Approximately $66, again before taxes and tips.

The Place: Mari Vineyards
The first and perhaps best partner location for TC Picnic Co., the new picnic business opening this month in Traverse City, Mari's hilly, sun-swept vineyard on Old Mission Peninsula offers two sites for TC Picnic Co. guests: a brick patio overlooking the vineyard and another on the other side of the vineyard, offering a view of the scenic roadside.

The Picnic: TC Picnic Co. (pictured above) offers a premium pop-up picnic experience (say that three times quickly), providing all the necessary accessories and then some: tables, plates, flatware and drinkware, candles, linens and décor, and seating on an assortment of comfy pillows. Perfect for bachelorette parties, a romantic afternoon or evening, or a gathering for friends, each TC Picnic Co. picnic can be tailored to the location and event at hand.

While TC Picnic Co. doesn't prepare the food, it works with a number of chefs for the comestibles. For a picnic at Mari, the winery provides both the venue and the menu. Jenna Veiga, the marketing and events manager for Mari Vineyards, said a variety of foodstuffs will be available for picnics this summer; for now, meat and cheese charcuterie boards are available, as well as (of course) a variety of wine available by the glass.
The Price: Well, that depends. For our hypothetical party of four, the TC Picnic Co. prices start at $190, sans food and bev. Assuming you'll want two charcuterie boards and a couple of glasses of wine each, you'll pay slightly over $300. But hey, what's a pampered picnic on the grounds of a winery — one that requires you bring and do nothing other than show up and enjoy — worth to you?
Trending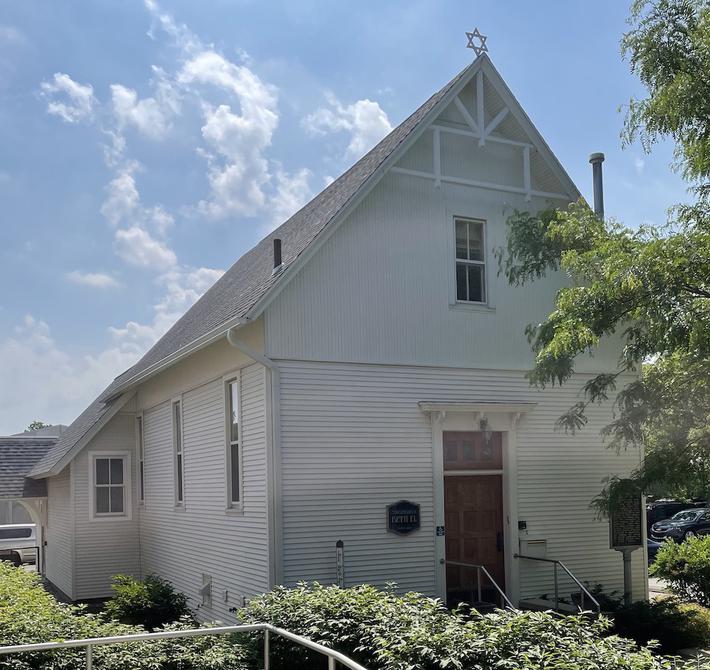 Traverse City's Jewish Community Holds a Sacred Gem
It might be small in numbers, but Traverse City's Jewish congregation is rich in history. One needs to look no furth...
Read More >>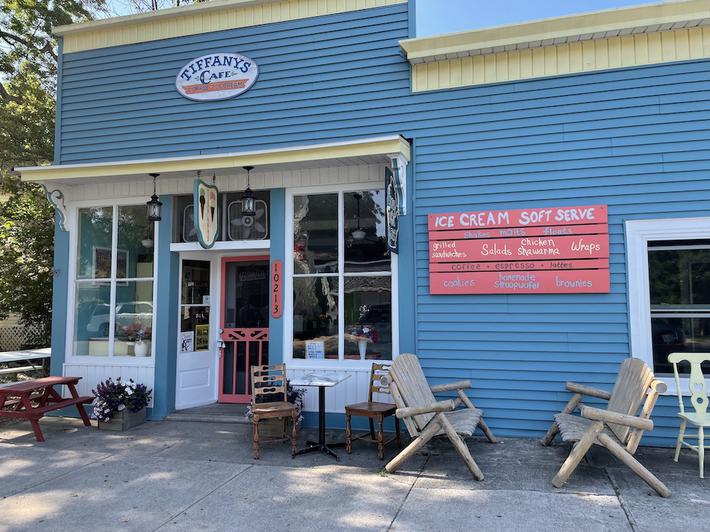 Tiffany's Ice Cream & Little Finger Sandwiches Café
Tina and Mark Dunphey know better than to mess with a good thing. "This has been Tiffany's for over 40 years...
Read More >>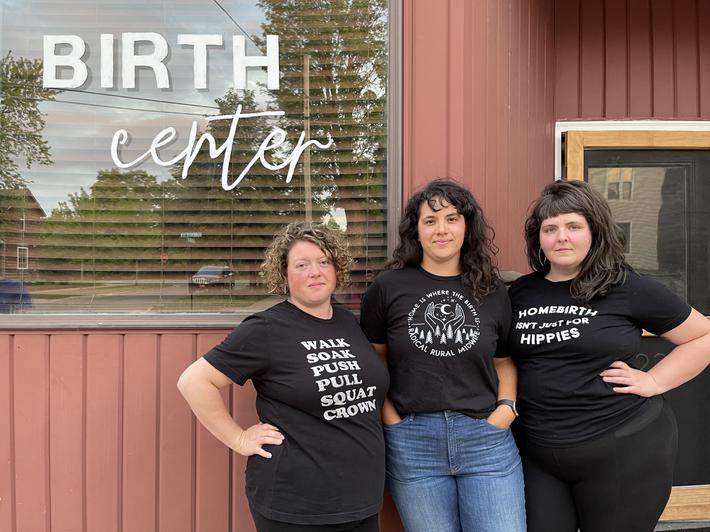 Labor of Love
It takes a lot of confidence to launch a new service-oriented business during a pandemic when the national mantra urges fo...
Read More >>
Shoring Up the Public Trust, Not Seawalls, During High Waters on the Great Lakes
"And it never failed that during the dry years, the people forgot about the rich years, and when the wet years retur...
Read More >>
↑