300 On Tap For 2017 Brew-Ski Fest
298…299…300! That's how many brews you'll have to sample before you can say you've hit the max at this year's annual Brew-Ski Festival at Boyne Highlands Resort in Harbor Springs.

Big Days
Brew-Ski is welcoming 80 different breweries from around the country this year as brewmasters, beer fans and skiers get together to celebrate the slopes and sip from 300 unique beers. "This is the eighth annual event, with the first Brew-Ski having launched in 2010," explained Erin Ernst, director of communications at Boyne. "The concept originally started out of a desire to attract skiers and snowboarders during an otherwise not very busy time in March."
The festivities begin Fri., Mar. 10, as guests arrive and register; by 9pm, the kick-off party and tap takeover with Shorts Brewery and New Holland Brewing will be underway, offering pub food and a cash bar as Boyne celebrates the art of craft beer in the Zoo Bar, with live entertainment by The Chris Calleja Band.
Saturday is Brew-Ski's big day, when you can hit both the slopes and the snow bars to sample brews from around the country right alongside food truck eats from Happy's Tacos, Littleman Bites and Pigs Eatin' Ribs plus Boyne's own grill serving up brats and burgers next to the ski hill.
Tunes and Brews
More music is also on the way throughout the weekend, compliments of the Galactic Sherpas. In addition, Metro Rockaway will play from 5:30–9pm for the post party in the Zoo Bar, confirmed Michael Wilson, Boyne Highlands' director of food and beverage. After 9pm, join your fellow beer aficionados at the After-After Party, also in the Zoo Bar, with more rockin' tunes from Union Guns.

But about those brews…This year's lineup includes frothy offerings from our own state, including Arbor Brewing Co. in Ann Arbor, Keeweenaw Brewing in Houghton and North Peak and Right Brain both from Traverse City. From further away, beers are coming from Alaska (Alaskan Brewing Co.), San Francisco (Anchor Brewing Co.), Pennsylvania (Victory Brewing Co.), New Hampshire (Red Hook Brewery), Chicago (Goose Island Beer Co.), Colorado (Avery Brewing, Boulder Beer and Breckenridge Brewery), Montana (Big Sky Brewery) and Salt Lake City (Epic Brewing Co.), among others.
Viva Variety
With so many breweries popping up all over the state and beyond, how does Boyne choose who gets to participate in Brew-Ski? "The only criteria we have is that the brewery needs to distribute through a state-recognized distributor and have a packaged product," explained Wilson. "The selection process is the most time-consuming part. I sit with each distributor to discuss current trends in the beer world and new offerings that are available. We really strive for variety, especially with current trends such as gluten-free and dessert beers."
A new Brew-Ski feature this year – the Rare Beer Tent – will offer unique and difficult to acquire brews for more courageous palates. "We're really excited about this," Wilson said. "We will be tapping a 'rare' or one-off brew at the top of each hour, and tastings are first come, first serve. These are beers that are only produced once a year and aren't sold in stores."
Want to stay for both days of Brew-Ski? Boyne can arrange that, as well. "We're offering a special event package with overnight hotel lodging, a commemorative gift, five drink tickets, breakfast and a lift ticket starting at $198 per person, per night," Ernst said.

The 2017 Brew-Ski Festival will take place at Boyne Highlands in Harbor Springs Mar. 10–11. For more information on Brew-Ski or to make reservations, visit boyne.com or call (866) 759-3530.
Trending
Dinghy's Smoked Barbeque Ribs
Dinghy's Restaurant & Bar in downtown Frankfort was hit particularly hard by the pandemic restrictions. "W...
Read More >>
Not a Clue
Surely politicians wouldn't be so clueless that they'd lie about COVID-19 deaths or take a vacation during a statewide eme...
Read More >>
Respecting the River
Forever, the Grand Traverse Band of Ottawa and Chippewa Indians (GTB) has regarded the water — and the Boardman/Otta...
Read More >>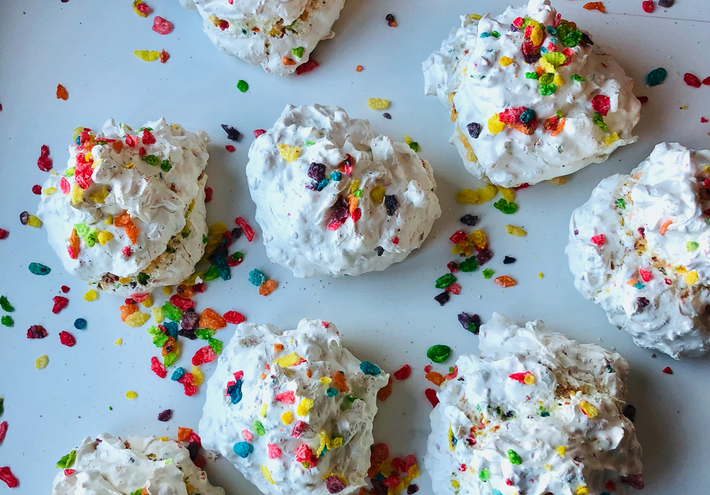 7 Batches Made in Heaven
Let's be honest: Picking the best cookies in northern Michigan is an impossible task. There are so many "right...
Read More >>
↑