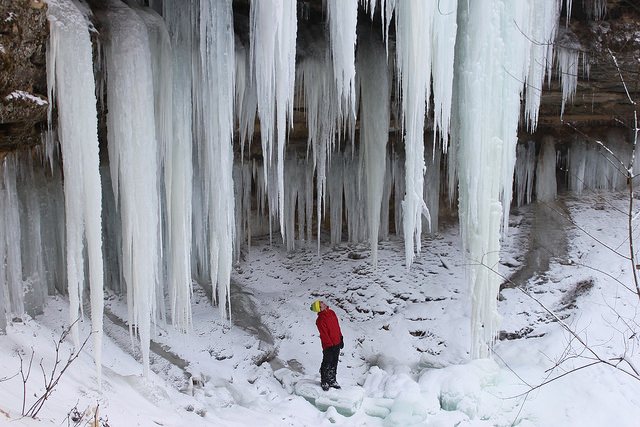 5 ice festivals bring chills, thrills
Can't get enough of those glimmering, shimmering, gravity-defying works of art carved from giant blocks of ice? Happiest when you're either climbing a sheer cliff of the stuff or gliding around it on thin blades attached to your feet? Think chili and soup taste best when consumed outdoors in subzero temperatures? Then this is your perfect season — it's time for Michigan's ice festivals.
1. Plymouth Ice Festival, Plymouth — Jan. 6-8
Dedicated to the art of ice carving, this fest calls itself the largest free ice festival in the state, and it's certainly an ambitious one. This year's event, now in its 35th year, will include live exhibition ice carving amid the already-installed sculptures, plus the "dueling chainsaws" competition, where carvers are given one block of ice and 15 minutes to create; other attractions include the Winter Wonderland Michigan Market, selfie ice sculptures for great phone photo ops, a stage with live entertainment, and the Fire and Ice display towers that are set afire each evening.
Pro tip: The ice sculptures are lit with colored lights once the sun sets and are viewable 24 hours a day, which can make for some magical moments late at night.
More info: plymouthicefestival.com.

2. Ice Sculpture Festival, Tecumseh — Jan. 21-22
Downtown Tecumseh, just south of Ann Arbor, is the host for this fest, now in its eighth year, with its focus on ice sculpture carving demonstrations. Three big dueling ice carving events are held for sculptors, with enthusiastic crowds cheering them on next to Olaf, the snowman from the movie "Frozen," who also serves as the fest's unofficial mascot. A winter warmup beverage walk lets visitors get to know local businesses that welcome them in with a complimentary beverage, and a chocolate walk offers similar tastings and specials; demonstrations share a glimpse into old world talents like spinning yarn, weaving and soap-making in addition to ice carving.
Pro tip: Check out the festival's unique antique sock knitting machine and learn how to make the perfect accessory for all things icy cold.
More info: downtowntecumseh.com.
3. Ice Breaker Festival, South Haven — Feb. 3-5
An hour or so from busy Grand Rapids and Grand Haven sits South Haven, a smaller community that comes to life during its own ice festival, a landmark event in February. The biggest draw are the ice sculptures, of course, with more than 50 ice blocks on display during the event. In addition, guests can enjoy other ice activities like ice skating, curling, and icy drinks as well as hot ones, plus a variety of hot foods including a chili competition. A snowsuit fashion competition is hilarious runway fun, and new to the Ice Breaker this year is the cardboard sled race, with plenty of prizes in categories like best cool style, crowd favorite and overall speed.
Pro tip: This is a crowd that enjoys a good (family-friendly) joke, so if you have a funny idea for a cardboard sled, give it your best shot and you might just find yourself locally famous for the weekend.
More info: southhavenmi.com.

4. Magical Ice Festival, St. Joseph — Feb. 3-5
In the deepwater southwest Michigan port town of St. Joseph, the ice grows thick in the winter, making this the perfect environment for an ice festival. Frosty fun is in the works for the entire weekend, with certified ice competitions running all three days, a big Ice Wars competition on Saturday, and additional events like the Fire and Ice Party at Shadowland on Friday night giving you the opportunity to warm up before heading back out into the ice and snow the following day.
Pro tip: Participate in the scavenger hunt by seeking out logo ice sculptures downtown and win a gift certificate good at more than 40 locations.
More info: stjoetoday.com.
5. Michigan Ice Fest, Munising — Feb. 15-19
This isn't just any ordinary ice. When the Michigan Ice Fest is talking about ice, it means really big ice, namely the staggering ice formations of Pictured Rocks National Lakeshore near Munising. These are the grand icicles of legend ranging from 20 to 90 feet high, with nary a fancy ice sculpture in sight, unless you're talking about the ones Mother Nature makes. The festival's instructors, all experienced athletes, will help attendees learn how to climb the ice with special gear, at a fest that's considered a bucket list event for many winter adventurers. A demo program, slideshow and film presentations, and climbing socials for the social climbers of the ice set round out the weekend's cool schedule, all for $40.
Pro tip: Like the fest's program says, the weather on Lake Superior is unpredictable at best, so bring more layers than you think you'll need and be prepared for plenty of cold, snow and wind.
More info: michiganicefest.com or downwindsports.com/icefest.
Kristi Kates is a contributing editor and freelance writer.
Trending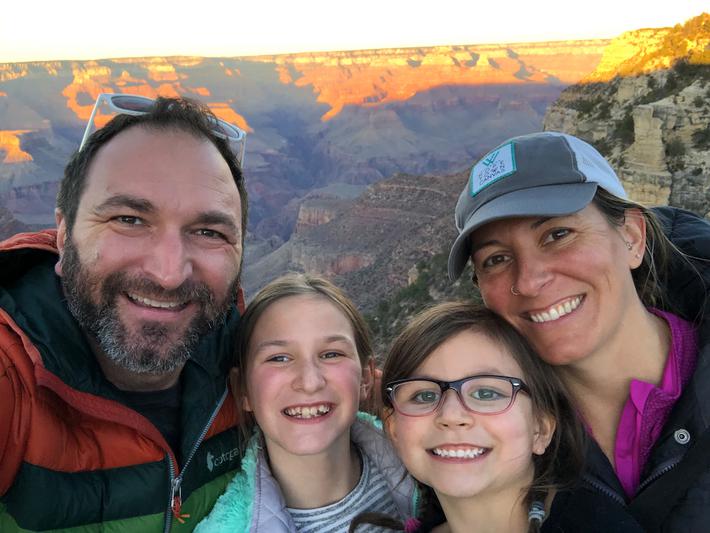 A Nine-month Family Vacation
Long before the pandemic, Joe and Christina Sanok had a plan. A dream, really: They wanted to take off with their kids and...
Read More >>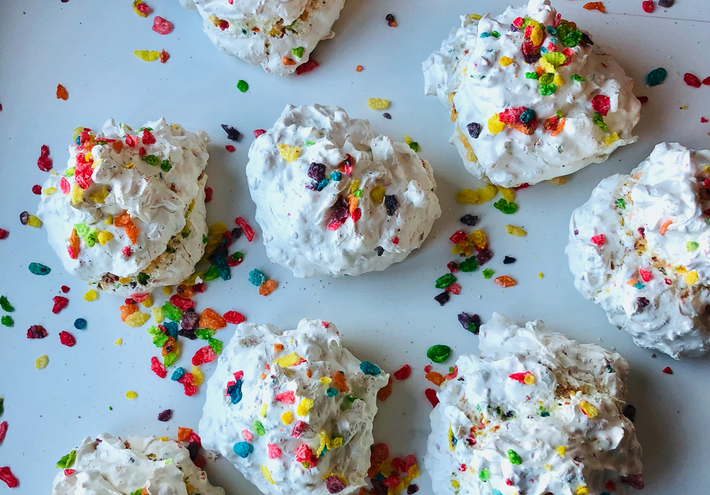 7 Batches Made in Heaven
Let's be honest: Picking the best cookies in northern Michigan is an impossible task. There are so many "right...
Read More >>
Respecting the River
Forever, the Grand Traverse Band of Ottawa and Chippewa Indians (GTB) has regarded the water — and the Boardman/Otta...
Read More >>
Not a Clue
Surely politicians wouldn't be so clueless that they'd lie about COVID-19 deaths or take a vacation during a statewide eme...
Read More >>
↑