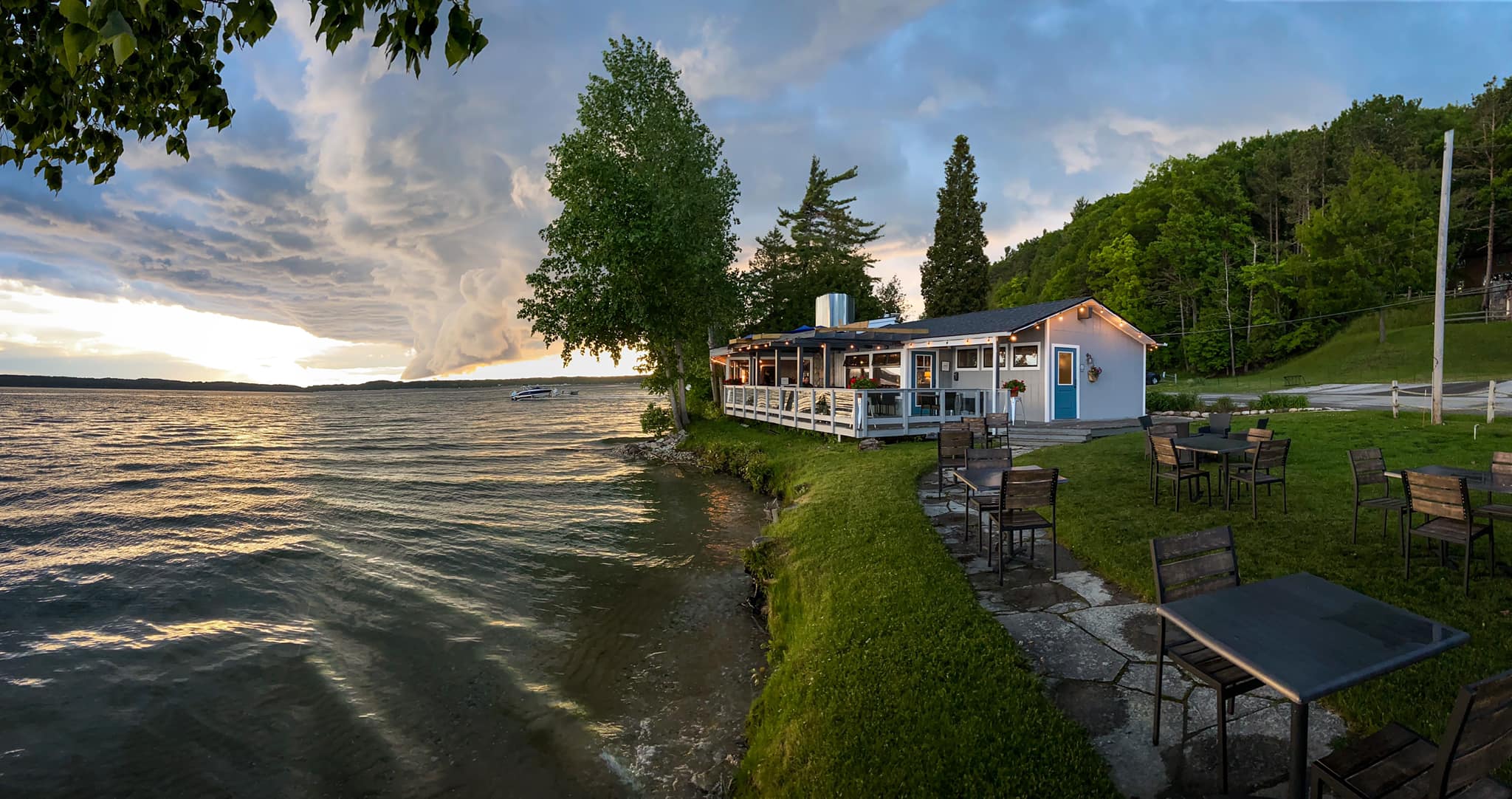 6 al Fresco Favorites
Get OUT to eat while you still can
We don't know about you, but we think that everything tastes better when you can enjoy it outside in the summertime. Pizza or burgers, fish or steak, pasta or chicken; beer or cider, red wine or white, straight spirits or splashy cocktails. Especially in the evenings — when the temperatures dip a bit, the sun's intensity drops, summer breezes roll through, and Michigan's big glorious blue skies turn shades of orange, red, pink, and violet — there's nothing quite as satisfying as enjoying a meal or a drink outdoors with friends and loved ones.
Hopefully, we've got at least a solid two months left of perfect outdoor dining weather. Just in case summer's glory days disappear faster than we think, though, here are six outdoor dining and drinking destinations to put on your checklist to try between now and October.
Jolly Pumpkin
Traverse City
The Scene: Take a nine-mile scenic drive out Old Mission Peninsula and you'll find this local gem, tucked into the quaint building better known to most locals as Bowers Harbor Inn. The building itself is, supposedly, quite haunted, but you won't feel the ghosts around you if you stop by for a dinner outdoors! Mission Table, which adjoins Jolly Pumpkin — and offers a gorgeous porch for an outdoor meal — is unfortunately currently closed for dinner service (though you can book private events there). The Jolly Pumpkin, though, remains open until 8pm each day. The Jolly Pumpkin has limited patio space for guests who wish to dine outside, but it allows customers to order their meals and beverages to-go, with the option of a lovely picnic on the expansive front lawn that the two businesses share. It's a perfect spot for a romantic sunset date.
The Must-Try: For our money, the hand-sliced pepperoni pizza is arguably the best pepperoni pizza in northern Michigan — and easy enough for a grab-and-go picnic dinner. Pair it with one of the sour beers for which Jolly Pumpkin is renowned. Particularly good for a summer evening is the La Cosecha, described as a "sour bright apricot ale" with "nuances of lemon, passionfruit, and vanilla.
Stafford's Weathervane Restaurant
Charlevoix
The Scene: Long one of Charlevoix's most beloved restaurants, The Weathervane is a great spot to eat any time of year. In the winter, the scene is defined by the roaring fireplace, made of glacial boulders and shaped like the mitten of Michigan's lower peninsula. In the summertime, though, there are a few better places anywhere in northern Michigan to spend an evening than on The Weathervane's deck. Located right at the juncture where Round Lake becomes Round Lake Channel (which in turn leads to the waters of Lake Michigan), The Weathervane allows patrons a chance to watch boats float by on their way to or from the big lake. You might even get to see the nearby Lake Outlet Bridge — a drawbridge over which US-31 crosses the channel — lift into the air to let bigger vessels pass. And of course, all these interesting sights and sounds are even more perfectly "summer" when set against a gorgeous pink-and-orange summer evening sky.
The Must-Try: The Weathervane's planked whitefish is legendary, and it's a perfect complement to a warm summer evening out on the restaurant's deck — particularly when paired with the right glass of white wine. The fish itself is local, with new shipments arriving at The Weathervane daily from Charlevoix's own John Cross Fisheries (about a half-mile away). The result is some of the freshest, tastiest whitefish you'll ever enjoy, perfectly prepared on an oakwood plank and served with potatoes, lemon, and a remoulade sauce.
Vintage Chophouse | Wine Bar at the Inn at Bay Harbor
Bay Harbor
The Scene: Vintage Chophouse is an upscale American steakhouse tucked inside the Inn at Bay Harbor, itself a swanky four-star hotel right on the shores of Little Traverse Bay. As you might expect, it's got a world-class patio with the same widescreen views of the water that make Bay Harbor a place where guests happily pay a premium to while away their vacation days.
The Must-Try: You can't go wrong with anything from the "Butcher's Block" section of the menu, which spans some of the best steaks you'll find anywhere in northern Michigan. But the true "greatest hit" on the menu might be the beef pappardelle, a decadent pasta dish that combines pappardelle noodles with beef tenderloin, wild mushrooms, baby spinach, and a rich, delicious cognac peppercorn crème. It's a perfect treat to enjoy at the end of a busy day spent exploring nearby lakeside towns or golfing the courses at Bay Harbor.
Rock's Landing (pictured)
Frankfort
The Scene: "Slow your roll." That's the slogan and motto of Rock's Landing, a small and highly in-demand restaurant in Frankfort. Literally steps away from the waters of Crystal Lake, Rock's Landing looks and feels like a rustic seaside cabin. With several world-class outdoor dining areas — including a partially enclosed porch, a deck, and a lawn area — Rock's Landing is the perfect spot to spend a hot August night. Do take note, though: Rock's Landing receives extremely high call volumes throughout the summer season and is relatively small, which means you'll need to call ahead of time to get a reservation. The restaurant is unable to seat parties larger than six people at a single table and doesn't do parties bigger than eight.
The Must-Try: Start with the fried calamari appetizer and a bit of the to-die-for "rustic peasant bread." As for entrees, it's hard to go wrong with this menu, which spans everything from chickpea and lentil dal (an Indian dish) to sesame-crusted ahi tuna. If we have to choose one, though, we might be partial to the lemony ricotta gnocchi, topped with roasted oyster mushrooms, seasonal vegetables, pea shoots, pecorino, and chili flakes.
H&L Social at Hotel Indigo
Traverse City
The Scene: Ever since Hotel Indigo opened its doors in Traverse City's Warehouse District, the hotel's rooftop bar — known as the "H&L Social" — has been arguably the hottest destination in the area to enjoy a cocktail on a summer evening. It lives up to the hype, with a design intended to pay tribute to Traverse City's heritage as a lumber town, an eclectic menu of cool cocktails and yummy small plates, and the best view of West Grand Traverse Bay that you'll find anywhere. Every northerner should make a point of catching a summer sunset from the Hotel Indigo roof at least once.
The Must-Try: Try one of Hotel Indigo's original cocktails, with clever names like the "Shut Up Karen" (citrus-infused vodka with strawberry puree and lemonade) or the fruity smorgasbord that is the "Pretty Pretty Princess" (passion fruit, vodka, grapefruit juice, cranberry juice, and grenadine"). But our current recommendation goes to the "Free Britney," a mix of Organic Tres Agaves Tequila and Tres Agaves strawberry sour mix that pays tribute to Britney Spears and her ongoing battle with her father over an unethical conservatorship. We'll drink to that!
The Filling Station
Traverse City
The Scene: Its location just outside of downtown Traverse City means that The Filling Station attracts its fair share of tourists during the summer. But this craft brewery also feels more like a "local haunt" than many other TC drinking establishments do in the busy summertime. We have lots of good memories of warm Sunday evenings in the summertime, sitting on The Filling Station's patio alongside the railroad tracks, sipping craft brews and enjoying some of northern Michigan's most adventurous gourmet pizzas. Best of all? Dogs are welcome, so you can bring your pooch to dinner with you. And with the new segment of the Boardman Lake Loop Trail now completed, The Filling Station is now an even more convenient spot for a post-walk or post-workout happy hour.
The Must-Try: A lot of the fun when you visit The Filling Station is figuring out which pizza and beer pairings hit the spot for you. For instance, something spicy like the Firebox (a pizza with jalapenos, roasted red peppers, yellow bell peppers, habaneros, roasted chicken, sesame seeds, mozzarella, and Firebox hot sauce) pairs perfectly with lighter beers like the Golden Spike (a smooth and malty German pilsner) or the De Tour Saison (described as "a Michigan twist on a traditional French style"). If you're in the mood for The Filling Station's dessert pizza, though (the S'more Caboose, which features Nutella, graham cracker crumbs, marshmallows, and a caramel and chocolate drizzle), we can't imagine a better complement than the rich and decadent Iron Junction Bourbon Stout.
Trending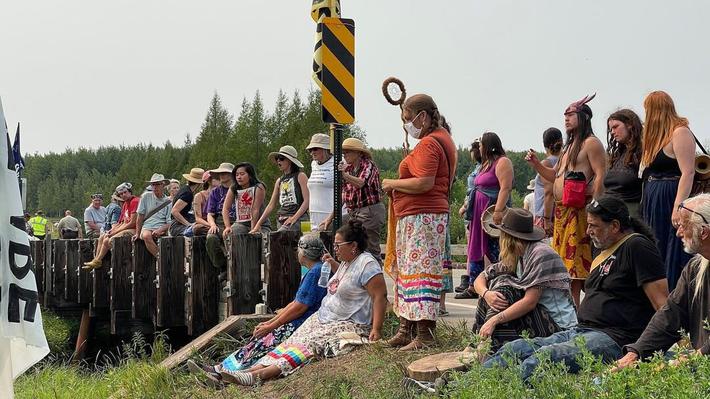 Hope for Line 5 opponents via Line 3's latest development?
Opponents of the ongoing Line 3 pipeline project in northern Minnesota — an oil-moving cousin of the also-contested,...
Read More >>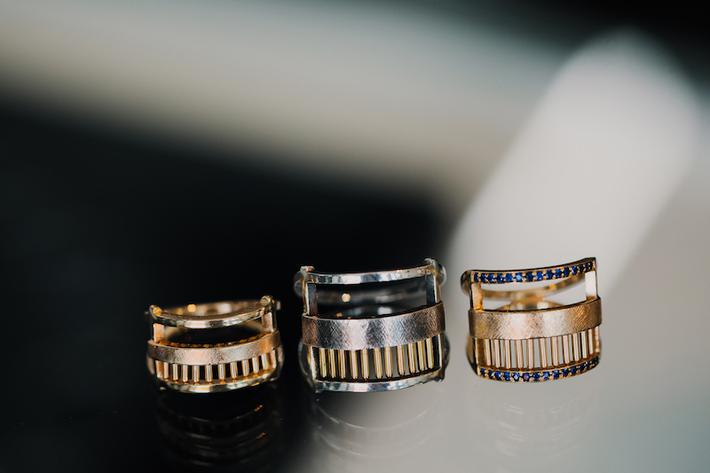 Visual + Aural Alchemy
Dana C. Fear has a name that sounds like a sentence. "I've just realized that in the last couple of years, &l...
Read More >>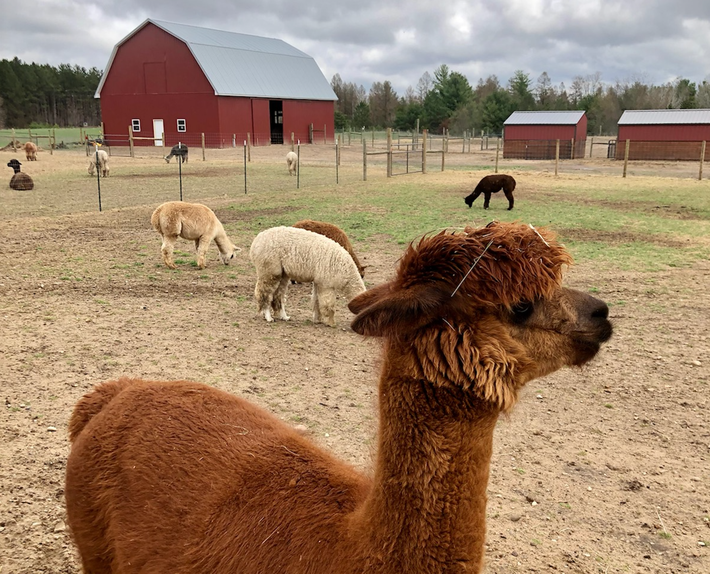 All the Warm Fuzzies
After living in the Detroit area for two decades, Rebecca and Jason Gill longed for a change. They said good-bye to their...
Read More >>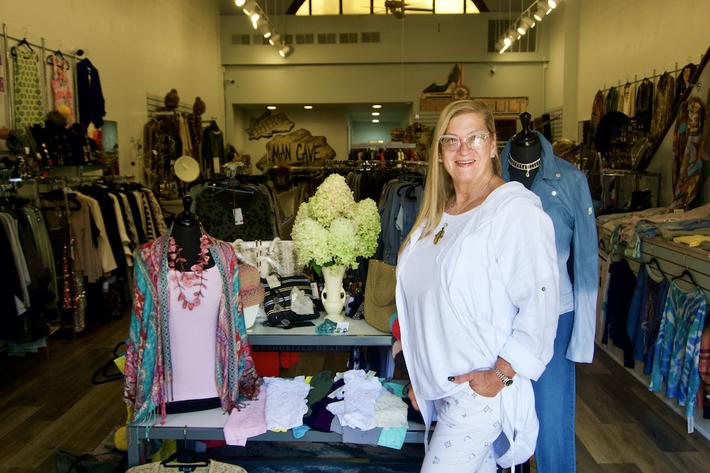 The Fabulous Pepper Berkowitz
Pepper Berkowitz might be a bit of an anomaly in the fashion world. She's warm, engaging, and genuinely wants to hel...
Read More >>
↑