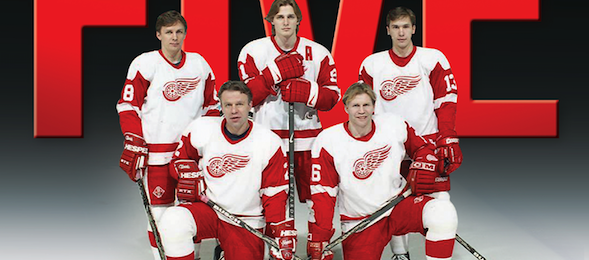 A former Freep writer tells his story about the Red Wings' famed Russian Five
Espionage. Defection. Drama.
It was more than two decades ago, but in many ways it feels like yesterday. In 1997, the Detroit Red Wings were on top of the world as Stanley Cup winners, thanks in very large part to the Russian Five. Days later, that euphoria was suddenly, shockingly ended when the car carrying Vladimir Konstantinov, Slava Fetisov, and team masseur Sergei Mnatsakanov slammed into a tree following a golf outing. The accident incapacitated Konstantinov and Mnatsakanov.
Detroit Free Press sports reporter Keith Gave had been there every step of the way, from the 1990 arrival of Sergei Fedorov, then that of his teammates — Konstantinov, Fetisov, Slava Kozlov, and Igor Larionov — all the way to the championship, the accident, and the subsequent Stanley Cup the next year. What very few knew until he wrote the book "The Russian Five" was his level of involvement in the defection of Konstantinov and Fedorov.
Gave actually served as an undercover go-between for the Wings and those two when they were playing for the Soviet Union's Red Army team. Gave spoke Russian, and he was enlisted by the Red Wings to sneak some information to the two players in Helsinki — a ploy that caused Gave no small concern on a number of levels.
"The Russian Five" details the plot. "We've learned the Russians are holding part of their training camp in Finland. And you're the only person I know who speaks Russian," Red Wings Executive Vice President Jim Lites said to Gave. Lites asked him to pass a message along to the two Russians.
Gave was in a quandary. His first allegiance was to his employer, the Free Press. "I was surprised the Wings would even ask," Gave said, recalling the discussions with Lites. "I was intrigued, excited, and offended at the same time. I was covering a pro team for a great paper, and didn't want to jeopardize things."
He immediately said no, but as he pondered it, Gave decided it could provide the Freep with an opportunity for a scoop. He eventually accepted the assignment, but he refused the big bucks Lites offered him. He traveled on his own dime, with no compensation from the Wings or his employer. Instead, he made a more valuable trade for the paper and his career: He demanded exclusive rights to the story if and when either player joined the team.
"I said, 'I'm the first call when they come over. I want to be the first to interview them. I get dibs on all the stories. That's the deal,'" Gave said about his follow-up discussion with Lites.
The details as recounted in the book are engrossing. Gave flew to Helsinki and was able to briefly speak with the two players — in their native language — and pass along some Red Wings propaganda. Included were secret letters he'd written to the two extolling the virtues of both the Red Wings and American hockey, and the fact that the Wings were prepared to pay them serious money to defect and play for them — far more than they would ever see in the Soviet Union.
A year later, Gave's phone rang. "I was having dinner at home in Dearborn when Jim Lites called. He said, 'Keith, I'm flying home. Guess who's with me.'" Lites then handed the phone off, and Gave was on the line with Sergei Fedorov. "I had a quick conversation (with) Sergei and took notes. Then I typed my ass off. Deadline was coming up for the first edition." The next day, Gave's feature was the lead story on page one of the Free Press.
And that's just the first 30 pages of this fascinating look inside the group that would come to be known the Russian Five — Fedorov, Konstantinov, Slava Fetisov, Igor Larionov, and Slava Kozlov. They helped transform the Red Wings from what was a good hockey team (following years of uninspired play that earned the team the nickname of the "Dead Things") into a great team, winners of two Stanley Cups in a row, and a third in 2002. And while the defections at first enraged the Russians, as more of them joined the National Hockey League, relations thawed, and the Red Wings became that country's favorite NHL team. "I don't think Russian-American relations were better than that 10-year stretch," said Gave.
Gave had learned Russian when he was drafted and opted to go to the Defense Language Institute in Monterey, California, rather than go to Vietnam. "I didn't want to go to [Vietnam]. I had friends who went over and didn't come back," Gave said. He was eventually sent to West Berlin to work for the National Security Agency.
After leaving the military, Gave attended Michigan State University as a journalism major, eventually working for the Lansing State Journal and then the Free Press. That's where he was working when he had a choice: Cover either the Pistons or Red Wings.
Today Gave is retired from the Free Press and living in Roscommon. He's since taught college courses in journalism. And he readily admits he's still somewhat uncomfortable with his own actions. "I wouldn't suggest you do that," he said of his decision, but he admitted he would probably do the same thing again. "I'm prepared to be judged by ethicists."
Gave said he's had the book in his head for years, but it took prodding to get it out; said prodding arrived in the form of Joshua Riehl's documentary The Russian Five. The Flint filmmaker's movie incorporated interviews with numerous former members of the Red Wings, and Gave served as a writer/producer. "The in-depth interviews (provided) a lot of good stuff for the book. I knew I was writing a book. Now's the time," Gave said he decided while participating in the film.
The movie was to premier, naturally enough, at the Free Press Film Festival this past week. Riehl and Gave hope it will also find a home at the Traverse City Film Festival this summer. Riehl said he is currently working on a Kickstarter campaign to raise funds for the film's licensing budget. Both he and Gave say the possibility of showing the film at Hockeytown North is enticing, and they hope it will happen.
Gave is touring in support of the book. He will be at Horizon Books in Cadillac this coming Saturday, April 21, from 2pm to 4pm. He will also visit McLean and Eakin Books in Petoskey on Friday, May 11, from 6pm to 7:30pm.
And he isn't done. Gave is working on another book, this one on Lary Sorensen, the former MLB pitcher who has battled substance abuse. Sorensen pitched for seven teams during his 10-year career and subsequently was a radio broadcaster, including being the first voice heard on a Detroit sports talk-radio network and serving as a Tigers color commentator. He's also served prison time for his seven drunk-driving convictions. "He's four years sober, rebuilding his life, broadcasting," said Gave. Of the possibility of Sorensen's story making a great book, the self-effacing Gave said, "There's potential if I don't screw it up."
Trending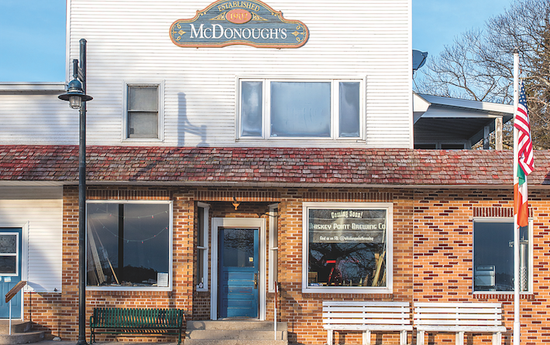 Welcome to Michigan's Most Remote Brewery
After years of planning and honing his beer-making skills, this spring, Patrick McGinnity plans to open Beaver Island's first microbrewery. Opening a craft brewery is challenging. Opening one on a remote island in Lake Michigan that's either a 15-minute plane ride or a two-and-a-half-hour ferry ride from ...
Read More >>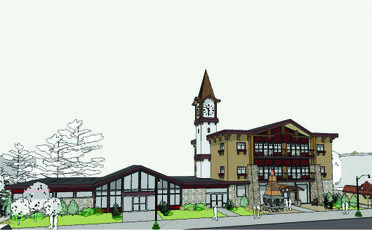 Gaylord: A boomtown Up North
Gaylord native Gary Scott had moved to Indiana, where he and some partners started a business to invest in distressed properties. He was talking to a banker in Detroit about real estate in Bloomington when he asked what kind of deals might be available in northern Michigan. ...
Read More >>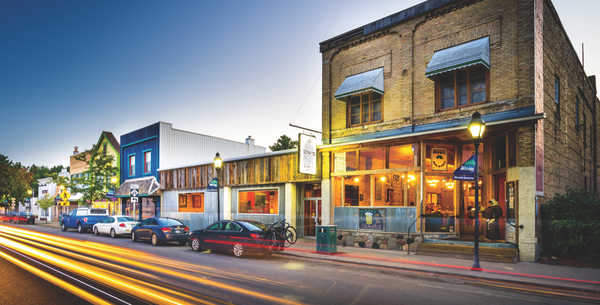 Small Up North Towns on the Rise
Spotlight on Bellaire (pictured)Seems Traverse City isn't the only place in the region making those "Best of" lists. The Antrim County hamlet of Bellaire was recently named to the list of Best Lakeside Towns in the U.S. by Country Living Magazine, alongside the likes of Vergennes, Vermont, Greenville, ...
Read More >>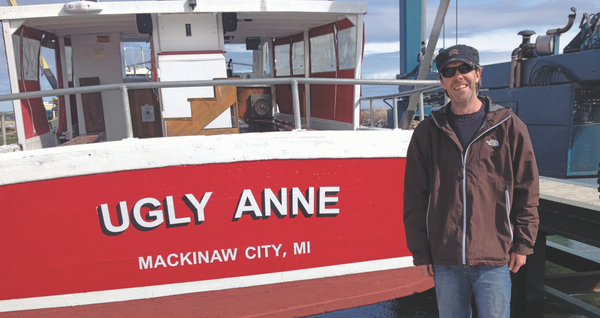 A Wicked Cool Ride Around the Straits
You expect to see boats around Mackinac Island in summer. Sailboats, power boats, cruisers, and the ubiquitous ferries that run residents and guests back and forth across the Straits of Mackinac, sure. But there's a more unusual vessel visible these days — an all-wooden Down East lobster ...
Read More >>
↑