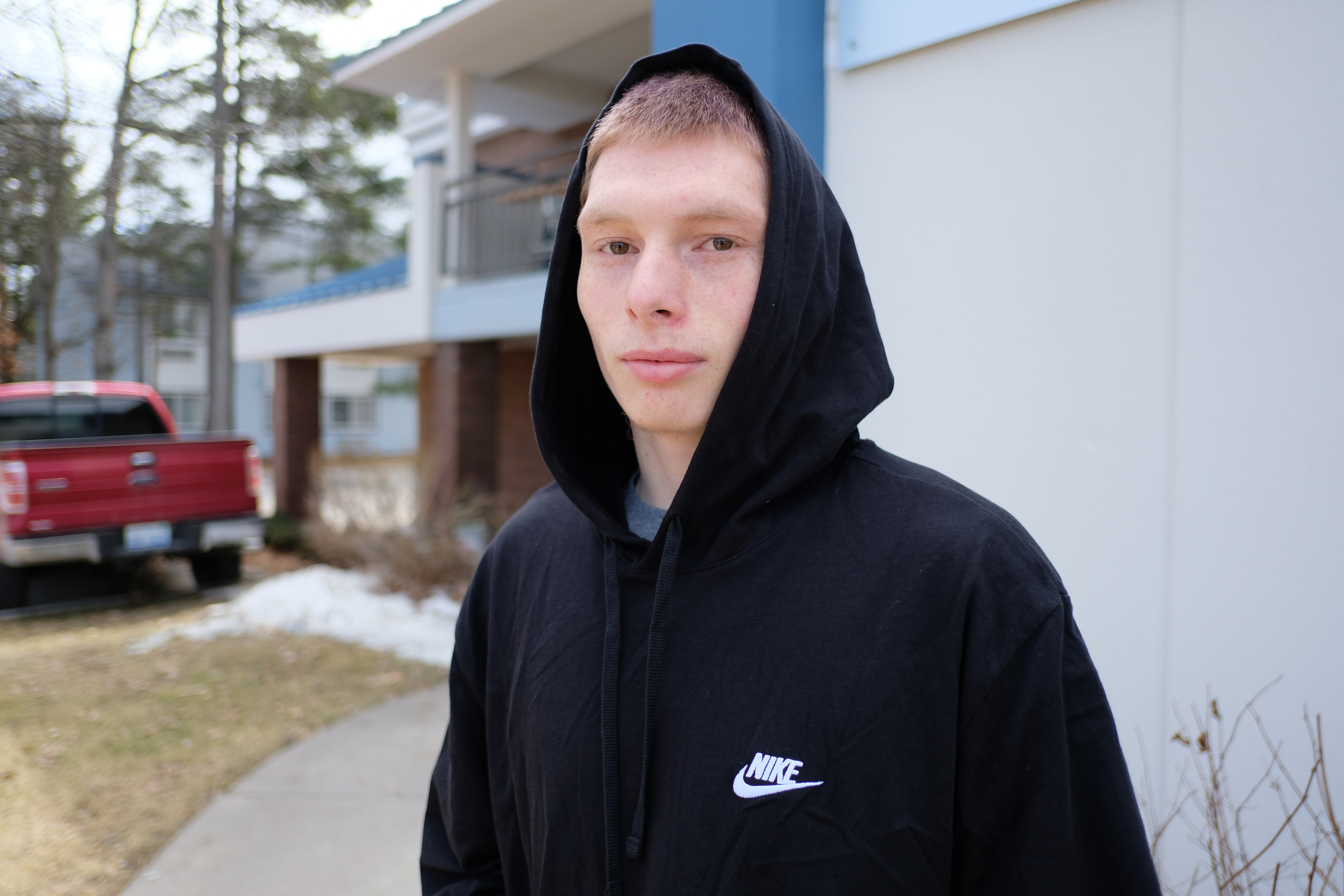 A Home of One's Own
A new program — and $1.6 million — are helping youth get a stable secure place of their own.
NOTE TO READERS: Teenagers and young adults ages 14 through 24 who don't have a place to live can get help by calling (844) 900-0500.

Growing up, Jerome didn't have many of the things that other children had. When he became an adult, he didn't have the skills he needed to make it on his own.

Today, after a couple years living on the street, the 20-year-old (pictured above) has stable and secure housing, thanks to a Department of Housing and Urban Development-funded "demonstration project" program, one of 10 across the country aimed at combatting homelessness among young adults.

The program for 18- to 24-year-olds is being carried out by Goodwill Industries and the Northwest Michigan Community Action Agency, plus help from other partners, like Traverse City Area Public Schools and Rotary Charities. (There is a parallel, separately funded program in place for teenagers ages 14–17.)

Just over two months ago, Jerome moved into his one-bedroom home at East Bay Flats, a former motel that's being converted into apartments on the east side of Traverse City. He is one of four recently homeless young adults who have been placed there; when construction is complete, there could be room for up to 15.

"I DIDN'T HAVE ANYBODY"
Before East Bay Flats, Jerome lived on the street, couch surfed, occasionally stayed with his mom or a cousin, and spent a few nights here and there at the Goodwill Inn.

Once, he was cold and desperate enough to go to Safe Harbor for a night, but he said it wasn't for him; he ended up leaving before morning arrived, fending for himself in the cold.

"I just don't belong in that kind of environment. There was a lot of drunks," he said. "Just being in that building, I was getting angry."

Jerome said he grew up "in the system," in and out of state homes and juvenile detention.
"I didn't have anybody," he said. "No family. No nobody."

Jerome reconnected with his mom when he was 16 and lived with her, near Chums Corners, briefly when he was 17, but that didn't work out, and he got kicked out again. He spent the next two-plus years bouncing around.

Jerome can thank the HUD-funded Northwest Michigan Plan to Prevent and End Youth Homelessness for getting him into stable housing, but he said he's not sure exactly how it happened — how he went from sleeping outside to having his own comfortable apartment. He's a member of the Grand Traverse Band, and someone who works at the band's Medicine Lodge, home to medical, dental, behavioral and other health services, helped him. A woman at the Department of Health and Human Services also nudged him toward the program. Before long, Goodwill Industries street outreach was working on his behalf, and he became one of the first young people placed in housing through the project.

He said it happened even without him asking for help.

"It wasn't that I didn't want help," Jerome said. "It was that I didn't know how to ask, and I was afraid to ask for help."

SEARCHING FOR A GHOST
In the last homeless count, there were 34 "unaccompanied youth," ages 18 to 24, identified in Grand Traverse, Antrim, Benzie, Kalkaska, and Leelanau counties, said Ashley Halladay-Schmandt, clinical manager of homeless programs for the community action agency.

The trouble is, people who work with those experiencing homelessness believe, because young people can be especially difficult to find and identify in rural settings, the actual number of homeless young people is likely much higher.

It's the job of the Goodwill Industries' youth and young adult street outreach workers, Chelsea Peplinski and Madison Lawlor, to find them.

It's not an easy job. For example, someone from Traverse City had recently called the youth homeless hotline looking for help, but the caller left incomplete information. Peplinski and Lawlor spent part of a recent Tuesday looking for them.

They didn't have much to go on. They had a name, but they didn't have a cell phone number to call, because the caller didn't have one. The person didn't have an address, other than Safe Harbor overnight and, most days, the Traverse City Area District Library in the mornings.
Peplinski and Lawlor headed to the library that morning and asked around. There was no sign of the person. They planned to check Safe Harbor that evening after 7pm, the time everyone must be inside.

"That might be the next step, since we weren't able to find them in the community today, stop by Safe Harbor," said Lawlor.

The women, who have been in their new positions since October, when the project launched, said homeless youth are particularly hard to find because they are more likely to bounce around different homes. Peplinski and Lawlor have been working to make themselves familiar with the rural small towns in the region to learn where young people hang out and to let people know that they are available.

"I would say one of the biggest surprises is getting out into the outer communities," Peplinski said. "It's not been as easy as we had planned or thought it was going to be."

"THAT'S THE BIG CITY"
The hotline gets as many as a dozen calls per day, and each one might represent a new young person whose housing is unstable, said Halladay-Schmandt.

After that first call, the person gets triaged through a diversion caseworker to receive the services that are appropriate for their circumstances. The program's goal is to intervene before homelessness occurs, whenever possible. Otherwise, if the young person is living on the street, they get assigned to a street outreach worker, whose job then becomes to get them into housing as quickly as possible.

"We need to get the word out to folks who just out of the goodness of their heart have taken people in and don't know what to do," Halladay-Schmandt said. "It's a lot of, 'I got this kid. He's friends with my teenager. He's staying at my house — I don't know what to do.' That's where street outreach and some of our support can come in and help out."

The community of organizations around Traverse City that offer services to the homeless became concerned about youth homelessness, learned about the HUD grants, and applied several years ago. They were awarded the grant in January 2017 and then had 22 months to develop the program before launching it in October.

The HUD grant was $1.2 million, which was matched by state and local funds; the total budget for the year is $1.6 million. The grant is renewable every year, but the program organizers hope that success will lead to gradually scaling back the program as youth homelessness becomes rarer.

The region is just one of 10 across the country that have received this funding to combat youth homelessness. Of the 10, it's the most rural location, which makes it a unique experiment, Halladay-Schmandt said.

"I think HUD is really trying to understand how homelessness in rural areas is different from homelessness in urban areas," she said. "I think maybe four of 10 were rural — and the closest to us, or the next smallest, is Anchorage, Alaska, which is a big city. We are the most rural of the first cohort."

Being the most rural of the demonstration project grant recipients means what's learned through the program in northern Michigan could be replicated to address youth homelessness in rural settings around the country.

"Now we have a direct voice to HUD, so we get to be informing the federal government on what it means to be homeless in rural America, as oppose to Chicago," Halladay-Schmandt said.
What is different about homelessness in rural America?

Halladay-Schmandt said she believes youth are more likely to drift from home to home because everyone knows everyone in a small town, so even though [the youths] are homeless, they don't appear to be.

"Traverse City is the main hub of our five counties. If you are a young person out in Mancelona, for example, the only option you have for shelter is to come all the way to Traverse City. And what we did with these focus groups is, we started talking to youth and asking, 'Why don't you come into Traverse City?'" she said. "We weren't finding a lot of people from these counties, and they were saying, 'Well, that's the big city. I don't want to go there. I want to stay in my community.'"

PILLOWS FOR HOMELESS STUDENTS
The most common reasons that young people end up homeless are because they've aged out of foster care, because their parents abuse drugs and alcohol, or because they identify as LGBTQ and have been shunned by their family.

"I think one of the misconceptions is that young people don't want to follow the rules and so they leave or get kicked out or whatever," Halladay-Schmandt said. "And what we're finding, and what has been super surprising, is that it's not. It's that their family structure is really dysfunctional and a lot of times they have no choice but to leave. I would say that's probably every single one of them."

Before this program, teens and young adults were cared for by the region's makeshift network of services that developed over the years, but they were more or less lumped in with everyone else, even though the circumstances of an 18-year-old on the street are far different from those of a 49-year-old.

"People that are young — we don't expect [them] to need permanent supportive housing, which is a permanent subsidy and permanent supports for the rest of their lives," said Ryan Hannon, street outreach coordinator at Goodwill.

If the causes of youth homelessness are generally different than for adult homelessness, so are the priorities in addressing it. For adults, caseworkers take time to find housing for long-term placement, while caseworkers in youth cases make it their first priority to find the youth housing as quickly as possible.

For years, Halladay-Schmandt said there was one voice at meetings about homelessness in northern Michigan that kept on pointing out the differences and raising the same question: What can we do about the youth? That was Abigail Jordan, coordinator of the STEP (Students in Transition Empowerment Program) for Traverse City Area Public Schools and the chair of the Homeless Youth Initiative.

Jordan said she's been passionate about fighting youth homelessness for years now, and said that she kept asking for a better program because, previously, there was a lot she could do to improve the lives of homeless students and make them better equipped to be in school, but there was nothing she could do to directly address homelessness.

"I've been working with this population for several years now, and the real issue is that we have some great programs, but there was no solution to end their instability," Jordan said. "It was super frustrating."

That meant that, say, for a student who lived with her parents in a car, Jordan could provide pillows, bedding, free meals, school supplies, help with transportation and laundry services, but she couldn't help the family find new housing. Now she can.

"It's changing lives already, and it seems to be working in a lot of ways," she said.

DREAMS OF A LONE WOLF
Jerome, at East Bay Flats, is slowly getting used to having stable housing.
"It took a while for me to accept that I had my own place, that I could be happy about it," he said.

He said his life goal is to become a rap artist. Despite the darkness of his childhood, he said he's been given the gift to be able to create freestyle rhymes that are marked by their positivity, something he said he believes will resonate with people. That positivity comes as a reaction to the loneliness and despair of his past, he said.

"It made me want to love even more, because I know what it's like not to have any love," he said.

Jerome, who raps under the stage name "Lone Wolf," said he was never able to rap until one day, all of a sudden, he could, and for that he said he thanks God.

"I know what it's like to feel dead inside. I know what it's like to have no hope inside," he said.
"It was just, God gave it to me. And since then I've been trying to figure out how to use that gift."

Trending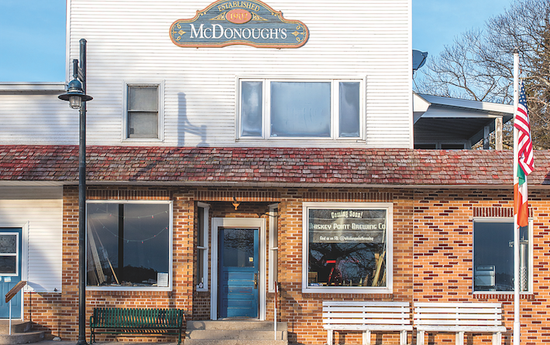 Welcome to Michigan's Most Remote Brewery
After years of planning and honing his beer-making skills, this spring, Patrick McGinnity plans to open Beaver Island&rsqu...
Read More >>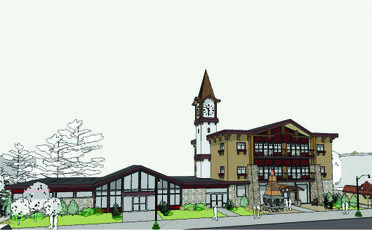 Gaylord: A boomtown Up North
Gaylord native Gary Scott had moved to Indiana, where he and some partners started a business to invest in distressed prop...
Read More >>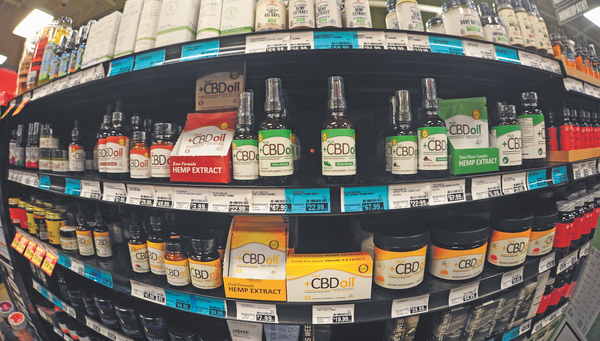 CBD Laws: Dazed and Confused
The sign outside of Family Video in Kalkaska lets drivers know the store has more than just movies. The sign reads: &...
Read More >>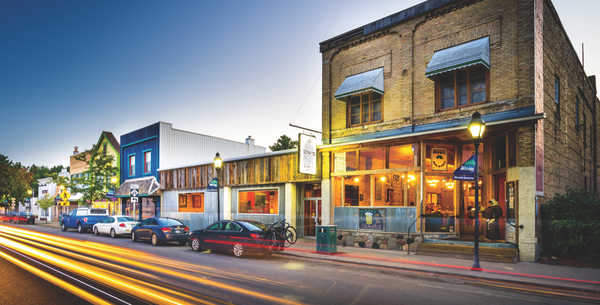 Small Up North Towns on the Rise
Spotlight on Bellaire (pictured)Seems Traverse City isn't the only place in the region making those "Best...
Read More >>
↑