A House Painter, a Steel Worker, and the Art of Seeing Potential
Functional doesn't have to be boring
Two companies. Two very different businesses. Yet they both came to a similar place: creating gorgeous tables, using reclaimed wood, historic downed trees, live edges, often with "rivers" of epoxy over a bed of stones.
Adam Gancarski has been painting homes for years, first in Colorado, then in Michigan. His company, Exodus Painting, has been a fixture in the Harbor Springs area, working on numerous high-end homes.
He began expanding his palette outside of painting, building on his construction experience. First was Venetian plaster, then experiments with epoxy resins. Eventually, he began building tables, filling spaces in his artistic soul as he filled cavities in the wood.
Others said using the large amount of resin needed to fill a cavity was a recipe for disaster. "Deep pours, you can't do it bubble-free," he was told.
Not so fast. "I'm the kind of guy that if I'm told it can't be done, I'm going to do it," Gancarski said.
He's found great personal satisfaction in crafting tables using large slabs with live edges, incorporating "rivers" of resin, sometimes in creative colors. "Ninety percent of what we do is reclaimed lumber. We prefer old [wood]. You go out and find treasure. They fall in your lap sometimes," Gancarski said.
For example, retired local contractor Richard Darnton turned him on to a century-old cottonwood tree that had been planted in the Harbor Point Association some time between the late 1800s and early 1900s. It was destined for burning when Darnton alerted Gancarski, who rescued it from its fiery fate and turned it into a piece of furniture, a stunning table, that might stand another century.
Some 100 miles south, Curtis Warnes owns and runs Steel Appeal in Leelanau County. Originally a business geared toward crafting rustic metal home décor and signs — wall art in the shape of the mitten state that bears the phrase "Thankful for my Michigan roots," for example — over time it's morphed into supplying gates, railings, signage, and a sturdy bit of whimsy: large garden seats whose "feet" and back are shaped like a butterfly.
For Warnes, the transition to creations for home began when he built a dining room table for his wife. "It was a white oak slab with an inlay," he said.
After that project, he began seeing more potential in each piece he crafted and expanded his vision of what could be, incorporating wood, steel, stones, and resin to make one-of-a-kind pieces of functional art — or artistic furnishings, whichever term you prefer. "[Creating artistic furnishings] hasn't taken over, but it's a big part of the business," Warnes said.
Not that Warnes has abandoned steel altogether. A recent project was a steel Tyrannosaurus Rex measuring 36 feet by 14 feet — two of them. "The first was commissioned; the second will be public art on M-72," Warnes said.
Gancarski may not be making butterflies, but his endeavors do extend beyond tables. He's incorporated his resin works into another company's one-of-a-kind creations, Little Bay Boards' stand-up paddleboards, and even the paddles and fins themselves.
Whatever the subject, the two craftsmen said their processes require science and art, trial and error, and patience. Lots of patience. "You don't just come in with a sandblaster. You have to pick out the old bark," Gancarski said of one project.
Like that first table Warnes made for his wife, the best way to describe their art is simply this: a labor of love.
Trending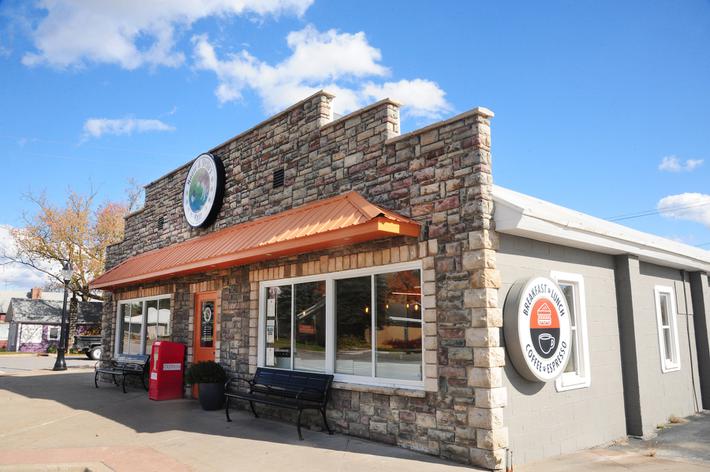 Kalkaska's Moose & Stella's
Dan Bloomquist and his wife, Evamarie, bought Breakfast & Burger Express in downtown Kalkaska at a great time: Decembe...
Read More >>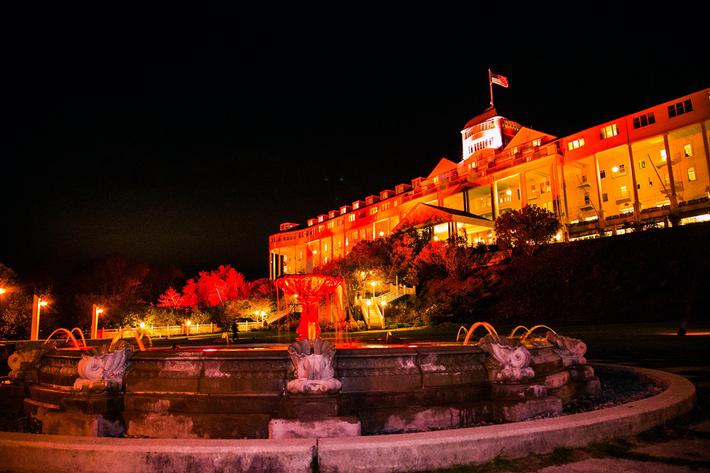 Halloween Rising
While the pandemic continues to impact lives and prevent mass gatherings, some Halloween events Up North, much like your a...
Read More >>
Hope and Vote
With mail-in voting well underway for many, and a trip to the polls just days away for many more, the gravity of the outco...
Read More >>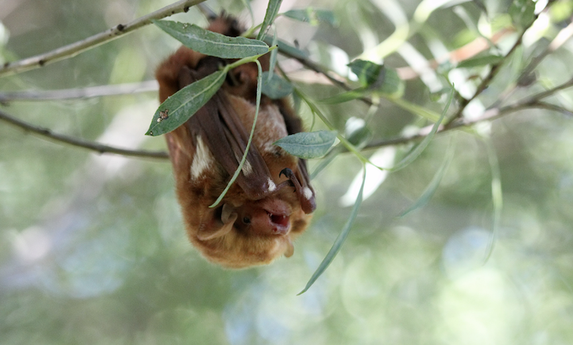 A Nightmare for Michigan Bats?
If you're seeing more decorative bats this Halloween than you saw of their live counterparts this summer, there&rsqu...
Read More >>
↑