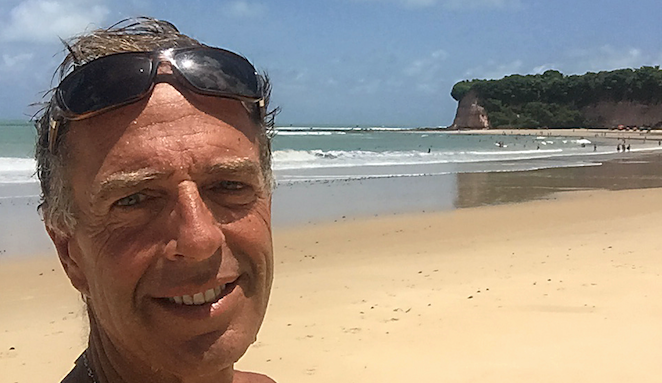 A New Life Abroad
Three 50+ year-olds living anew in Latin America
Have you ever dreamed of walking away from it all? Completely uprooting your current life to try a new lifestyle in a foreign land? Don't let your dreams wither on the vine — be like these three northern Michiganians who hit their 50s and decided to shake off their old life, pack their bags, and become a local in an entirely new land.
Peggy Muzzall's South American Sojourn
Some Northern Express readers might recognize Peggy Muzzall's name. The native Michiganian spent 19 years selling advertising for Northern Express from her home in Petoskey. But she's given up (most of) her northern life for a new view in Belize.

"I'm dangerously close to my 65th birthday, and I've already had a very rewarding and interesting professional life," Muzzall said.

She grew up in East Grand Rapids, graduated from the University of Michigan, worked as a dental hygienist for 20 years in Santa Barbara, California, then taught English for two years in Barcelos, Portugal, before returning stateside to briefly resume her dental hygiene work before joining Express.

But after the presidential election in 2016 — "which left me completely dumbfounded," Muzzall said — she decided it was time to switch gears.

"I think for me, it was a 'perfect storm' when I visited my uncle in Placencia, Belize, in November of 2016," she said. "We'd just had the election. I'd been thinking about retirement for quite some time but didn't think I could make it happen in the United States. I had loved my job with Northern Express, but it had become a different type of challenge, and they say if you're not having fun anymore, it's time to leave whatever you're doing. The universal language in Belize is English, and the American dollar is double the Belize dollar, so I was seeing green lights everywhere!"

At that point, she added, it was more of a pipe dream than anything else. But while visiting her uncle, she drove by the same vacant lot daily and flirted with the idea of buying it. Her uncle started calling it "Peggy's lot" — a little piece of paradise on the Placencia lagoon.

Back stateside by December of that year, Muzzall, with her car already packed, was prepping to drive downstate for the Christmas holidays when her beloved dog, Sophie, took ill.

"I had to abort my trip completely and stay home for the holiday. So I did what any intelligent woman would do — ate my stress, in the form of a full jar of American Spoon Foods Salted Maple Caramel Sauce. But a little voice in my head said, 'Find the silver lining, Peg.' I made an offer on the lagoon lot in Placencia that day, and they accepted it December 23, which put the whole plan in motion — something I wouldn't have had the time to do had my holiday trip gone as planned."

Muzzall had a modular 20-by-40-foot wooden home with two decks built ahead of her arrival. She chose everything from decks to kitchen appliances over the phone and via email with her uncle's help. She purged a life's worth of "treasures" from her Petoskey home, had her remaining belongings shipped to South America, then put her norther Michigan home on the market and moved to her family's 750-square-foot cabin in Cross Village while she waited for her Belize house to take shape.

"The home was delivered to my Belize lot in October, and miraculously, was move-in ready when I arrived the afternoon of November 19, 2017," she said. "For me, that meant water, electricity, and Wi-Fi! I had shipped some emergency things to myself, but as it turned out, we orchestrated it pretty well — everything cleared customs the week before I arrived in Belize, and my belongings showed up two days after I did."
What She Regrets Leaving Behind: "Definitely my friends and family. I truly miss them and wish Michigan was closer. But my plan is to spend five to seven months in northern Michigan each year, and five to seven months here in Belize, so it feels like the best of both worlds. I also miss Sophie (Muzzall's dog passed away two weeks before she departed for Belize); thankfully, Tiago (Muzzall's cat) travelled with me and has adjusted beautifully."

What She Least Regrets Leaving Behind: "An alarm clock, and having to make appointments every day. Days with no schedules have been a slice of heaven!"

What She Loves Most About Her New Life: "I love my relaxed life here, mostly for its simplicity, which is so enjoyable. The people in Belize are very friendly, the seafood, fresh vegetables, and fruits are wonderful, I love the bright colors everywhere, and walking on the beach. Life really does happen outside of your comfort zone. One of my favorite sayings is 'If you don't like where you are, move. You're not a tree.'"
Bill Cook's Trip to the Tropics (pictured above)
As a kid, northern Michigan-born Bill Cook moved around to wherever his Coast Guard father was stationed: Ohio, Michigan, Florida, Oregon, Minnesota, and Wisconsin. That might be where he got his taste for wanderlust.

"After backpacking Europe in the '80s, I returned to Michigan to work on the family cherry farm," Cook said. "That was seasonal, so I got a job as a bartender at the Grand Traverse Resort."
When Cook's mother wanted to retire, he closed his Traverse City home and bought her business, Eastport Village Care Home, an adult assisted living home for the elderly on the north end of Torch Lake.

"It was a rewarding, fulfilling job that I really did enjoy — the stories my oldsters could tell!" Cook said. "After 16 years working there I decided I would sell the business to my sister, Melanie White, who has been a nurse for 30 years. I moved all my belongings back to my Traverse City house and started my new life."

Cook's initial plan was to head south for the winters, buying a place in perhaps Florida or Mississippi, since he had good friends in both locations.

"But I went to the Olympics in Rio de Janeiro in August 2016," he said, "and after I traveled up the coast of the east side of Brazil for three months, I returned to Florida to enjoy the lazy life and found that I was easily bored after my wild, fun Brazil trip. So I bought a ticket back to Brazil, returning to Pipa, which is a small surfer village on the northeast coast."

It was a quick settle-in for Cook, who, instead of purchasing a property in Brazil, decided to reside in hostels.

"Hostels really are the best option for single people," he said. "You meet so many people from all walks of life — doctors from Argentina, engineers from Ukraine and Switzerland, graphic designers from France, actors from Chile and Brazil. And this is only a handful of friends I've met. You can have a shared or private room at most hostels. Today, I stay at Surf Camp Pipa hostel. I'm usually the oldest at 57, but everyone here says I'm their inspiration to live the wild life in their retirement years. Here we eat together most nights, drink together, play games, and beach together. If you were in a hotel room, you'd be by yourself."

This year, the hostel invited Cook to barter for his room rent; he only pays $8 a night, trading the rest by working as a bartender and receptionist.

"I'm not doing it for the money; I thought it would be fun interacting with all the other guests," he said.

This is the third year in a row Cook's been to Brazil; he's starting to think he might want to check out other parts of the world, as well.

"Maybe Hong Kong and Asia in the fall?" he pondered out loud. "I've been to 50 countries and have heard from travelers that Thailand and the Philippines are beautiful … but I will return to Traverse City in May for the summer months. There's no place better in the summer with all the beaches, festivals, and northern Michigan beauty. As a kid I loved the snow of northern Michigan — skiing, sledding, snowmobiling, snowshoeing — but not anymore. I'd much rather the beach to snow ... I just didn't enjoy winter there anymore."
What He Regrets Leaving Behind: "Of course I miss my family and friends back home in northern Michigan and elsewhere. My biggest regret this year is my brother is dying of cancer, and I'm not there for support. I do have a big family that all live in the Traverse/Elk Rapids area, so I know he has much love and support without me there."

What He Least Regrets Leaving Behind: "Winter, snow, and cold. I really didn't give up that much (otherwise); I still have my house in Traverse City where I live in the summer months, although I did downsize my belongings. I was an antique collector-dealer for years and had accumulated much more than anyone would need, so I had a couple of estate sales and eliminated many unneeded items."

What He Loves Most About His New Life: "I love Pipa. It's a surfer village. The people are simple and have a very laid back, easy life. The food is good … weather is usually 85 during the day and 75 at night. The cost of living is low. I've seriously thought about building a house here. I really couldn't ask for more."
Mike Nangle's Move to Medellin
Mike Nangle spent 20 years in Chicago, eventually moving north to Traverse City to, as he put it, "avoid the big-city frenzied life."

"Traverse City was a great place to land, and I flourished with my work (Nangle is a massage therapist), as well as with real estate ventures, establishing new friendships, and enjoying the beautiful outdoors," he said. "But always, as I like to say, I was eternally single."

That would soon change via an online dating opportunity.

"Over coffee I met Daniel," Nangle said. "I learned he was in a major life transition, and in two months he was heading to South America with a one-way ticket. After a short period, I decided to follow my heart and accept the invitation to travel with him to five countries in South America."

Their objective, he said, was to find a place they loved where they would want to return to or stay long-term.

"Six weeks later, I was in Ecuador, enrolled in daily Spanish classes, exploring the city, kayaking — a total immersion into Latin sports and culture," he said.

Next it was Panama, then the Caribbean, back to Panama for New Years, and then to Uruguay.

"Uruguay offered endless miles of beaches in the laid-back capital of Montevideo," he said. "Then [we experienced] more beaches in the resort city of Punta Del Este, which is also home to some former Leelanau County friends. From there it was to the historic 19th-century settlement of Colonia del Sacramento, and then our final stop in the unforgettable wine region of Carmelo."

A ferry ride from there, and they were in Argentina, where they enjoyed visiting Buenos Aires, the presidential mansion of Casa Rosada, and a long list of wine and tango destinations.

"We loved it all," Nangle said.

Finally, in Medellin, Columbia, they decided they'd found their place.

"Medellin was a place we loved and could see ourselves returning to," Nangle said. "It's a working-class city with over 3 million residents, a thriving expat community, and was named the most innovative city in the world in 2013."

They returned to Traverse City in March of 2017 with a plan to live part time in Michigan, and part time in Medellin.

"After a busy spring, summer, and fall filled with travel, festivals, kayaking, home renovations, and visiting with family and friends, we organized for our first living experience in Columbia," Nangle said. "With my business safely transitioned to a peer and our Michigan house secured for winter guests, we returned to Medellin. I really have the best of both worlds."
What He Regrets Leaving Behind: "I miss my clients, but I look forward to working with them when I return to Traverse City in the spring."

What He Least Regrets Leaving Behind: "Winter."

What He Loves Most About His New Life: "I love being part of a new community and figuring things out despite the challenges and the language barrier — living a very different life. The people are what make it all worthwhile."

You Don't Have to Wait...
While many people wait until near they're retirement age to make a major life change, you certainly don't have to. Beulah's Dewey Blocksma didn't. In the 1980s, he quit his career as a physician and transformed himself into a full-time artist. Blocksma grew up in Grand Rapids and later attended college and medical school at Northwestern University in downtown Chicago. But being so near to the Chicago Art Institute had a major effect on him.

"Even in medical school, I carried around a well-worn book about artists and their studios," he said. "And the Art Institute offered evening drawing sessions with area commercial artists. I memorized every page and dreamed of a studio of my own."

The art world continued to call him, even as he pursued internship in a New England hospital and a job as a ship physician on a square-rigged ship, the Statsraad Lehmkuhl, sailing from Norway to Senegal. Art was still on his mind as he joined one of the first groups of physicians doing ER medicine as a specialty (back in 1972). While working as a physician, he was leading something of a double life, having rented a studio over the Art Association on Liberty Street in Ann Arbor.

A friend eventually plucked one of his artworks out of the trash, and took it to the Xochipilli Gallery in Birmingham, Michigan, where Blocksma ended up showcasing his work for several years. By 1974, he decided it was time to move out of the medical field. He took several part time jobs covering the ER needs of smaller hospitals, and then started looking for art-related jobs. He crated the robots of Clayton Bailey for a gallery in Chicago; started an antiques business with a friend; and then, when he became interested in wind machines, started to design his own. His artworks are now installed in a number of parks and galleries, and he's been fully rooted into his new life as an artist for years.
"I do miss the excitement of the ER, the satisfaction of working with a team to bring order to chaos, and to relieve suffering," he said. "But I now have that studio dream of long ago. To those who wish to transition, find bridges to the future — all past experiences are valuable. You'll get plenty of flack from family and friends, and you'll need to endure a period of depression. So keep it simple: Invent your own universe and explore it."
Trending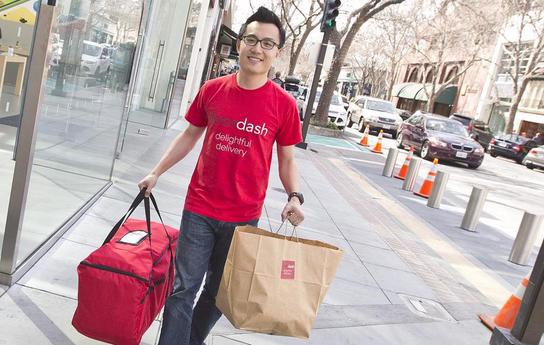 Could Delivery Save NoMi Eateries?
What was once the exclusive province of pizza and sandwich joints has become a means for some restaurants to thrive. But e...
Read More >>
What You Are Voting For?
After voting straight Republican for 36 years, from 1971 through 2007, I have been an Independent since 2008, studying and...
Read More >>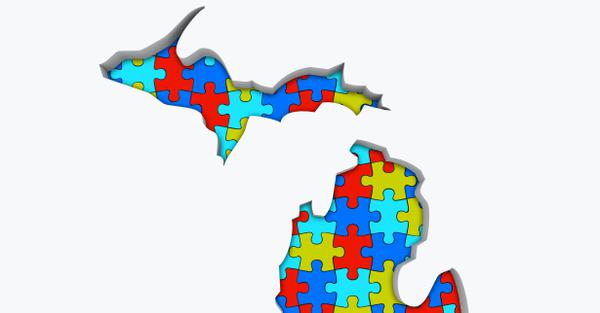 The Democracy Lottery
Mary Burget, a retired Northwest Michigan College math instructor, thought her math skills might be useful in redrawing Mi...
Read More >>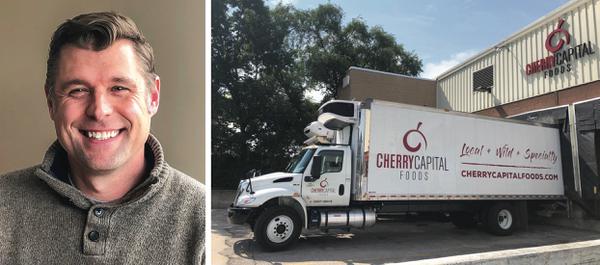 Forged In Fire
As the new managing director for Traverse City's Tamarack Holdings, Michael Lahti is helping to lead a company that ...
Read More >>
↑