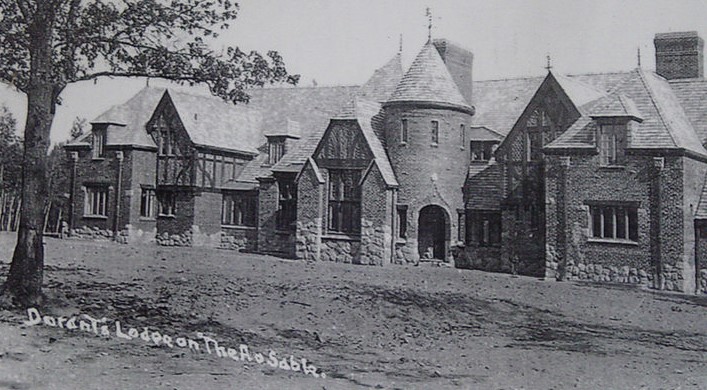 A "Prince," his Castle, and the Many Ladies he Loved
An ill-fated northern Michigan love story
Known as the "Holy Waters" to trout anglers, the Au Sable River meanders some 140 miles from Frederic in Crawford County to Lake Huron.
For decades the river has been a mecca for canoeists, kayakers, and anglers alike. Its green forested shores are dotted by cabins and homes of all sizes and shapes, but perhaps none are more impressive than the sprawling 54-room lodge-like castle built almost a century ago by Russell "Cliff" Durant, the millionaire sportsman son of William C. Durant, co-founder of General Motors.
Born in Flint in 1890, Cliff lived and attended grammar schools there before taking up his college studies at the University of Detroit. His parents divorced in 1908, the same year his father formally launched General Motors Holding company with business partner Samuel McLaughlin.

Cliff, then 18 years old, was already head over heels for cars — not only as a business tycoon like his father but also as a risk-taking, speed-loving motorhead whose imagination was rightfully captured with the performance potential of each new and improved machine.

Racecourses were the laboratory of the automobile industry; their bricked tracks were where the best-engineered machines — and men like Cliff — showed what they were made of.
In the 1924 article "Multimillionaire Makes Sixth Bid for Speed Honors," the Indianapolis Star profiled the dashing young racer ahead of the already legendary Indianapolis 500.
"President of a dozen million-dollar corporations, and owner of yachts, racehorses, country estates, rare paintings, mining properties, stock ranches and one of the world's most precious of violins, airplanes and two hotels, Cliff Durant has for his real hobby the sport of automobile racing," the paper said. "The hard grind of the racing game, the greasy tools, the hours of testing and training, the dangers of this 'he-man' pastime have been the choice of this young millionaire."
By his early 30s, Cliff had driven in the Indy 500 six times himself. Although he never won, his cars, with other drivers at the wheel, finished second at Indy three times.
By Land, By Air, By … Love?
When Cliff wasn't racing cars, he could be found piloting one of his own planes. In 1919, he operated his own flight school, Durant Field, in Oakland, California, and held contracts to deliver airmail for the federal government.
In addition to being a race car driver and owner, aviator, and wealthy businessman, Cliff was also a talented violinist. With money, talent, business acumen, and a reputation for derring-do, Cliff was considered something of a catch — at least, until he caught them. Cliff married four times in the course of his 47 years; each of the first three accused him of extramarital affairs and physical abuse.
Lena Pearl McFarland of Oregon was his first wife. They met and then married in September 1909 in California, where the Durant family had many business interests, but their honeymoon was short-lived.

The millionaire playboy was soon smitten with Adelaide Pearl Frost, a talented teenage singer from Grand Rapids who found fame performing in clubs around Detroit. Cliff divorced McFarland, married Frost in September 1911, and moved her to the Durant family estate in California. They separated in 1918, and though their relationship wasn't said to be a happy one, one can surmise that her relationship with her father-in-law, William Durant, was somewhat better.

The elder Durant gifted his daughter-in-law a sizeable trust fund upon the dissolution of her marriage to his son in 1921. And when his company — Durant Motors, which he launched after being ousted as CEO of GM — failed during the Great Depression, she dipped into that trust fund to help keep the elder Durant afloat until his death in 1947.

Though much would be written about Frost's beauty, "volcanic personality," and later lifelong love story — within three years she would marry another race car driver, famed World War I flying ace Eddie Rickenbacker; Amelia Earhart reportedly introduced them — it was Cliff's brief marriage to his third wife who captured northern Michigan's imagination.
International Woman of Mystery
Lea Gapsky was a beautiful, leggy blond dancer said to have been born to a poor Russian family in Sunshine, Pennsylvania, in 1897. There is, however, no record of her birth; she claimed it was swept away in the great Johnstown Flood. Likewise, there is no official record of her marriage to Cliff Durant, though several sources say the two married in or around 1924.
At the time, Cliff was splitting his time between GM's operations in California and Michigan. Although no doubt busy with his various business interests, racetracks, and racing itself, the jet-setting Cliff wasn't immune to the lure of northern Michigan. He kept a small fishing cabin on the south branch of the AuSable River, in Roscommon, and was a frequent summer visitor to the area, eventually acquiring about 10 miles of river frontage. Whether he came to unwind or get wild in the woods is up for debate.
Carol Garlo, who lived in Roscommon for 48 years, recorded oral history interviews with area residents, including at least one who remembered the playboy millionaire coming to town.
"She did not think a lot of him, in some ways," recalled Garlo of one interviewee. "She said he would come to town unshaven and disheveled ... but Roscommon has always been a friendly welcoming community. They knew who he was and were impressed with him."

Tongues, no doubt, wagged when Cliff started showing up in his private plane with a beautiful blonde companion in tow in the late '20s. It's easy to imagine the awe when, one year after the Great Crash of 1929 that bankrupted his father, Cliff began erecting a home the size and likes of which Depression-era Roscommon had never seen.
With 54 rooms, several fireplaces, a central tower, and an impressive combination of fine wood, brick, and stone, the "home" Cliff was ostensibly building for his queen was more akin to a castle.
Boasting 2,600 acres and a private airstrip, the immense structure was completed — by carpenters, stonemasons, and general contractors brought in from both Roscommon and Crawford counties — in less than a year. However, just before the couple moved in, on the night of Feb. 6, 1931, the castle burned to the ground.

Rumor had it that the home's painters, charged with painting a grapevine on an interior wall, left to buy more paint in town, accidentally leaving turpentine-soaked rags to combust. Another theory: The burning was an act of arson, allegedly part of a plot orchestrated by the UAW, an organization Cliff had refused to recognize.
Whatever the true source of the blaze, more unanswered questions sizzled in its embers. Rather than rebuild the home, Cliff and Gapsky simply parted ways, divorcing — if, in fact, they were truly married — in 1932. Two years later, Gapsky reportedly left for New York City and was never heard from again. No record of her death — or her life after leaving northern Michigan — has yet been found.
It might not be surprising that shortly after Gapsky disappeared, Cliff remarried. His fourth wife, Charlotte T. Phillips, seems to be the only one of his wives who didn't accuse the wealthy racer/playboy of extramarital affairs or abuse. Theirs was also the only marriage of Cliff's that didn't end in divorce.
That might be because less than three months shy of their two-year anniversary, Russell "Cliff" Durant suffered a heart attack.
According to the book "Indianapolis Motor Speedway — the Eddie Rickenbacker Era," Phillips called for medical assistance, but Cliff was dead before a physician arrived at their Beverly Hills, California, apartment. After her husband's death, Phillips sold the Roscommon property to another auto magnate, George Mason, of American Motors, who bequeathed it to the State of Michigan for use as a nature preserve upon his death.

Although nothing remains at the site of the Durant Castle but a few remnants of the stone foundation and a small sign that shares its tale, the property remains a popular landing and picnicking site for canoeists and anglers.
Perhaps ironically, in his directive to the state, Mason requested that no development take place on what would come to be known as the Mason Tract, save one: a simple log chapel, which was constructed on the property in 1960.

Given the history of the man, couple, and castle that preceded it, we don't recommend proposing — or marrying — there. But for those looking to see the rocky foundation remains of Durant's Castle after the snow melts, a 3-mile marked hike from Chase Bridge Landing on Chase Bridge Rd. (aka County Road 519), south of M-72 in Roscommon, makes for a pretty trek that wends across the bluffs along the west bank of the Au Sable River. Find a trail map and detailed directions by searching Mason Tract Pathway at www.michigantrailmaps.com.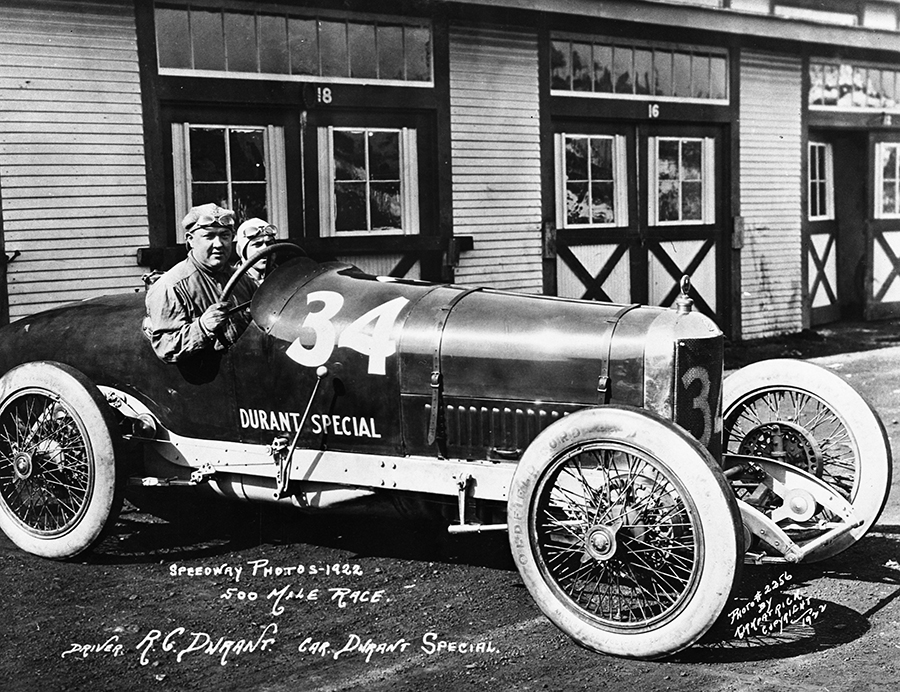 Trending
Pronouns 101
My first assignment in an online graduate-level class was to provide information about my background, including my pronoun...
Read More >>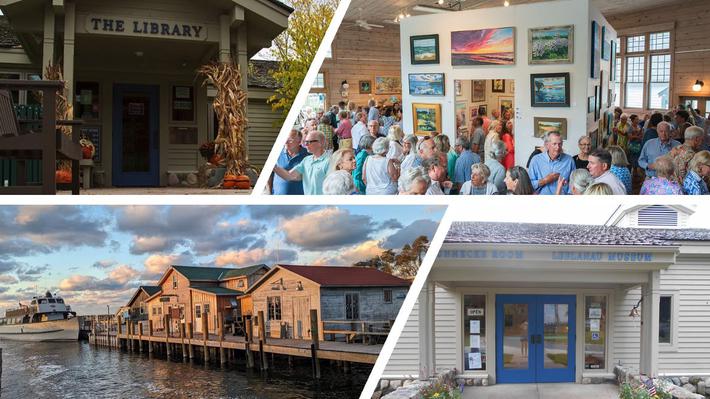 Collaboration Is the Name of the Game
How long does it take to create a cultural center? As few as three years, or as many as 170. Sometimes both. The organiza...
Read More >>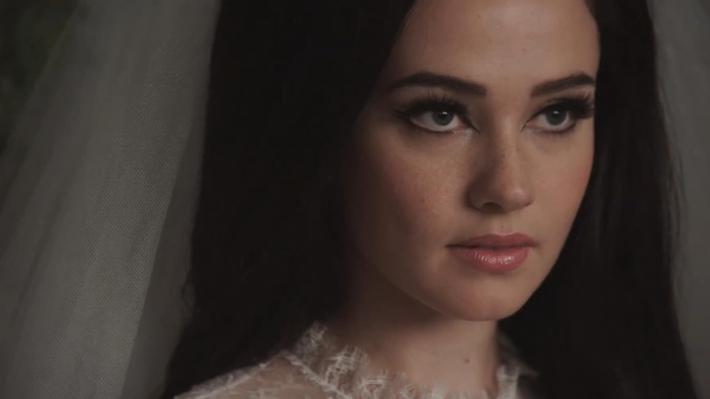 Film Review: Priscilla
While you will certainly be mesmerized by the haunting lead performance from newcomer Cailee Spaeny—and be impressed...
Read More >>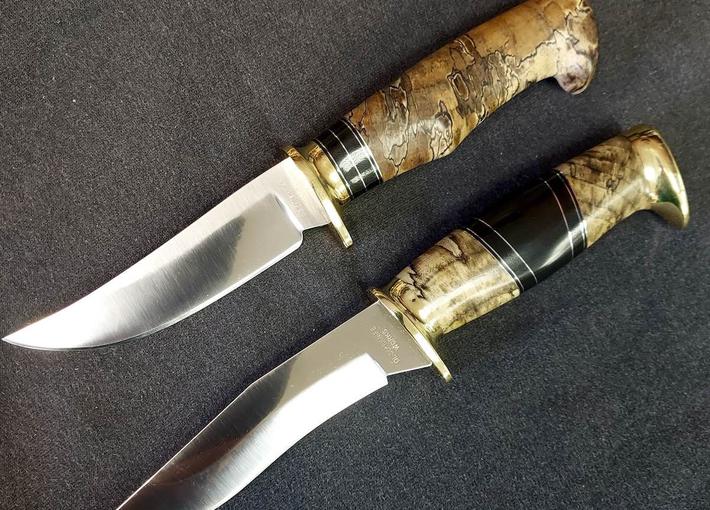 Bespoke Blades
What do you do with a battered ice skate, an old rubber puck, a cracked hockey stick, and a gob of tape? Pitch 'em, ...
Read More >>