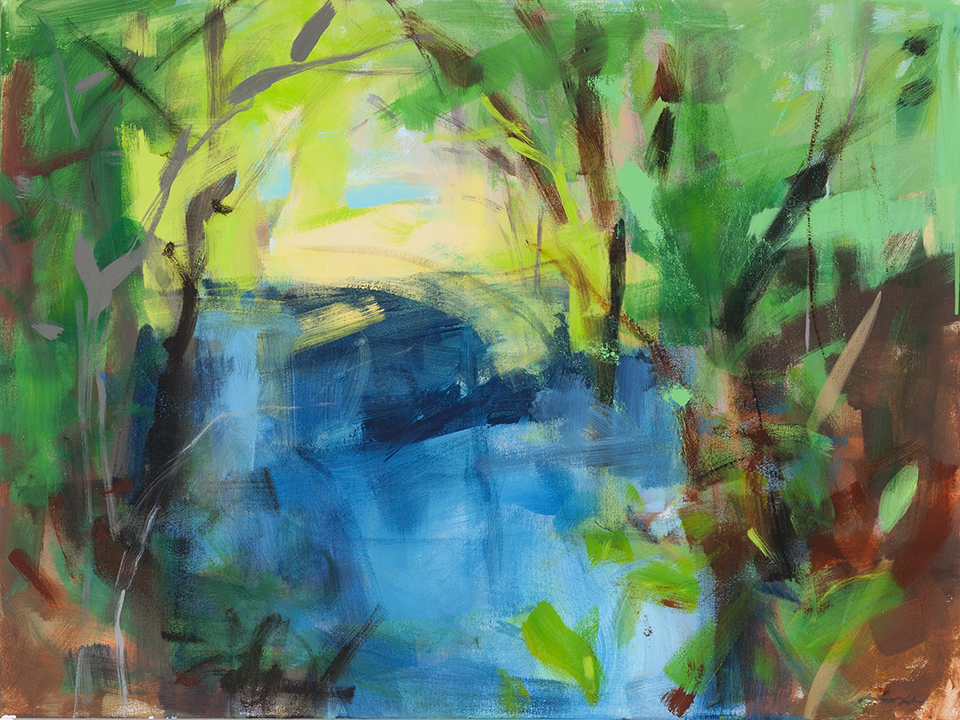 A Road Map to Art and More on M-22
The beauty of the M-22 Art 2 Art tour is simple but intriguing: Combine one autumn weekend, one of the most scenic routes in northern Michigan, and four galleries showcasing 40+ artists.

A kind of progressive gallery pop-up for leaf peepers, the inaugural M-22 Art 2 Art is the brainchild of the Suttons Bay art fair committee, said Angela Saxon, a local artist in her own right and co-organizer of M-22 Art 2 Art. "It's pretty much the height of the fall color tour season, with all the wineries and restaurants being so busy. Our local group of artists said, 'Hey, why aren't we part of this? Let's make ourselves more accessible to people coming up here for the fall colors since people will already be traveling through the area, we're going to give them an art stop in each of these towns.'"

A variety of art styles will be represented, and opening night festivities at three of the locations will have themed, progressive snacks and desserts, with wine also available.

"There's so much energy being put into this by so many artists," said Saxon. "We think it's important with all tourism promotion going on to keep the artists right in there alongside everything else. I'm looking forward to seeing it all come together -- four shows of this magnitude in the same weekend is really something!"

Interested in adding some art to your annual cruise for fall color? Plan to take part in the M-22 Art 2 Art October 5-7. Kick off the weekend at one of the opening night receptions, which take place from 5-8pm on Friday at all locations except Leland, then wend your way up or down M-22 Saturday and Sunday. (Show hours are Saturday 10am-6pm and Sunday 10am-5pm.) At each stop of your tour, we've got ideas for eats, drinks, and other must-see diversions. Visit m22art2art.com or call (231) 357-4139 for more info.
THE TOUR:
Friendship Community Center, Suttons Bay
The Focus: Ceramics
Here's where you'll find all things ceramic and tile, by renowned clay artists like Laurie Eisenhardt and Phil Wilson.
Find It: 201 W. Broadway, (231) 271-4630
Fuel Up: The nearby 45th Parallel Cafe (102 W. Broadway, (231) 271-2233) is open until 3pm. Stay focused on what's local with their Morel mushroom omelette bursting with onions and Fontinella cheese, or try the Leelanau Cakes (pancakes) loaded with chocolate chips and dried locally grown cherries. Afterwards, pop into their candy shop for a sweet treat to take with you as you continue your art tour.
Detour: If you like the night life, stick around in Suttons Bay to catch an evening movie at the Bay Theatre (214 North St. Joseph St., (231) 271-3772, thebaytheatre.com), a renovated, historic single-screen, vintage venue that dates back to 1946 and was renovated to its current glory in the spring of 2017.
Northport Community Arts Center, Northport
The Focus: Sculpture and furniture
View 20 award-winning artists in a mix of styles, from earthy, sustainable furniture by Bill Perkins to contemporary work from artists like Larry Fox and Jason Sharp.
Find It: 104 South Wing St., (231) 586-5001
Fuel Up: Get rustic at Garage Bar and Grill (108 Waukazoo St., (231) 386-5511) with its casual dining environment and wide array of American fare, from burgers (try the basic or the black bean) to their popular fish sandwich (your choice of local whitefish or Canadian perch) to the more left-field Tandoori salad, a grilled-chicken affair on romaine tossed with cashews, golden raisins, and curry-yogurt dressing.
Detour: And get historical at the Grand Traverse Lighthouse Museum (15500 N. Lighthouse Point Rd., Leelanau State Park, (231) 386-7195), where ships and the sailors who sail them have been guided in since 1858. Explore the restored lighthouse keeper's residence, and climb the tower itself for spectacular views of Lake Michigan, Grand Traverse Bay, and the Manitou Passage. Keep in mind you'll also need to purchase a recreation park pass for entry.
The Old Art Building, Leland
Check out a wide selection of fiber work, from intricate fiber collages by Char Bickel to hand painted yarn by Chris Roosien.
The Focus: Fiber
Find It: 111 South Main Street, (231) 256-2131
Fuel Up: Trish's Dishes (407 South Main St., (231) 994-2288) This cute and speedy lunch spot is a great way to refuel for your art excursion. The friendly cottage feel welcomes you to take a seat at the counter and enjoy one of Trish's custom sandwiches or breakfast burritos, especially devised for folks on the go. One favorite is the Mabel Panini, a protein extravaganza pressed with cheese, bacon, mayo, lettuce, tomato, onion, and two fried eggs.
Detour: Take an exploratory stroll through Leland's historic Fishtown, a vintage fishing village full of shanties, smokehouses, and fish tugs that's been both carefully preserved, with modern amenities nearby. Stop by Carlson's for some top-notch smoked fish, browse the tiny shops, and don't miss the legendary Village Cheese Shanty (199 W. River St.), a non-trendy local and tourist favorite offering over 60 varieties of cheese on the tastiest pretzel bread around.
Glen Arbor Township Hall, Glen Arbor
The Focus: Painters and sculpture
An open gallery (purpose-built for this event) will feature 10 artists including Jeff Condon and the aforementioned Saxon, showcasing vibrant, colorful paintings and sculptures.
Find It: 6394 Western Ave., (231) 334-3539
Fuel Up: Snag breakfast or lunch at the Glen Arbor Grill (6584 Western Ave., (231) 334-3555. In the morning, try their Good Harbor Coffee Cake with cinnamon and cherries, or a wide array of egg dishes with cage-free eggs from Vandebunte Farms; for lunch, the Grownup Grilled Cheese with dill havarti, sliced tomato, and purple onions on cracked wheat bread is a standout.
Detour: Of course Sleeping Bear Dunes National Lakeshore (sleepingbeardunes.com) is a natural choice, with some of the most stunning views in northern Michigan. But there are several other, more off-the-beaten-path nature destinations here, too. Try the more remote Alligator Hill Trail (off Stocking Road in nearby Empire, (231) 326-4700), where you'll be rewarded with great overlook views.
Trending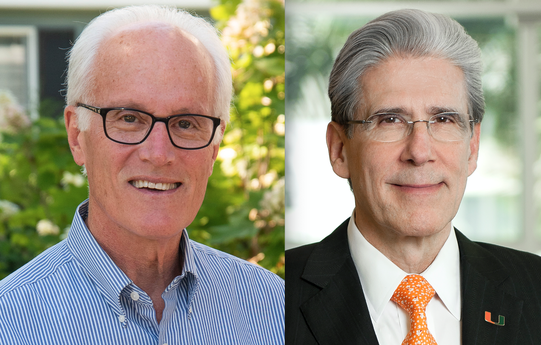 Listen In: Two Global Health Experts — one in TC — to Talk Pandemic
This week, the Traverse City International Affairs Forum at Northwestern Michigan College opens its 27th season ...
Read More >>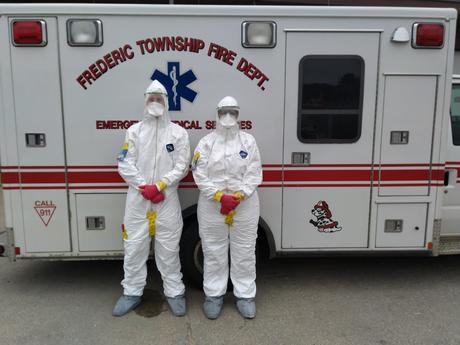 What First Robotics Teams Did on Their Summer Break
When the coronavirus pandemic first hit, masks, face shields, and other personal protection equipment, aka PPE, were hard ...
Read More >>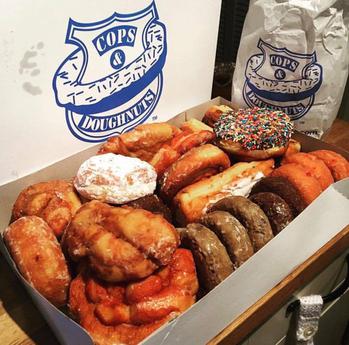 Gaylord's Cops & Doughnuts
There's a cop shop in Gaylord where the phrase "D.W.I." has nothing to do with adult beverages or erratic driv...
Read More >>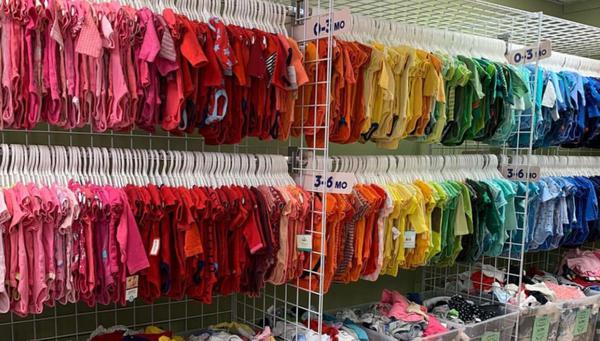 Resale is the New Black
It's a common tradition at this time of year: parents flocking to clothing stores in the last weeks of summer to get...
Read More >>
↑