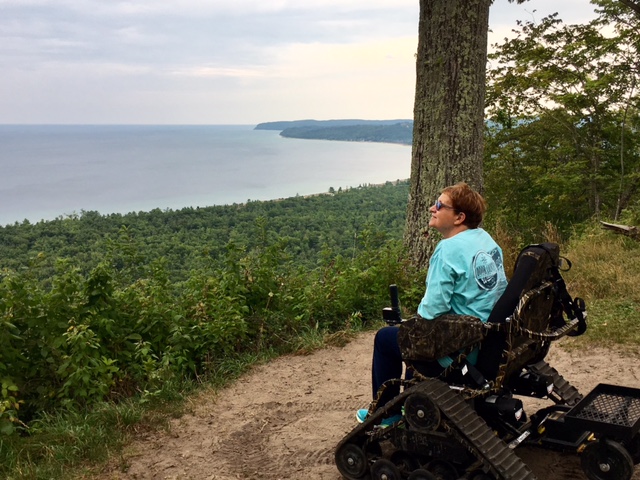 All-Access Fun Up North
Beaches, trails, and playgrounds for folks with limited mobility — and an unlimited passion to play and explore
One trend we can all get behind: the great strides made in creating and adapting recreational options Up North so people of all abilities can access and enjoy our extraordinary outdoors. Local, and regional groups alike have spearheaded efforts to build or retrofit playgrounds, install mobility mats on beaches, provide portable hearing devices to those with hearing loss, and more. At the state level, accessible playgrounds are a design element that's a part of all new state park playground projects. Whether you or someone you love has a physical disability and wants to explore more of the North's woods, waters, beaches, and wildlife (playgrounds teeming with feral children included), we've compiled a list of our picks for some of the region's coolest parks, beaches, and recreational opportunities available — and accessible — to all.
Arcadia Marsh
More than 80 percent of the Great Lakes' coastal marshes have been destroyed in the last century. Arcadia Marsh Preserve, located just south of Arcadia, is one of only 16 remaining along Lake Michigan. A must-see for birders, photographers, and anyone who wants to witness the beauty and elegance of a uniquely productive ecosystem, Arcadia Marsh Preserve limits explorers only by species and dates, not mobility. Dogs, for instance, are never allowed. People are always welcome, but between April 15 and July 15, when some of the marsh's more sensitive birds are nesting, the central portion of its 2019-built one-mile boardwalk — stretching over, not just along the marsh — is closed. Now open for summer 2021, the smooth and extensive boardwalk is easily accessed from parking lots at each end (one off M-22; the other at the St. Pierre Trailhead off St. Pierre Road, north of Frederick Road).
Leelanau State Park
Located at the tip of the Leelanau Peninsula at 15310 N. Lighthouse Point Road in Northport, Leelanau State Park's accessible playground is awesome for any kid of any ability. Featuring two slides, a log balance beam, a crow's nest, trapeze rings, and other fun but challenging components, the playground sits on a rubberized surface that makes access easier for persons of all mobility levels, according to the DNR. It was made possible by a massive volunteer effort, including a community build assisted by Michigan Cares for Tourism, the non-profit organization headquartered at Grand Valley State University. All told, more than 50 donor organizations and 300 volunteers worked on the projects at Leelanau State Park/Grand Traverse Lighthouse, including the playground, as well as painting the lighthouse and making the hiking trails more accessible. The community fundraising drive was spearheaded by Friends of Leelanau State Park. The park encompasses more than 1,500 acres.

Sleeping Bear Dunes National Lakeshore (pictured above)
With 71,187 acres along 35 miles of Lake Michigan coastline, there are places where it's impossible to get to for anyone, much less those with a disability. That said, there are plenty of opportunities for those with limited mobility to enjoy the sights and sounds. Some of our favorite spots: The Duneside Accessible Nature Trail, located at the Dune Climb, is made of crushed limestone, making it easier to push a wheelchair. The Maritime Museum Boathouse and at The Cannery in Glen Haven (neither allow reservations) also offers has sand-ready wheelchairs and can direct you to some ideal and accessible spots to enjoy the sun, shade, or a sunset. (Hint: There is a hard-surfaced beach deck with benches at the Cannery Beach.) Don't want to risk it? The organization Friends of Sleeping Bear Dunes offers free use of an electric Track Chair on the Lakeshore's Bay View Trail — with reservations — and it also offers accessibility information about every beach and official trail (with maps, degree of difficulty ratings, and photos of accessibility barriers!) at its website: friendsofsleepingbear.org.
Those with a hearing loss can take advantage of ranger-guided hikes and portable wireless devices. Park brochures are available in Braille, and most public facilities within the Sleeping Bear Dunes National Lakeshore are wheelchair accessible, as are the overlooks found along the Pierce Stocking Scenic Drive. Find your pleasure at www.nps.gov/slbe/planyourvisit/accessibility.htm and www.tdtcompanion.com/NPS/SleepingBear.
Betsie Valley Trail
The Betsie Valley Trail lies along the northern-most section of the old Ann Arbor Railroad. It winds through Benzie County, with stretches in and around Thompsonville, Beulah, Frankfort and Elberta. Oh, and one other town: Near Aylsworth and Zimmerman roads, it passes the ghost town of Homestead, where railroad maintenance workers lived at the turn of the 19th century.
The aggregate limestone portions of the trail, namely the 13 miles closest to Thompsonville, are best suited for hybrid and mountain bikes, but a newly packed three miles along the shore of Crystal Lake and a paved 6.5 mile stretch between Mollineaux Road and Frankfort-Elberta are wide and flat and offer a fairly easily route past a variety of gorgeous water, meadow, and river-forest scenes. To start in Frankfort, head to the marina off Main Street, then park in the lot just off Waterfront Drive.
Petoskey State Park
Located on the north end of Little Traverse Bay at 2475 M-119, Petoskey State Park is situated on 303 scenic acres and offers a beautiful sandy beach on the bay. The advocacy organization Disability Network Northern Michigan worked with Petoskey State Park, the DNR and local citizens to raise funds to purchase a Mobi Chair (a floating wheelchair) and a Brock Dock (a vinyl beach pathway) at the park. Their combined efforts made the Little Traverse Bay beach universally accessible.
Bonus: The state park is also close to the Little Traverse Wheelway, the 26-mile paved trail connecting Charlevoix, Petoskey, and Harbor Springs. One section of the Wheelway, west of the City of Petoskey's Magnus Park is closed due to a high-water-induced collapse (see "Best News on Two Wheels" in this issue) into Little Traverse Bay, but trail users heading south out of the state park can enjoy smooth rolling all the way to Charlevoix.
Otsego Lake State Park
Located at 7136 Old 27 S. in Gaylord, Otsego Lake State Park is home to more than a half-mile of sandy beach on the 5-mile-long Otsego Lake. The 2,000-acre lake has a floating fishing pier that is fully ADA accessible from its paved parking area all the way out onto the pier. The park also includes a campground, picnic area, a boat launch, and much more. The universally accessible swimming beach and day-use area include picnic tables and grills. The 62-acre park is heavily shaded, perfect for a hot summer day. The Iron Belle runs past the park entrance and offers biking, hiking and, in the winter, snowmobile access. The park also has a beach wheelchair available for use.
Glen Arbor Playground
The Glen Arbor Township Park at the intersection of State and Lake streets in Glen Arbor used to be little more than a large sandy lot, with old, rarely used equipment. That changed three years ago, when it was completely renovated to include new tennis courts, basketball hoops, pickleball courts, playground equipment, and swinging benches. Best of all, many of the park structures can be adapted for those who use wheelchairs, as well as kids of all different sizes and different ages. One reviewer on Facebook said the park "promotes intergenerational and inclusive play in an aesthetically pleasing environment." The walkways throughout the park are ADA compliant, with grades of less than five percent.
Cadillac Lakefront Park
When 12-year-old Riley Bigger suggested to the Cadillac City Council the idea of adding a wheelchair swing to the playground at the park, the idea was met with universal approval. While the park was ADA accessible, the thought was that everyone deserved the opportunity to enjoy swinging. Raising the $18,500 necessary took longer than expected, but donations from numerous organizations and individuals over several years eventually resulted in the purchase and installation of the swing in September 2018, including the handmade structure, concrete, fencing, landscaping, and surveillance cameras that cover both the wheelchair swing and the entire playground area. The park is located on Chestnut Street.
Challenge Mountain, Boyne Falls
Each year, Challenge Mountain connects over 1,800 children, youth, and adults with special needs to life-enhancing recreational opportunities. The facility at 2205 N Springbrook Road in Boyne Falls offers diverse programs throughout the year, from skiing and snowmobiling in the winter to equine therapy, ropes course activities, and swimming and cycling in the spring, summer and fall. The use of adaptive equipment enables participants to participate in a diversity of activities.
The programs are not just about having fun, though they surely are. They're about participants being able to experience the same kinds of enjoyment and accomplishment others take for granted. Check out the upcoming events at challengemtn.org/year-round-programs and keep an eye out for Challenge Mountain's new Social Club, expected to host its inaugural event by mid-September, after summer programing has ended: challengemtn.org/programming-update.
Challenge Mtn. Kayak photo: One of Challenge Mountain's many social events of this summer: Thanks to a generous donation from the Charlevoix County Community Foundation at the end of 2019, the organization has been able to host several free kayaking events for Challenge Mountain groups at Jones Landing Park on Walloon Lake.
Whiting Park Beach, Boyne City
Accessibility is the name of the game at Whiting Park Beach. The family recreational hub on the west side of Lake Charlevoix at 5820 Lake Shore Road features approximately 240 acres of beautiful forest. It offers 14 accessible campsites, a sandy universally accessible swimming beach, an accessible kayak launch, volleyball court, ball field, playgrounds, picnic areas and four miles of hiking trails. The accessibility is due in large part to the efforts of Leadership Charlevoix and Disability Network, which partnered to raise $13,609 to purchase Mobi Mats and a Mobi Chair. While the campground at 5820 Lake Shore Rd. is currently closed, the beach and trails are open.

Choose Your Own Adventure
Combat Veteran of the 101st Airborne Division — aka "Air Assault" — Thomas Jones served two tours to Iraq in the early 2000s and today has one mission: To get disabled veterans and others with health challenges back into nature. As founder of the nonprofit Michigan Operation Freedom Outdoors, Jones works closely with the Michigan DNR and others — Safari Club International Foundation, Michigan Building and Construction Trades, the Brain Injury Association, and many more — to design hunting, fishing, and other outdoor trips in a variety of locations around Michigan. Tracked wheelchairs, accessible hunting blinds, and MiOfo-certified volunteer hunting guides are available; all you have to do is go "Reserve Your Next Adventure" at miofo.org and share what kind of trek in nature you'd like to experience.
Trending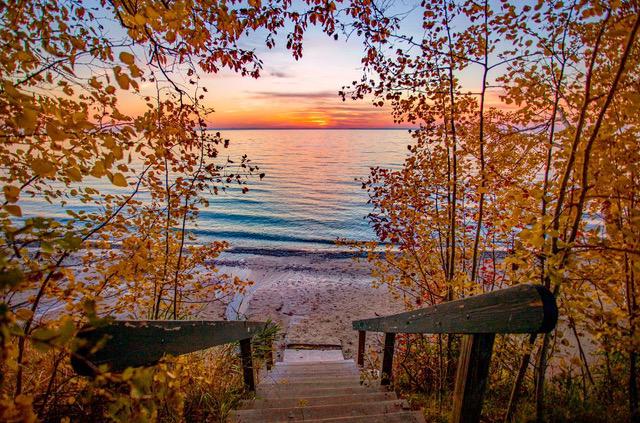 Cruisin' the Breezeway
Fall into East Jordan during the 15th Annual Autumn on the Breezeway! Choose from three different dates: Sept. 30, Oct. 7,...
Read More >>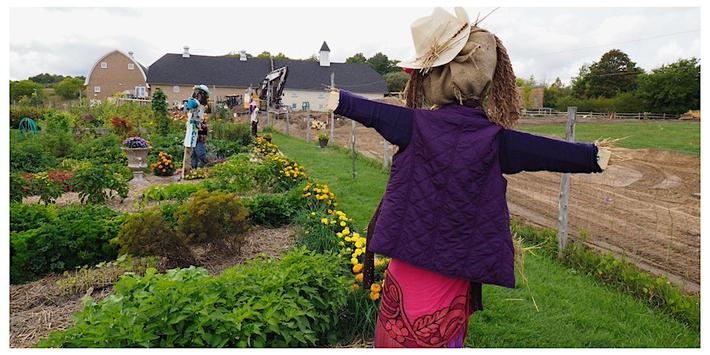 Scarecrow Szn
It may not be "spooky szn" (as the kids call it) just yet, but it does seem like it might be scarecrow szn. Th...
Read More >>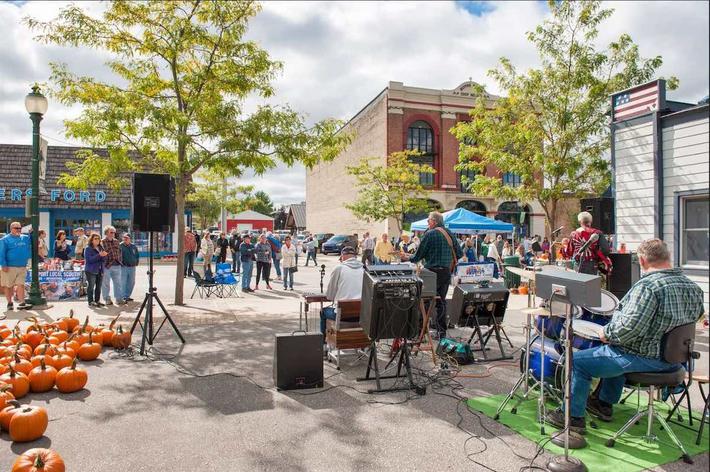 Celebrate the Harvest in Boyne City
Welcome to the season of harvest festivals! The days are getting shorter, the nights (and days) cooler, and it's tim...
Read More >>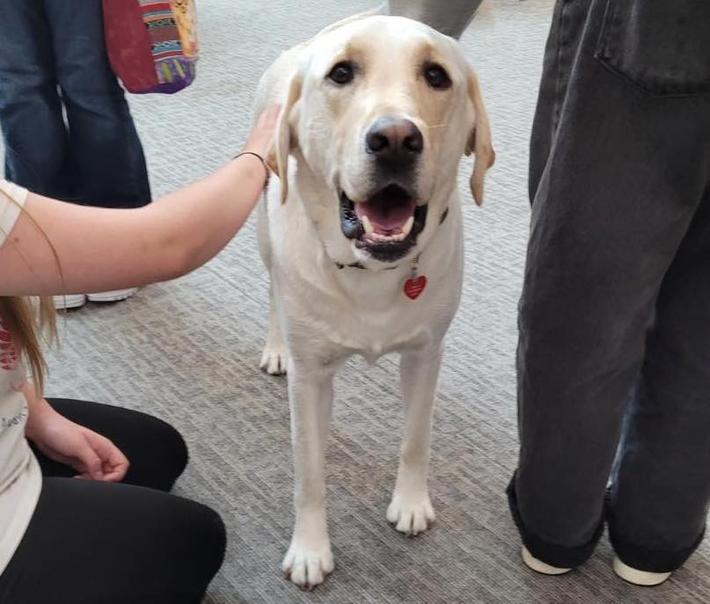 Pups on Campus
Traverse City West Senior High has brought on a very good boy as their newest staff member for the 2023-24 school year. Me...
Read More >>