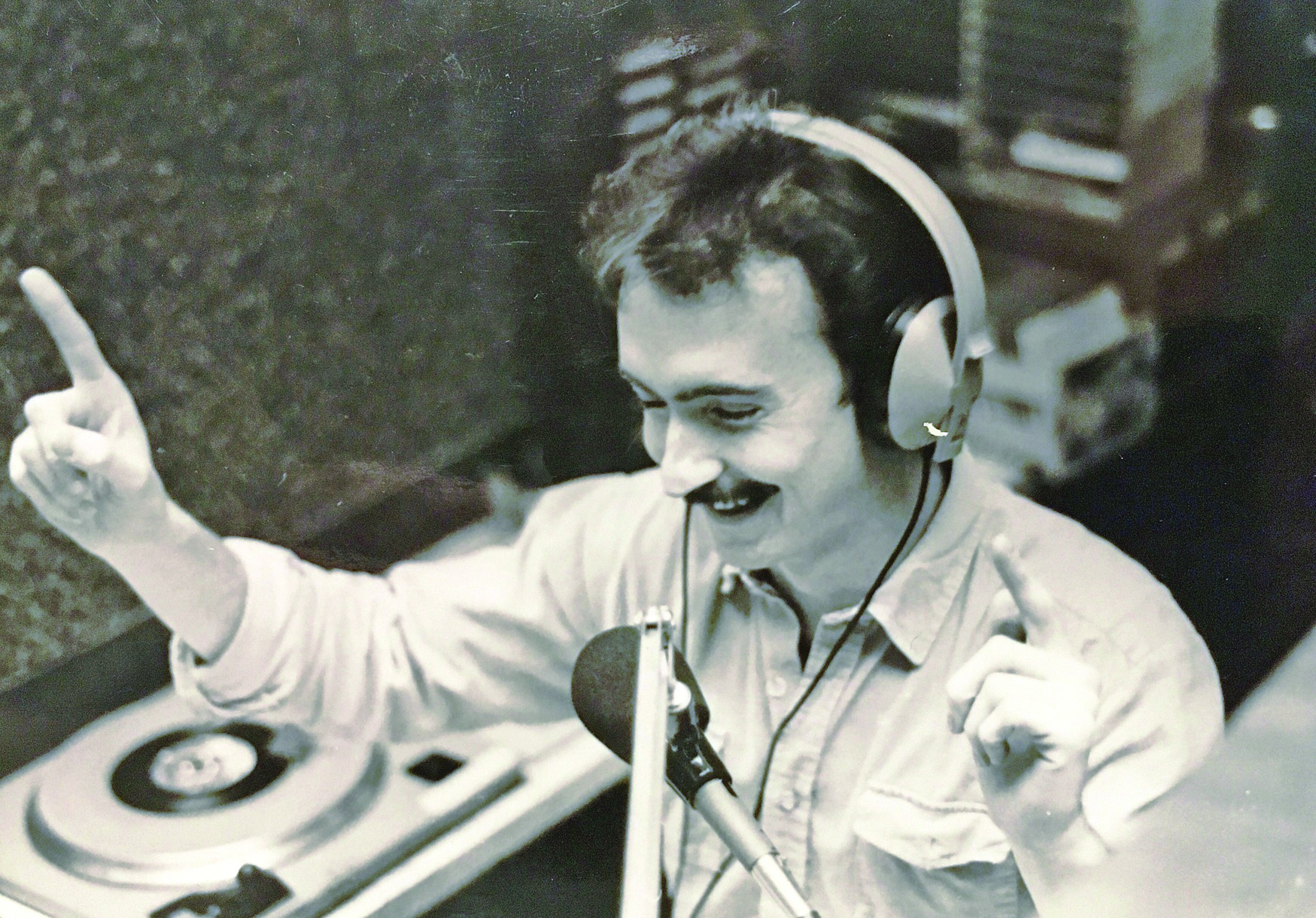 Ambition on the Airwaves: Radio Man Ron Jolly
In 1983, an ambitious young man named Ron Jolly walked in the doors of the Specs Howard School of Broadcast Arts in Southfield, Mich. That same man has been the 7am-10am host at WTCM in Traverse City for the past 22 years, with just one short break in the middle. He's also the subject of an incredibly long and storied history that took place between then and now.
Before he studied at Specs, Jolly was a focused student, who spent time as a teenage Congressional page in Washington, D.C., later running the now-defunct Soup Kitchen Saloon, "Detroit's Home of the Blues," in Detroit.
But once he got his foot in the door volunteering at WDET-FM, a public radio station in Detroit, he found it was always radio that kept pulling him back – and forth – up and down the state.
"My first 'real' radio job was in the early '80s at a top 40 station, WTWR Tower 98 in Monroe, Mich.," said Jolly, who played tracks by Michael Jackson, Madonna, and Culture Club.
His job coincided with the launch of the music video era, controlled mainly by MTV.
"I didn't see it as competition at the time," he said. "MTV was just another way to expose people – mostly young people – to music."
Nerves hit Jolly a bit the first time he was on air.
"Yeah, I was a little [nervous], for that first show," he said, "especially when the guy walking out, the DJ who'd been on-air before me, said 'This is your first time on the air? You'd better take that sweater off, you're gonna sweat!' But I'd been trained well, so you just open up the mic and do it."
Jolly's first radio job was pretty low-tech, compared to today's radio stations.
"Today, everything's automated, but back then, we had two turntables and you had to cue up vinyl records, getting one set up as the other one played on-air," he said.
The physicality of it sometimes created memorable moments.
"You had pretty much three minutes to get things ready from song to song; a couple of times I got mixed up and lifted the needle right off the record people were listening to on-air," he laughed. "So you were pretty busy as a DJ back then, even though it didn't pay much of anything."
It wasn't all about the pay, though. Jolly said his favorite part was digging into what really made radio tick.
"I liked the insider's view – hearing music before anyone else," he said. "I liked learning about the radio business, the music industry, programming … it didn't actually really matter to me whether or not I was even on the air."
His gig at Tower 98 was also the gateway to a long succession of radio jobs for Jolly. He moved to Traverse City in 1983, working at The Cove Restaurant in Leelanau while he waited for a radio job to open up.
He ended up at WMZK (now WCCW): first as a DJ, then as music director. He'd arrived with a plan in mind: building his resume.
"[T]he goal was to put in time in a smaller radio market, then go to a bigger market like Ann Arbor or Lansing," said Jolly. "But I fell in love with it up here."
He also got fired.
"In radio, they say you're not really 'in radio' until you get fired, so I got fired from WMZK, and got that part of my career over with," he laughed.
Next up, he headed back downstate to WSGW in Saginaw, as part of a four-man morning team show.
"My job was to be out in the van – the 'Rolling Radio' – doing crazy things like fishing and pine box car racing out in the community," he said.
But popular music was starting to wear on Jolly.
"Eventually, I kind of soured on all of it for a while," he said. "I thought, 'Why am I playing the same music over and over?' So I got into the news game."
This began another rapid fire round of media gigs. First, he returned to Traverse City in 1986 for not one, but two jobs – doing afternoon news at WTCM, and at the same time doing morning news for northern Michigan ABC TV affiliate 29 & 8.
"Then I got tired of that, and thought, 'Well, the salespeople look like they're having fun,'" he said.
To WKHQ in Charlevoix he went, where he worked in sales for a year.
"It was a great education – but not my bag," he said.
In 1991, it was back downstate, to do newscasts and a talk show with guests on WJIM JimRadio in Lansing.
And then – are you dizzy yet? – he moved back up north.
"I just couldn't stay away; I really wanted to live up in Traverse City," Jolly said.
He took a temporary job selling advertisements on cable TV; but radio still had a hold on him. And all his experiments in other facets of the radio business were pointing him right back to one conclusion.
"I decided I wanted to be back on the air," said Jolly.
He went to Lite 96 FM in Petoskey and became one half of the Jim and Jolly morning show, with fellow local radio personality Jim Scollin. In 1995, he returned to WTCM do their talk radio program.
"In 2000, I took a little break and joined the Michigan Talk Radio Network in Charlevoix for about 10 months, then went back again to WTCM – and I've been there ever since," he said.
Somewhere in the middle of that circuitous route, Jolly got married to his wife Laura, and realized again how much he liked Traverse City and had no desire to leave.
"I decided that I was ready to settle here, and that I liked being on the air. WTCM is a great company, and my job now combines so much of what I've done – music, and news, and business," he said. "So it's a great fit."
Talk radio fits Jolly like a well-tailored suit jacket. Precise yet warm, polite but pressing, his conversational style has graced more than 10,000 interviews to date: musicians Rosanne Cash and Bob James, as well as Ken Kragen, the man who put together the famed "We Are the World" recording in 1984. Authors Mary Karr, Bruce Cameron, Lee Child, and Jack Driscoll. Sports figures like former University of Michigan football coach Bo Schembechler and NHL All-Star captain John Scott. Public figures like former astronaut Jerry Linenger, former Secret Service officer Clint Hill, former Navy Seal-turned-author Chuck Pfarrer, and Mt. Everest climber Lou Kasischke. Politicians like former President George Bush and First Lady Laura Bush, former United States Secretary of State Condoleeza Rice, Sen. John McCain, former Gov. Mitt Romney, and, yes, President Donald Trump.
"I interviewed Trump back when 'The Apprentice' was on TV," said Jolly, "and I jokingly said to him, 'You know, our producer Brandon McAfee isn't doing too great a job – could you fire him for us?' So Trump said, 'Brandon, this show is terrible because of you. You're fired!' and we kept that sound bite and played it whenever Brandon messed something up."
But while he's loathe to choose a favorite interview, or even a particular "bucket list" person he'd like to interview in the future, he admitted that on occasion, drawing out a good conversation is tougher than it might sound on-air.
"Some of the famous people, especially politicians, aren't that memorable," Jolly said. "But talking to Laura Bush was neat – she's a big book geek and stopped by the studio back in 2000, so it was neat to interview her in person. I also especially like talking to authors, since I'm a book geek myself."
It looks like books are actually going to be an even bigger part of Jolly's future: He already has a huge collection of Michigan books.
"Books about Michigan and set in Michigan, written by northern Michigan authors, and talking about the history and trivia of Michigan all the way back to the 1800s," he said.
While it might seem that the next logical goal for this determined broadcaster would be another step up the radio ladder, he said his next plan is to simply find more time to read.
"I do have some ideas to freshen up my WTCM show – I used to do a feature called 'Northern Michigan Trivia' that people really liked it so I might bring it back – and of course what keeps the show fresh for me, personally, is the music element, playing segments of all kinds of music and talking about it," he said.
With so much under his broadcasting belt, Jolly said his next big goal is to retire in four or five years.
"I plan to stay in Traverse City, read a lot more, do some volunteer work, and just enjoy having more time to relax," he said.
In looking back at his storied career, Jolly says he has no regrets about any of it.
"Life is too short for regrets," he said. "I just followed the road where it led."
Listen to Ron Jolly weekday mornings from 7am-10am on WTCM NewsTalk 580 Radio.
Trending
Very Busy Very Fast
This isn't going to be easy. President Joe Biden and his thin congressional majority are walking into troubled times both ...
Read More >>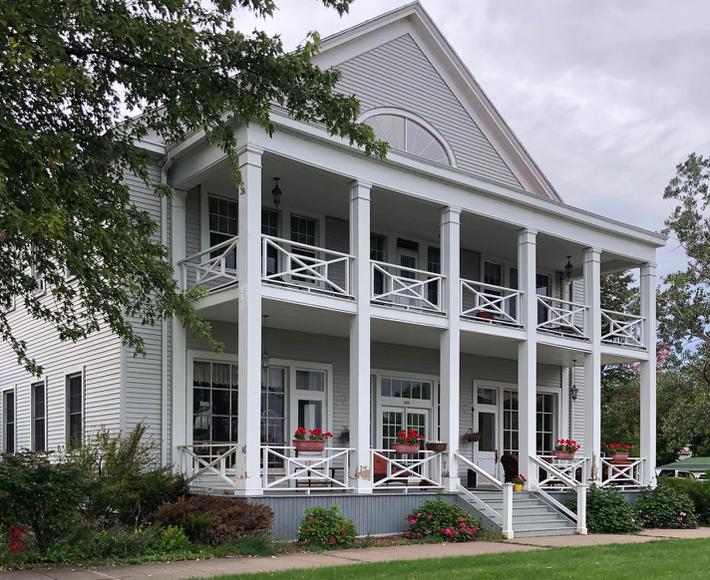 Thunder Bay Inn
Former playground to Henry Ford and part of a famous film and novel based on a real-life murder in the town, the courtroom...
Read More >>
Forty Acres' Spa Day Martini
Myriad methods of cocktail creation are on display at bars around the world. There are flaming drinks, compotes laden with...
Read More >>
He's Gone, Now What?
Wounded and fearful, America watched the 45th President leave the nation's capital. On a hastily arranged stage at a...
Read More >>
↑