An End to the Leelanau County Wedding Barn Dispute?
Despite a court settlement, some neighbors in an Elmwood Township battle aren't ready to quit the fight.
Neighbors of an Elmwood Township farm-turned-wedding-venue have hunkered down and are deciding what to do next after the township settled a federal lawsuit and agreed to allow special events to happen at controversial Noverr Farms overlooking South Lake Leelanau.
The settlement between the township and Frank Noverr would seem to end a years-long dispute, but some neighbors say they believe they were sidelined, cut out of the discussion before the township surrendered, rather than defended, its zoning ordinance.

For Noverr and his supporters, including some neighbors who submitted letters on his behalf to the township, the settlement marks a victory for property rights and against meddling regulations.

Members of a neighbors' group formed to oppose Noverr's venue said the settlement merely favors Noverr's property rights over their own, however. What's most troubling about the settlement, according to neighbor Jeff Beamsley, is that it means the township neglected to enforce its own zoning law.

"Zoning is only valuable if it's enforced," Beamsley said. "Zoning laws have to be defended every time to ensure that they are respected, otherwise it's just zoning for poor people."

NOISE, HEADLIGHTS AND SPEED
The neighbors' group, South Lake Leelanau Association of Neighbors, or SLAN, hasn't ruled out going back to court, but first Beamsley said they are exploring taking other measures to offset the impact of the event venue, which they believe will shatter the peace of their historically quiet lakeside neighborhood.

Pulsating noise from bands playing atop the hill, headlights shining from vehicles exiting the property at closing time and shining into neighbors' windows, and the increase in traffic that coincides with events conspire to reduce the quality of life enjoyed by those who live nearby, they say.

Per the settlement agreement, events will be allowed to occur there 26 times per year. SLAN expects those events will be concentrated in the warmer months, meaning they are bracing for a steady stream of weekend events through summer.

That means, Beamsley said, SLAN might pressure the township to enact and enforce noise and light ordinances.

One of their first moves, Beamsley said, will be to petition local officials to lower the speed limit on Lakeview Road from 35mph to 25mph, at least in the summer months. They also hope to convince the Leelanau County Sheriff's Office to step up patrols to enforce the speed limit and drunk driving laws when events let out.

They also plan to act upon an appraisal SLAN commissioned for township officials to consider while Noverr's special use permit was under consideration.

The appraisal found that the impact of the event venue on nearby homes could be as much as 20 percent; properties further away but still impacted could see their values fall by as much as five percent. In all, the appraisal estimated that the cost of Noverr Farms' event venue to nearby homes would be $2.5 million.

Beamsley said SLAN plans to take that appraisal to homeowners within the "impact zone" and let them know they can use the analysis to petition the township to reduce their tax assessments.

Ultimately, Beamsley said, the settlement means neighbors of Noverr Farms will be forced to sell their homes for less money than they could if the venue was not allowed.

"The issue is that if you are going to sell your house, you have to disclose things like, 'there is an event center that will result in 200 cars every weekend day going back and forth on that road,'" he said. "If you're interested in buying a property and wanted the best price, you're going to use that information to your benefit, whether it concerns you or not."

"TIME TO MOVE ON"
If the SLAN group thinks they lost in the settlement, Noverr said he wasn't willing to go so far as to say that he won. He said he is relieved.

"I think it's a fair settlement for everybody," Noverr said. "I think it's fair, and it's been five years. It's time for everybody to move on with their lives."

Noverr agreed to limit events to 26 per year. He pledged to take measures to limit noise and light coming from the property. And he said he doesn't believe that property values will be affected by his operations.

At Noverr's request, the township commissioned an analysis of the property value appraisal SLAN commissioned. That analysis questioned the appraisal's findings. Although Noverr was originally supposed to pay for that analysis, the township footed the bill as part of the settlement.

Noverr said property values have actually been going up since he's been operating an event venue.

"If you go up and down that street the last two years and see what's happened to property values, it's the exact opposite," he said. "Property values have been going up."

Noverr said he filed the federal lawsuit last year while the township's planning commission was mulling over his special use permit application; he said he felt township officials had overstepped last fall in an attempt to prohibit him from holding political gatherings on his property.

"They sent me a letter that said I couldn't have political gatherings of more than 50 people on my property," he said. "That's why we went to federal court, because they were taking away my First Amendment rights."

Despite Noverr's hope that the settlement will finally put an end to the dispute, his determination to use his venue for events supporting political causes, to hold nonprofit fundraisers, and to host weddings and parties for friends and family, could further aggravate members of SLAN and cause them to keep challenging his operation. That's because Noverr plans to not count any of those events among the 26 he's allowed under the settlement.
"It doesn't include friends and family or nonprofits," Noverr said.

"A DETERMINED BUSINESS GUY"
Elmwood Township Supervisor Jeff Shaw defended the decision to settle rather than fight for zoning enforcement, saying he sees the settlement as an imperfect compromise that saved the township potentially hundreds of thousands in legal fees.

"Basically, this thing was going to go on for years; our date in federal court was December of next year, which would have probably been moved back, realistically," Shaw said. "This allowed us to resolve it and to get much of what we wanted or needed [Noverr] to do."
That includes an agreement to limit the number of events each year, to move the outdoor event closing time from 11pm to 10pm on weekends and 9pm on weeknights, and to get an agreement from Noverr to build a fire access road.

"We didn't have to pay anything out of the general fund," he said. "You know, frankly, we could have lost in federal court," he said.

Shaw said he believes the township attempted to balance the interests of two divergent groups of residents.

"I understand the concerns of the people that live out there," he said.

Shaw said he doesn't believe that Noverr-adjacent residents will be able to lower their taxable values based on the appraisal because the analysis of the appraisal cancelled out its conclusions. Both were authored by reputable real estate professionals, he said.

Shaw acknowledged that the event ordinance, by limiting political assembly, was flawed, putting the township in a corner.

"That part of the ordinance was not written as well as it could have been, and that's on our attorneys, and that's on our board, and that's on me as well. … Unfortunately, that's what led to this," Shaw said. "We are in the process of rewriting that ordinance."

Shaw said that beyond the potential legal fees, the possibility that the township could have lost the lawsuit was a big part of the decision to settle. That's because, in addition to being able to operate a venue, Noverr's lawsuit sought to have the court throw out the township's event ordinance altogether, which could have caused havoc in the mostly rural township.

"If the judge chose to do that, then anyone could come to Elmwood Township and build an event center anywhere they wanted, and we couldn't regulate it," Shaw said.

The event ordinance was created to offer farmers an alternative source of income in the interest of keeping their farms going and keeping as much land in traditional agriculture as possible.

Noverr's critics argued from the beginning that his 26-acre property didn't qualify because it was located in a traditionally residential area and, even with some apple trees, wine grapes, and cows, fell well short of what, under the ordinance, qualified as a farming operation.
Asked if he thought Noverr exploited the event ordinance in his campaign to operate a wedding venue, Shaw said he didn't have an answer.

"I don't know. I really don't. I think he's a determined business guy," Shaw said.

"DEPRIVED OF THEIR DAY IN COURT"
The settlement of the federal lawsuit was only the latest chapter in a saga that's unfolded for years and has seen the sides suing each other, Elmwood Township, or both.
For years the township resisted Noverr's plans.

In 2016, Elmwood Township's planning commission refused to grant Noverr a permit to hold commercial events at the property, a decision Noverr appealed to the circuit court. Around the same time, SLAN brought a separate lawsuit against Noverr in hopes of having his venue shuttered. In the meantime, Noverr defied the township and continued to hold events, saying they were hosted only for friends and family.

This unfolded while the township worked to rewrite its event ordinance; each side attempted to influence the results. Noverr was in the process of filing for a special use permit under the new ordinance when he filed the federal lawsuit last October.

Kristen Houle, SLAN's attorney, attempted to intervene in that lawsuit on behalf of her client, but the federal judge ruled that the township represented the neighbors' interests and, therefore, they should not be granted independent standing in the suit.

The township, in the end, did not fight on behalf of SLAN's interests, Houle said.

Houle planned to argue that a permit for an event venue should be denied because of the impact events would have on neighbors.

She said that SLAN also commissioned a study on noise at the venue that determined the measures Noverr planned to take to mitigate noise would not work because of the property's topography.

She also planned to argue that a permit should be denied because of the impact on property values. Houle was unaware of the analysis commissioned by Noverr and the township. That analysis was never included in meeting materials for the township board or the planning commission.

Also, Houle said, Noverr's property failed to qualify as an event venue under the ordinance because the agricultural operation it too small.

"He wouldn't have qualified under the zoning ordinance," she said.

None of those arguments saw the light of day, however, she said.

The settlement was "a way for the township to circumvent their own zoning ordinance and deprived the neighborhood of their day in court, essentially," Houle said.

NUISANCE VENUE OR PROTECTED FARMLAND?
Beamsley said he is frustrated about the settlement because he cannot understand how the township got into a position where officials felt they had no other choice but to fold. Local governments should stand behind and enforce their zoning rules, he said.

Moreover, Beamsley asked, why didn't officials know at the outset that the township's insurance was insufficient to take on a case like this?

"When it came time to protect the interest of the neighborhood by defending the regulations that they had written, the township decided that it was more important to protect their budget," Beamsley said.

Beamsley said he and other neighbors who were opposed to the wedding venue feel like they have been let down by their township board, which voted unanimously to accept the settlement in July.

"We like living in a quiet established neighborhood surrounded by farms. We supported the process of giving farmers another income stream so that they can continue farming," he said. "We trusted that those regulations would be applied and enforced fairly by an elected township board who governed in our best interests."

Ultimately, Beamsley said the settlement only serves to show others that, if they are willing to go to court, they can steamroll the township's ordinance.

"Some may view this as a victory for the rights of property owners," he said. "They are mistaken. It is a victory for one wealthy individual over the rights of the surrounding property owners. This settlement demonstrates that anyone willing to spend the money can make their own rules."

Noverr said the result of the settlement does what the event ordinance intended: It protects farmland.

He said his 26 acres could be developed for housing, an outcome that could harm area property values.

"I mean, do you want 40 houses on my property, or do you want one house with two historic barns? People don't think about that," he said. "We're preserving farmland and open space, but nobody talks about that."
Trending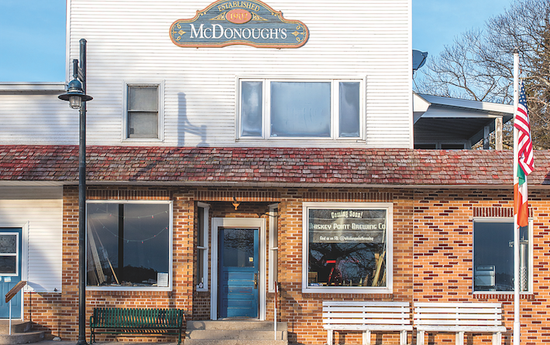 Welcome to Michigan's Most Remote Brewery
After years of planning and honing his beer-making skills, this spring, Patrick McGinnity plans to open Beaver Island&rsqu...
Read More >>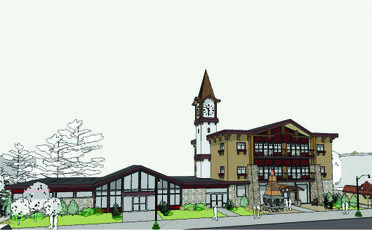 Gaylord: A boomtown Up North
Gaylord native Gary Scott had moved to Indiana, where he and some partners started a business to invest in distressed prop...
Read More >>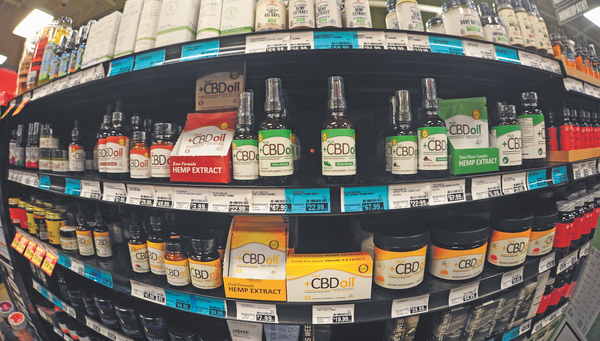 CBD Laws: Dazed and Confused
The sign outside of Family Video in Kalkaska lets drivers know the store has more than just movies. The sign reads: &...
Read More >>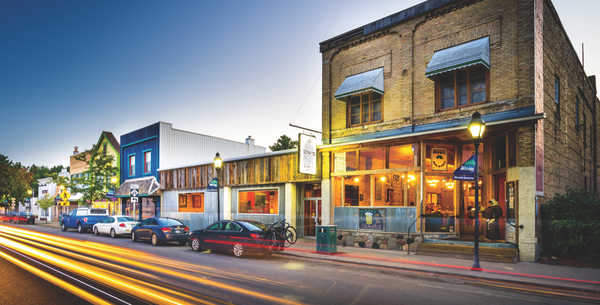 Small Up North Towns on the Rise
Spotlight on Bellaire (pictured)Seems Traverse City isn't the only place in the region making those "Best...
Read More >>
↑