Another Strange Twist in Bank Heist Case
Charges against bank robbery suspect William Minore were suddenly dismissed by a federal judge, leaving prosecutors scrambling to figure out their next move.
Minore was transferred from Grand Rapids to Traverse City April 18 and was arraigned the next day on felony weapons charges.
Those charges, which had earlier been discarded, stem from when police zeroed in on Minore as a suspect in the September 2016 armed robbery of the Huntington Bank branch in Empire. Investigators at that time searched his van which was parked in Interlochen and they found two tasers, according to court records.
Minore's Grand Traverse County charges are just the latest twist in the case. In early April, after 19 months of arguing over, seemingly, every detail in the bank robbery and just weeks before his trial was to begin, the Leelanau County charges were dismissed and Minore was transferred to federal custody.
There, on April 17, Magistrate Judge Ray Kent dismissed the bank robbery charges following a preliminary hearing in which Kent ruled that prosecutors didn't prove probable cause that Minore was responsible for the crimes.
A LATEST DEVELOPMENTS
Minore's attorney in the Leelanau case, William Burdette, said he was surprised but pleased by the dismissal.
Burdette said the case was thrown out based on some of the same arguments that he used in seeking to have the Leelanau charges dismissed.
"They looked at all the evidence, from the FBI and the state police, and they just didn't think there was probable cause to say that that Mr. Minore was guilty of any of this," he said.
Meanwhile, Burnette was appointed to represent Minore in the taser case, for which Minore was ordered held April 19 in lieu of $100,000 bond set by Grand Traverse County District Court Judge Thomas J. Phillips.
Burdette said that's a pretty high bond considering that even if Minore were to be convicted right away in the taser case, at this point, that Minore would be sentenced to time served considering how much time he's already spent in jail.
"Given what happened down in the federal court, I don't think it's justified at all," he said.
Grand Traverse County Prosecutor Bob Cooney and Leelanau County Prosecutor Joseph Hubbell could not be reached for comment. Messages left at the U.S. District Attorney's office in Grand Rapids were not returned.
Minore's Leelanau County trial had been scheduled to begin May 18 before the case was moved to federal court. It's possible that bank robbery charges could be re-filed in Leelanau or in federal court.
AN EARLIER INVESTIGATION
In court filings over the past 19 months, Burdette has laid out his case why he believes Minore is innocent.
While Minore had been charged in Leelanau in connection to the Empire bank holdup, he is suspected in two other bank robberies in Benzie County. Burdette said prosecutors may have moved the case to federal court because they determined that it made sense to try the case in a court where Minore could face charges for all three.
Much of the argument in Minore's Leelanau County case was over whether prosecutors could introduce evidence linking him to the Benzie County bank robberies.
While appellate courts declined to hear Burdette's objections to the admission of the "other acts" evidence prior to trial, if Minore was convicted in Leelanau County, Burdette said he believes the introduction of the evidence from the Benzie County robberies could have been grounds to have the conviction overturned.
He said that while Circuit Court Judge Thomas Power ruled to allow the evidence, Power said in his ruling that it was a close call and allowed Burdette to try to get the Court of Appeals or the Supreme Court to intervene.
All along, Minore has maintained his innocence. "I am an unlikely criminal – 70 years old, never been arrested, not even a current traffic ticket," Minore wrote in March a letter to Northern Express.
The case against Minore follows a sprawling, complicated investigation that includes considerable circumstantial evidence that ties Minore to the bank robbery in Empire; his connection to the two bank robberies that occurred in Lake Ann in 2015 is murkier. Prosecutors argued the modus operandi in all three crimes were so similar as to constitute a signature.
But in recent months, Burdette filed motions in Leelanau County that detailed an earlier investigation that focused on group of suspects who police focused on before Minore appeared on their radar.
Police interviewed witnesses and suspects who apparently had inside information about the crimes.
TALKING ABOUT A BANK HEIST
The first bank robbery occurred at the Honor Bank branch in Lake Ann on April 22, 2015. It was a shocking and brazen crime.
The robber made three diversionary calls to the non-emergency lines for the central dispatch offices in Benzie, Grand Traverse and Leelanau counties, reporting phantom, unfolding crimes in an alarmed voice to draw police away from Lake Ann just as he was about to strike.
Covered in a winter coat with a fur-lined hood and a ski mask, he carried a snub-nosed silver revolver and threatened the bank staff, ordering them to close the blinds and he gave them a sign to hang on the window that read: "Sorry we're closed. Electrical Problems". The sign included two crudely drawn frowny faces.
A local television news reporter breathlessly reported that "the armed robber remains on the run tonight. As police hunt for him, they say he could be very dangerous."
Benzie County Sheriff's deputies and the FBI launched an investigation and they got a break on June 2, when a Grand Traverse County Sheriff's deputy encountered a suspect who claimed to know who stuck up the bank.
The deputy had just arrested a driver and a passenger after he found methamphetamine during a traffic stop; the two men were apparently driven separately to jail, and on the way, one of the suspects, a now-29-year-old Traverse City man, told a deputy that the other guy was responsible for the bank heist.
The development sent police into a nest of backstabbing, drug-using criminals. Along the way they would use warrants to search properties and they got judicial authorization to put a tracker on a vehicle belonging to one suspect.
The 29-year-old later told the FBI that he'd known the other guy for less than a year and they often used drugs together. He said they discussed bank robberies, and that the other guy "told him he would use a sign to describe electrical problems, chain and lock the doors, and have a vehicle parked a short distance away," according to a search warrant affidavit filed by Benzie County Sheriff investigators that was included in a motion filed by Burdette.
The man said his friend suddenly had wad of cash "the size of a baseball" a couple days after the robbery, despite being unemployed. That information led to the execution of a search warrant at a Long Lake Township residence that turned up no evidence.
That suspect, a now-36-year-old Traverse City man, would later tell investigators that he believed the accusation was retribution because he'd previously informed on the 29-year-old in a drug case.
"DECEPTION INDICATED"
In December, the Lake Ann bank branch was robbed a second time. This time, just one diversionary call was placed moments before the crime from a man who directed police miles away to Homestead Road where he claimed his daughter had been shot by her boyfriend.
The second bank robbery prompted police to tighten their focus on the two men from the traffic stop in June.
They also interviewed the younger suspect's on-again, off-again girlfriend, who told police that when she was visiting friends at another Long Lake Township address two weeks before the first robbery, she saw a handwritten sign that read "electrical" and included frowny faces.
The woman told police that she "asked [the couple] about the sign and was told to mind her own business while the piece of paper was covered up. The sign was never mentioned again," according to the affidavit.
The now-26-year-old also told police she'd spent the summer selling heroin to the couple and she estimated they'd purchased around $25,000 worth of the drug over that period despite apparently not having much of an income.
In January 2016, the two suspects from the traffic stop each took lie detector tests at the FBI office in Traverse City and were asked about their involvement in the Lake Ann bank robbery, which they denied.
The 29-year-old was suspected of being the getaway driver in the first robbery; he had an alibi for the second one because he'd been in jail. The suspect told the interviewer that the other suspect used to brag about how stick-ups were his specialty, but he acknowledged some haziness in his recollection as he had been abusing "research chemicals" for a while.
The results of both lie detector tests were the same: "deception indicated."
CENTERPIECE OF THE DEFENSE
That investigation ultimately went nowhere.
(Also, it involved a group of people adept at telling police what they wanted to hear in exchange for less trouble for themselves — the 26-year-old woman who told police about the sign with frowny faces is now in prison after she took a plea deal and agreed to cooperate with the Traverse Narcotics Team investigating other drug suspects.)
Nonetheless, Burdette said he would have highlighted the earlier bank robbery investigation in Minore's trial as evidence that exonerated his client.
"Two people failed polygraphs in connection with the robbery and [the police] went to look for one of them when the robbery happened in Empire," Burdette said.
Burdette said that what witnesses told police about seeing a sign similar to the one used by the robber from the first heist was compelling evidence that exonerated Minore.
"The FBI took that sign and they did a fingerprint analysis and they found numerous fingerprints on it and none of them matched Bill Minore," he said. "When you look at the evidence that they had, they really didn't have any physical evidence."
In addition to the evidence collected after the first and second robbery that linked a group of suspects to the crimes, Burdette said there are other serious problems with the case against his former client.
The physical descriptions from witnesses don't match Minore, he said, and they are not consistent from robbery to robbery. None of the stolen money was ever found. And despite exhaustive searches, investigators have never found the gun used in the robberies.
The case connecting Minore to the Empire robbery includes surveillance footage that shows him taking a car in Glen Arbor, that car driving into Empire just before the robbery, and that car driving out of Empire just after. Minore claims he was set up, and that someone in Glen Arbor asked him to move their car for him.
Minore was also tied to the Empire robbery when family members recognized his voice from the diversionary calls when they were played on the news. Minore's estranged girlfriend and his daughter recognized his voice and called police.
Burdette doesn't think Minore's strange claim that he was asked to move a car by someone in Glen Arbor would have been a problem in his trial. And he argued that Minore was estranged from his family. He said Minore has never wavered from his description of what happened, even after 19 months.
"He didn't do it," Burdette said. "They don't have enough evidence that he did. … That's my opinion."
Trending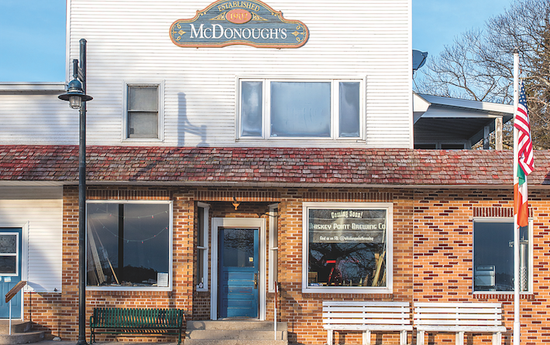 Welcome to Michigan's Most Remote Brewery
After years of planning and honing his beer-making skills, this spring, Patrick McGinnity plans to open Beaver Island&rsqu...
Read More >>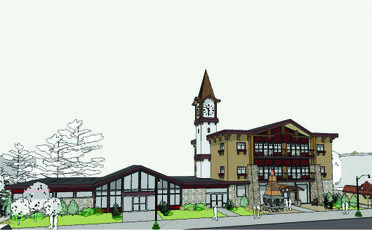 Gaylord: A boomtown Up North
Gaylord native Gary Scott had moved to Indiana, where he and some partners started a business to invest in distressed prop...
Read More >>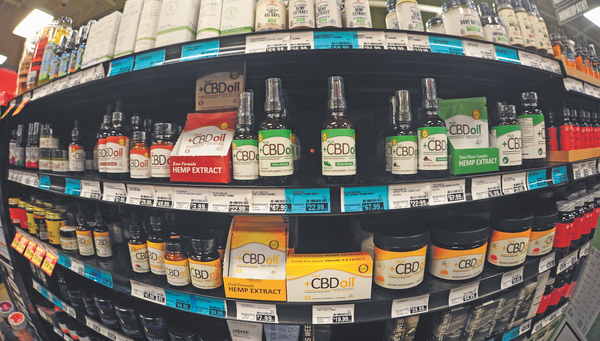 CBD Laws: Dazed and Confused
The sign outside of Family Video in Kalkaska lets drivers know the store has more than just movies. The sign reads: &...
Read More >>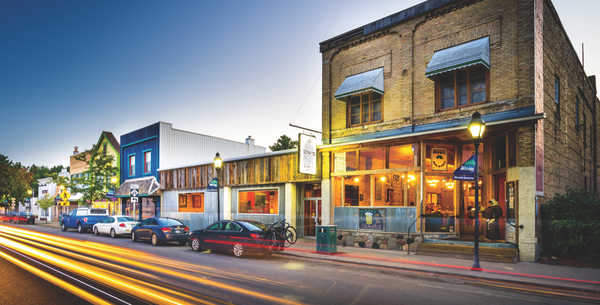 Small Up North Towns on the Rise
Spotlight on Bellaire (pictured)Seems Traverse City isn't the only place in the region making those "Best...
Read More >>
↑