Drawing the Line in Petoskey: 'Peace Warriors' of all Ages Voice their Opposition
Jan. 29, 2003
They used to call it "Northern Michigan mentality." People moved to the
tip of Michigan's mitt from "down below" to get away from it all, and then sent their convictions and consciences on permanent vacation, refusing to dirty
themselves with politics.
Looking at numbers of people who turned out on Jan. 18 for anti-war
demonstrations in Petoskey, refusal to get involved is now seen as the
dirty side of politics, and is quickly becoming a thing of the past.
Nearly 300 people crowded the Central Elementary School gym for a peace rally
and march in Petoskey on the 18th, a date chosen for demonstrations throughout the U.S. Grandfathers pulled their red-cheeked grandchildren in wagons, others walked as a thick snowfall obscured those at the end of the line from those in front.
Undeterred by wintery blasts, chants and songs reminiscent of the '60s and
'70s filled the air: "One, two, three, four, we don't want your oily war... five,
six, seven, eight, we want peace instead of hate." "We Shall Overcome" and "We Shall Not be Moved," anthems of the Civil War used during the Civil Rights movement, were sung by a generation that never heard them before, taught by a generation that hoped
they wouldn't still be singing them after all these years.
Traffic stopped while marchers crossed Mitchell Street, and when the
sign-carrying protesters stood waving along US-31, passing cars and trucks
honked in solidarity.

'IT'S TIME AGAIN'
"I stopped believing in protests in the early '80s," said Petoskey's Bob
Vance, 48. "But I happened to be in Chicago for the October protest, and it really
moved me. In the '70s all the protesters were young white people. In Chicago there was incredible diversity of age, economics, nationality, race. There were whole families walking hand in hand. I decided, akay, it's time again."
Vance said he joined Petoskey's march for peace because he was feeling
alone in his dissent. Many Northern Michiganians are rushing to organize so they can
fight that feeling. Jim Nogaard has been working for months with Another Way Peace
Coalition to hold a series of issues forums. The Emmet and Charlevoix County Green
Parties, under a shared leadership that includes Steve Brede and Ellis Boal, have been picking up steam with a platform that includes opposition to war as well as environmental protection and social justice.
Saturday's march, which coincided with national peace rallies in Washington,
D.C. and throughout the country, was publicized and sponsored by a loosely
woven group of individuals under the banner, Northern Michigan People for Peace. The
group's leaders will seek formal incorporation next week.
TC-based Mideast Just Peace organized two bus-loads of people from Northern
Michigan to attend the Washington march, joining people from more than 250
U.S. cities who chartered "peace train" buses for the event. Michele Burian, one of
the Petoskey women who made the trip, said she came home with "shin splints and sore
calves, but more hope and more determination" to work for change.
She said the massive Washington march was "minimalized in the press, but
guess who owns the press? Don't believe the 30,000 estimate," she said. "The Mall
couldn't contain us, we spilled all over the streets." During the march, she phoned
a report from Washington to the Petoskey crowd, linking the two groups and receiving
cheers as she described the united spirit of those marching together in an attempt to stop a threatened war on Iraq.

NON-VIOLENT SOLUTIONS
Kate Winnell, 56, evoked the spirits of those who died for non-violent
solutions to issues in the past. "They are marching with us, too," she said. "All who march are connecting. Maybe we don't change public policy, but we do change things. We bear witness."
The crowd represented a diversity of smart, gifted, and dedicated people who are involved on an ongoing basis with a wide assortment of issues, ideas, and disciplines that relate to peace. They come out of the woodwork to join war protests when things get bad.
Among marchers who have been persistent advocates of peace is Dale Scott, 52,
Harbor Springs, who said he participated in his first anti-war rally at Alpena Community College in 1969. JoAnne Beemon, 57, Charlevoix, said she has been marching
for peace since her junior year in high school -- 1963.
Bruce Sanderson, 86, and his wife, Char, 82, said "we will do this until
we die." Bruce is a member of Veterans for Peace, the nationwide group that led the
parade in Washington. Both have been members of the Little Traverse League for Peace and Freedom for decades.
Ellen Addington, who will be 80 in March, once ran for Congress on a peace
platform she had advocated since 1970. The Ellsworth woman was defeated,
but, she says, "Even though you may not always be successful, you need to be
faithful. It takes a long time for people to hear what you have to say."
Demonstrators raised their hands to indicate their point of origin: Boyne
City, East Jordan, Walloon Lake, Cheboygan, Pellston, Lansing, Ellsworth, Harbor Springs, Petoskey, Grand Rapids.

LOSING LIBERTIES
Even the mayor of Charlevoix, Gabe Campbell, rose to speak to the crowd.
"We are losing allies as fast as we are losing our civil liberties," he
said, objecting to policies of the Bush administration. Two high school students from Charlevoix were among rally participants, one illustrating Campbell's point with a sign that said, "Drop Bush, Not Bombs."
The two young women, Kelly Ward and Lorna Kilborn, were among numerous high school students who couldn't join the Washington march. Corey Higley, a Petoskey High School senior, said her father decided it was too dangerous for her to go.
"It's important to let other people know how you feel," Higley said as she
waited for Petoskey's march to begin. She spent her time writing out cards with
the addresses and phone numbers of Michigan's representatives in Washington. "You have to do what you can where you are."

Petoskey's awakening "peace warriors" have begun several ongoing activities:
-Circulating petitions and resolutions: "Whereas, the ultimate security
of the United States is dependent on creating the conditions of life for all
nations, working together cooperatively, that will eliminate poverty, injustice, inequality, environmental degredation, and other factors that breed war and terrorism..."*
-Reading and writing speeches:
"Our Congress gave the President the ability to respond to the tragedy of
September 11. But we the people must reserve the right to measure the
response, to proportion the response, to challenge the response, and to correct the
response... we did not authorize the administration to wage war anytime, anywhere, anyhow it pleases..."
-Campaigning to write letters to representatives -- and to the White House.
-Printing, distributing, and displaying yard signs.
-Pledging to dress in black and stand in silent protest with the international "Women in Black" movement at the entrance to Petoskey every Wednesday evening.
-Organizing another peace march on February 15, to coincide with marches
being organized in Europe on that day.
-Publicizing an e-mail list: nmpeople4peace@hotmail.com
Apparently, it's not just for hippies any more.

WAR IS TERRORISM
Bev Holden, 72, of Walloon Lake, summed up her reasons for marching: "I'm
just a citizen who has lived long enough to realize that more dying will not
change anything. It's time for us to use our heads."
Three Boyne City nine-year-olds carried signs that said "War is terrorism."
Mitchell and David Heick and Ruben Shell accompanied Jinny Heick, 47, on
the march.
"Maybe we can stop bombs from dropping on some child's head," Heick said.
"That's a good enough reason to be here."
Bekki Doyle, 21 of Petoskey, said she learned from her parents that two
wrongs don't make a right.
"I don't understand this concept:" she said. "How come when they kill us it's
murder, but when we kill them there's always some kind of justification?"
she asks.
Placards carried by marchers indicated a belief that war is a tool to
secure oil for the U.S. "Got oil?" said a sign depicting Vice President Dick Cheney with a dripping black "milk mustache."
Bill Henne of Charlevoix was among environmentalists who joined the march.
Many environmentalists express the notion that because oil is the cause of
so much strife in the world today, alternative sources of energy -- rather than a new supply of oil -- should be a national goal. Others suggested a marketplace approach: purchase fuel-efficient cars instead of "FUV's."
The old -- and new -- peace activists were asking for more than the absence of war. They were asking for the presence of peace: reason, justice, equality, respect. One peace worker said, "They teach this stuff in kindergarten these days. What
is wrong with our leaders that they don't get it?"

* For information about, or to volunteer with campaigns to petition Emmet and
Charlevoix County units of government to pass resolutions opposing an American
invasion of Iraq., contact Stephen Brede (Emmet County Green Party) at
(231) 348-5474 or (231) 348-5499, or Boal (Up North Green Party) at (231) 547-2626.
"We're asking Northern Michigan residents to exercise their democratic
right to press their local elected officials to pass resolutions expressing the will
of our communities with regard to a war with Iraq," Brede said. "It's imperative
that local officials weigh in on national matters which will have have enormous
impacts on our communities."
The Northen Michigan effort is part of a national campaign spearheaded by
Cities for Peace (). So far, more than 40 cities have
passed resolutions calling for opposition to war.



Trending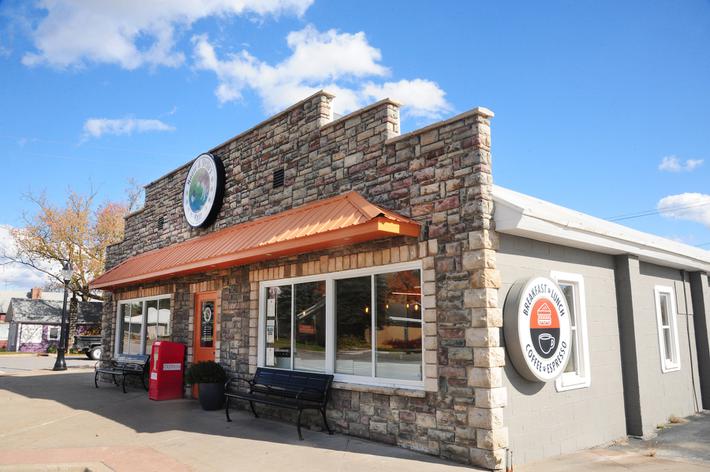 Kalkaska's Moose & Stella's
Dan Bloomquist and his wife, Evamarie, bought Breakfast & Burger Express in downtown Kalkaska at a great time: Decembe...
Read More >>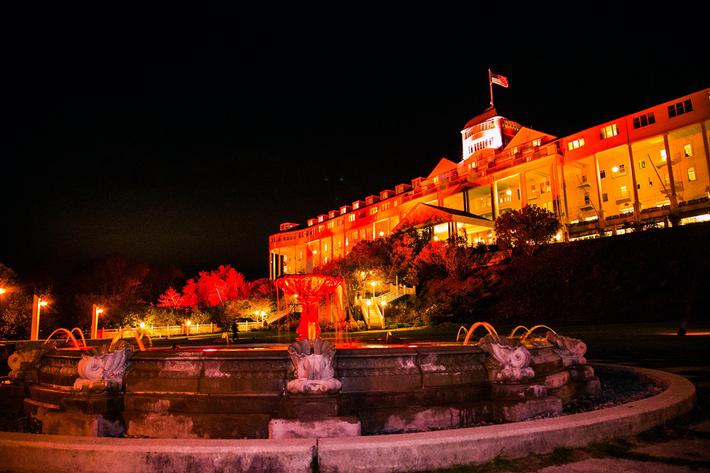 Halloween Rising
While the pandemic continues to impact lives and prevent mass gatherings, some Halloween events Up North, much like your a...
Read More >>
Hope and Vote
With mail-in voting well underway for many, and a trip to the polls just days away for many more, the gravity of the outco...
Read More >>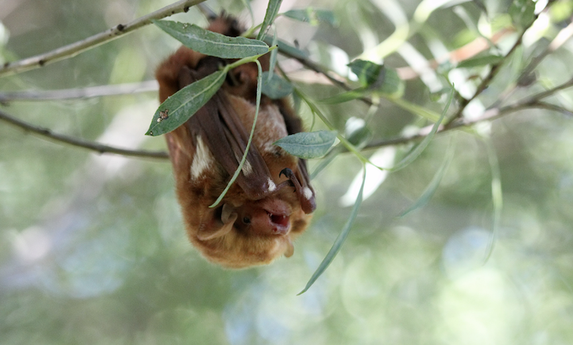 A Nightmare for Michigan Bats?
If you're seeing more decorative bats this Halloween than you saw of their live counterparts this summer, there&rsqu...
Read More >>
↑