The Amazing Billy Strings
Bluegrass phenom takes Northern Michigan music scene by storm
Nov. 18, 2012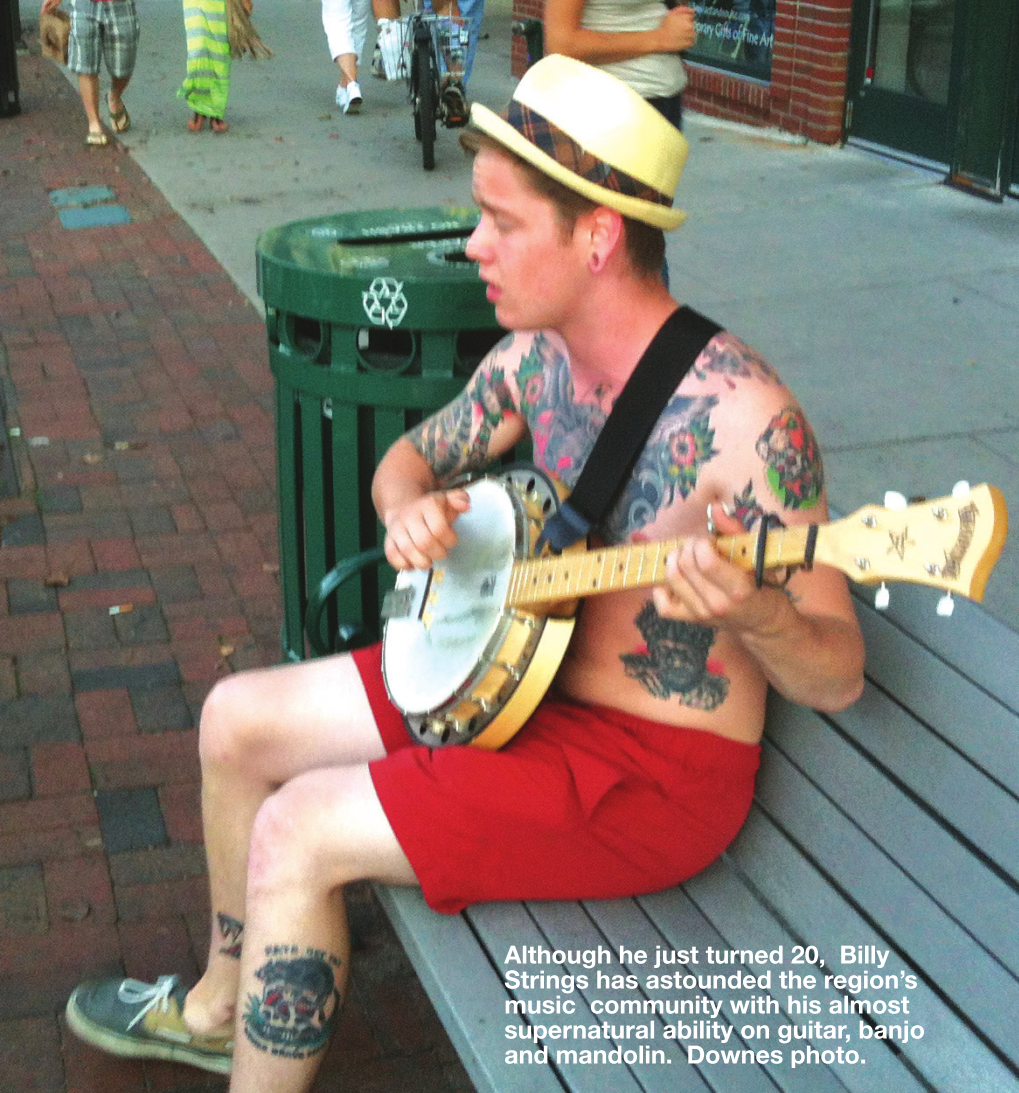 Billy Strings was practically born into bluegrass: his mother's water broke while she was attending a birthday party packed with musicians and baby Billy was born with the echo of guitars and banjos in his ears.
Either that or Billy made a deal with a dark stranger at a lonely crossroads at midnight"¦ Whatever the case, he has an almost supernatural ability on guitar, banjo and mandolin that has set the region's bluegrass and folk scene on fire.
Blessed with the voice of an old soul from the mountains, a gentlemanly air, and the ability to sling hundreds of notes with razor-crisp precision at the speed of a machine gun, Strings' flat-picking talent seems almost beyond comprehension to veterans of the local bluegrass scene, especially given his youth.
Local legend has it that dozens of jaws hit the floor when 19-year-old Strings walked into the celebrated Round Up open mic at the Hayloft outside Traverse City last summer and started to play.
"There was a stunned silence and then thunderous applause -- he just tore the place down," recalls Bill Dungjen, who hosts the popular show that airs weekly on WNMC-FM. "In walks this punk kid that no one's ever heard before and he was incredible."
Strings has since become a regular at the Hayloft's Thursday night show and is in high demand to join musical acts across the region. Meanwhile, he says the veteran players at the Hayloft have become "like a family" to him, and he frequently pitches in to back up other musicians onstage.
"What surprises me about Billy is that he's still around," Dungjen says. "We've seen a lot of hot players come and go, but the cool thing about Billy is he'll play anything with anybody at anytime and he's not so serious about it -- he just likes to play."
DEEP ROOTS

Born in Lansing and raised in Morehead, Kentucky, Strings' family eventually settled in the small town of Muir in Ionia County, Michigan.
"I was born on my grandpa's birthday, so they named me after Grandpa Bill," says Strings, who just turned 20 and whose given name is William Apostol. "I got the name Billy Strings from my Aunt Mondi, who was a real spiritual, hip Indian lady. She's the first person who called me that -- she said "˜look at little Billy Strings play' when I was a child."
Some people are born to play music -- Jimi Hendix is said to have played a broom as a child in lieu of a guitar -- and such was the case for Strings.
"There was always music in our house and when I was three years old I got a plastic toy guitar," he recalls. "There's a video of me sitting in my high chair playing music. I guess my dad thought I had rhythm.
"When I was four, we were walking through an antique store in Ionia and I saw an old guitar there," he continues. "I threw a fit -- I had to have it -- and my dad had hardly any money, but he paid $25 and that was my first guitar."
Thus, at the age of four or five, Strings started accompanying his father, Terry Barber, who was an accomplished musician himself. "I started playing rhythm for my dad on songs like "˜Beaumont Rag,' "˜Salt Creek' -- fiddle tunes and straight bluegrass."
Strings got a better guitar at the age of six and started playing at pickin' parties at his uncle Brad Lasko's campground, Barkus Park, in the small town of Lyons.
"There was always picking going on, partying and sitting around the fire playing music," he says. "I couldn't have asked for a better childhood.
"Music is what my life revolved around," he continues. "I wasn't interested in school, girls or sports. I wanted to be like my dad, a guitar player. I always looked up to my father for inspiration."
ASTOUNDING AUDIENCES

Between the tutelage of his banjo-playing uncle Brad and his father, Strings was soon astounding audiences, both at the campground parties and at bluegrass festivals.
The acclaim is something Strings grew up with, and has learned to modestly accept. Even as a child of seven he was wowing musicians in their 80s who'd played for decades. "It always means so much to me when really seasoned musicians like Bill Dungjen or (noted local banjo player) Harry Dornan praise me," he notes. "It feels good, but I know I'm a kid and have a long road ahead of me."
But what's a "˜long road' for some could end up a short walk to fame for Strings, who quickly caught the ear of the region's top musicians when he moved to Northern Michigan a year and a half ago.
A 2011 graduate of Ionia High School, Strings decided to move north at the urging of a friend who was looking for a roommate.
"Ionia is a really small town and there's not much to do there, so people resort to drugs and getting in trouble," says Strings. "I wanted to get away from all that and get a fresh start. I also started choosing my friends a little more wisely."
He landed a job at the Grand Traverse Resort, but didn't get involved in the local music scene until a performance at the now-defunct Loading Dock's open mic opened his eyes to the possibilities.
"I had never done a solo performance, but I played some songs that I loved and got so much encouragement that I thought, "˜hey man, maybe I can do something with this.'" Since then, he's been recruited for several projects. Currently, he's recording a live CD with mandolin pro Don Julin, and has also joined the bluegrass band M-23 Strings with Kurt Westie, Paul Kirchner and Marlene Wood, who have released their CD, "New Highways."
"I'm also recording a solo thing, playing guitar, mandolin, banjo, vocals, everything," he says.
SONG SELECTIONS Strings loves to play old, nearly forgotten songs whose roots are lost in history. "The Preacher and the Bear," about a minister hiding up a tree, for instance, "must be from the 1800s," he says. "No one knows who wrote it -- it's been passed down for generations. My dad learned it from his dad, who learned it who knows where."
"The Cuckoo," "Soldier's Joy," Red- Haired Boy" and other bluegrass staples popularized by acts such as Bill Monroe and Flatts & Scruggs are high on his list, but Strings has also written his own tunes which come off as modern classics.
"I wrote "˜Dust in a Baggy' in about two hours," he says of what is perhaps his most popular song. "It's about a friend of mine who went to prison for five years because he got caught with some methamphetamine. He got out of prison and went straight back in; he did the same thing and got 20 long years for some dust in a baggy."
What about the tattoos that cover his arms and chest?
"I love art, whatever it is -- I live for art.
Whether it's someone painting a picture or writing a song or brewing beer"¦ My skin is a canvas and the tattoos are about songs."
Those tattoo-song references include a cowgirl, John Henry's 9 lb. hammer, and plans to put a banjo on his knee.
HEART BELONGS TO BLUEGRASS Strings has dabbled in other musical genres. He got a Squire Strat electric guitar at the age of 11 and played blues and classic rock tunes by the likes of Jimi Hendrix, Johnny Winter and Black Sabbath. Then came his heavy metal period until the age of 16, followed by some time in "a poppy band playing stuff chicks really love -- sappy, but with an edge."
But inevitably, he gravitated back to bluegrass.
"Looking back on what I played, it was all nonsense," he says of his rock period. "I played bluegrass throughout my whole childhood and it will be in my heart forever. A lot of people say that if you can play bluegrass you can play anything, and when I started playing rock, I realized that I already knew these styles."
Strings likes the purity of the music and the rough-cut edge of the raw recordings he's making with Don Julin with only a condenser mic between them. He has no use for guitar synthesizers or effects pedals.
"I love all of these new bluegrass bands coming along, but a lot of their recordings tend to be too good, too polished, too produced," he says. "I like those old recordings on a tape recorder mic that were made up in the mountains, where you can hear feet tapping in the background, a baby crying, and a beer can opening. That to me is what bluegrass is all about -- it's earthy, organic."
Billy Strings performs almost every Thursday at 8 p.m. at the Hayloft's Roundup Open Mic on W-72 outside TC. You can also see him this Wednesday, Nov. 21 with Ron Getz and The Accidentals at Little Bohemia in TC. You can also check out video of him playing on the Northern Express Video Seen page at www.northernexpress.com .
Trending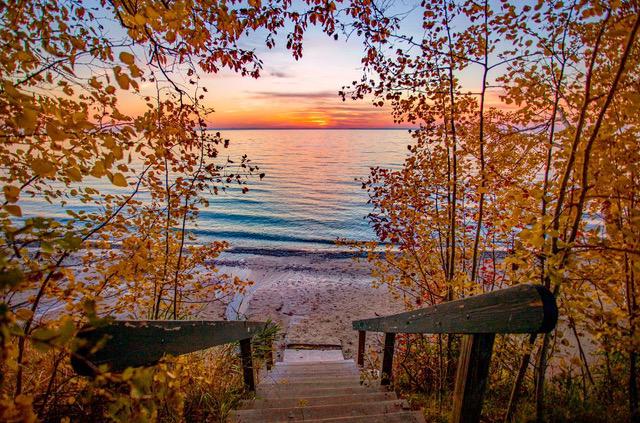 Cruisin' the Breezeway
Fall into East Jordan during the 15th Annual Autumn on the Breezeway! Choose from three different dates: Sept. 30, Oct. 7,...
Read More >>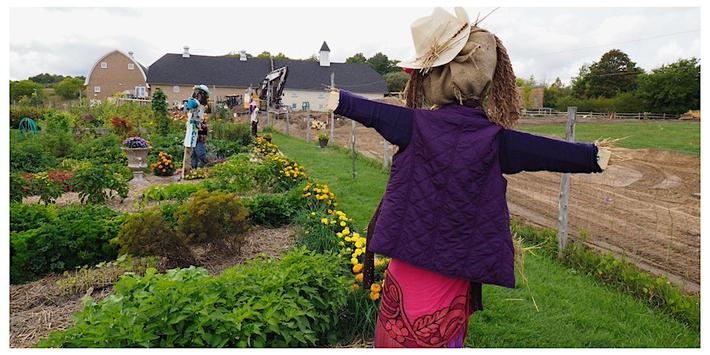 Scarecrow Szn
It may not be "spooky szn" (as the kids call it) just yet, but it does seem like it might be scarecrow szn. Th...
Read More >>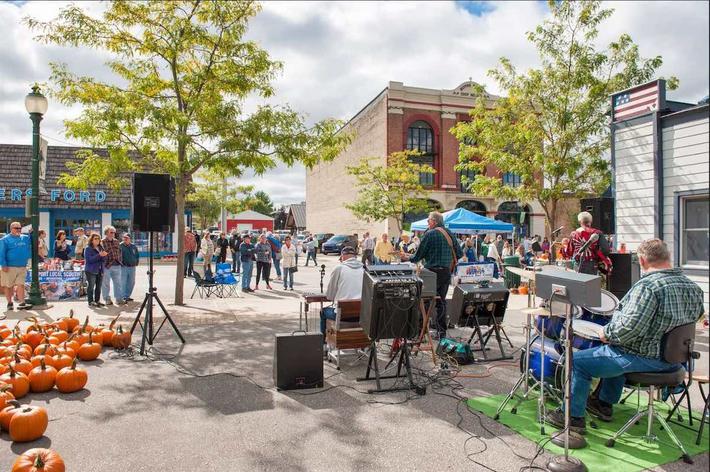 Celebrate the Harvest in Boyne City
Welcome to the season of harvest festivals! The days are getting shorter, the nights (and days) cooler, and it's tim...
Read More >>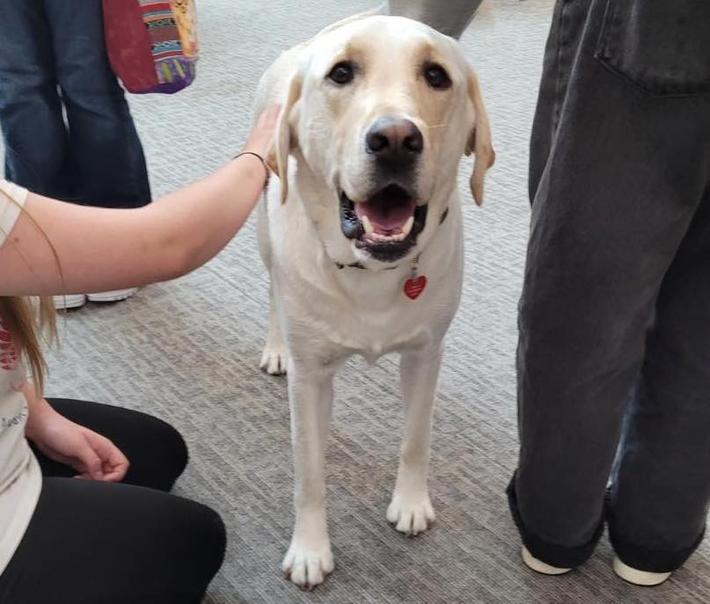 Pups on Campus
Traverse City West Senior High has brought on a very good boy as their newest staff member for the 2023-24 school year. Me...
Read More >>