The Only One in the World
Walloon Lake Sails It's Own Way
June 1, 2014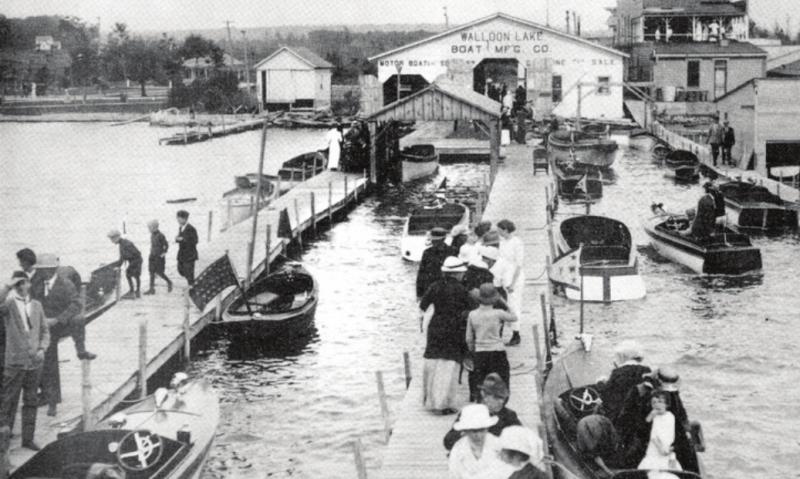 There's only one spot in the world to sail a Walloon 17.
With its signature canoe-like hull and lightweight construction, the Walloon 17s were first built in 1934 for Walloon Lake's changeable breezes and intense race culture.
Iconic and instantly recognizable to those in the know, spying a "17" on Walloon means summer has returned to Northern Michigan.
A LOOK BACK

When the Walloon Yacht Club (WYC) was formed in 1907, powerboat racing was the most popular activity on the lake.
By the start of the 1930s, however, sailing inched up in popularity with Walloon's vacationers, so much that the yacht club began hosting annual race series.
Those races weren't easy, though. Racers were challenged by the lake's odd shape and surrounding hills that created strong variable breezes.
In response, Bill Loughlin, a founding yacht club member, designed a 20-ft. boat called the Walloon Lake One, or the "W" boat.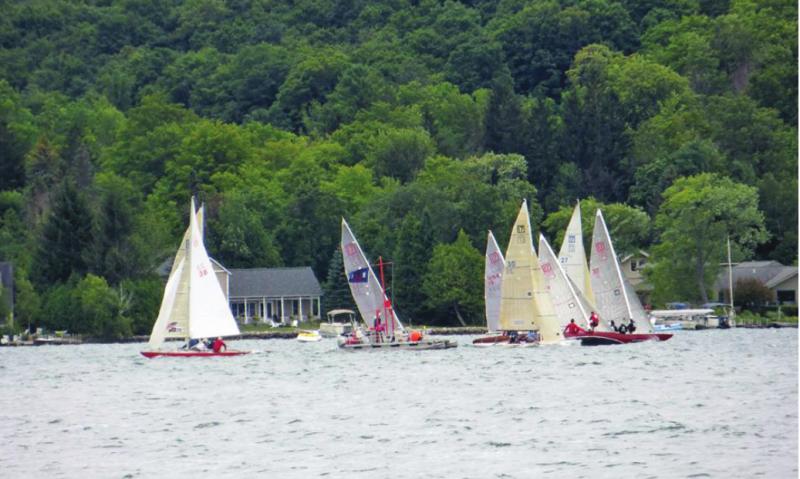 But a new boat designation – square meter measurement of the sail area – prompted Loughlin to rethink his design. In 1934, he lengthened the W to 25 feet but shrank the sail area to 17 square meters.
The Walloon 17 was born.
SWITCHING HANDS

Four years after the first 17 was built out of Western red cedar, Bill Loughlin sold his boat business to boater and woodworker Ted McCutcheon, Sr.
Like many Detroit-area families still do today, McCutcheon's family spent their summers on Walloon. As a young man, he taught sailing on the lake, and eventually began apprenticing with a boat maker in 1935.
Within a year of buying Loughlin's business, the talented 23-year-old finished four more wooden hulls.
WOOD NO GOOD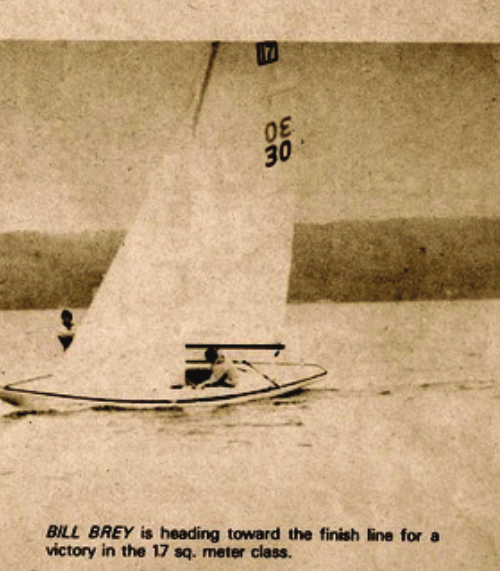 By the 1970s, 25 17s existed. The first three were made out of Western Red Cedar, with the boat number made out of Honduran mahogany, and the rest (except for number 18, special ordered in African mahogany) were made out of Philippian mahogany.
The 25 boats all featured Sitka spruce spars that were made in halves, hollowed out by hand, and then glued together. All fittings for the vessels were made at the East Jordan Iron Works in East Jordan, Mich.
As beautiful as these boats were, the cost of production became more prohibitive as time went on. The wood, especially from the hulls produced early on, aged and warped.
It seemed the 17 was due for a modern overhaul.
FIBERGLASS EVOLUTION

In the early 1970s longtime Walloon resident and sailor Sally Swanson wanted to purchase a 17 for her family.
"The time was right for our family to purchase one," Swanson said. "I wanted my children to grow up loving sailing, as I did."
At that time, there were four 17s for sale on Walloon. But as Swanson went around the lake to look at each boat, she found every single one full of dry rot.
After seeing the state of disrepair of many of the existing 17s, Swanson and her husband, Bill Odom, petitioned the yacht club for permission to build the first fiberglass 17.
The WYC agreed to Swanson and Odom's proposal, provided they adhered to certain conditions: The new fiberglass 17 had to use the most recent wooden McCutcheon 17 as a model and the new boat had to follow the line of hull numbers.
SEVENTEENS, INC.
Swanson and Odom formed Seventeens, Inc., eventually partnering with local businessman Harvey Schach. With new backers, McCutcheon set to work on the first fiberglass 17 out of his boat works in Charlevoix.
After discovering number 25 had been destroyed in a hurricane, a mold was made from number 24's hull. Strips of fiberglass were laid within the molds but were damaged when released from the mold. Number 26 was scrapped.
Undeterred, McCutcheon and his team tried again in 1972, this time successfully.
Number 27, with a fiberglass hull, cotton sails, and an aluminum mast and boom, began racing that year, and raced for nine straight summers.
MOVING ON

In time, Seventeens, Inc. was dissolved and its assets divided. Swanson kept her historic number 27 and Schach became the owner of the fiberglass molds.
In 1973, Schach took the new fiberglass molds to a commercial boat builder in Grand River, Ohio named McLeod Boat Works. McLeod built six more boats which were assembled at the Walloon Landing Marina. After that, the molds were moved to a boat builder in Toledo, Ohio, who produced six more 17s.
As the years rolled by, the 17s continued to race on Walloon, with racing rules evolving to accommodate the 17s. A classic division was established for the old wooden boats still featuring wooden hulls and masts. Wooden boats with metal masts raced against the fiberglass boats.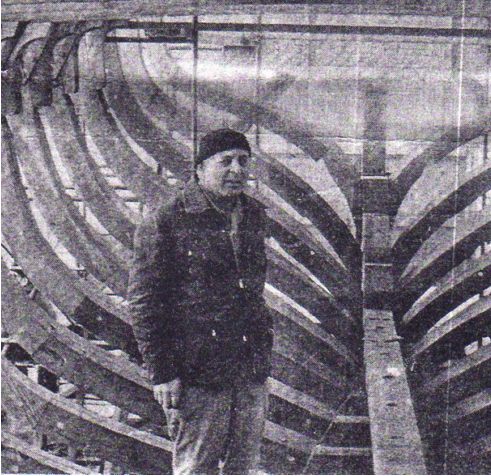 PRESENT AND FUTURE

In 2010, Schach commissioned a regional boat building company to lay up hulls 39 through 42. That same year an aluminum trailer was designed specifically for the 17s, which made launching, retrieving, and storing the boats easier.
The 2013 racing season saw seven 17s on the water: one wooden and six fiberglass hulls.
Future 17s are now in production, with Loughlin's original design a part of every aspect. While the lake's light and variable breezes suit the overall design of the 17s, the boats hold deeper meaning for Walloon residents, who proudly call them their own.
The Walloon Lake racing season begins in June and concludes in August. Information on the races can be found at walloonsailors.com and through the Walloon Yacht Club's Facebook page.
Thanks to Cynthia Hermann, Sally Swanson, and Friends of the Crooked Tree Library District for the book "Walloon Yesterdays: A Glimpse of the Past Through Photographs and Memories," and Trisha Witty for her painting, "The Walloon Lake 17s," which can be purchased at her gallery in Harbor Springs.
Trending
Libertarian Solutions to Reforming Police State
Americans are finally seeing the need to reform the way our society enforces laws, as the issue of police force has been p...
Read More >>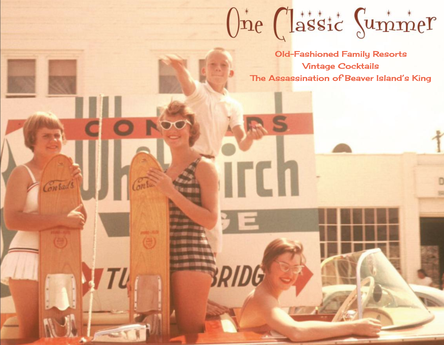 Cruise On In: The Best Resorts of Summers Gone By
As a prime vacation spot, northwestern lower Michigan is home to a number of different lodging facilities, from rustic cam...
Read More >>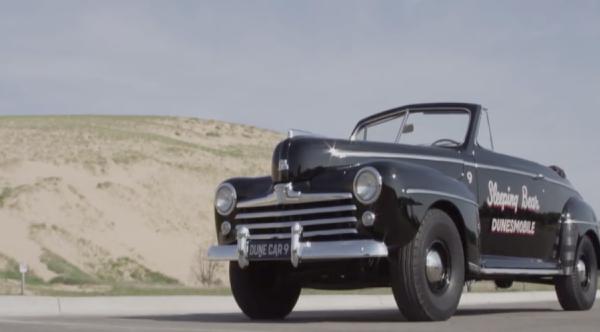 Days of the Dunesmobile
The sand dunes at the Sleeping Bear Dunes National Lakeshore are monuments of nature, 2,000 years old and towering 100 fee...
Read More >>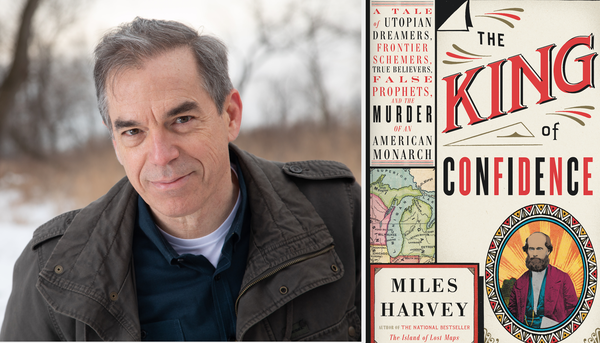 King of Beaver Island
It is possible to make the argument that James Strang is the most interesting person who ever lived in northern Lower Mich...
Read More >>
↑