Tired of the City? Visit the Farm
June 26, 2015
Need a reprieve from the noise, traffic and summer crowds of the city? Consider visiting one of the region's many beautiful working farms. Whether it's acres of lush fruit orchards, delicate tea gardens, petting zoos, vineyards, or even Depression-era farmsteads, these visitor-friendly locales offer a calming retreat in the agricultural heart of northern Michigan.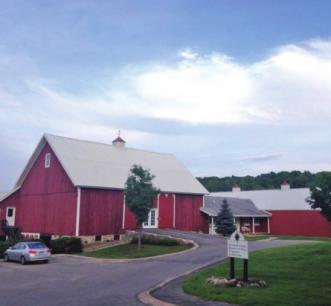 Black Star Farms
Located: 10844 East Revold Road, Suttons Bay

Hours: Monday-Wednesday 10am-6pm; Thursday-Saturday 10am-8pm; Sunday 11am-6pm

The Details: Black Star Farms may been renowned for its wine, but the company's sprawling Suttons Bay farm reflects Managing Partner Don Coe's vision of an "agricultural destination" in the region.
A luxury inn, stables, vineyards, gardens and creamery await visitors, who can catch a glimpse of both hands-on wine and cheese-making processes before enjoying the finished products on site. Cozy restaurant Hearth & Vine offers farmto-table fare including small plates, pizzas and cheese boards, while weekly Friday night fish boils feature fresh Lake Michigan whitefish and family-friendly picnic activities.
For Inn guests, Manager Jill Ryan totes amenities including locally sourced meals, hospitality hours and a relaxing massage room. The farm even boards horses for visitors. Both inn guests and drop-ins can enjoy Black Star's 160 acres of trails or stroll the grounds to watch the farm in operation and meet the property's non-human tenants. "We have pigs, goats, sheep, chickens, horses, ponies, turkeys, geese"¦and some new kittens that just arrived," Ryan said. For a scenic overlook of the farm, grab a glass of one of the winery's famous vintages and enjoy it on the newly constructed outdoor terrace adjoining the tasting room.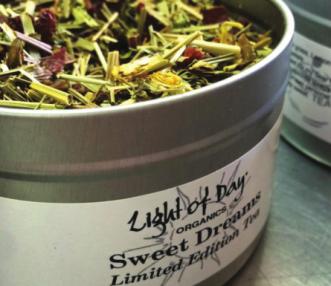 Light of Day Organics

Located: 3502 East Traverse Highway, Traverse City

Hours: Monday-Saturday 10am-5pm

The Details: Light of Day Organics' 25-acre facility – including working farm, production kitchen and retail shop – bills itself as a "solar and girl-powered" endeavor, thanks to owner Angela Macke and her close-knit staff. The farm also boasts one of the region's most unique crops: organic, fair-trade certified loose-leaf teas and tisanes.
While Light of Day's products can widely be found in coffee shops and grocery stores across the region, out on the farm, guests are invited to "come see"¦where our products are grown each year from the heirloom seeds we collect, and where our crops are harvested by hand, then dried, lovingly blended and packaged with great care." A series of summer classes including Tea 101 and Tea Wellness provide guests with more immersive knowledge of the farm's products, complete with a series of tea tastings. Before you leave, be sure to stop in Light of Day's retail shop to pick up some of the farm's fresh tea mixes for your next morning cup of bliss.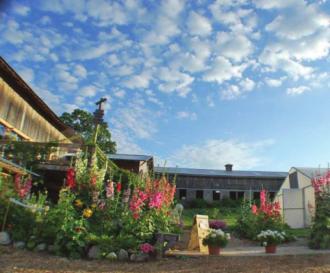 Pond Hill Farm

Located: 5581 South Lake Shore Drive, Harbor Springs
Hours: Daily 9am-6pm

The Details: At Harbor Springs' Pond Hill Farm, the Spencer family is covering a whole lot of ground under the banner of "farm." "We are a family-friendly, multi-generational, agricultural tourism destination," explained owner Jimmy Spencer. Destination is a fitting descriptor. While the farm boasts expected attractions like a livestock barn with feeding and petting experiences, an organic farm market and hayrides, the compound also features enough add-on amenities to easily fill a day-long visit, including a trout pond, ice cream parlor, café, winery, brewery – and Squash Rocket.
"People can catapult produce out into the field, where the sheep and goats eat it," Spencer chuckled, explaining the concept behind the farm's popular giant slingshot. If catapulting works up an appetite, be sure to check out the elegant fare at The Garden Café. The most popular option is the Parmesan-crusted grilled cheese with tomato and basil and a side of kale slaw in spicy peanut sauce. Finish it off with tastings at the upstairs Harbor Springs Vineyards & Winery and the Tunnel Vision Brewery. Guests are also free to wander the property with a drink in hand. Try finishing your day with a walk up to the vineyard overlook, which offers spectacular views of Lake Michigan and the surrounding area.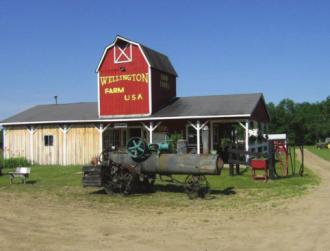 Wellington Farm Park

Located: 6944 South Military Road, Grayling

Hours: Daily 9am-5pm

The Details: Wellington Farm Park in Grayling doesn't just offer an escape from the city; it promises a trip back in time. The Depression-era historic working farm provides an "educational opportunity for visitors to experience life as it was in rural mid-America" during 1932. Attractions include a grist mill and blacksmith shop – where millers and blacksmiths can actually be seen at work – as well as a sawmill, carpenter shop and church. Other fully functional facilities, including a machine shed, basket maker's shop and livestock barn often feature volunteers working in period attire.
Guided tours help guests understand what life was like for women in the Great Depression or how historic farm implements were traditionally used. Visitors can also check out the on-site museum, which displays various plows used to farm Michigan land a century ago, as well as a visitor center stocked with Amish farm-baked pies, jams and handmade wooden toys and gifts. Wellington Farm also features a pavilion and nature trails, as well as special summer events including garden tractor pulls, quilting and dairy days, and live music. With admission just $8 for adults, $5 for students through high school, and free for pre-school children and under, the farm offers an affordable – and unique – outing for the whole family.
Friske Orchards

Located: 10743 US-31, Ellsworth

Hours: Monday-Thursday 7am-7pm; Friday & Saturday 7am-8pm; closed Sunday

The Details: If summer in northern Michigan is inextricably tied to cherries in your mind, you're in luck. At the family-owned Friske Orchards, not only can you buy the fresh fruit – harvested from more than 300 acres on site – you can walk among the blossoms or even pick the cherries yourself. Market Manager Heidi Friske Drost says U-Pick cherry season kicks off in July, with strawberry season already underway.
"We also have a café, a bakery with everything made from scratch, a general store with specialty foods and locally made goods, and our fruit stand," said Drost, ticking off the farm's numerous offerings. A petting and feeding zoo with goats, sheep, roosters and chickens offers entertainment options for little ones, as does an "orchard playland" complete with rope maze, tractors, slides, swings, monkey bars, Noah's Ark boat and lookout tower. Meanwhile, adults can take advantage of a little R&R time with self-guided tours of the farm's rolling, scenic grounds, as well as a bounty of fresh produce and fruit beyond the region's signature cherries. Offered crops include peaches, apricots, nectarines, pears, plums, raspberries, rhubarb, asparagus and apples.
Trending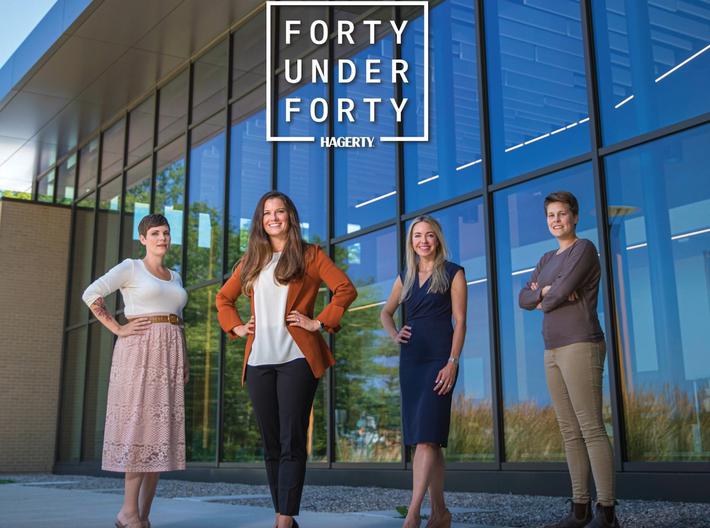 Nominations Now Open for the Hagerty/TCBN 40Under40
For 17 years, the Traverse City Business News, sister publication to Northern Express, has been celebrating the young move...
Read More >>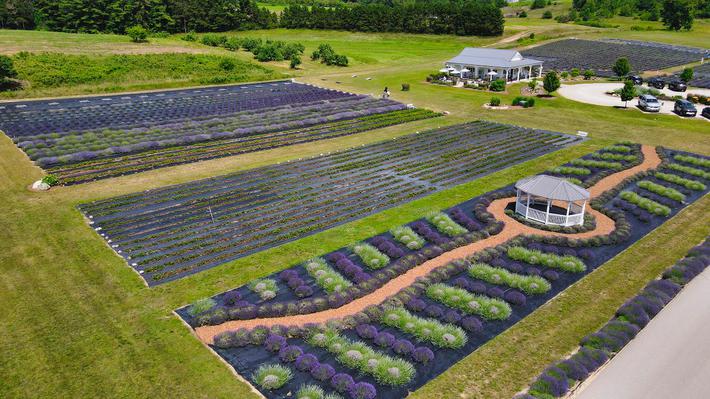 A Secret Garden
Sshh! This one is for your eyes only. The Secret Garden at Brys Estate has opened for the season, and it's time to c...
Read More >>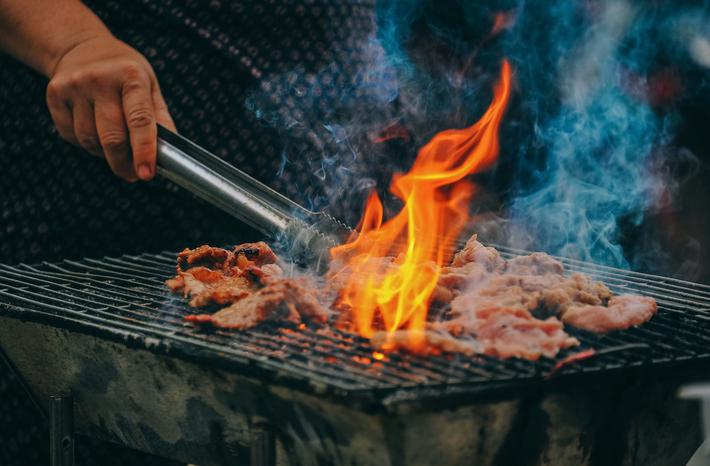 What's Cooking at Shady Lane
Celebrate your dad at Shady Lane Cellars' Father's Day Cookout. Offering a brat and Gruner Veltliner pairing f...
Read More >>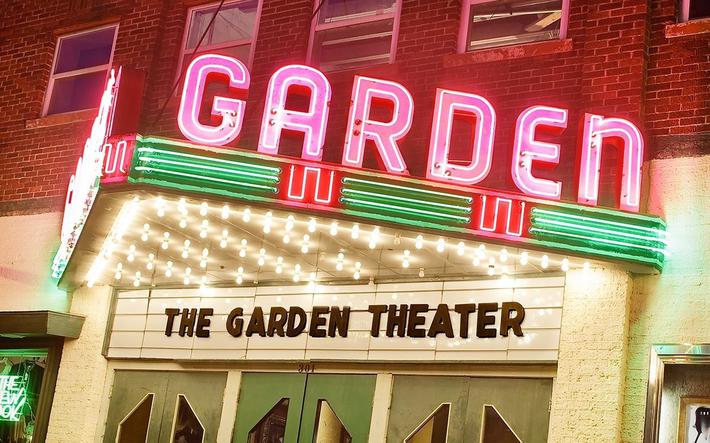 48 Hours in Frankfort
Roll the cameras—the Frankfort48 Film Contest is full of action this weekend! The contest is the trial grounds for t...
Read More >>