20 Fascinating People
Aug. 21, 2015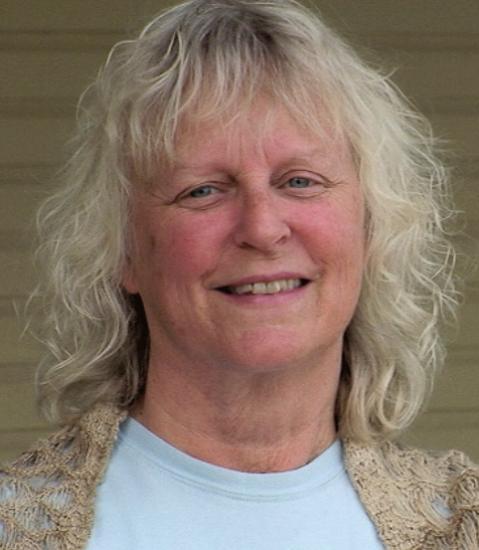 Sally Van Vleck
Innkeeper/Activist
The Neahtawanta Inn may be tucked away on a serene stretch of Bowers Harbor among wineries, beaches and scenic views, but this bed and breakfast is something more than simply lodging for tourists. Yes, some people book a room simply because they want to be on Old Mission Peninsula, but many guests come for something more.
"We're basically trying to provide a peaceful respite place for people to get out of the rat race and relax and have community," said Neahtawanta Inn owner Sally Van Vleck.
Van Vleck brings an activist history to operating the inn and the retreat has cultivated a like-minded clientele over the years. The inn is also home to the Neahtawanta Center, a meeting place for people interested in peace, justice and the environment. Van Vleck said she is broadening the programs offered at Neahtawanta, such as a retreat about end-oflife issues scheduled for Nov. 13. "I feel more and more we're tackling the bigger, kind of life-or-death questions," she said.
Van Vleck has confronted loss and mortality recently. In February 2013, fire broke out at the inn, requiring extensive restoration work in its aftermath. Later that year, her husband Bob Russell, a stalwart among northern Michigan peace and environmental activists, died after a battle with cancer.
"I think I'm doing OK; I think I've been doing a lot of my own personal work and allowing myself to breathe," Van Vleck said. "I feel like Bob's work is continuing and I feel like that's what he would want. I'm really not one to sit around and bemoan the past. I feel a certain urgency for the work to continue."
– By Pat Sullivan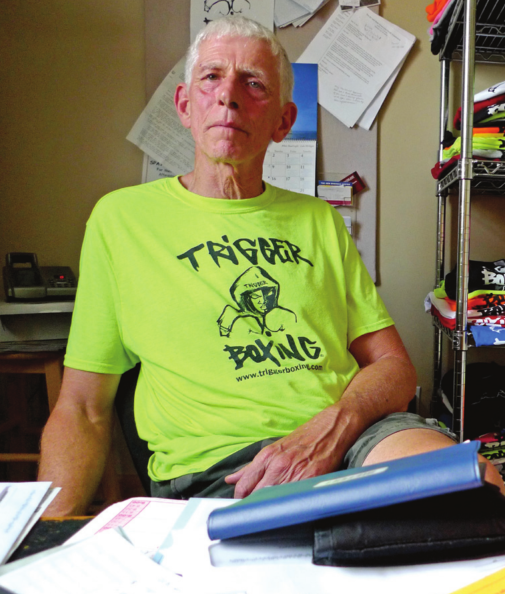 Bill Bustance
Boxer/Philosopher
Hundreds of kids have been through the Traverse City gym where Bill Bustance uses boxing to help them become better people. Since 2001, he's run Traverse City @Risk Boxing at Trigger Boxing with his wife, Robbin, but that's not all Bustance does. He also trains professional boxers and offers personal training – boxing workouts for non-boxers, the ones he calls his "yuppie" clients because of the cost. Personal training isn't why he got into boxing, though; it's simply a means to earn money to pay for other things.
"My priority is being a productive human being," Bustance said. "I operate a gym. I do what somebody done for me when I was younger, and I do it well, because I've not always done things well and treated people nicely, and so I know how to do that now. I know how to listen and I know how to do those things. That's what part of it is, too: retribution to society."
Bustance knows he's made good students out of bad ones, helped kids speak clearly who stuttered, and changed the course of kids' lives who were headed toward trouble. He posts the letters he gets on his webpage.
One former student wrote: "Boxing has changed the way I live, react and communicate. I have been boxing with Bill Bustance for six years and, from the six years, I have gained life lessons that still guide me to this day. The advice and lessons that I receive from Trigger Boxing have helped sculpt me to who I am today. I am in college doing well and working full time."
– By Pat Sullivan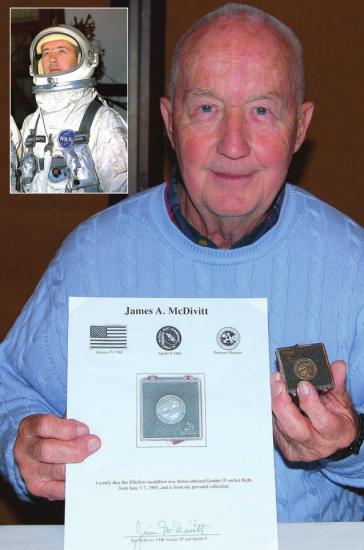 Jim McDivitt
The Astronaut
On the shores of Elk Lake, there lives an astronaut. Chicago/Kalamazoo native James "Jim" McDivitt, now retired from NASA, lives in northern Michigan in the summer and Tucson, Arizona, in the winter, but he's traveled a lot farther afield than that – to space, to be exact.
"I got into the Air Force, flew combat in Korea, and then went to school at U of M, where I became a test pilot," McDivitt explained.
When his boss asked him if he wanted to be submitted to the astronaut program, McDivitt actually said no at first.
"I just wasn't that interested in space," he said, "but my conscience got the better of me and I thought it was probably my duty to become an astronaut."
When McDivitt started astronaut training, the Mercury program was already underway, so he was assigned to Gemini, where he would ultimately command the Gemini 4 flight, from which fellow astronaut Ed White embarked upon the first U.S. spacewalk.
"I had the choice of doing the spacewalk or being the commander, but I wouldn't give up being the commander – no way!" McDivitt chuckled.
He still feels he had just about the same emotional experience as White, though.
"I did really enjoy it. It wasn't a religious experience for me, or anything like that, but you definitely end up with a better feeling for how insignificant human beings really are."
Next up, he would command the 10-day 1969 Apollo 9 mission, which included the first test flight of the command/service module and the lunar module as a direct precursor to the U.S. moon landing four months later.
McDivitt chose to stay grounded after Apollo 9. He became manager of Lunar Landing Operations, led the lunar exploration program and managed Apollo missions 12 through 16 before leaving NASA to pursue a career in business.
Remarkably, it was all in a day's work for this Midwestern astronaut. "I'd really rather have just kept flying planes," McDivitt chuckled.
– By Kristi Kates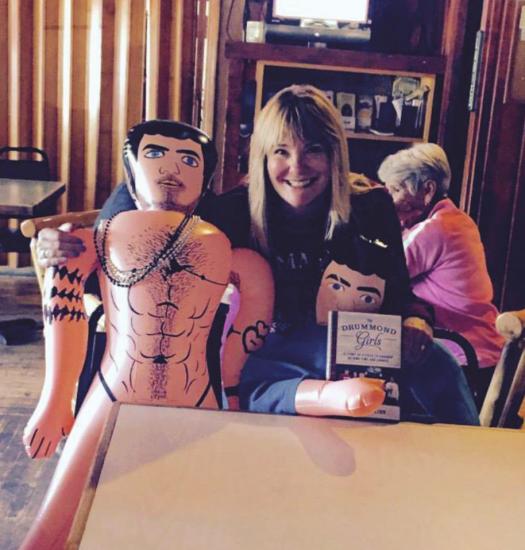 Mardi Jo Link
Trailblazing Author
Author Mardi Jo Link makes a living selling two distinct kinds of books: regional true crime and reflective personal memoirs. Link found breakout success with her 2013 memoir "Bootstrapper: From Broke to Badass on a Northern Michigan Farm," a book about getting back on her feet as a single mother after divorce. She's also written books about some of the region's most notorious crimes, including "Isadore's Secret" and "When Evil Came to Good Hart."
"Those are two different segments of readers and I've been blessed enough to appeal to both of them," Link said.
Link said her next book could be a crossover: a memoir about the process of researching a crime book.
From 1997 through 2005, Link worked at the Traverse City – based Foreword, an independent publishing trade magazine. Here, Link got an intimate look at just how hard it is to make it as an author.
"I did see how hard and difficult it was, but I also saw all of these writers who were living the dream and they were writing what was in their hearts," she said.
Link has been busy promoting her most recent book and she recently traveled to the campus of Western Connecticut University to accept a national nonfiction writing award for "The Drummond Girls," a memoir about a group of friends who have met on Drummond Island each fall since 1993. She's been book-signing across the state, including a signing with her friends on Drummond, where the group raised money for the local ambulance service.
"You hear about personal books being published and relationships being destroyed, and with this book the opposite has happened," Link said.
– By Pat Sullivan
Sue Kurta
Punk Rock Cheesemaker
In the modern world, there really isn't a blueprint for becoming a cheesemaker. Sue Kurta grew up in Berkley, Michigan, where she was enamored with the metro Detroit punk scene of the 1980s. She moved to New York as soon as she could and got a degree in fashion design. She became a record industry executive and lived in London, Atlanta and Chicago. She moved back to New York to work in corporate finance for a decade before she took three months off to live on a goat farm in Maine.
"I tried cheesemaking and I really fell in love with it," Kurta said. "I just got deep into the hobby of cheesemaking – learning the craft."
Kurta's parents had retired to Mackinaw City, so she was becoming familiar with northern Michigan. In 2009, she decided to buy a farm.
Kurta's farmstead cheese hobby gradually morphed into a full-time operation.
Kurta worked at Hagerty Insurance, but soon cheese making ballooned from hobby to full-time job. Today, Kurta makes cheese from milk produced by Moomer's, where she is the biggest fluid milk customer.
Her cheese brand, Boss Mouse, which also includes her specialty smoked butter, can be found at Traverse City restaurants like the Cook's House and Amical, and at stores like Burritt's Fresh Markets, Oryana Natural Foods Market, the Blue Boat, Boyne City Provisions, and Cellar 152 in Elk Rapids.
Don't expect to see Boss Mouse cheeses at big grocery store chains. Kurta said she needs to stay small to ensure she produces the quality she wants.
"I've been approached by several distributors, but I still feel like I'm too small," Kurta said. "I love wrapping the butter with my hands. I love doing that. I never want to not do that."
– By Pat Sullivan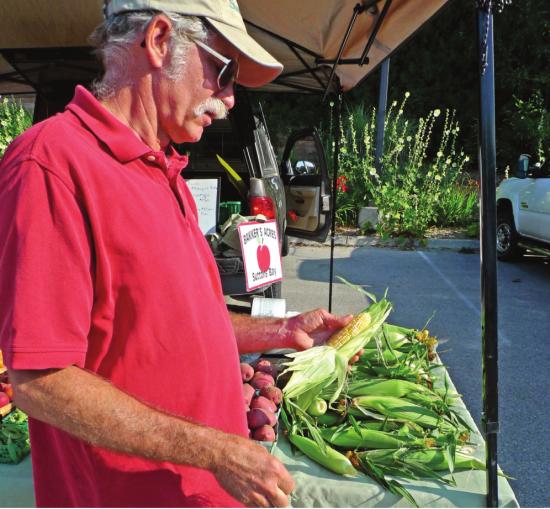 Al Bakker
Apple Magician
Orchardist Al Bakker is one of a handful of growers across the country selected by the Next Big Thing cooperative to grow a new apple variety developed by the University of Minnesota: the SweeTango, an apple that has the potential to usurp the Honeycrisp's spot on the top of the apple cart.
The Leelanau farmer has been growing apples for decades. In 2009, he was growing Honeycrisps and selling them to a distributor in Minnesota when he learned about the SweeTango variety and decided to commit some of his land to this variety.
"They sent me some test trees and I planted them just to see what they'd do, what they'd look like," Bakker said.
Bakker soon sensed he had a hit with SweeTango, which will be available at Bakker's Acres' farm market stands around Labor Day. It was at these markets where he realized the potential of SweeTangos. Customers who came to buy Honeycrisps ended up changing their order.
"You went home with a bag of each and, an hour later, you wanted to trade in the Honeycrisps," he said.
Bakker was raised on a poultry farm near Grand Rapids. He attended Michigan State University where he studied orchard programs. Afterward, he got a job at a Leelanau County farm and he's been gradually acquiring farmland ever since to become one of the area's major cherry and apple growers.
Ever since the Honeycrisp took off, the industry has been looking for the next hot hybrid, he explained.
"Honeycrisps totally changed the industry; that got people interested in something other than Red Delicious," he said.
– By Pat Sullivan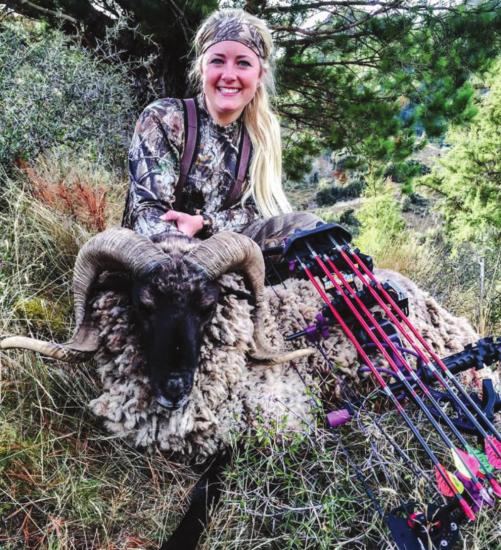 Jada Johnson
Television Huntress
Jada Johnson came of age while her dad filmed a hunting and fishing television show, but since she graduated from Gaylord High School, it's Jada who's become the TV star.
She's been on the show Big Boys Adventures for each of its five seasons, but she's been front and center since she graduated in 2012. The show airs on outdoor networks and local television affiliates across the country.
"I can remember being four or five years old, going out and sitting in blinds with my dad," she said. "I was hooked as soon as I started going out with my dad."
As a young, pretty blond, Johnson knows she stands out in the world of outdoor television. She gets asked out "a lot." ("Most of them I turn them down," she said.)
"There's not many 20-year-old girls that are out there hunting big game like I'm doing. You see a lot of 40-year-old guys on hunting and fishing shows, by there's not many 20-year-old girls," Johnson said. "More than anything, I want to be a role model for girls who are interested in being in the outdoors."
Jada recently became a target when she waded into the controversy over Cecil, the lion killed by an American dentist in Zimbabwe. Johnson posted an online video defending the dentist, saying she believed he thought he was following the law and that people are making too big a deal over what happened.
"Somehow, the anti-hunters did get a hold of this video and they have been really, really nasty to me," Johnson said. "There's nothing that I can do to change their minds and that's not what I am trying to do. I'm just trying to put out there how I feel about it."
– By Pat Sullivan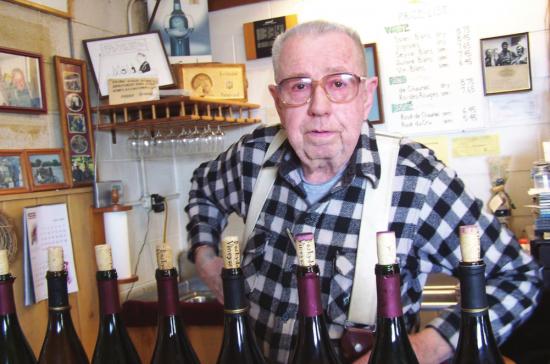 Bernie Rink
Wine Pioneer
Of Bernie Rink's many claims to fame among northern Michigan vintners, two stand out:
No one else has had grapes in the ground as long as Rink and Boskydel Vineyards' no frills tasting room is better known for Rink's no nonsense personality than it is for being posh At 88, Rink's been around long enough to simply enjoy making wine and not to care what people think.
"We had the first vineyard. One winery opened ahead of us, but we didn't open until we had wine from grapes from our own vineyard, so we can be called the first commercial vineyard, I think," Rink said.
Rink isn't sure if people thought he was crazy when he started growing wine grapes in Leelanau County in the 1960s.
"They thought it took a lot of guts, I guess, but I tested 35 varieties of grapes in a test plot in 1965 to see what would work here, 10 vines of each, and that's what I picked to plant in 1970," Rink said. "And that's what I still have today, except for a few new cold climate varieties."
If pressed, Rink said his signature wine is the De Chaunac, a dry red from a grape among those first French-American hybrids Rink planted in 1965.
As for his reputation as a curmudgeon, Rink says he's proud he's kept Boskydel Vineyards true to its roots. They don't run a fancy tasting room, they make producing good wine their priority and they sell 95 percent of their wine on the premises.
"Everybody that comes in to us seems to be liking what we do," he said. "We have mostly repeat customers."
– By Pat Sullivan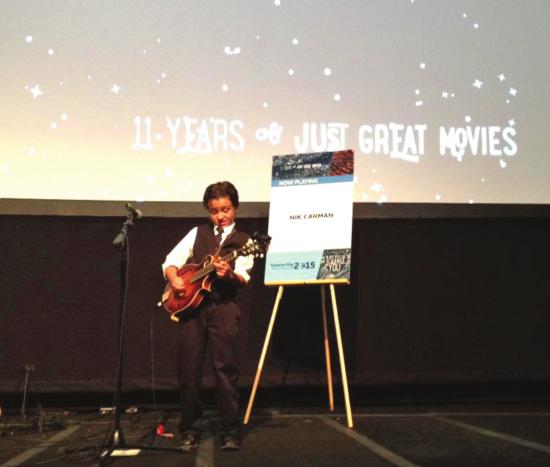 Nik Carman
Bluegrass Prodigy
Bluegrass impresario Billy Strings inspired Nik Carman to pick up the guitar.
Nik was seven when he saw Strings' fingers move like lightening over his fretboard.
Now nine years old, Nik has released an album of bluegrass songs and he's considered a guitar, banjo and mandolin prodigy himself, playing his own gigs around northern Michigan this spring and summer.
Nik began to learn guitar from his brother, who concedes the student quickly became the master.
"He's way more talented than I am," said Andrew Carman, a 20-year-old college student. "I just have to chip away at it, and it comes way more naturally to him."
Nik broke into the region's folk scene when members of the Accidentals caught him playing a gig. Later, they saw him in attendance at an Accidentals show at the Workshop in Traverse City.
"They remembered him and they invited him to come up and play during their break," said Monica Carman, Nik's tour manager and mom.
That appearance led to more shows around northern Michigan and to a gig in Leland where Nik shared a bill with his inspiration. That show with Billy Strings was his favorite so far.
Nik, who will enter fourth grade in Suttons Bay this fall, said he hopes to make a living in music.
"I would like to be a famous musician when I grow up, a professional musician, but I don't know," he said.
His mom says the busy schedule of gigs and festivals around Michigan will have to slow down before it speeds up, however.
"We're not going to tour or play during the school year. We're just going to tone it down a bit," she said.
– By Pat Sullivan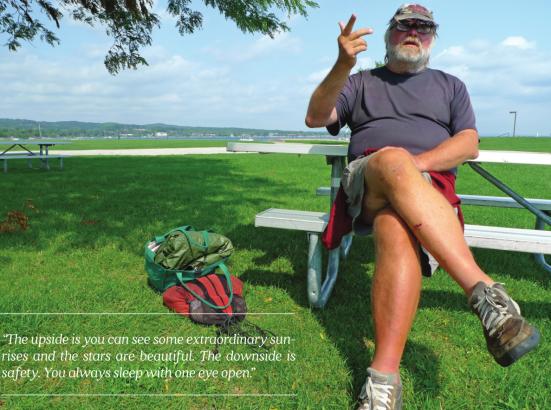 George Golubovskis
Homeless Politician
George Golubovskis has run for Traverse City mayor, made a bid for Michigan governor, and he plans to try for national office next. The homeless write-in candidate is anything but delusional about his political career, however. He asks voters to write in their own name if they can't remember the mouthful of letters that make up his own. He said his political objective is to offer people a means to register frustration.
Golubovskis has lived on Traverse City's streets for three years, ever since he lost his retirement savings when he was forced to pay a nursing home bill for his dying mother. He serves as a clear example of why assumptions shouldn't be made about homeless people; he's well-spoken, holds an advanced degree from the University of Michigan and, in a former life, traveled the world working for ad agencies.
Today, Golubovskis is looking for a job and hopes to have shelter soon. His homeless stint, which he calls his "Harvard and Yale," has taken a toll on his health and spirits.
"There are upsides to being on the street and there are downsides," the 55-year-old said. "The upside is you can see some extraordinary sunrises and the stars are beautiful. The downside is safety. You always sleep with one eye open."
Golubovskis said sleep deprivation is a major problem for homeless people.
In local politics, he believes more affordable housing should be available and he hopes to see fewer expensive condo developments. Golubovskis believes Traverse City is in the midst of a condo "bubble." He may have particular insight because he stays abreast of financial news.
"I still read The Wall Street Journal, you know," he said. "Friends of mine toss me The Wall Street Journal."
– By Pat Sullivan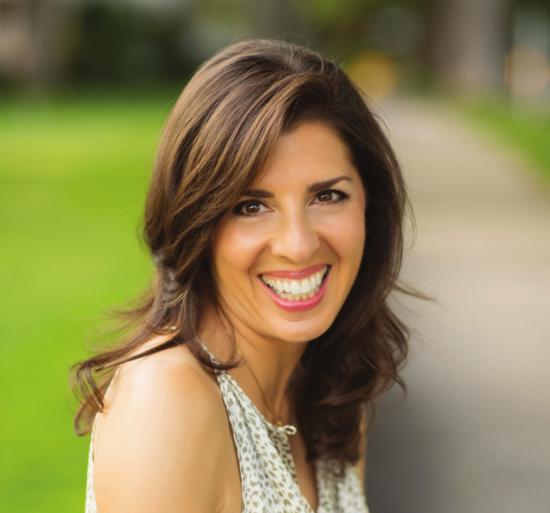 Maureen Abood
Cultural Cook
Maureen Abood's "Rose Water and Orange Blossoms" has been featured on "The Splendid Table," reviewed by The New York Times and feted by none other than TV chef/ personality Anthony Bourdain – not bad for a first cookbook!
The Harbor Springs resident has been visiting Up North her whole life, "always for summers and sometimes for Christmas," she explained. Her grandparents emigrated to Lansing from Lebanon, drawn by the auto industry and the local immigrant community.
As an adult, she settled in Chicago, where she did fundraising work and what she calls "hobby food writing," getting a few stories about Lebanese food and her family published in The Washington Post and Chicago Tribune. Then, her life went through a few major changes and she headed west to San Francisco to attend culinary school.
"Simply because I've always wanted to," she said. "And it was the best thing I did. It took my kitchen knowledge and finesse to another level."
Her cooking and writing grew alongside each other. She'd long had a cookbook in mind, but she let it simmer on the back burner for years while she learned about the publishing industry and networked with agents and food writers. Just after she completed cooking school, she launched a food blog, which won the 2014 Best Regional Food Blog Award from Saveur magazine.
"That was a reader's choice award, so it meant a lot to me," she said.
Next was the book: 115 recipes combining traditional Lebanese dishes with new recipes that Abood developed using Lebanese ingredients in different ways. Bourdain gave her a quote for the book ("that was really something!" she said) and The Times called it "an ebullient mix of the authentic classics, along with her fresh, modern twists on many of them."
"I kind of always knew I wanted to do this," Abood said. "And I was relentless about figuring out how to get published. I wanted to show how beautiful and healthy Lebanese cuisine is, so I just never gave up."
– By Kristi Kates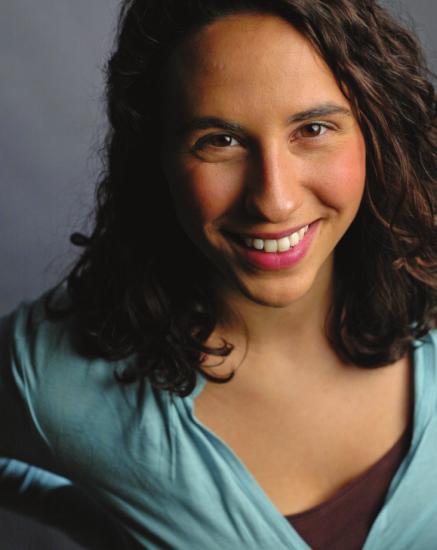 Zoe Marshall-Rashid
Dedicated Dancer
Most people have enough trouble mastering one dance style, but Petoskey dancer and dance instructor Zoe Marshall-Rashid has achieved pro level in 17.
Marshall-Rashid, who took ballet and jazz classes at Crooked Tree Arts Center when she was a kid, studied theater at Kalamazoo College and dance in Oaxaca, Mexico, before settling in Chicago.
"I was actually working in theater there, but I decided I didn't want to pursue that any more," she explained. "So I did a ton of research, found a ballroom dance teacher's school in San Francisco, and just moved out there in 2009, even though I'd never even been there before."
At the school, Marshall-Rashid studied four nights a week for up to four hours per session, but she wanted to fast-track her dancing, so she also studied with separate coaches, dancing a total of six to eight exhausting hours per day.
"I was really into it," she laughed. Soon, she'd mastered all those dance styles: "waltz, fox trot, Viennese waltz, American tango, Argentine tango, cha-cha, rumba, bolero, mambo, samba, merengue, lindy hop, salsa, nightclub two-step, hustle, east coast swing and west coast swing," she listed.
She would go on to dance in national competitions, eventually becoming the champion in the Rhythm Dance category at the San Francisco Open Pro-Am, but she missed her family and, in 2012, she moved back to Petoskey to be closer to them. She started teaching dance at Crooked Tree Arts Center and today owns her own dance studio downtown, ZoeDance (zoedance.net).
So with 17 choices, does she have a favorite dance? "Well"¦" she said with a long pause. "Salsa is the first dance I fell in love with, and I do love cha-cha, but with a good leader and a nice big ballroom, there's nothing like a good waltz."
– By Kristi Kates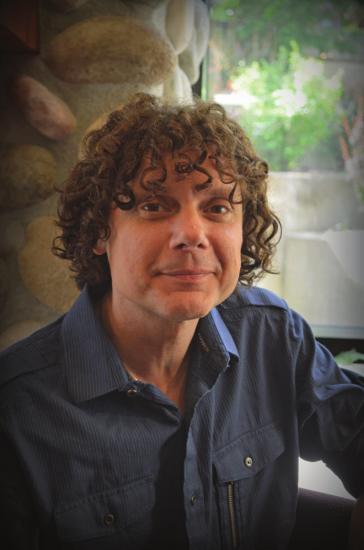 Leo Gillis
Rockin' Archivist
The first question that springs to mind regarding Leo Gillis – at least if you're a music fan – is probably one about his brother, musician Jack White of The White Stripes/Raconteurs.
So we'll ask: did Jack's musical success influence Leo Gillis' interest in music archiving?
"I think it'd be more the other way around," Gillis grinned, "since I'm the older one."
Gillis did give White his first blues record, The London Howlin' Wolf Sessions, but the elder brother's interest in media goes back to university, where he majored in history and was further influenced by later jobs at recording studios.
Gillis is now Head Archivist at Interlochen Center for the Arts, where he's sifting through nearly 90 years of Interlochen history: thousands of audio recordings and photographic negatives and prints that he's digitizing and preserving one at a time.
"I was first attracted to archival work when I was working at a commercial studio, transferring old recordings," Gillis said. "Somebody walked in with a cassette for me to transfer to CD, said they thought it held something important."
The cassette turned out to have been recorded during one of the Selma voting rights marches of the '60s and included impromptu conversation with Martin Luther King, among others.
"So this was just an average person, but one who captured an extraordinary moment," Gillis said.
Also fascinating were the 3-inch open reel tapes from the Vietnam era that came into the studio "from back when soldiers would dictate letters home," Gillis said.
"The guys on those tapes thought they might be killed in the next week or maybe the next hour, so those recordings were very compelling."
Experiences like these inspired Gillis to seek a position somewhere that held recordings of historical or sociological importance, and he's found that at Interlochen.
"Musically we have such a broad range of styles that were recorded here," he said. "It's challenging to work with them, as they're all on different media; vinyl holds up really well, open reel tape holds up well, but when you get into the visual aspect, some of the older photographic materials are becoming degraded"¦but I'm hearing and seeing so many amazing things, and there's a lot of work to do."
– By Kristi Kates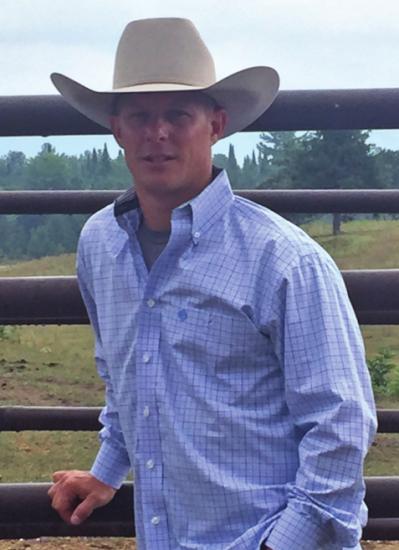 Brad Bensinger
Rodeo Barrister
When you think of professional bull riding and cattle "team" roping, you probably think of the American Southwest, not so much northern Michigan. but attorney Brad Bensinger, a 16-year litigation and general law practitioner, has expanded a favorite hobby into a rough n' rugged second business that he runs right from his Gaylord locale.
Founded by former pro bull rider Shawn Wiese, XD Sports is a unique talent agency now co-owned by Wiese and Bensinger. These two men turn cowboys like Chase Outlaw, J.B. Mauney and L.J. Jenkins into national sports stars by booking them into sponsorship and endorsement opportunities, and getting a percentage of the earnings in return.
"We represent the athletes by pairing them with corporate partners like Monster Energy, Wrangler and Tyson," Bensinger said, "commercials, newspaper ads, corporate events, autograph signings, the works."
The Professional Bull Riders Association (PBR), Bensinger explained, is the "major league" of bull riding, where the top bull riders in the world compete during a multi-stop rodeo tour that's aired on CBS Sports.
"When they [bull riders] got this TV deal, we realized there was value in marketing them and the PBR like NASCAR," Bensinger said, "so now you'll see them with logos all over their vests, hats, chaps and buttonup shirts. The sport of bull riding has really grown, so their sponsors get plenty of TV exposure as the rodeo tours."
Bensinger's personal interest in rodeo events hit its peak when he was living in Grand Rapids several years ago.
"I did do some bull riding for a little while," he admitted, laughing, "but I wasn't very good at it!" Today, he prefers a different way to participate in the rodeo scene.
"I team rope, which is where two guys go out to rope a steer in a timed event; one guy ropes the horns and the other ropes the feet," Bensinger said.
"And I do practice, just in my own pen.
We've got a group of guys from Gaylord that do this and I've got a dozen steer at my house, so that's all you really need."
– By Kristi Kates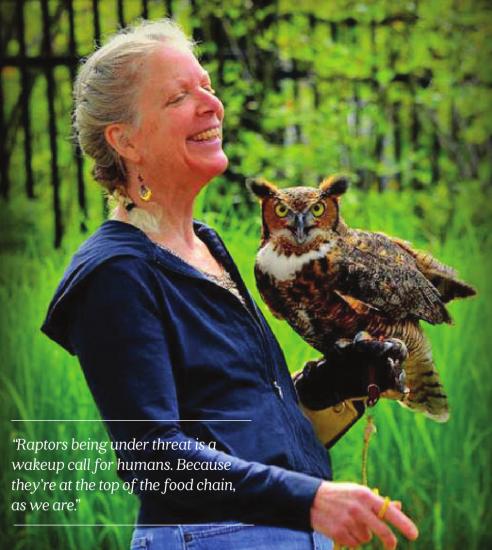 Rebecca Lessard
Avian Advocate
Twenty-five years ago, biologist Rebecca Lessard was offered the opportunity to work with a red-tailed hawk.
"I tried to get out of it, but a vet friend talked me into it," she laughed. "He wore me down, and that changed my life forever."
Lessard is now a well-respected expert in raptor rehab and release. With her late beloved husband, Don, she established a small raptor facility in their backyard in Empire, Michigan, in the early '90s. That fledgling venture led to the nonprofit organization Wings of Wonder, which now admits dozens of injured, sick and abandoned raptors every year to help them get well and fly again.
"I still remember putting that first hawk into my arms," she said. "The eyes held so much wisdom and mystery. That started my life path of raptor rehabilitation."
Raptors, Lessard explained, are in grave trouble, with some on the fast track to extinction. She presents more than 150 pro grams annually to educate people on this often misunderstood species, bringing her "extended family" of non-releasable raptors along as bird ambassadors.
"Raptors being under threat is a wake-up call for humans," she said, "because they're at the top of the food chain, as we are."
In addition to helping the birds directly, Lessard also considers it her job to empower people to make change: things as simple as building a nest box so that birds can help manage the insects in your yard, instead of using poisons that can affect so many other creatures.
Next up, she plans to move the rapidly growing Wings of Wonder from her private land, as the current facility is not regularly open to visitors. Her goal is to open a dedicated public raptor center and sanctuary. If you want to help, visit wingsofwonder.org.
"We're planning more rehab facilities, display enclosures so people can view raptors on a regular basis, a falconry, educational components," she enthused. "I can't make this a perfect world, but I can be an example and try to help make the world a better place."
– By Kristi Kates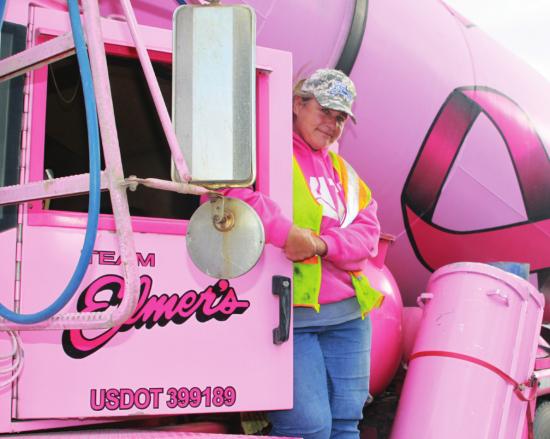 Vicky Long
Pink Activist
Vicky Long was the only female concrete mixer driver at Team Elmer's in Traverse City when she had her work review several years ago.
"They asked me what I wanted to improve and I said, kind of as a joke, that I wanted to paint my Ready-Mix truck hot pink," Long chuckled.
Her boss, Team Elmer's co-owner Tonya Wildfong, called Long's bluff. "None of the guys wanted to drive a pink truck," Wildfong laughed, "so I said, if we're going to do this, let's make it for a higher purpose."
The truck was coated in pink paint and ribbon decals for cancer awareness, and Long took it on the road.
"For the first year, Team Elmer's did a Spot the Pink Mixer campaign online, where we'd donate money to the women's cancer fund at Munson Medical Center when people reported truck sightings," Wildfong said.
With the unique truck generating plenty of attention, Long and Wildfong saw they could do even more.
"We decided we'd donate Vicky's time to the cause by sending her and the truck to various events," Wildfong said.
Long said that when she first started the quirky venture, she cared about the cause just as much as the average person, but soon, she realized the truck was inspiring a lot of people even more, and so was her friendly face, although the understated Long will be the last person to tell you she's making a difference.
"I go to a lot of events, like festivals and parades, and do my best to participate," she said. "Now we have a banner that we take along, and cancer survivors can sign it. Then when they see the truck the next time, they get to see where they signed their name and get their picture taken with it."
"At first, doing this was just part of my job, but as I went to more events, I got more and more interested in the people themselves," Long said. "So the truck became like a healing tool."
"She's proud of the truck and does such a wonderful job," Wildfong added. "I can't say enough good things about her."
– By Kristi Kates
Christopher Morey
The Diver
Most of us have enjoyed the waters of our local lakes. But Christopher Morey done so "more deeply" than everyone else, having gone free diving in dozens of them, swimming down to the depths and meeting new animals, plants – and peace.
Morey doesn't use scuba gear; he relies on holding his breath, and has trained for decades to extend just how long he can do so.
"Free diving brings together everything I have learned from yoga, martial arts and meditiation," he said. "It is a profoundly comprehensive discipline that is both science and an art."
Morey began free diving when he was nine and flunked swimming lessons – "except the breath-holding part." He quickly realized "it was so peaceful and bright down there. It was like I had discovered a private space where I could completely relax," he said.
In addition to diving in virtually all the area's lakes, Morey has also experienced free diving in British Columbia, Florida, California and the Bahamas. The hobby took on new meaning as his autistic son began to grow up; Morey began taking him along as he visited nearby lakes for solace and quiet. While Christopher dove, his son kayaked above. Soon the duo settled on a favorite body of water: North Twin Lake, situated just west of Traverse City. It was close to town, warm, boat-free, full of interesting aquatic life, sandy and clean.
He felt as if he'd "been given a gift" of "a uniquely safe and interesting place," Morey said.
But following a tragic accident in 2013 when a local teen drowned in North Twin Lake, local authorities banned swimming and diving in the lake.
So Morey swims on, finding new places to call his underwater home"¦while he also fights to be heard about the safety of North Twin Lake, which he said in a guest Northern Express editorial, "does contain water. Water can, under certain circumstances, be dangerous. That's about it."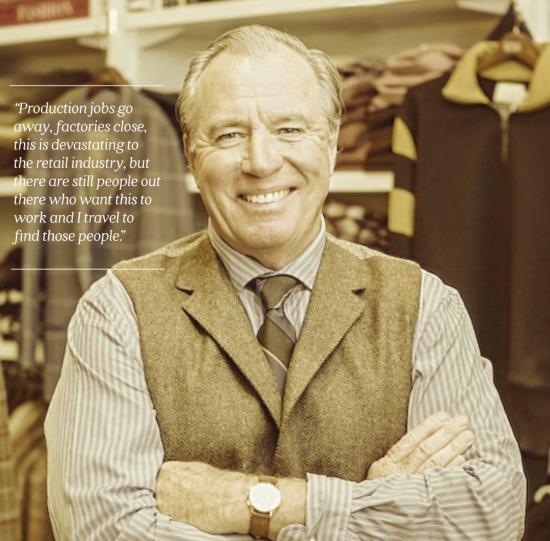 Lou Mettler
American Magnate
Growing up near Detroit, Mettler began his retail career selling men's shirts for Gant in the early "˜70s before founding his own stores in 1975. Later, he'd form franchise partnerships with Ralph Lauren and Hugo Boss, and would co-found the popular Hawaiian shirt brand Tommy Bahama.
Forty years later, several of those ventures have fallen by the wayside, although Mettler is still firmly entrenched in the retail industry. Today, his focus is all-American.
Mettler's two stores in Bay Harbor and Charlevoix are the cornerstones of his company, along with his quickly-growing internet storefront, all of which he insists carry no imported goods, only products from American artisans working from small factories.
"Americans believe that products can't be made here, when they easily can," Mettler explained. "Production jobs go away, factories close, this is devastating to the retail industry, but there are still people out there who want this to work and I travel to find those people."
Mettler traveled for about three years straight to complete his current roster of vendors, with his wife, Lori, working alongside him. He calls her, "the driving force of this thing" and refers to himself as "just the ideas guy."
They continue to travel around 100 days a year for the business. Mettler was actually in the middle of a trip during this interview, seeking out American-made products at Magic, the Las Vegas fashion tradeshow that welcomes 60,000 retail insiders every year.
"Your goods don't have to be made in a country you haven't heard of, in substandard working and wage conditions," he said.
Mettler has several personal reasons for touting this approach.
"It's a tough business, but I've always loved fashion," he said. "And I've always enjoyed the camaraderie with the customers and vendors, and designing and making something that people want."
"But working with these small artisans all around the country is different than doing business with the big companies. With these people, you almost become part of their family, in a way."
His new Bay Harbor restaurant, Seventeen, follows the same principle. It, too, will focus primarily on American food and beverages.
"Being American is a cool thing," Mettler said. "If you travel, you'll see. One thing I brought back is that everybody, everywhere, wants to be an American citizen.
I'm not necessarily waving the flag around, but until you leave you don't realize how good we really have it here in America. It couldn't be any better."
– By Kristi Kates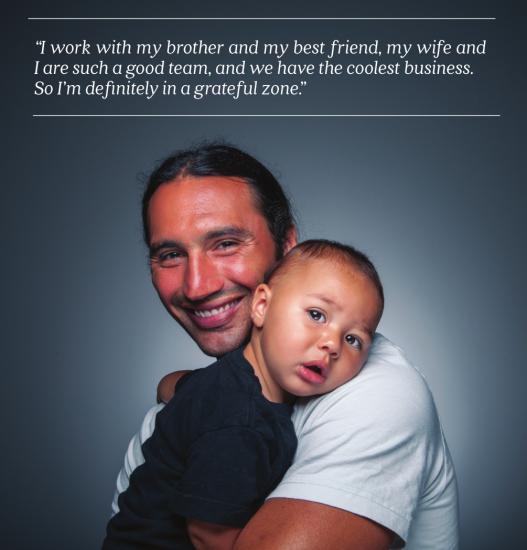 Matt Myers
Highway Survivor
Michigan highway M-22 represents many things. It's a road, a clothing and accessories store and, for Matt Myers, it's a place he's even more grateful for after bouncing back from brain cancer.
Myers, who co-founded M-22 with his brother Keegan back in 2004, came up with the idea more casually than you might think.
"After a summer in Europe kiteboarding, we got back to Michigan and realized that nobody here was kiteboarding," Myers said. "And we always seemed to find ourselves out on the shoreline of M-22. So we made some M-22 T-shirts for our core group of kiteboarders and they really caught on. We basically started a business with no plotting at all," he laughed.
M-22 became a popular regional label offering T-shirts, hats, stickers and more, all with the M-22 highway logo and many with surfing/kiteboarding elements, but Myers' health scare would soon put a major roadblock right in the middle of his success.
"I realized there was a problem when I started having double vision," he said. "Turned out I had a very rare form of brain cancer called chordoma and the tumor was located in the most difficult, dangerous place to reach."
There are no effective drugs to eliminate this type of cancer; the only options were high-level radiation, which had major side effects, or cutting-edge surgery. After a local surgeon told him it was inoperable and he only had a few years to live, his wife, Stephanie and his brother went into crisis mode tirelessly researching surgeons all over the country until they found Dr. Paul A. Gardner at University of Pittsburgh Medical Center.
"We said, this cannot be real; there has to be a solution," Myers said.
Myers' best friend Nate Farran left his job in the oil fields and took on Myers' role at M-22 while Myers went through surgery.
While the operation was successful, it would take him six months to regain his quality of life.
"I was pretty fragile and weirded out by the whole thing for a long time," he said, "but that surgery saved my life. They say they got all of the tumor out, although they don't give you the green light until ten years have passed, but I'm feeling confident."
Today, he's focused on spending time with family and friends – and with the company that buoyed him when he needed it the most.
"I mean, it's still a day-to-day thing; you don't ever not think about it [the cancer]," he said, "but I work with my brother and my best friend, my wife and I are such a good team, and we have the coolest business. So I'm definitely in a grateful zone."
– By Kristi Kates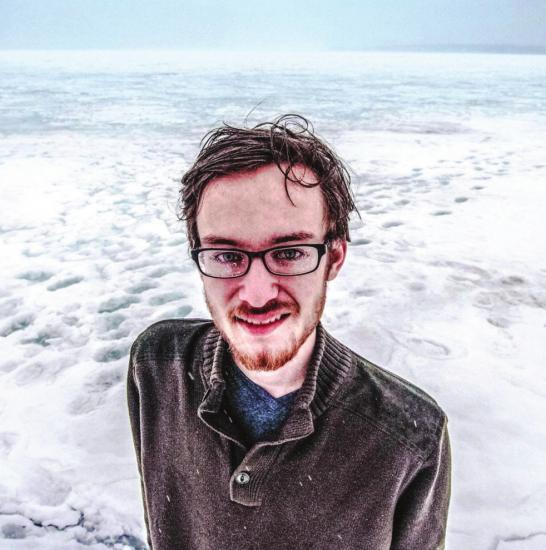 Eddy Walda
The Persistent Musician
Eddy Walda has been playing music since fifth grade, but not long after he found music, muscular dystrophy found him. But instead of backing down, he channeled his distress further into his music.
"I made it my way to express what I was going through," he said. After high school, the singer-songwriter was accepted into Harvard University, where he's pursuing a double major in Computer Science and Music Composition.
"My goal is to get a degree, and then not have to use it," he said, "to have a music career that'll be stable by the time I graduate."
With the MD, he can't really do anything but wait. The disease, he explained, is unsteadily progressive, so while he's fairly stable right now, that can change, and fast. He's already had shoulder surgery to enable better movement in his arms; his hope is that the disease won't lead to a wheelchair.
"Going through the MD has given me a worldview that's precious," he said. "Simple things like being able to grab a cup, or open a door without having to use your whole body, are things most people don't even think about."
"But I also realized that everyone has something "˜wrong' with them, whether it's physical or emotional – and no one's struggle is worse than anyone else's. We can all connect through that."
So far he's recorded a solo piano album, one indie-pop album with vocals that he'll be promoting with a slate of Boston-area live shows this fall, and a second solo piano album he hopes to complete by November.
"I would love to tour, make videos, have music be my career. But mostly I just want to inspire people," he said.
– Kristi Kates
Trending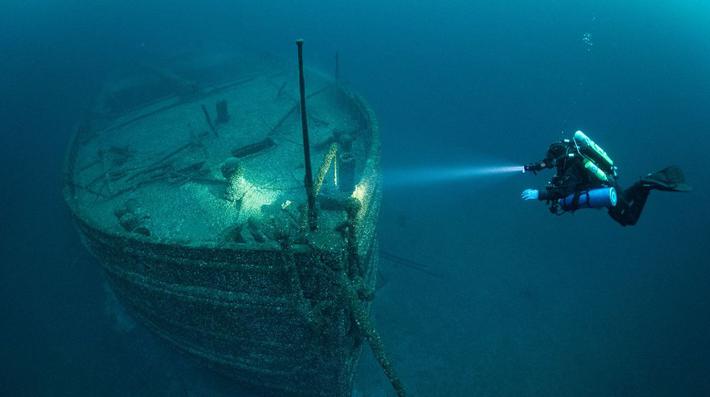 Up North Aquaman
Chris Roxburgh is northern Michigan's Aquaman. While you might not immediately recognize his name, you've pro...
Read More >>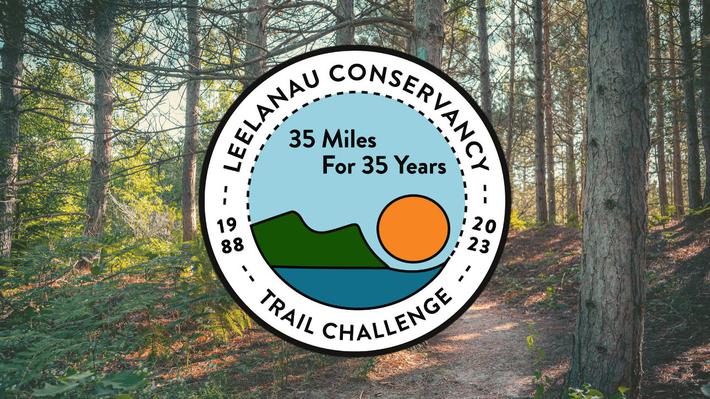 Anniversaries Celebrated in the Great Outdoors
The Leelanau Conservancy turns 35 this year, and in those three-plus decades, they've preserved over 16,000 acres an...
Read More >>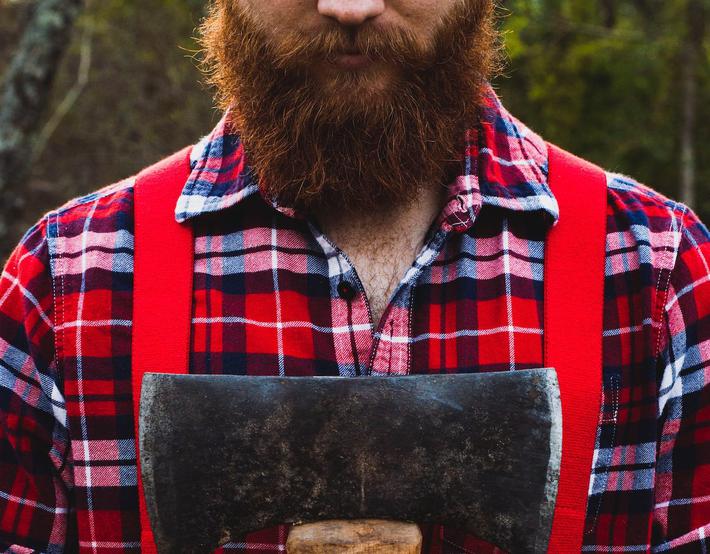 A Flannel Affair
Bust out the flannel one more time before spring is here to stay for the Wexford County Historical Society's Lumberj...
Read More >>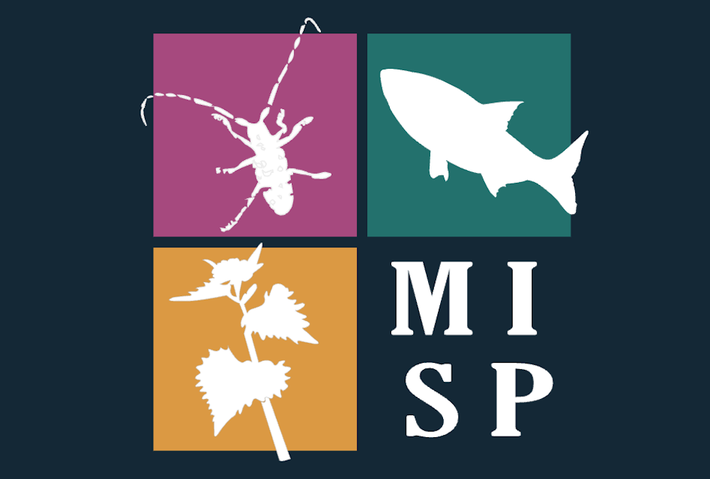 Watch Out for Invaders
Spring is here—cue the trumpets! But while we're thrilled about the return of warmer days, we're not so ...
Read More >>