A Red Wine Odyssey
Oct. 1, 2015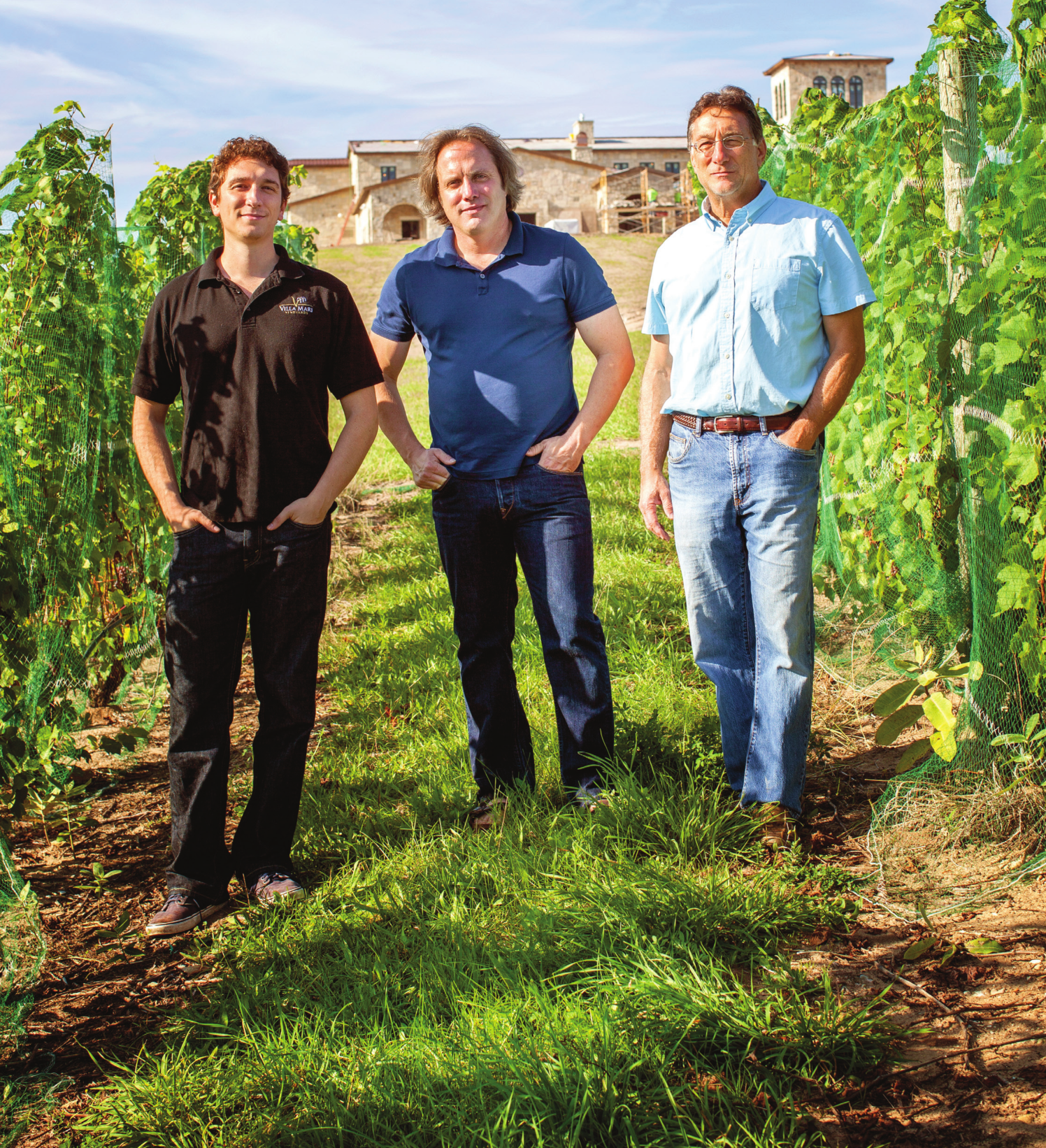 Northern Michigan can produce red wine, but only when the weather is just right. Can an Old Mission innovator produce top quality red wine year after year?
Marty Lagina is on a lifelong treasure hunt. He made a fortune discovering natural gas in the '90s, turned wind into electricity with large-scale turbine development, and his search for actual buried treasure on Canada's Oak Island is the subject of a History Channel television show.
Now a stone villa under construction near the base of the Old Mission Peninsula is testament to perhaps his most ambitious treasure hunt yet. He wants to defy cold weather and make world-class red wine from grapes grown in northern Michigan.
SOMETHING BIG ON OLD MISSION

Lagina's massive construction project unfolding on the landscape during the past year has already started to recede; threequarters of his Mari Vineyards structure will be underground, hidden under rolling rows of wine grapes.
While he won't say what it cost, no expense appears to have been spared. Underground tunnels with 2-foot thick concrete walls trail away from the villa to a wine tasting bar, a chamber and more tunnels. Above, rock quarried from Lagina's native Upper Peninsula fortifies a castle-like structure inspired by northern Italian architecture.
"It's not veneer; it's the real deal," said vintner Sean O'Keefe. "It's going to last hundreds of years, unless glaciers come back."
The endeavor is the result of Lagina's belief that he can produce better red wine than California or Australia.
"This wouldn't have been justified if it weren't for that," Lagina said. "The reason why I was willing to make this investment is because we've been growing grapes for 15 years and I think we've got it right."
"MAKE PERFECT WINE"

Lagina believes he has an innovation to make some northern Italian red varieties — nebbiolo, schioppettino, refosco, teroldego, lagrein — viable in this region.
Northern Michigan may share the same latitude with the best wine growing regions in the world — daylight hours on Old Mission are the same as they are in Bordeaux, France — but in Michigan, grapes don't get as much heat, which means they don't ripen as much.
Lagina developed a system he calls the Nellaserra, Italian for greenhouse structures covered in plastic that extend over a row of grapes and turn up the heat, especially two weeks before, and four weeks after, the growing season.
"The grapes will ripen on a coolish October day here," Lagina said. "Say it's 55 degrees out, but sunny, you know? There's not a lot of sugar being produced, but underneath these shelters, it's probably 75, 77 degrees. They're ripened to perfection. And Sean comes in with his knowledge and ability to take — I'm going to say it — to take perfect fruit and make perfect wine."
The other portion of what Lagina is building is that incredible underground structure, where wine will be aged in barrels and stored for years at ideal temperature and humidity.
"To do it right, you need to have the right facility," Lagina said. "You need to have perfect aging conditions and that's what this is: perfect aging conditions."
A RELUCTANT WINEMAKER

O'Keefe hesitated before signing on with Lagina in 2009.
"He's always kind of had a big red focus, which is kind of an irony because I've always been on the record saying that we've spent too much time on reds in this area," O'Keefe said. "What we should really focus on is our strengths, which is the whites, and now here I am making a lot of reds."
Lagina is a longtime friend of O'Keefe's father, Ed, who started the region's first winery, Chateau Grand Traverse. Lagina is also the kind of person who can convince people to see things his way.
"The bug got him like it does everybody and my dad tried to talk him out of building a very expensive place, going 'You're crazy,'" O'Keefe said. "He says, 'Oh, maybe I am, but I can probably afford it.'" Lagina's plan has been in the works since at least 2000, when he planted his first red grapes on plots he believes are the optimal growing spots on the peninsula.
"It's the right kind of reds in the right kind of places with the right kind of techniques and, if you're going to do it, there are ways of going about doing it right," O'Keefe said.
SURVIVING THE WINTER

There are others out there who are attempting to make reds, but O'Keefe said their efforts are usually overshadowed by whites. O'Keefe knows there will be plenty of competition in conversations about who makes the best red wine.
"I'm sure both Lee [Lutes] at Black Star and Coenraad [Stassen] at Brys would like that mantle. Brys is essentially a red wine winery and Black Star started out that way, but the Late Harvest [riesling] is their best seller," O'Keefe said. "Everybody comes out saying that they're not going to make wines like this and that, and then they just revert back to form."
Some winemakers already make great red wine on the Old Mission and Leelanau peninsulas — at least sometimes.
"It's absolutely possible to make great red wine in Michigan; it's just easier to make world-class whites," said Ron Edwards, a Charlevoix-based master sommelier and CEO of Bottle Rocket, a wine and culinary image consultancy. "It's really not a question of 'Is it possible?' It's really a question of 'How often is it possible and what grape is going to make it more often than not?'" Edwards said the notion of "world class" should be reconsidered, anyway. Often, what sets two wines apart is that they are different, not that one is better than the other. Take Napa Valley versus Europe. Napa tends to produce deeper, richer wines with more alcohol because they've got a warmer growing season. European-style wines are more subtle.
"If you head into our vineyards and you think you're going to taste anything but European-style wines, you're going to be disappointed," he said.
Edwards is impressed with Mari Vineyard's approach. It's smart to pick a variety from a cooler climate and it's smart to grow it in way that gives the grapes more time to ripen. Their underground storage also gives them an advantage.
SOME VERY GOOD YEARS

Amanda Danielson, advanced sommelier at Trattoria Stella and the Franklin in Traverse City, said northern Michigan produces world-class red wine when the weather is right.
"There has been world-class red wine, but it's really, really vintage dependent," Danielson said. "If you go back, there were two vintages in recent memory that were warm enough to ripen red grape varieties."
Those years were 2005 and 2007. Danielson is impressed with what O'Keefe has already produced at Mari and she believes it will get better, owing to the hardy grapes and the greenhouse rows, which should improve their chances of making great red wine from year to year. "Sean O'Keefe has a lot of talent and he does things for the right reasons," Danielson said. "I think when you're going at it for those absolutely benevolent reasons, it's always successful."
Ric Cerrini, wine expert and co-owner of Bon Vin in Traverse City, said he tasted an early batch of a Mari blend a couple years ago and wasn't impressed, though he is willing to reconsider when the vines are more established. He thought the wine lacked complexity and wonders what affect the greenhouse tunnels have on the development of the grapes. He said he opted not to carry the wine, in part because the particular bottles he was offered would have retailed for more than $50 and he didn't think they would sell.
"That was their first harvest," Cerrini said. "They were from very young vines and I have not had a chance to try them since then."
"DRIVEN BY THE SUN"

When you reach the basement of Mari — five stories down from a panoramic view of East Bay — a hallway leads through what will be an arched, European-inspired storage hall that leads to a chamber where the cave splits in two.
High above, an oculus lets in light from a hole in the vineyard.
To the right, a tunnel heads toward an opening that looks over the vines, to Center Road and beyond. To the left, another tunnel leads to doors that open at the point on the horizon where the sun rises on the day of the summer solstice.
"So at dawn, the sun rises right in the center of that door and shines on the wall," O'Keefe said. "We haven't done any Indiana Jones things yet, but right now they are designing some really big, elaborate doors that almost open completely up."
"That's just a cool thing," Lagina said. "I mean, look at how much of this is driven by the sun: this winemaking — the sun and the position of the sun and the heat of the sun and the length of the day. So it was just kind of a cool thing when we were laying these caves out. Why not catch the morning sun June 21st? I mean, that's a key day in old pagan religions, the path of the sun is a key day in Christianity, too."
THE TREASURE OF OAK ISLAND

Lagina doesn't see much of a link between his quest for world-class red wine and his search for the legendary treasure of Oak Island, a project he started on a lark with his brother several years ago.
"Maybe. I don't know. Maybe. I guess you could maybe say the same kind of drivers, perhaps," he said. "I have told people that the actual treasure was found and it's buried under the oculus there."
The History Channel show is popular in Canada, where Lagina is often recognized as a celebrity. That happens less in Michigan, though recently someone at the Peninsula Grill asked to take a selfie with him because she was a fan.
The Curse of Oak Island follows Lagina, his brother and others as they search for long-lost treasure thought to be buried somewhere on the Nova Scotian island, of which Lagina owns a share. The first expedition for that treasure happened in 1795.
"That show is interesting. It's like it hits a nerve in some people and they become obsessed, just like what happens on the island itself," Lagina said.
As for the search for reds on Old Mission or Leelanau, O'Keefe still believes the best variety is gamey noir, which his father first planted years ago, but he keeps an open mind.
"If we're going to be doing something like this and we're going to be trying to grow reds up here, using these greenhouse tunnels and things like that, let's not do what can actually grow here already, like cab franc or merlot," he said. "Let's go crazy. So we have all these kind of odd varieties from northeast Italy."
Lagina said, despite the grandeur and mythology, he wants his winery to be approachable.
"We don't want to be hoity-toity about this. We want people to come here. We want them to enjoy it, enjoy the architecture, enjoy the wine," he said. "We want this to be a very welcoming place."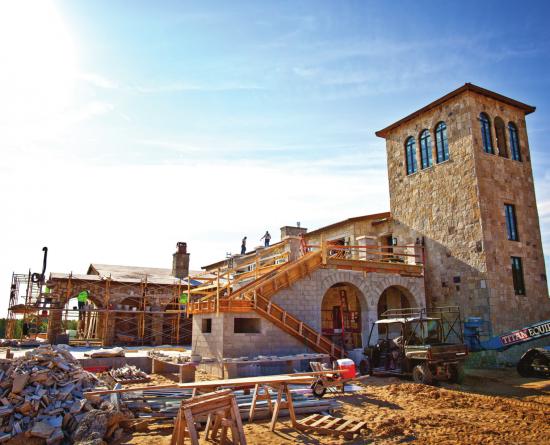 Trending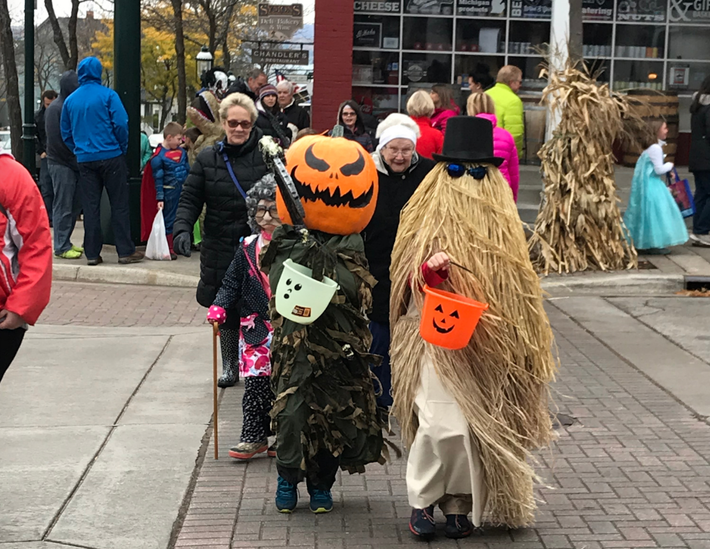 Light Halloween Frights for Families and Kids
Our picks for some extra-special kid-friendly Halloween events happening in northern Michigan this week:CADILLACTreats &am...
Read More >>
The Ugly Side of Unregulated STR
We've traveled this road before and found it bumpy and uninviting. Now the Michigan legislature wants to drag us down the ...
Read More >>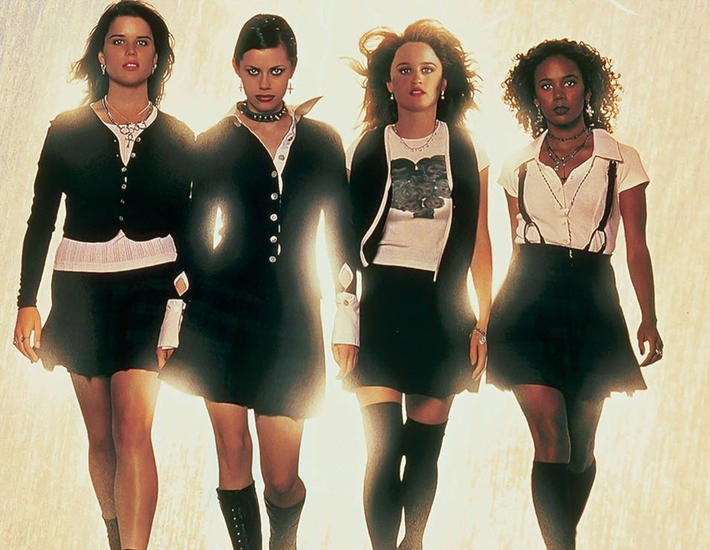 Witch Cinema
Like clockwork, when the calendar hits October, so begins the annual onslaught of Hocus Pocus-related content. Originally ...
Read More >>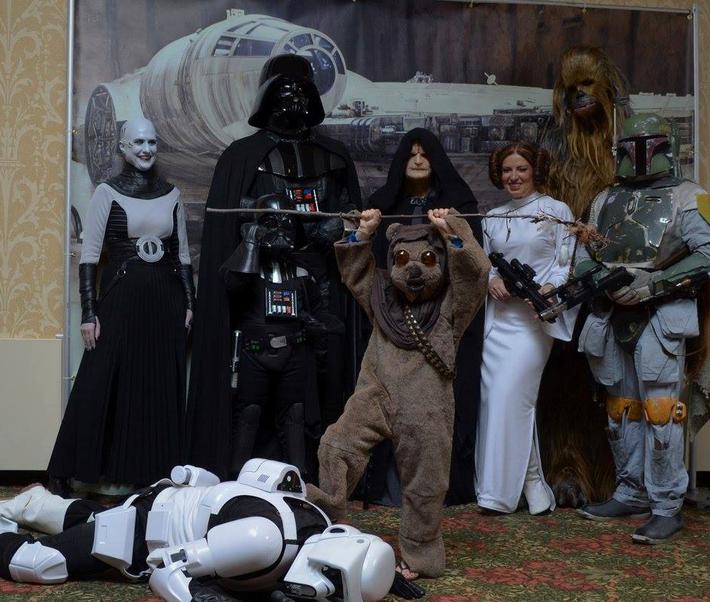 Cherry Capital Comic Con Strikes Back
Legions of good, evil, and the artists, authors, and voice actors that bring them to life will converge for what is likely...
Read More >>
↑