The Rise & Fall of Idlewild
June 5, 2002
Idlewild, Michigan was once a thriving community steeped in black American culture and entertainment. It was a symbol of newfound economic and social status for people of color during the 1920s through the mid-'60s. Located 65 miles south of Traverse City near Baldwin, Idlewild has been in decline for the past 30 years.
Faced with numerous challenges from poverty, run-down buildings, drugs and even a reputation of prostitution, Idlewild seems destined for a change. Several in the community have dreams of returning Idlewild to the success of the days when some of black America's most successful entertainment, sports and societal figures helped to put Idlewild on the map.
There is a renewed interest in Idlewild from a historical standpoint and an economic perspective. Recently two books have been published on Idlewild's history and a third book is due out in early 2003. Henry Ford Museum and Greenfield Village created an Idlewild exhibit two summers ago. Michigan State University's museum department will offer a traveling photo exhibit to tour the Midwest in 2003 with proposed stops in Idlewild and Traverse City. Oprah Winfry, Dick Clark and others are proposing a documentary film on Idlewild.
Some residents of the community are proposing economic development plans to recreate a spark in a community whose flame seemed to die out in the late 1960s. There is a proposed summer jazz festival and consideration of a major summer blues festival this year. There is even an ambitious plan to create Idlewild into an Interlochen type summer camp specializing in the area of jazz and blues music, black literature, arts and dance.
Why all of the sudden so much interest in Idlewild?
"People keep asking will Idlewild be revitalized, will it return to its glory days?" said Dr. Ben Wilson, Chair of the African Studies Department at Western Michigan University. "That is like asking me at the age of 55 if I will have the body of a 19 year-old again and the answer is no."
THE RISE & FALL
Dr. Wilson, who along with his colleague Dr. Lewis Walker recently published the book "Black Eden: The Idlewild Community," (MSU Press) looks at Idlewild from three perspectives.
"The history of Idlewild, its development and the entertainment aspects are all quite fascinating, but there is more to the story," said Wilson. "In our book we also looked at the decline of Idlewild, where it is at today and what can be done not to return Idlewild to the past but rather to develop a viable community in the future that does embrace aspects of Idlewild's history."
This question of renewed interest is best answered in understanding what Idlewild once was and why it went from the resort community for black Americans to a haven of crime, prostitution and high levels of poverty today. Its historical significance and contribution to the entertainment world make Idlewild an important piece of the puzzle that make us who we are today as Americans. It is from that perspective that some who live in Idlewild today would like to take the community from its current state and restore its glory.
LOOKING BACK
During the turn of the last century black Americans were beginning to enjoy new economic and educational opportunities, especially in the northern states. Despite freedom from slavery the policy was segregation and many Black Americans even in the north were not welcome in the neighborhoods or resorts of their fellow white Americans.
Four white families who had purchased the 2,700-acre tract that would become known as Idlewild established the community in 1912. The developers believed that there was an opportunity to sell lots to "land hungry blacks." Their insight proved to be correct; by 1927 16,895 lots had been sold to over 6,000 black Americans from around the country. The increase in black American populations in Chicago and Detroit made Idlewild a natural; but landowners were coming as far away as Massachusetts, Texas, California and even Hawaii.
Landowners and visitors to Idlewild were some of the most prominent black Americans. Social activist W.E.B. DuBois, founder of the NAACP visited often and the great boxer Joe Louis and his business manager Sunnie Wilson vacationed regularly and owned a nightclub in Idlewild. Jazz greats Duke Ellington, Louie Armstrong and Dizzy Gillespie vacationed and owned property at Idlewild.
A HEART HERO
While entertainers would become the big names of Idlewild during the '40s, '50s and '60s, during the '20s it was Dr. Daniel Hale Williams who was Idlewild's most prominent resident. Dr. Williams was from Chicago and was the first to successfully operate on a human heart making him respected in medical circles and a hero in the black community. Dr. Williams would spend a lot of time at Idlewild and even built a medical clinic before passing away of a stroke in 1931.
Idlewild represented a symbol of social and economic status for many black Americans, but it was the entertainment that crossed racial barriers and put Idlewild on the map. The number of black American entertainers who performed regularly at Idlewild were the "who's who" of that era. White residents and visitors of Traverse City and other northern communities often visited Idlewild clubs to see many now legendary performers.
Blues greats B.B. King, T-Bone Walker, Alberta Adams and Etta James were all regulars. An equally impressive line-up of jazz greats performed at Idlewild: Ellington, Armstrong, Gillespie, Cab Calloway, Lionel Hampton, Betty Carter, Sarah Vaughan and Dinah Washington.
There were others like Sammy Davis Jr. who made some of his first performances on the Idlewild stages, as did Bill Cosby, Jackie Wilson and Stevie Wonder.
Actress and singer Della Reese started her career in Idlewild as did Motown legends the Four Tops who formed there. Other musical giants were regulars; Aretha Franklin, The Spinners, and The Temptations all played the clubs and vacationed at Idlewild.
FABLED PAST
Entertainment became such a mainstay at the resort community that music promoter and resident Arthur Braggs in the 1950s created a traveling "Idlewild Revue" that toured the country during the winter months and featured lesser known names with the exception of T-Bone Walker and jazz great Arthur Prysock.
By the 1950s Idlewild had grown into one of the biggest destinations for black Americans. It boasted 14 motels, hundreds of cottages (called "doghouses" because of their size), six restaurants and nine nightclubs, amazing for a community that now has about 400 year round residents and about 2,000 summer residents. Currently the community has one restaurant the Red Rooster that has an occasional performer, two small motels and no nightclubs.
In fact the town shows no signs of its fabled past with the exception of pictures that adorn walls of area businesses and the stories of the days gone by told around kitchen tables and bar stools. Many of the homes and buildings are in need of repair. A first-time visitor to the area may find it hard to believe that this was once a booming resort community.
CIVIL RIGHTS
Idlewild started to change in the mid-1960s. Scholars point to the civil rights movement and newfound economic opportunities for Black Americans. Essentially by the 1970s black Americans were able to travel to the same resorts as white Americans.
A lack of reinvestment back into the community infrastructure as well as area business owners failing to keep up with the times were additional troubles Idlewild began to face in the 1970s.
"Local businesses were not reinvesting during the profitable times and their facilities began to deteriorate," said Dr. Ronald J. Stephens, professor of Anthropology and coordinator of African-American Studies at the University of Nebraska. "The beds in the hotels were falling apart and the pillows were old so people stopped coming."
Dr. Stephens published his first book "Idelwild, The Black Eden of Michigan" (Arcadia) last year. The book was a pictorial consisting of surface editorial. His new book is due out in early 2003 to be published by the Wayne State Press and Dr. Stephens plans to explore from a scholarly perspective the rise and fall of Idlewild.
Lake County and Yates Township where Idlewid resides, has among the highest areas of unemployment and poverty in the state. With no economic base the area has struggled and this too has helped to contribute to the decline of Idlewild.
IDLEWILD TODAY
Idlewild today has six businesses, and two chambers of commerce. The 2000 census shows that for the first time in its 90-year history Idlewild has more white residents than black.
The community is divided on the best route for the future. Some believe industry is needed, others want to see tourism brought back and some want Idlewild left as is. In recent months recall petitions have been circulated to remove three township board members including the Yates Township supervisor whose own father-in-law signed the petition.
Bill McClure, owner of the Red Rooster Bar & Restaurant, is tired of seeing the community struggle. He is concerned about the future of Idlewild, but at the age of 72 he knows that he doesn't have the energy to turn the area around himself. He organized an American Legion Post at Idlewild last December and has been recruiting others to help him change the destiny of Idlewild.
"Look I am tired of just about everyone around here being on welfare, all the drugs in the area, I am going to do something about it," said McClure. "We need some people with money to come in here and invest in the community, there is a history of success here and it can be restored. We need parks, motels, places for families and kids to go."
McClure is not the first person in the area with ideas to improve Idlewild there have been movements in the 1980s to build golf courses and bring industry to the area. Those failed and Idlewild seems stuck. The current attention being given to the area may help to facilitate change. Despite some deteriorating homes and buildings there is a natural beauty to the area, which is surrounded by the Pere Marquette State Forrest and the Manistee State Forrest, Idlewild also has several lakes.
Gone are the glory days when the likes of Joe Louis, Wilt Chamberlain, Jackie Wilson and others hung out in Idlewild. Performers like Aretha Franklin and Bill Cosby probably won't be returning anytime soon. Yet Americans have a keen interest in saving and protecting our culture. Historical restoration projects are going on all over this land. The question is now not will Idlewild be restored and protected but rather when?
Trending
Pronouns 101
My first assignment in an online graduate-level class was to provide information about my background, including my pronoun...
Read More >>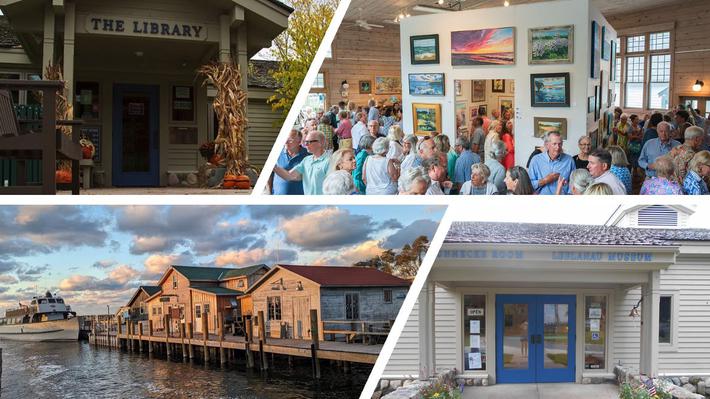 Collaboration Is the Name of the Game
How long does it take to create a cultural center? As few as three years, or as many as 170. Sometimes both. The organiza...
Read More >>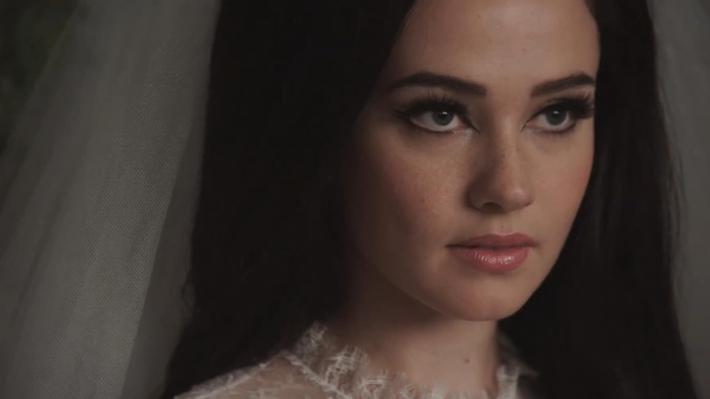 Film Review: Priscilla
While you will certainly be mesmerized by the haunting lead performance from newcomer Cailee Spaeny—and be impressed...
Read More >>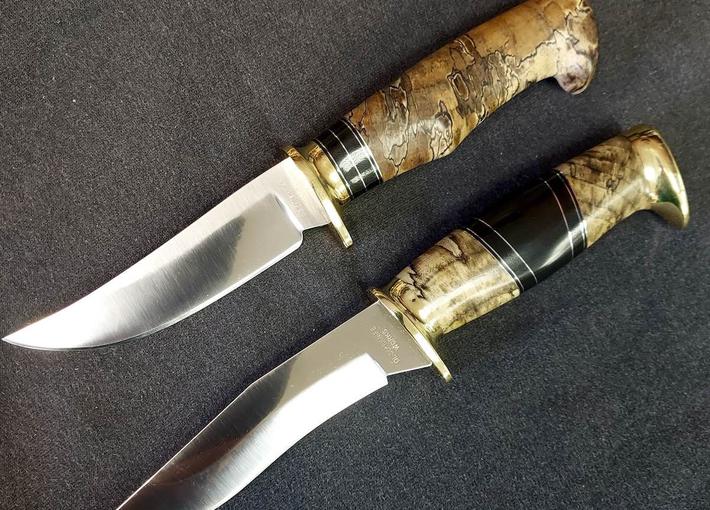 Bespoke Blades
What do you do with a battered ice skate, an old rubber puck, a cracked hockey stick, and a gob of tape? Pitch 'em, ...
Read More >>