Natural gas blues
Aug. 14, 2011
When Jan Stuhlmann heard how much a company wanted to pay him for oil and
gas rights to his 80 acres in Kalkaska County, he couldn't believe his
ears.
The 69-year-old and his wife stood to receive around $140,000.
For Stuhlmann, a retired community college pottery instructor and
carpenter who's lived in the same house on North Crooked Lake in Blue Lake
Township with his wife, Janet, since 1973, the windfall would have been
life-altering.
"I mean, I'd buy a Cadillac, maybe I would even get her a diamond ring,"
he said, motioning toward Janet.
He signed the papers right away that would give the company the right to
drill for natural gas on his property.
Many of his neighbors across Northern Michigan, especially in Kalkaska,
Antrim, Emmet, Otsego, Charlevoix, Cheboygan and Crawford counties, also
signed during the whirlwind natural gas rights grab last July.
Then the dates they were supposed to receive their checks came. And went.
And many received nothing.
Perhaps the whole thing seemed too good to be true all along.
"It sounded real good, but of course, we got zero," Stuhlmann said. "They
seemed like a bunch of crooks to begin with, ... for them to come out and
offer you that much money."
130 CASES
Now, a year later, the Stuhlmanns and dozens upon dozens of other Northern
Michigan landowners are in legal battles with Chesapeake Energy Corp. and
related companies over contested oil and gas leases.
In court houses across the region, case files grow and legal documents
stack up in the cases.
Many of the plaintiffs are represented by Susan Hlywa Topp, a Gaylord
attorney who specializes in environmental and natural resource law. She's
filed for around 130 of the landowners who believe they were hoodwinked by
Chesapeake.
Topp argues in the lawsuits that Chesapeake came into Northern Michigan
when suspicion was rampant that there was a fortune worth of natural gas
in a geological formation called the Collingwood Shale. Energy companies
sought to buy up rights to as much land as possible. The Collingwood Shale
is a natural gas deposit that runs through much of Northern Michigan.
While those deals were pending, however, Topp said the company drilled
test wells with disappointing results -- natural gas from the formation
would be tougher to get out than originally thought.
The companies then resolved to get out of as many leases as possible by
alleging fault with the titles, Topp said.
It amounted, Topp says, to shifting the risk of oil and gas speculation
to the landowners, who were forced to turn down offers from other
companies once they signed with Chesapeake.
"They were treating the oil and gas leases as an option which would shift
the risk to the lessor; they were not treating the leases as a binding
contract," she said. "And when they didn't like the results that came in,
they tried to get out of the leases by saying 'we never really accepted
them.'"
Topp goes into great detail about Chesapeake's business practices in the
lawsuits and says there is more at stake in the claims than just money.
"Simply stated, this case involves unconscionable corporate wrongdoing
resulting in financial injury to many people who contracted in good faith
with the Defendant's representatives," she writes in the introduction to
some of the lawsuits. "Much more than the merit of the Plaintiffs' claim
is at stake here. At stake is the integrity of the Michigan contract."
CHESAPEAKE DENIES FRAUD
Those allegations go too far, one Chesapeake attorney says.
The lawsuits are about nothing more than contract disputes and the
plaintiffs will not be able to prove Chesapeake or any of the other
companies committed fraud, said Steven Barney, a Petoskey attorney who is
among those representing Chesapeake and its affiliates.
In fact, Barney said, one case in Charlevoix County was already tossed by
a judge at a summary disposition hearing on those grounds, though Barney
would not discus specifics about that case.
"In our opinion, these are alleged breach of contract cases, that's what
they're really about," Barney said. "Our clients, through their land folks
here in Michigan, went out to people and negotiated leases. And when they
negotiate a lease, part of that initial agreement to pay a bonus to
conclude a lease involves a review of the title, and if there are defects
... we have a right to reject it. And in all of these cases, that's what
we did."
Barney said if the grounds for finding fault with some of the titles seems
severe, that's because in these cases the companies were paying so much
more per acre for the natural gas rights than is typical. They merely
acted with added diligence.
"It's a pure contract case, in our opinion, and if we owe them money,
we'll pay it," Barney said.
Topp said she is aware of a Charlevoix County case that was dismissed, but
that case was in district court, it was handled by an attorney who does
not specialize in oil and gas law, and did not contain allegations of
fraud.
NORTHERN BOOM TOWNS
If you knew where to look, Northern Michigan began to resemble an oil rush
beginning in April 2010 through last August when the boom went bust. The
region was crawling with hundreds of landmen visiting land owners,
pitching deals and checking titles in register of deeds offices.
David Petty, who worked as a landman for six years and says he is now
blackballed by the industry for speaking out against Chesapeake, said that
in some rural areas, there were so many landmen driving around on dirt
roads, the dust never settled.
"It was crazy, it was absolutely a rodeo," Petty said of the rush of seven
or eight companies which came when the industry suspected the region might
be the site of the nation's next natural gas boom after a promising well
was drilled in Missaukee County. "And then it was over. Boom. Done. And
everybody else paid. The other companies, they all honored their
obligations."
Petty said Chesapeake was the lone holdout that tried to get out of
honoring leases.
Chesapeake was unusual even before then, Petty said, because most
companies settled on a per-acre price they would pay and stuck with it.
Chesapeake last year offered anything between $200 and $2,000 per acre,
Petty said, because they wanted the leases so badly.
Petty said many of the people who entered into deals with Chesapeake wound
up suffering harm after they didn't get the money they expected.
"A lot of people went out and bought things, expecting a check to come in.
They went out and re-mortgaged their houses, they bought new combines,"
Petty said. "And wham-o: Chesapeake said, 'We're not paying you.'"
Petty was among the landowners who signed with Chesapeake, though his deal
only involved 12 acres, he said, much less than most of the lessors.
Petty plans to form an advocacy group to advise people how to deal with
oil and gas companies the next time they come around. The group would
offer legal advice and help landowners understand some of the pitfalls
that can come up when oil and gas companies send landmen out to comb the
countryside.
DUE DATE COMES AND GOES
Details of what happened last summer have emerged in some of the court files.
Topp said the Stuhlmann case is representative of the cases filed across
Northern Michigan, though some of the company names are different in other
cases.
The Stuhlmanns first received a letter from an agent representing a
company called Silver Lake Energy, LLC. Most of the plaintiffs first dealt
with a company called Western Land Services Inc., Topp said.
Silver Lake, saying it was acting as an agent for the Northern Michigan
Exploration Co., LLC, said they wanted to make a "very attractive offer"
and the "best available offer" for oil and gas rights.
The Stuhlmanns were contacted by an agent from Silver Lake in July 2010,
according to the lawsuit. Silver Lake offered a contract to lease the
Stuhlmanns' property for $1,750 an acre, a figure to which they agreed,
and they signed a lease on July 14. They expected to be paid a bonus of
around $140,000 for mineral rights to their land.
The money was owed by Sept. 17, 2010, according to the lawsuit.
Then the September date came and went.
A message left for an attorney who is listed as Silver Lake's agent was
not returned. Messages left with Chesapeake's public relations office were
also unreturned.
LEASE VOIDED
In September 2010, a company connected to Chesapeake hired several oil and
gas landmen to find grounds to void the leases, according to an affidavit
filed in Topp's lawsuits signed by one of those landmen, Kevin Koonce.
The Stuhlmanns received a letter dated Nov. 18, 2010 saying that the
Northern Michigan Exploration Co. would void the lease, "because of an
unreleased title defect to wit: Unreleased Oil and Gas Lease in favor of
Steven H. Anderson dated May 1, 1996 and that you do not own the 80 acres
in minerals as represented at the time of leasing."
Topp argues in the lawsuit that the oil and gas company defendants did not
make those objections before the Sept. 17 closing deadline.
On the issue of an unreleased claim, Topp says that "is totally and
absolutely without merit." The Anderson lease was for a period of three
years and expired under its own terms on May 1, 1999. There's no duty
under Michigan law for there to be filed a "release of lease," according
to the lawsuit.
Further, Topp argues, Northern Michigan Exploration never provided
specifics to prove its claim that the Stuhlmann's own fewer than 80 acres
and the lease provides for an adjustment in the size of the amount of land
leased should the actual acreage prove to me more or less than what was
originally agreed to.
The statewide average for title failure for oil and gas leases is around
eight percent, Topp argues. Alleged title failure in deals involving
Chesapeake is over 80 percent, she said.
"I wouldn't say we suffered any hardship other than going to the mailbox
everyday and being disappointed that the check wasn't in the mail,"
Stuhlmann says.
Barney said he didn't want to discuss details of any particular lawsuit
but he denied the allegations in general. In an answer to the lawsuit,
Chesapeake attorneys deny the allegations.
BIG SUIT FILED
One lawsuit against Chesapeake filed in Grand Traverse County dwarfs the
suits brought by individual landowners.
Frontier Energy, a Traverse City company, says in the suit that it owned
the oil and gas rights to parcels of land in Charlevoix, Cheboygan,
Crawford, Kalkaska and Otsego counties and was approached by a company
called O.I.L. Niagara L.L.C. to lease the rights on behalf of a large
energy company, which during the negotiations was anonymous.
The company paid Frontier $10 million to lease the rights and agreed to
pay an additional $24 million at closing.
A lawsuit, originally filed in Charlevoix County in August, 2010 and moved
to Grand Traverse County, charges that O.I.L. failed to pay the $24
million and instead claimed the agreement was broken and void because the
companies couldn't manage to negotiate terms.
Chesapeake, the anonymous company, was later added as a defendant in the
suit along with Northern Michigan Exploration Company, L.L.C. The
defendants countersued and they have asked Frontier to return the $10
million.
Attorneys for O.I.L. and Chesapeake said in court filings that this case
is not like the others, even aside from the large amount of money
involved.
"This is a very straight forward commercial contract case between two
sophisticated and knowledgeable oil and gas companies. In that regard, it
is significantly different from the other cases in Northern Michigan to
which Frontier continues to attempt to draw the Court's attention," one of
the attorneys wrote. "It is very unlikely that any other leases or
disputes will be relevant to resolution of this case."
An attorney for Frontier did not return a message seeking comment.
The case is scheduled for trial at the end of November.
Trending
Pronouns 101
My first assignment in an online graduate-level class was to provide information about my background, including my pronoun...
Read More >>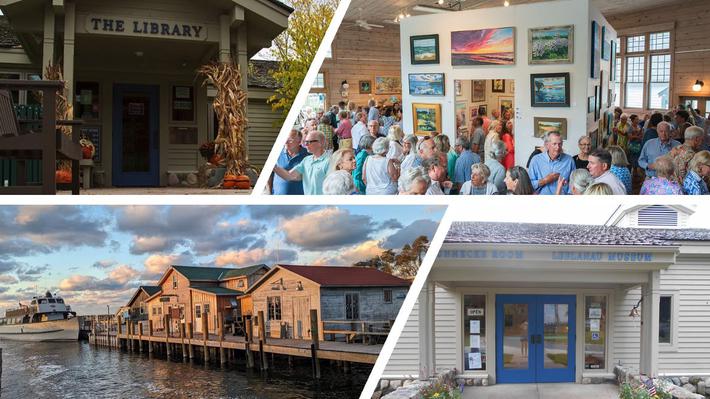 Collaboration Is the Name of the Game
How long does it take to create a cultural center? As few as three years, or as many as 170. Sometimes both. The organiza...
Read More >>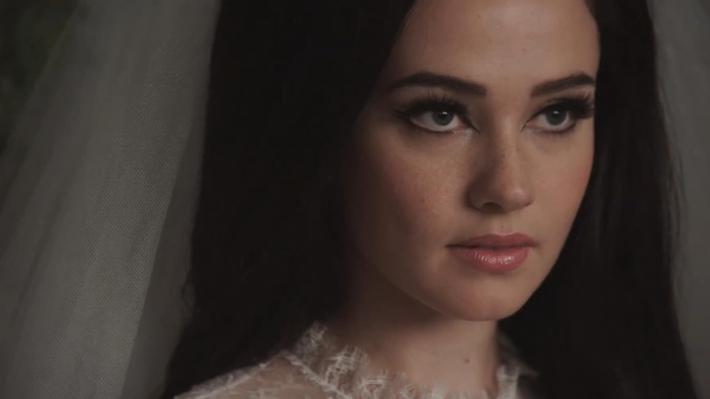 Film Review: Priscilla
While you will certainly be mesmerized by the haunting lead performance from newcomer Cailee Spaeny—and be impressed...
Read More >>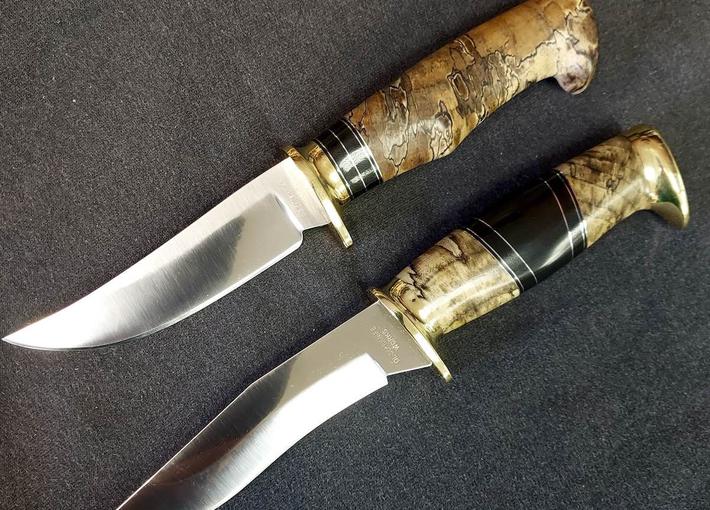 Bespoke Blades
What do you do with a battered ice skate, an old rubber puck, a cracked hockey stick, and a gob of tape? Pitch 'em, ...
Read More >>