Bear in Mind
Longtime park service veteran Scott Tucker reflects on the Sleeping Bear Dunes National Lakeshore's present and future
Scott Tucker has been with the National Park Service for 20 years, but he's been superintendent of the Sleeping Bear Dunes National Lakeshore for just one.
Tucker comes to northern Michigan from Lewis and Clark National Historical Park, where he was superintendent. Before that, he was park manager of the President's Park in Washington D.C.
Sleeping Bear is a homecoming of sorts for the Colorado native. His wife, Josey, grew up in Michigan, and the couple and their two young children explored Sleeping Bear many times while visiting Michigan.
Northern Express sat down with Tucker to talk about his first impressions of the national lakeshore as a new resident and caretaker and what he's got planned in the coming years.
Northern Express: What's surprised you most about this place in your first year?

Scott Tucker: I'm surprised by a few things. I was really surprised by the core staff that fluctuates with the season, so 50 employees in the winter and 150 in the summer. That's not surprising — that's Parks Service management — but just the in-depth core knowledge of that really surprised me. The employees that come back in the summer have been doing it for many, many years and they are so much a piece of the integral puzzle.
Another thing that really surprised me was the community interaction with the friends' groups, with both Preserve Historic Sleeping Bear and the Friends of Sleeping Bear. They are no-holds-barred "How can we help?" You never know what you're going to get with friends groups, especially ones that are created out of angst to what the Park Service is doing. Preserve was created because they didn't like what the Park Service was doing, but that has morphed into a seamless partnership of meeting the mission of the park service.


Express: How does community involvement here compare to other parks where you've been?
Tucker: It varies. If I compare Sleeping Bear and the almost 50-year history of how this park was created, to my last park, which was Lewis and Clark National Historic Park, in Oregon, it's dramatically different. The community there was the catalyst for the legislation that created the park. It was the community and the state that for almost 50 years kept saying, "Hey, Park Service, let's create this." A little different than the dynamics that came here, which, just from my readings, involved controversies in the late '60s: To build a Lakeshore or not to build a Lakeshore.
Express: Sleeping Bear was created out of conflict.
Tucker: Yes, conflict. The one thing I see from my seat and from all my interactions in the last year, I do see maybe a generational shift. The folks that found a very negative piece of the Lakeshore back in the '70s, '80s and '90s will probably almost always have that. It's a piece of who they are, and it's a traumatic piece of their lives. But the next generation grew up with what's here today. And there is a little shift there. They are seeing what the area could look like if the Lakeshore wasn't here. And so there is a generational shift. If you look at other parks, I was down at Great Smoky Mountains National Park a few weeks ago — a very similar thing in the '30s there, with homeowners who were really not keen on the idea — and they've gone through several generations now, and those same families are the biggest park supporters. I see that shift here as well. Just a great community interaction.

Express: It goes from the worst thing ever to something that's beloved.
Tucker: Exactly — that's absolutely beloved. And it goes from, "The government is taking over!" to "I have a Lakeshore!" And my mentality is, this is everyone's Lakeshore, and how do we manage it as a community so that it's here forever?

Express: What's your first priority?
Tucker: I think my biggest priority is strategically looking at how we spend our money. Budgets will forever be a challenge; we will never get as much money as we want. But 390 historic buildings are not getting any younger. Deferred maintenance is always going to be a piece of that. We have almost a $20 million deferred maintenance backlog here. A big chunk of that is just the parkland roads. That doesn't speak to the county roads that are in the park. And so the biggest challenge is how do we use our funds to get our biggest bang for the buck.
Last year we brought in $2.5 million dollars in fee money, and so we've outlined pretty critically over the next five years where that money is going and what projects are going to give us the biggest bang for our buck for visitor enjoyment, rather than going to things that a visitor can't interact with, since it's directly coming from their wallet.

Express: What's an example of something like that?
Tucker: We just did a contract with a contractor that's going to re-do the film in the visitor's center. We are one of the last National Park Service visitor's centers that are still showing a slide program. It's been converted into a film, but it's literally still a slide program from the '80s and '90s. We've updated a few photos so you don't see the tube socks and short shorts from the '70s anymore. But we have a film project that's going to start filming this summer that's going to capture Sleeping Bear in all its glory over a 12-month calendar year. It will give the visitors that start here at the visitor's center a foundation that we're more than just the Dune Climb and Pierce Stocking Drive, that we're 70,000 acres [with] 35,000 acres of wilderness, lakes and seashores, and islands, and historic buildings, and the Port Oneida Historic District. So that's going to be a really cool project.
We're also working out on South Manitou Island. We have a restoration and access project for the South Manitou Island Lighthouse. We're also doing accessibility projects in cooperation with Friends of Sleeping Bear. We're going to be putting in what's called a Mobi-Mat system at Glen Haven, which will allow visitors in wheelchairs to go from the parking lot to the water. And we're working down at the Platte. We're going to be installing an [Americans with Disabilities Act] accessible kayak launch at Loon Lake.


Express: Sleeping Bear has been setting attendance records year after year. Is that good or bad?
Tucker: You know, it's both. If you look at the Park Service centennial goals from last year, from the 100th anniversary, the centennial goals were to engage the next generation of visitor, supporter and advocate. And so every visitor that comes to the Sleeping Bear Dunes, we have the potential to create a lifelong national park lover. And so that's to the benefit of the National Park system as a whole.
The downfall, though, is, are we being loved too much? And I use this story when I talk to the community. I was at Pierce Stocking No. 9 last summer with my daughter, and we were number 39 in line for the port-a-john. And so, what does that increased visitation do to park infrastructure? Parking? Restrooms? Beach access? Trash cans? And so, as visitors increase, that means we have to come up with new facilities, which means, do we build new restrooms? Do we build new parking when our task is here to balance the natural resources and visitor access? So there's also that aspect of being loved too much, which creates a challenge.
Flip side, you can probably walk out the door, in July — and I did it last summer, I have two kids, and we lived in the park last summer, with my wife, in park housing — and so pretty much every day after work we'd go on a hike or we'd go to the beach. It was the perfect summer, to be honest. And it was the heart of July and the heart of August, and I could take a hike with my family and not see another person. I could also wind up at a beach with a thousand other people.


Express: What should the ideal visitor experience be like?
Tucker: I use the term, and I've been using it since I've gotten here, and I don't think people are tired of it yet … a "postcard moment." And so my image of what a visitor experience should be here is, they should be able to walk away from their visit to this region and have a snapshot image to their head of beauty, of a smiling kid running down the dune, of a beautiful sunset, a walk in the woods, and have that postcard image be what they take with them, rather than a rude ranger, 39 people in line in front of you at a restroom, a bad dinner at a restaurant, a loud hotel, a loud campground. And so the ideal experience is one that makes you want to come back and explore more.


Express: I understand that 90 percent of visitors are going to visit the dune climb and the scenic drive, and they might not go anywhere else. How do you get people to spread out across the park more?
Tucker: How do we get them to know that there's other things here? One is how do we get them to stop first at the visitor's center here and talk with a ranger and get opportunities to say, 'Hey, go check out these other things.'? Hopefully a new film will do that. Two is put our staff where those visitors are — not for formal programming but just casual interaction. I joke that when I get fed up with my work here, I just put on my hat, and I go out to No. 9 or I go to the dune climb, where no one has a clue who I am, and I just hang out with the public and talk with them. That's how we get visitors to other places, just casual conversation that strikes up interest in other things they can do here at the Lakeshore.


Express: What roles do Preserve Historic Sleeping Bear and Friends of Sleeping Bear play, and are they at odds in their roles?
Tucker: No, I think they work pretty well together. You know, there's history with everything. They are the ultimate tool for a superintendent. They bring hundreds of volunteers to the table that all have a passion for what we do. And the two boards actually work pretty well together.
If somebody comes to Friends with a funding stream or an idea of something that has to do with the historic or cultural resources of the park, they don't say "Give us your money," they say, "Hey, call Preserve! They're the ones that handle that piece." And Preserve does the same thing, if someone comes and says, :You know, I really want to volunteer by riding my bike on the Heritage Trail and helping the visitors," Preserve could of course sign them up and say, "Okay, ride in Port Oneida, in the historic district," but instead, they send them to the Friends group. They work together well. They do some collaborative fundraising. It's really a strong relationship.


Express: Is there any uncertainty or tension here given the national political climate?

Tucker: You know, is it a piece in my head of, "Okay, what is next week going to bring?" But as I sat down with return employees — just yesterday we sat down with … about 40 returning and new employees — the job we're doing today is no different than what we were doing a year ago. I have had no direction to change how we manage Sleeping Bear Dunes. And so there's a little angst, because there is the unknown, and that's with all employees, all 150 employees: What's to come with October, with the next budget year? But as we stand today, we have our mission ahead of us, and we have a budget to do it, and we have partners to help us do it. The bonus that we have is that the National Parks are in America's blood. That's the secret to everything.


Express: If you've got a friend coming from out of town who's never been here before, where's the first place you take them?
Tucker: I take them down to Pierce Stocking. I take them there just for that shock and awe moment of standing on No. 9. No. 9, looking out over Lake Michigan, you get this expanse of the park, you have an image of the islands, of Sleeping Bear Point, you can see the mouth of the Platte River, it's that moment of awe. I had visitors who came last summer that just stood at that location and shook their head and they couldn't believe what they were seeing. And these were folks that had travelled to Yosemite and Grand Canyon and Yellowstone, the big parks of out West, and they couldn't believe that they were standing in Michigan seeing this.
Five Sleeping Bear Favorites from People Who Know Best
1. The Sleeping Bear Heritage Trail
Twenty-two miles of trail stretch from Empire, through Glen Haven and Glen Arbor, all the way to the beach at Bohemian Road. The trail is slated to be 27 miles long, once extensions are added at each end, taking the trail south to Benzie County and north to Good Harbor.
The trail offers a great tour of the different environments that make up the park, said Kerry Kelly, chairman of Friends of Sleeping Bear Dunes.
"It's new. It's something that gives you a variety of different experiences on your bike, or, if you're walking, on foot, and it goes through a good portion of the park," Kelly said. "I think the neat thing about it is, families do it together, and it's something that's pretty much available to people of all abilities."
Get there: There are several trailheads along the completed trail. At its southern end, you can catch the trail on Front St., just west of M-22 and the Phillip A. Hart Visitor Center, in Empire. At the northern end, access it via the Port Oneida Trailhead, just northwest of M-22 on S. Lane Rd. Maps at sleepingbeartrail.org.
2. Cottage Row on North Manitou
This one's hard to get to, but if you manage it, the payoff is great.
It's a row of cottages from another era of northern Michigan summers, when people travelled by ship from Chicago and got by without electricity or plumbing.
Preserve has been restoring one of the buildings, the Katie Shepard Hotel, over the last nine years, and the group hopes to get permission from the National Park Service to operate it as an eight-room rustic hotel in order to give people who don't like to camp an opportunity to experience North Manitou. That hotel, if it's approved, will also lack electricity and plumbing.
Get there: Ferry service to North Manitou is available from Manitou Island Transit in Leland.
3. South Manitou Island
This island is easier to reach than North and day trips are possible, but it still requires a commitment.
South Manitou offers a mix of history and stunning beauty.
"I would say the whole island is pretty cool. You've got the village, you've got the lighthouse, the lighthouse itself is amazing, to be able to go up to the top of the lighthouse," Kelly said. "There are three campgrounds on the island, there's a shipwreck, there's dunes to climb and there are the giant cedars."
The old growth cedars remain intact on the west side of the island because sand from a nearby dune was embedded in their bark and it dulled the sawblades, which caused the loggers to move on, Kelly said.
How much time should be allotted to see South Manitou? You can accomplish a lot in a day trip (and Manitou Island Transit offers a motorized tour) but if you really want the experience, spend one or two nights backpacking and camping.
Get there: Ferry service to South Manitou is available from Manitou Island Transit in Leland.
4. Beyond the Dune Climb
If you hike up the dune climb, and then you keep on hiking, you will eventually reach Lake Michigan.
It's a long and sometimes frustrating trip that can seem like it will never end, Kelly said, but it's worth it.
"Every time you reach a knoll, it's like, 'Oh, darn, there's another dune to climb!" he said. "What you get when you get out there, what most people don't realize is, is that there are two major shipwrecks."
One is on the beach a quarter mile south and the other is a quarter mile north. Kelly said the 18th Century schooners (or perhaps schooner, as they may each be part of the same ship) are more or less visible depending on wave action, lake level and how much sand has washed over them.
The distance from the dune climb to Lake Michigan is 1.7 miles and trekkers should use sun screen, carry water and pack a snack.
Get there: Park at the Dune Climb, 6900 S. Dune Highway (M-109), in Empire, and hike west.
5. Historic Structures of the Park
Sleeping Bear offers no shortage of chances to step back in time.
The Port Oneida Historic District offers a chance to look at life on a 19th Century farm.
"Part of the beauty of Port Oneida is that it is serene and there's not a lot of traffic around there," Pocklington said.
Kelly, who studied at Tillers International near Kalamazoo to be able to take part in blacksmithing demonstrations, volunteers at the Glen Haven blacksmith shop through the summer where he helps make hooks or hinges or wagon wheels or ship anchors.
"Once a week, we try to get two or three or four blacksmiths working together on something big, because that's what would have been going on in this blacksmith shop," he said.
Then there's the Boekeloo Cabin on a two-track off of M-22 in Benzie County, which gives visitors a chance to see what a primitive and remote northern Michigan homestead looked like.
"We've put a lot of work into that," said Susan Pocklington, director of Preserve Historic Sleeping Bear. "The setting is gorgeous, next to this cranberry bog that they hand dug years ago."
Get there: The Boekeloo Cabin is located off M-22 at Boekeloo Road in Benzie County; Glen Haven is located at M-109 and Glen Haven Road; and the Port Oneida Historic District is located along M-22, between S. Thoreson Road and S. Basch Road.
Trending
Pronouns 101
My first assignment in an online graduate-level class was to provide information about my background, including my pronoun...
Read More >>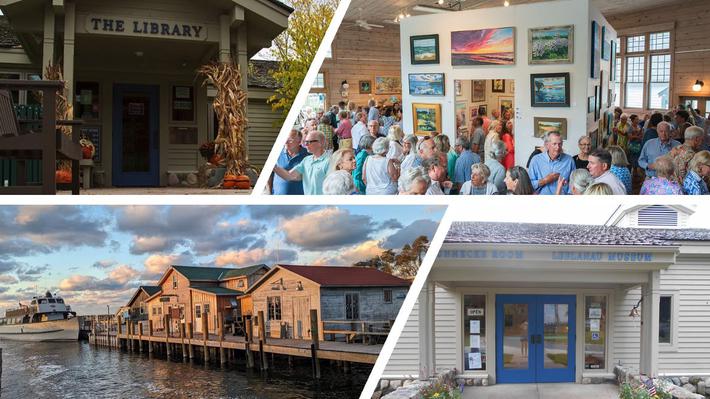 Collaboration Is the Name of the Game
How long does it take to create a cultural center? As few as three years, or as many as 170. Sometimes both. The organiza...
Read More >>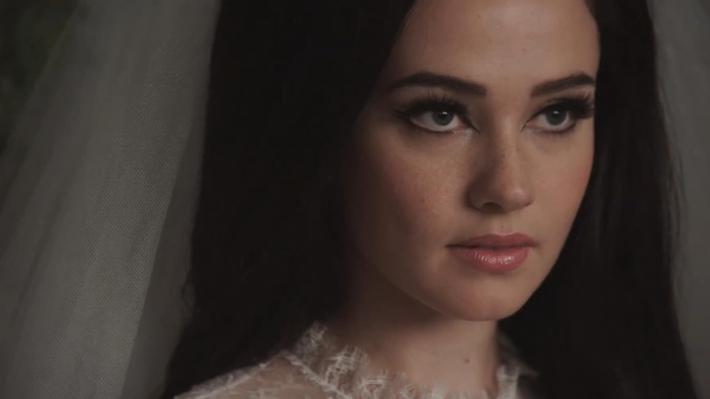 Film Review: Priscilla
While you will certainly be mesmerized by the haunting lead performance from newcomer Cailee Spaeny—and be impressed...
Read More >>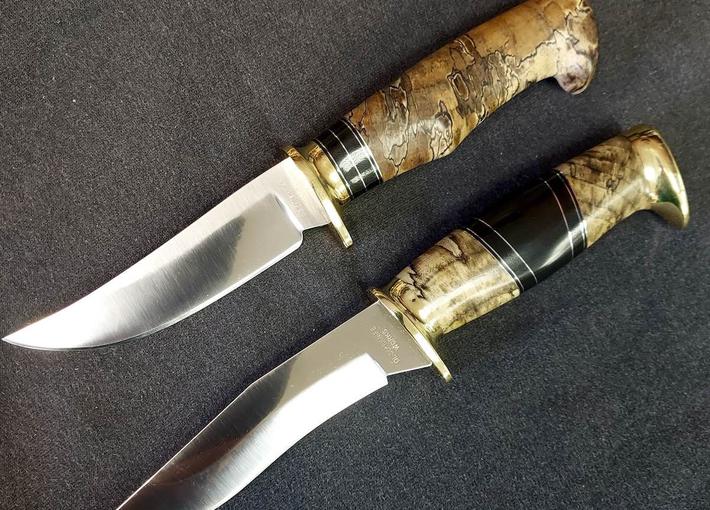 Bespoke Blades
What do you do with a battered ice skate, an old rubber puck, a cracked hockey stick, and a gob of tape? Pitch 'em, ...
Read More >>