Canticum Novum Choir Hits the Big Time
One rehearsal. One performance. Ten years later: Carnegie Hall.

That's the trajectory of Northwestern Michigan College's (NMC's) Canticum Novum Choir, a group that started simply and then grew into an impressive collective of local singers and the ambitious director who leads them.
The first inception of what would become the Canticum Novum Choir started 10 years ago, when Jeff Cobb, director of music programs at NMC, put together an ad hoc group of singers for a Habitat for Humanity benefit event in Traverse City. After a rehearsal and the benefit show, that was supposed to be it, but the group sounded so great that Cobb kept the singers together for the next couple of years, until the group kind of fell by the wayside.
"Later, I started working with some of those folks again – community members who were involved with other choirs already existing at the college – and they said, 'Hey, let's bring that group back!" Cobb explained. So the Canticum Novum Choir (the name means "new song" in Latin) was revived in 2013 as an audition–only choir (the next round of auditions starts this August) and has been going strong ever since.

Because NMC is a community college, its music ensembles include both college students and community members. Membership in the choir doesn't come with the opportunity to earn credit; it's just an opportunity to learn. But for these singers, that's plenty. "For us, it's a performing opportunity, and that's what we really want to be doing," said Dave Chrostek.
Chrostek's involvement with the choir began when he moved to the Traverse City area in the spring of 2013 and started attending the same church as Cobb. "He's director of music at the church as well as at NMC, and he told me he was starting a new choir. I jumped at the opportunity. I was an instrumental major in high school but didn't start singing until later in life; singing reignited my love for music," Chrostek said.

Cobb is well versed at working with groups of people to create music. He taught in public school for years, most recently at Traverse City Central High School. In addition to being music programs director at NMC, he oversees the overall music department as well as the audio tech program.

What some might not know about Cobb is that he's also an accomplished composer, having contributed score to television shows and movies. "I got a connection to Harpo Productions, which is Oprah Winfrey's production company, and ended up working on score for several of her shows," Cobb said. He's still actively composing for Harpo and other projects, but after a while, he missed teaching, which is how he came to his current role at NMC.

All that experience allows Cobb to bring a rich history of music to his choir projects. Canticum Novum's repertoire includes pieces by Bach, Beethoven, Brahms and Mozart as well as some more unexpected contemporary composers who Cobb said are "on the cutting edge, pushing choral music in different directions."
Eric Whitacre is one of those composers; Ward Swingle is another. The two composers are light–years apart in visual aesthetics – Whitacre used to play synth in a techno–pop band and has worked with pop artists like Annie Lennox and Imogen Heap, while Swingle, who passed away in 2015, got his start in jazz and was playing in big bands before he'd even completed high school. Both individuals stand out for pushing boundaries.

"Eric has been a powerful force in choral music for the past 15 years," Cobb said. "He's changed how people think about choral structure and harmonies. And we just love Ward's stuff, especially the fusions of jazz and pop songs that he created with [French vocal group] The Swingle Singers. We love performing his arrangements."
The Canticum Novum Choir recently performed some of this music at the state conference for the Michigan chapter of the ACDA (American Choir Directors Association). That's what led to the invitation to perform at Carnegie Hall this June; the famed New York City concert venue invites choirs based on the feedback it gets from events like the ACDA conference.

Carnegie Hall, of course, is one of the world's most prestigious venues for any musician. This will be the Canticum Novum Choir's first visit, but Cobb's not nervous. "We're mostly doing our normal show prep," he said. "We're just trying to think on a bigger scale and kicking things up a notch or two. But don't get me wrong – the opportunity to be on that stage and make music with these fantastic people is a thrill."
Chrostek said he's confident the choir will be well prepared. "It's very exciting," he said. "I've never been to Carnegie Hall. It's also unique because we're performing as our own group, with our own director, as opposed to being part of a larger ensemble. That would've been great, too, of course, but this is very special, to be going there with the choral group you've grown with."
The Canticum Novum Choir will be attired in its best black formal wear for the show and will get a pre–Carnegie rehearsal at its upcoming performance at The Dennos Museum Center. "That alone will be a concert unlike any other," Cobb said. "We'll be singing in different locations around the Dennos' sculpture garden, which has amazing acoustics. And we'll be using that space in lots of different ways. At times we'll be surrounding the audience; other times, we'll be singing right among them. We're going to envelop the crowd in sound."

Chrostek and the rest of the choir are equally enthused. "This is the best choir I've ever worked with," Chrostek said. "There are no egos pulling at each other. We just all have a common goal of presenting a good experience for the audience and crafting beautiful music together."
The Canticum Novum Choir will perform at The Dennos Museum Center on Friday and Saturday, May 19 and 20 (see dennosmuseum.org). Keep an eye on the choir's Facebook page (facebook.com/NMCCanticumNovum) for more details about its upcoming Carnegie Hall performance in June.
Trending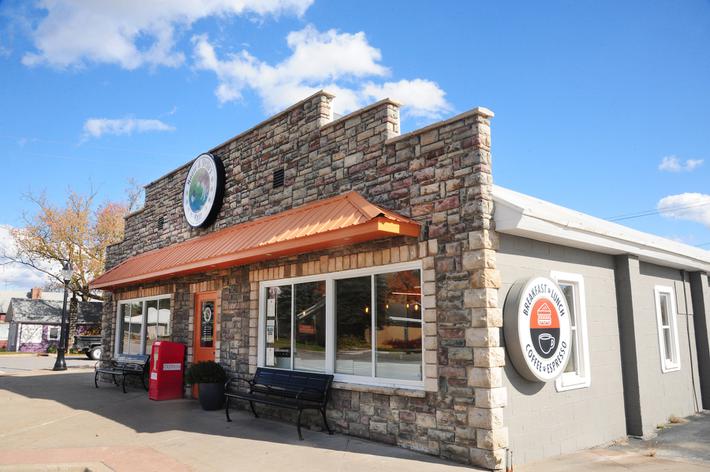 Kalkaska's Moose & Stella's
Dan Bloomquist and his wife, Evamarie, bought Breakfast & Burger Express in downtown Kalkaska at a great time: Decembe...
Read More >>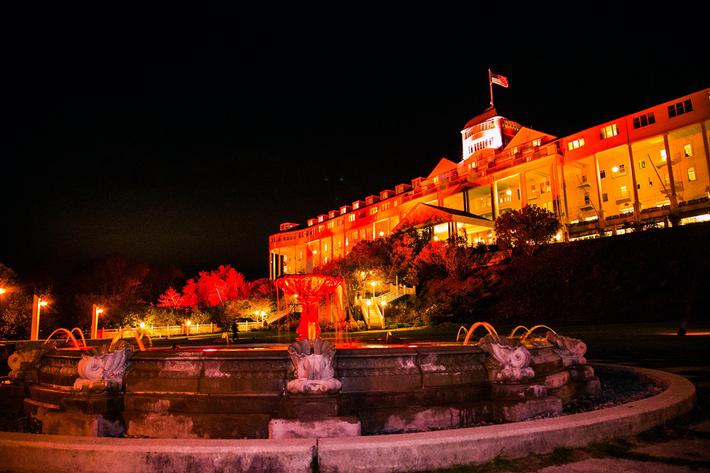 Halloween Rising
While the pandemic continues to impact lives and prevent mass gatherings, some Halloween events Up North, much like your a...
Read More >>
Hope and Vote
With mail-in voting well underway for many, and a trip to the polls just days away for many more, the gravity of the outco...
Read More >>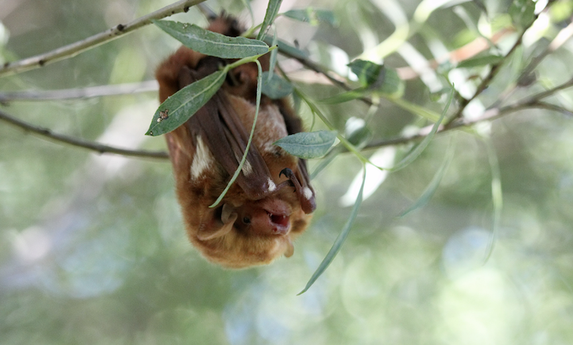 A Nightmare for Michigan Bats?
If you're seeing more decorative bats this Halloween than you saw of their live counterparts this summer, there&rsqu...
Read More >>
↑