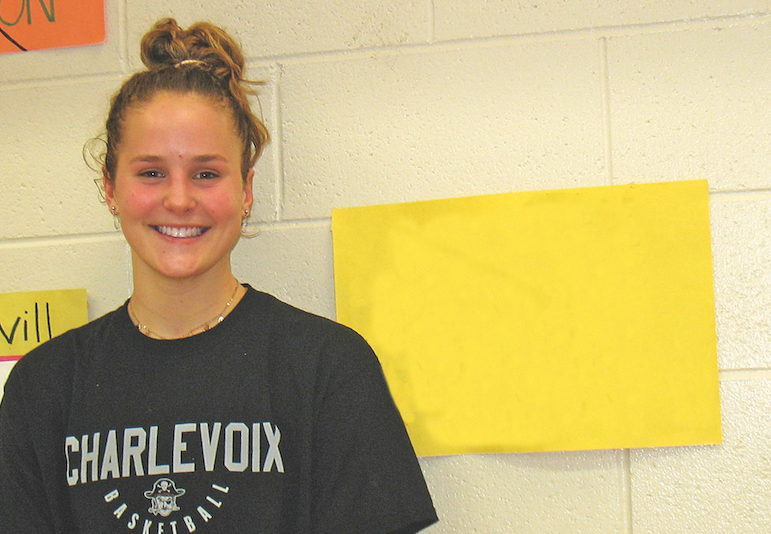 Catch Her If You Can
The skills and work ethic of Charlevoix basketball player Elise Stuck go beyond all expectations.
By Al Parker | March 2, 2019
Legs churning, ponytail bobbing, 6-foot-1 Charlevoix hoopster Elise Stuck races down the court, dribbling with her left hand and swerving around two opponents.

She suddenly stops at the foul line, drawing three defenders to her, then whips a pass to a teammate for an easy layup, en route to the 13thstraight win by the Red Rayders.

"She's great at finding open teammates and relying on her teammates," said her coach, Liz Grunch. "She's not only a great player, but she's a great person."

It's easy to be impressed by Stuck.

After all, the Charlevoix star has been named first team All State in both her freshman and sophomore years. An athletic scorer and rebounder, she's been a Detroit Free Press Dream Team player and garnered offers from several colleges including Michigan State, Michigan, Minnesota, Central Michigan and others.

With her size, she's a natural forward or center in high school, but has the ball-handling skills of a point guard and often brings the ball up court against double teams.
And she's just a junior.

"I definitely feel quicker this year," said Stuck, who underwent shoulder surgery last April after the basketball season ended. She spent three to four hours daily rehabbing her shoulder but still found time to run on the Rayders cross-country team.

"When I think of Elise, I think of two words: hard worker," said Grunch, now in her seventh season coaching Charlevoix. "She's in the gym all the time."

After a pair of early season losses, the Rayders rolled off 13 straight victories — all but one by double digits — to take a stranglehold on first place in the Lake Michigan Conference.

And Stuck, who averages more than 20 points and 10 rebounds a game, is a major factor in the Rayders' success. But she has plenty of teammates who step up when she's having a rare off game.

There are two seniors on the squad, Lily Curtis and Jane Kelly. Stuck is joined by other juniors, Emma Lemerand, Emma Wachler, Addie Nagel, Abby Cunningham, Emma Buday and Lizzy Petrosky. Taylor Petrosky is the lone freshman on the team.

"Everyone on our team looks for each other," said Grunch. "This is really a good group."
And it's a hardworking group that can play stifling defense when the shots aren't falling and the situation demands it.

It's a group that has Charlevoix hoops fans buzzing. They remember back to 2004, when Charlevoix finished runner-up in the Class C final, falling to Detroit St. Martin DePorres, 61–56. This year's squad has folks thinking of a deep run into the post-season playoffs.

Grunch has seen the team's talent level rise across the board, including with Stuck.

"I think she's really improved every year," said Grunch. "Last year she improved and this year she's worked on her outside shot, and now she has that and a strong inside game."
Stuck has honed her skills through hard work and constant practice. "I practice a lot with the boys," she explained.

Even opposing coaches are impressed by Stuck's game.

"She can dribble, shoot, and get to the rim," said Boyne City basketball coach Julie Redman, whose squad fell to Charlevoix twice this season. "Elise is just a good all-around player."
Former coaches Dave Dalton, of Kalkaska, and Ron Stremlow, of Manton, assessed Stuck's skills for a Michigan High School Association article.

"Explosive," said Dalton. "She can drive the ball, take it the length of the court, left or right. She's big, strong, fast. She can play with her back to the basket. And she's a really good passer."

Stremlow compared her skills to two former northern Michigan standouts who went on to play at Michigan State.

"Elise is a Liz Shimek, Jasmine Hines type player," he told the MHSAA. "She plays a different position, but she catches your eye as soon as the game starts."

An example of Stuck's skills came in a recent game against Harbor Springs.

The Rams took the opening tip and drilled a three-point shot to open the scoring. Charlevoix responded by getting the ball to Stuck at the top left of the key, where she promptly swished a 22-foot three pointer. After a Harbor Springs missed shot, the Rayders moved down court, fed Stuck at the free-throw line, and she whipped a bullet pass to a teammate for an easy layup.

Charlevoix never trailed after that point, rolling to a 49–29 win. It was a sloppy game, but that can be understood since, because of winter weather, it was the Rayders' second game in two days. Fatigue sets in fast, even for NBA and college players; it's no different for high school hoopsters.

Perhaps Stuck's most impressive game this season came against Gaylord.

"I think we came out really strong, but Stuck is capable of taking advantage of mistakes, and that's what she did against us late in the game, guard Becca Ross told the Gaylord Herald-Timesafter Stuck put up 44 points against the Blue Devils. "We knew she'd be a threat, and she's an outstanding player, and we knew we'd be at a height disadvantage with her, but I thought we played her well."

Was that's Stuck's best game ever?

"It was my highest-scoring game," she said. "But my best game may be yet to come."
Stuck, who turned 17 on New Year's Eve, has a hoops pedigree. Her parents, Erica [Hall] and Matt, combined to score more than 4,000 points during their All-State careers at Manton. Matt averaged 24.7 points over 99 varsity starts, went on to play four years at Oakland University and two years professionally overseas. He's now coaching the Charlevoix boys varsity squad, which includes two of his sons, Luke and Caleb.

Erica was a scoring machine for Manton, compiling 1,649 points during her high school career. She's in the Michigan High School Athletic Association record book for twice hitting 15 free throws in a game.

Matt now runs a construction company, and Erica is a math teacher in the Ellsworth school system.

So will Elise follow in her father's footsteps and end up with a coaching career?

"I'm interested in the healthcare field," she says. "But you never know."
Trending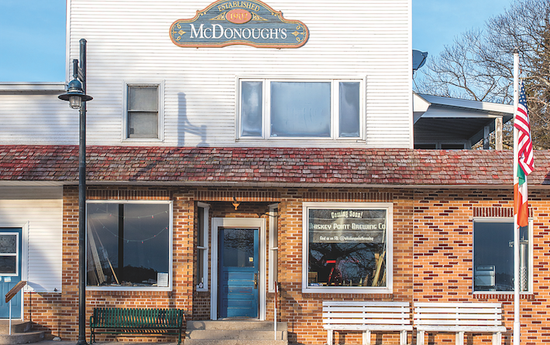 Welcome to Michigan's Most Remote Brewery
After years of planning and honing his beer-making skills, this spring, Patrick McGinnity plans to open Beaver Island&rsqu...
Read More >>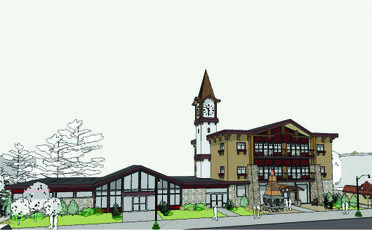 Gaylord: A boomtown Up North
Gaylord native Gary Scott had moved to Indiana, where he and some partners started a business to invest in distressed prop...
Read More >>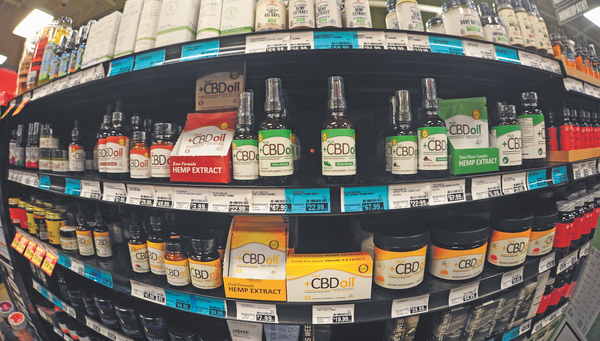 CBD Laws: Dazed and Confused
The sign outside of Family Video in Kalkaska lets drivers know the store has more than just movies. The sign reads: &...
Read More >>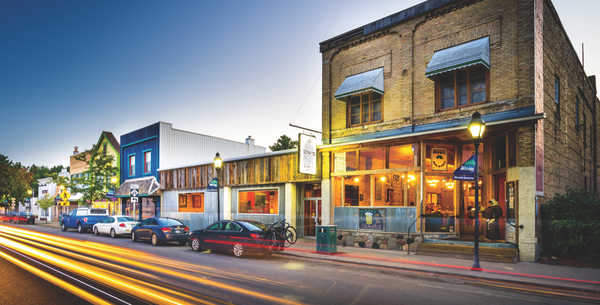 Small Up North Towns on the Rise
Spotlight on Bellaire (pictured)Seems Traverse City isn't the only place in the region making those "Best...
Read More >>
↑