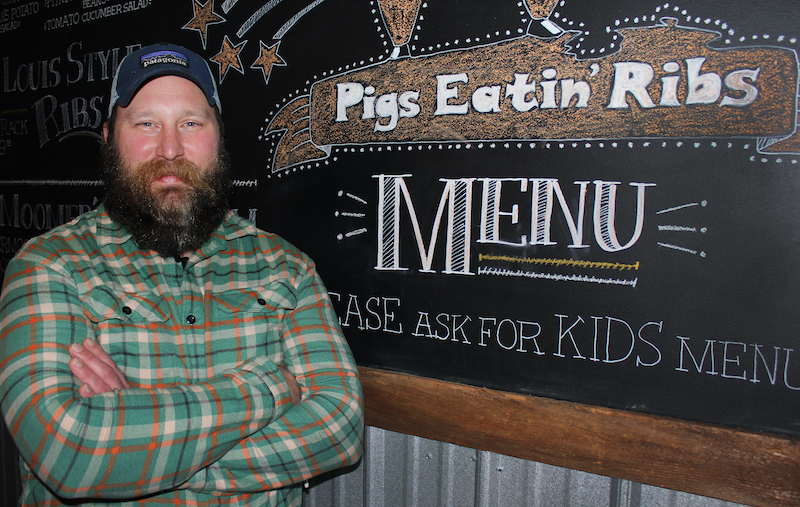 Charlevoix's Pigs Eatin' Ribs
Slow and low is the tempo
By Eric Cox | Feb. 20, 2021
By 2008, Charlevoix Chef Adam Kline had seen and tasted enough. The Northern Michigan food scene had stagnated, he said, into a pre-fab nightmare of canned goods and ready-made bar food.
At age 24, Schoolcraft College culinary degree in hand, Kline and his wife, Jill, bailed out. Seeking refreshment and a new point of view, the couple moved to Charleston, South Carolina., where they immersed themselves in the restaurant business there, and dedicated themselves to tasting, understanding, and learning all they could about Southern cuisine.
In 2012, they moved back to their hometown, Charlevoix, richer in experience and reinvigorated by the Southern culinary traditions in which they'd participated. Upon arrival, they launched one of Northern Michigan's first food trucks: Pigs Eatin' Ribs, a moniker Kline had used in Charleston-area barbecue competitions, which he'd competed in for fun.
Though it's caught on considerably since then, barbecue wasn't yet a major part of northern Michigan's culinary scene in 2012. There were a few solid barbeque joints throughout the region, but Kline set out give barbeque its due in a big way: Rather than sit still and slowly build a loyal following as word of mouth traveled, he decided to travel, bringing his barbeque to the people. He purchased a smoker from a friend, and the couple hauled it behind their food truck, a converted short school bus.
As he'd predicted, Kline's pulled pork, brisket and clever, tasty appetizers and sides caught on, quickly developing a loyal following. Maintaining their dedication to minimizing investment on overhead alongside efforts to maximize exposure, the Klines initial expansion was to a 500-square-foot shed-style takeout spot, wisely perched alongside the heavily trafficked U.S. 31, just outside downtown Charlevoix. They did not retire the food truck.
Yet again, Pigs Eatin' Ribs' popularity grew. So much so that today the restaurant has a full-blown, 3,000-square-foot restaurant (1418 Bridge St., U.S. 31) just down the road from smaller, original location. Moreover, its food truck operation has grown — much like the Kline family's kid count — from one to three, serving a burgeoning catering operation.
A Southern-smoked Cinderella story? Not exactly. Pigs Eatin' Ribs might not have ever come to be had an injury not sidelined Adam Kline's dreams of playing college football. Burly and broad-shouldered with giant hands, he's clearly built for the sport. But when the injury forestalled his plans, he turned to a secondary love — cooking.
"I always spent time in the kitchen at my grandma's house and always was really interested in that," the soft-spoken Kline told Northern Express. "So I started to pursue culinary and working in kitchens."
That, he said, is where he earned his second degree: "In the school of hard knocks ... the kitchens of the American restaurant industry."
Both "diplomas" have obviously had an impact. One taste of Pigs Eatin' Ribs' Chopped Brisket Sandwich ($10) confirms that. Not only does this large sandwich satisfy but it's also reasonably priced, relatively speaking. Resort areas are notorious habitats for "gourmet" sandwiches that are sometimes overpriced.
This one is not.
Ultra-tender chunks of mouth-watering Australian Wagyu beef tumble from the perfectly toasted bun. Carmelized onions and smoked Gouda cheese team up with Kline's own tangy-sweet Mustard BBQ sauce — a stowaway recipe he brought with him from his days in the South.
To accompany our sandwich, we chose Waffle Fries ($4) and Pit Roasted Baked Beans ($4), both of which were generous portions and extremely tasty. Together, the meal was more than enough to eat, with some leftovers taken home. Other side options include cornbread, mac and cheese, creamy coleslaw, roasted corn slaw, blue cheese jalapeno slaw, pickled pepper slaw, Grandma's Potato Salad, and tomato-cucumber salad.
In terms of appetizers, we opted for the Pig Marbles ($8), a basket of four hush puppy-like orbs about the size of billiard balls. A crispy, golden coating drizzled in a tangy buttermilk sauce and showered in scallions contains a heart of pulled pork, potato, and cheese. These appetizers rep some serious comfort food and offer great value.
Next on our list were more appetizers — this time the Smoke Fried Wings ($10 for 1 pound.). True to their name, these wings are dry-rubbed, smoked, and deep-fried, yielding a morsel saturated in flavor. Served with celery and blue cheese dressing, the wings can be served plain or tossed in one of two savory sauces, Nashville Hot (and we mean HOT!) or Alabama White, which features a deliciously tasty white BBQ sauce.
The entire menu signals Kline's renewed inspiration.
"Working in Charleston, S.C., was a big eye-opener," he said, "Especially for a young, small-town kid. It actually brought the romance for food back to me. We were burned out when we left Michigan. I was only 24 years old. We were just married and wanted to get the heck out of town. We went down south, and that kind of reignited the spark for me — seeing all the real food."
By real food, he meant anything but pre-made stuff or fast food. "The Northern Michigan food scene wasn't what is now," he said. "It got into that processed junk. There was no real cooking, and if it was, you were going to a country club and paying $50 a plate. So, it was neat to see the fresh seafood and the chefs actually butchering the meat and this and that. Everything was made in-house, from cornbread to crème Brulee. It was good to see that again."
Kline said he never set out to open a barbecue joint; he just knew it was a niche he might successfully fill, given the region's shortage of such fare at the time.
His hunch has proved correct. In spite of pandemic restrictions, the restaurant has managed to keep customers fed, thanks in large part to its drive-thru window, which Kline credits with keeping his small staff employed.
The Klines' catering business has blossomed, too. Their three food trucks offer a unique approach to off-site banquet dining. Clients can custom-design their own event's menu, choosing hot and cold side dishes and a handful of entrees. This, Kline said, allows a client's guests to create their own dining experience as they choose from a pre-determined food truck menu.
Find Pigs Eatin' Ribs at 1418 Bridge St. Open 7 days, 11am–8pm. Call ahead (231) 547-7447 or stop in to place carryout orders, or dine in. For the menu and more information on the food trucks and catering, see www.pigseatinribs.com.
Trending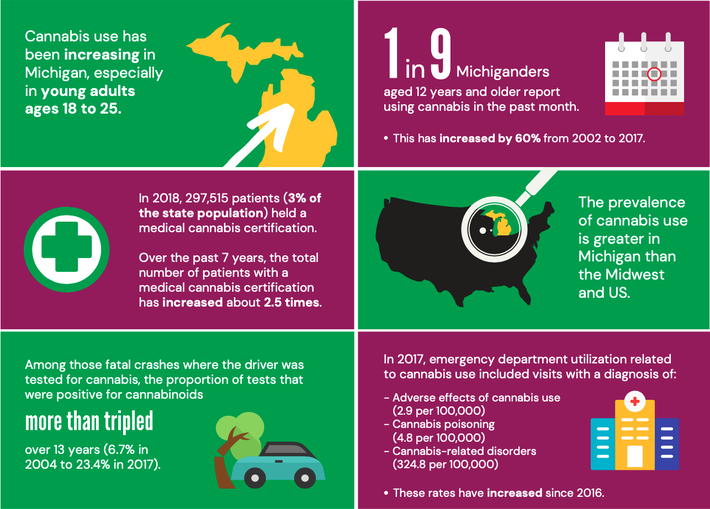 Buzzkill
In 2008, Michigan voters approved the use of medical cannabis by residents with certain health conditions. A decade later,...
Read More >>
The DIY Lobotomy
"Did you read the review in The New Yorker of the new Philip Roth biography?" I asked my well-read conservativ...
Read More >>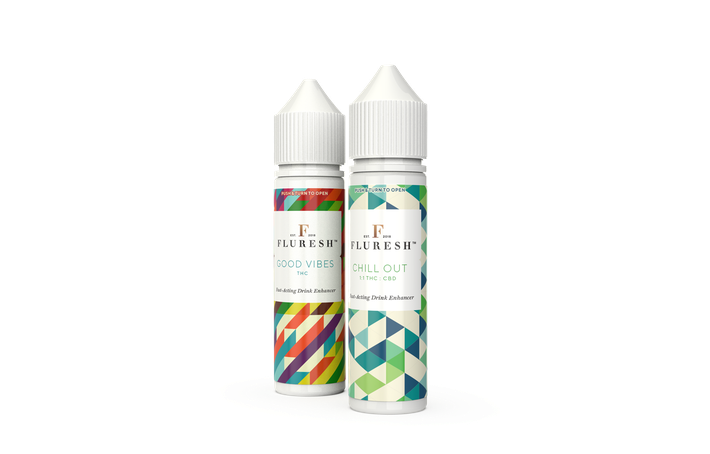 Eat, Drink, Rub: THC Products Review
Progress, thy name is marijuana. Despite what for any other industry would be major stumbling blocks — major disrup...
Read More >>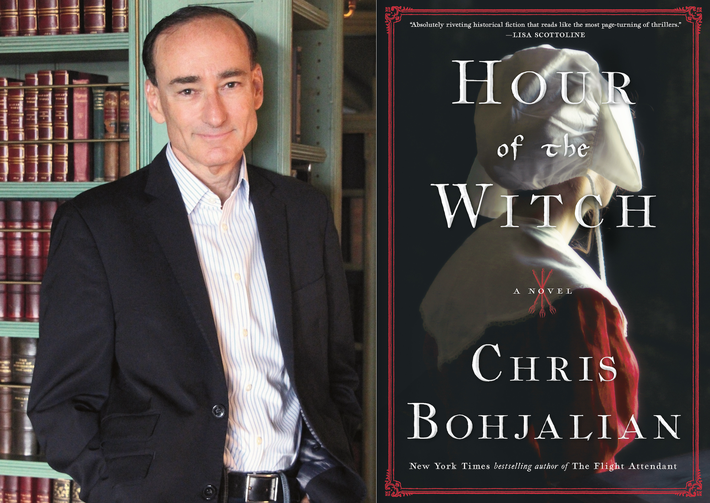 Sneak Peek: Chris Bohjalian to Talk with Locals Before Next Novel Drops
Award-winning author Chris Bohjalian is one of those people who was born to write. A schoolroom hobby-turned-carefully-hon...
Read More >>
↑