Chris Lemanski's 6,000-mile Stroll
around the world
To experience a different kind of life.

That's the reason Chris Lemanski moved to South America after growing up in Santa Rosa, California; he wanted to try something new. So he found a translation company to work for, pulled up his roots, and went for it.

That willingness to try new things led him to his next excursion, which he undertook after moving with his parents to Traverse City.

Lemanski ended up traveling overseas to spend 18 months walking through 14 different countries. It was a trip that started on impulse, and wound up becoming a life-changing inspirational journey.

ISTANBUL ARRIVAL
The idea for Lemanski's adventure first came to mind when he read about the E3 trail (also called the European Long-Distance Path), a 4,320 mile-long in-progress footpath that takes walkers from Bulgaria to Portugal. Lemanski had been in something of a personal slump, and when someone suggested he "go take a walk" to clear his head, he took it to incredible lengths.

"I first had the idea in October of 2015, and got really excited about it. By December of that same year I'd found a one-way ticket to Istanbul," Lemanski said. "I left the next spring (from the Chicago airport), and started my walk on May 5, 2016, also in Istanbul; the entire trip lasted until October 15, 2017."

Upon arriving in Istanbul, however, things weren't as simple as he'd expected.

"I got there and realized that there really wasn't a trail at all at the start of it," Lemanski said. "There was no signage, and no one in Istanbul had even heard of the E3. Let's just say there was a lot of misinformation online."

He spent three days getting over his jetlag and exploring Istanbul, and eventually decided to move on.

MEETING AN AMERICAN
Finally departing Istanbul, he walked along the Black Sea to Bulgaria… where he was "hijacked" by Bulgarian woodsmen.

"They're a society of outdoorspeople who clean and clear the trail," he recalled. "It was damp and rainy that day, and when they saw me, they got all excited and invited me to come in for some food. I thought a meal and conversation would be nice, and figured I'd stay for an hour or so and then continue walking. But they kept giving me Bulgarian moonshine, and I ended up staying all night with them, learning traditional Bulgarian dances!"
The next morning, he headed for the eastern part of Serbia, and then walked hundreds of miles along the highways to Romania. Though the areas are often in political turmoil, Lemanski said he felt remarkably safe and looked after.

"I'd contacted a local hiking organization there, and everyone was really helpful," he said. "I was taken care of very well in Serbia. I was surprised to find that I was able to sleep at someone's house every day. Sometimes I'd meet someone, and their first comment would be something like, 'hey, you bombed us'; but mostly, people were just interested to meet an American."

SCENIC ROUTE
After Serbia, Lemanski decided to trek across the Apuseni Mountain plateau until he got to Hungary. "120 miles across flat land," he said.

Slovakia was next, with the tall, mountainous landscapes of the Prešov region accompanying him to the Polish border.

"That's gorgeous country, such a beautiful land," Lemanski said. "I could've spent years there. Of course, I didn't have that leeway, but I did travel a little slower when I could."

At one point in Poland, Lemanski met a young couple who were also walking the trail; they'd walked nearly 250 miles in two weeks.

"We talked and I told them I had almost 2,500 miles left to do, which seemed to inspire them to keep going," he said. "I gave them my email and we all moved on. A month later, one of them emailed to ask if he could join me on my walk for a few days; turned out the trail ran right by his parents' house. So it was nice to have company for a while."

He looped through Poland, then back into Slovakia and on to the Czech Republic, heading toward Germany, extending his fantastic journey through yet more countries.

"I tried to stick to the trail as much as possible, but the trail signs aren't so great until you hit Hungary," he said. "I got lost in the woods quite a lot before that!"

The mountains of Slovakia and Poland also proved challenging.

"You're at 2,600 elevation, and there's a lot of switchback walking and going up and down, up and down. It's a lot for a walker. The trail is called a 'scenic route,' but sometimes I think they just wanted to torture us," he laughed.
TRAIL RELATIONS
Step after step, he continued onward to the Black Forest until he reached the town of Hof, Germany, when yet another puzzle presented itself. He realized he'd overstayed his visa by several months, so would have to figure out how to leave the Schengen Area (the region of Europe that has eliminated passport control at the borders) for the amount of time required to get a new visa.

"I especially had to leave Germany, because I heard if you get caught with an expired visa there, you're prosecuted and get an 'illegal alien' stamp in your passport," he said. "Plus I was camping in the forest in Germany, which I'd found out was highly illegal."

But the "best" way to leave the Schengen Area was going to be tricky.

"Obviously, flying and at highway border crossings, they were going to check my papers and see how expired everything was," he noted. "So I took night buses, then hitchhiked to Spain and found a boat to Morocco, which is out of the Schengen Area but only eight miles from the European coast."

He cooled his heels in Morocco for three months, the duration he had to wait for the new visa, passing the time by doing freelance work and volunteering in hostels.

"Once the three months were up, I took a flight and then a bus right back to the exact spot I'd left in Hof, Germany," he said. "I'd become obsessed. I'd built a strange relationship with the trail and couldn't leave her, and I was determined to hit every step of it."

AMBITIOUS ATTRACTIONS
And that's exactly what he did. From Germany, he went to Luxembourg, walking most of the perimeter of the tiny country; Belgium was next, and he crossed that country in five days.
Then he decided to spend the next three months in France, where he walked more 1,000 miles in that country alone, visiting Paris and hiking around virtually the entire French countryside.

"That was one of the most beautiful countries I've ever been in," he said. "Even the farms and fields are just gorgeous. I was also amazed by how many French people would offer me food and water, and even invite me in to use their shower – I must have smelled terrible at that point! But I don't think I spent a dime in France."

After his third month in France, he knew it was time for his trip to wind down. He walked The Way of Saint James (the Camino de Santiago), a pilgrimage walk that goes to Spain; from Spain, he walked straight south to Portugal, doing the last 375 miles of his trek in 11 days.

"I accidentally overstayed my visa the second time as well, but I was determined to just stay on. I wanted to finish the trail before I turned 26 years old, and I was also scheduled to meet my parents in Lisbon," Lemanski said. "We spent a couple of days there, then they joined me for the last two days of the walk: 26 miles west to Cabo da Roca, which is as far west as you can go in Portugal."

Lemanski tried to indulge his parents by seeing some of the sights – museums and other attractions – but soon found that he wasn't in the right mindset.

"It was hard to be just a tourist strolling around after the walk that I did," he said. "So we celebrated my birthday on October 16 and my dad's on October 19, then flew back to Traverse City."
HOPEFUL HUMANITY
In the end, Lemanski had walked some 6,000 miles. His epic memories were innumerable, from standing alone in awe of the Balkan Mountains to playing traditional fado music with a huge group of Portuguese college students.

But beyond memories, he's taken away a whole lot more from the trip that simply started on a whim.

"I'm still working on exactly what I've learned from this whole thing," Lemanski said. "But I can tell I'll be taking lessons from the trip for the rest of my life. I was a pretty lazy person – a procrastinator, really – but I look back and realize, hey, I walked across a continent."

He got used to a quieter world, as well. "You're definitely not sitting there staring at a screen, so that's very different," he said.

Lemanski is thinking through his next plan now. He might attend college in Germany, join the Peace Corps, or head to China to teach English. But no matter what he chooses to do, he wants it to have value far below the surface.

"I also really fell in love with humanity for a while," he said. "I was a really cynical person; I still am, to some degree. But even if they don't know you at all, people do care, and they do want to help. So I hope to do something like that trip again someday."


Trending
Very Busy Very Fast
This isn't going to be easy. President Joe Biden and his thin congressional majority are walking into troubled times both ...
Read More >>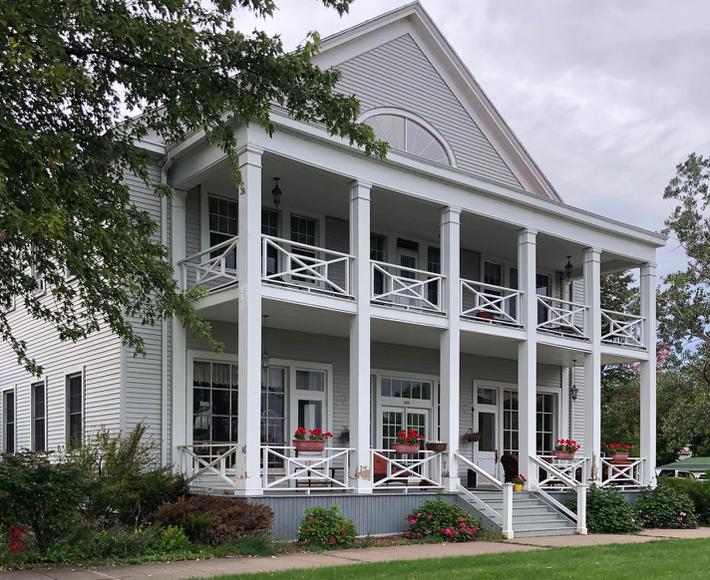 Thunder Bay Inn
Former playground to Henry Ford and part of a famous film and novel based on a real-life murder in the town, the courtroom...
Read More >>
Forty Acres' Spa Day Martini
Myriad methods of cocktail creation are on display at bars around the world. There are flaming drinks, compotes laden with...
Read More >>
He's Gone, Now What?
Wounded and fearful, America watched the 45th President leave the nation's capital. On a hastily arranged stage at a...
Read More >>
↑