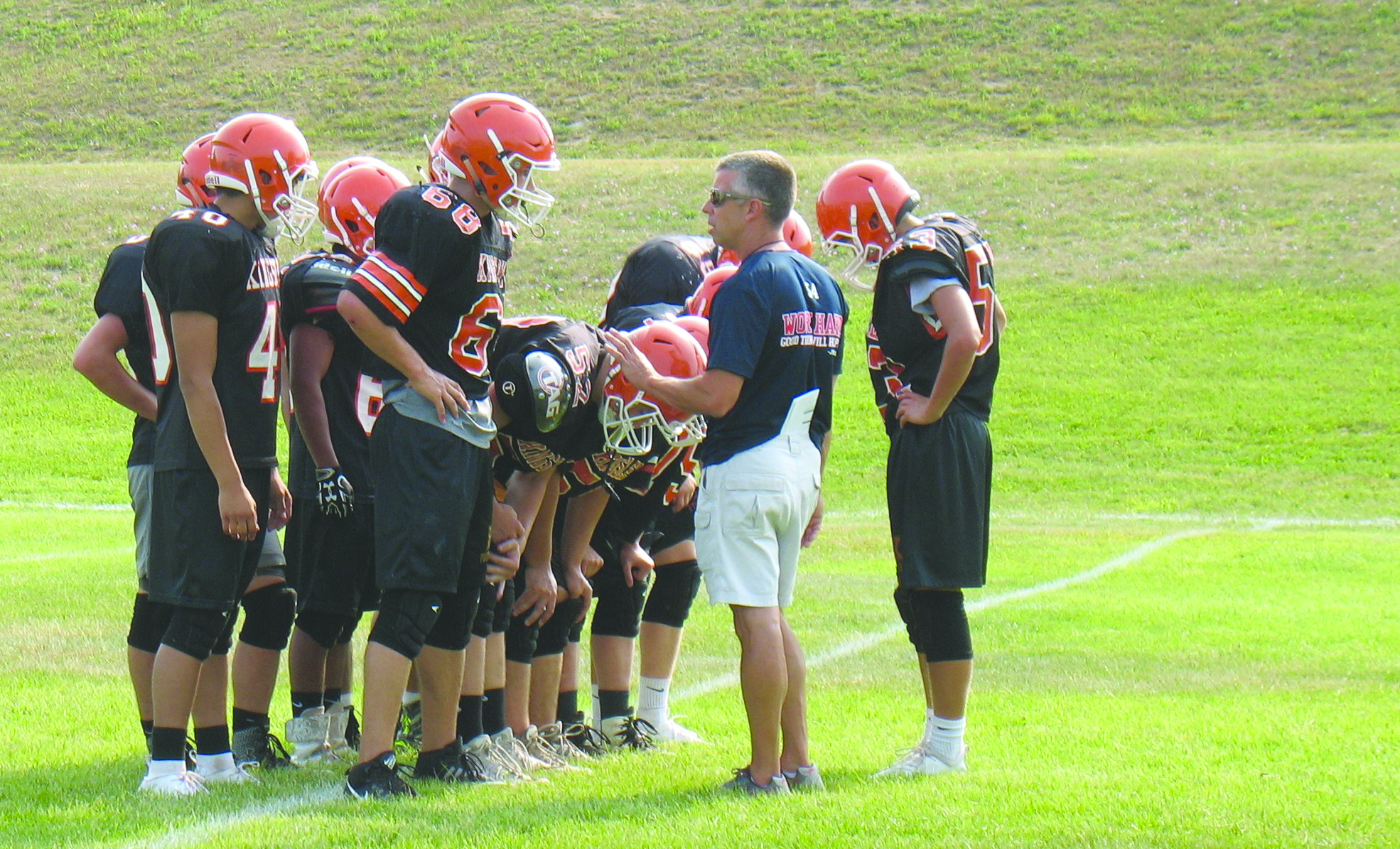 Coach Wooer Comes Home
"Football overlord" Tim Wooer leaves his winning Titans behind to lead his alma mater's struggling Stags
By Al Parker | Sept. 1, 2018
"Unbelievable, just unbelievable," muttered Tim Wooer, not even trying to conceal the frustration in his voice as he trots to confront a linebacker who missed his assignment during a Thursday morning scrimmage.

Wooer pulls the defender aside and gently, but firmly, explains the mistake as play continues in the background. That's just a taste of how life goes when you're the head coach of a Kingsley football team that won only one of nine games last year.

Wooer, a Kingsley native, stepped down as the football overlord of perennial powerhouse Traverse City West after posting a 9-2 mark last year, including a playoff win. He was named the Detroit Lions High School Coach of the Week after his Titans beat Traverse City Central in the annual TC Patriot Game.

It was the most successful season Wooer had with the Titans, yet he left the school to take over the reins of a once-proud Kingsley squad that has fallen on hard times in recent seasons.

It's a return to a familiar role for the former Central Michigan University punter, who began his head coaching career at Farwell, where he posted a 28-18 mark over five seasons. Wooer, a 1988 Kingsley grad, then coached his alma mater, guiding the Stags to a 68–29mark in eight seasons. That run included seven playoff appearances and the 2005 Division 6 State Championship.

He joined TC West in 2008, and the decision to leave that program came after much soul-searching and was an extremely tough decision for Wooer.

"Football-wise, it looks like a dumb move," he said. "And I'm not looking forward to rebuilding, but I did it for family and being closer to my kids as they go through their high school years. As a coach you spend a lot of time away from family. It seems I've lost years of my kids' lives. I don't want to lose four or five more years.

His oldest daughter, Lauren, is a freshman and youngest daughter, Sarah, is a fifth-grader at Kingsley. They're active in cross country, basketball, and track.

"And there's the competitive reason. We want to build this team to a competitive level. The third factor was the kids here. They are still polite, courteous, eager, blue-collar kids. They deserve excellence."

Excellence might be a bit down the road for this Kingsley squad. Wooer has about 30 players on the varsity squad and 40 on the jayvee team. Through mid-August he's still uncertain about his starters. Only one or two varsity players have secure jobs, with all other positions wide open.

And the schedule is no friend of the Stags.

After games with McBain and Ogemaw Heights, the Stags are on the road facing perennial playoff team Grayling, who beat them 48–22 last year.

On Sept. 15, they visit Thirlby Field to take on TC St. Francis. The Gladiators have dominated the Stags over the past four years, winning all four games by shutouts. And they weren't even close, with scores of 35–0, 38–0, 42–0 and 35–0. The last time the Stags scored against St. Francis was the 2012 season opener, won by Kingsley, 18–0.
The Stags return home on Sept. 21 to face rival Kalkaska in the homecoming game at Rodes Field.

Other tough games on the schedule include Benzie Central, Glen Lake, Cheboygan, and Boyne City.

"We're not very good right now," Wooer admitted. "We can compete when right, but we had a recent scrimmage, and we were very poor. We have kids who have the ability to play Division I, but it involves work. We have to eliminate apathy and complacency. We've been working on strength and work habits. We've talked about habits a lot and made some huge gains. They've got to earn it, that's the bottom line."

Wooer runs a no-nonsense football program, and there were some rumblings that not everyone at TC West was saddened by his departure. It's not unusual for some parents and players to bristle at a head coach's rules. One of those is summarized in a quote on T-shirts worn by the Kingsley coaching staff.
"Work Hard. Good things will happen."

It's the words of Justin Hansen, a former Kingsley linebacker under Wooers who graduated in 2003 and joined the Marines two years later. He was killed in Afghanistan on July 24, 2012. Much of the Kingsley community mourned the loss and turned out for his funeral. Gov. Rick Snyder ordered flags lowered to half-staff in Hansen's honor.

"Sgt. Hansen will long be remembered for his sacrifice," Snyder said at the time. "He bravely served this state and nation. Our thoughts are with his entire family during this difficult time."

At a pre-season scrimmage in August, Hansen's father talked about Wooer's impact on the Kingsley community, on and off the football field.

"He takes boys and helps them become men," said Rick Hansen. "Justin is part of this Kingsley team and always will be as long as Tim is here."

Following Hansen's death, Wooer suggested an annual football game between TC Central and TC West be designated to honor the military.

The first Patriot Game was played in 2012 before some 10,000 fans, and it's grown to a huge annual event that now also honors first responders and raises funds through T-shirt sales. The seventh annual Patriot game is set for Sept. 14, with proceeds from the shirt sales going to Warrior Sailing, a program that uses sailing to support the mental health of wounded, ill, and injured service members and veterans while reconnecting them with the camaraderie and teamwork they experienced in the military.

Trending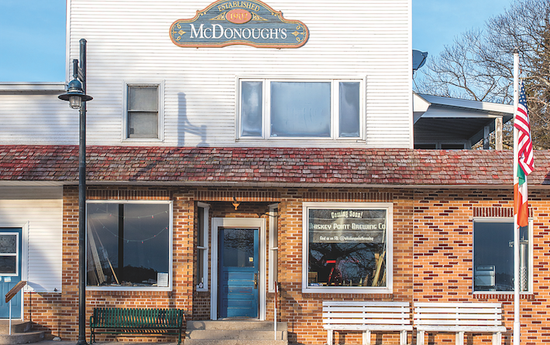 Welcome to Michigan's Most Remote Brewery
After years of planning and honing his beer-making skills, this spring, Patrick McGinnity plans to open Beaver Island&rsqu...
Read More >>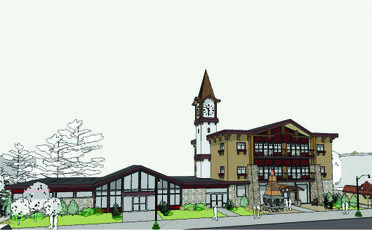 Gaylord: A boomtown Up North
Gaylord native Gary Scott had moved to Indiana, where he and some partners started a business to invest in distressed prop...
Read More >>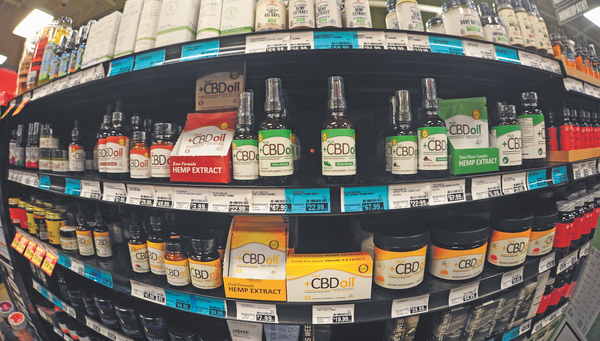 CBD Laws: Dazed and Confused
The sign outside of Family Video in Kalkaska lets drivers know the store has more than just movies. The sign reads: &...
Read More >>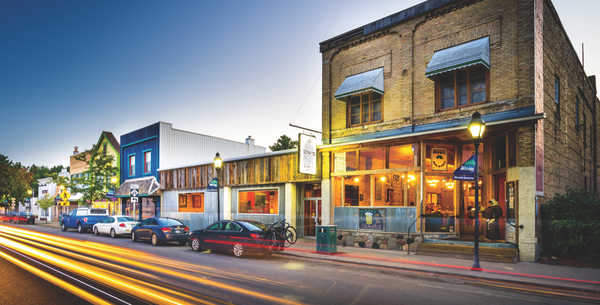 Small Up North Towns on the Rise
Spotlight on Bellaire (pictured)Seems Traverse City isn't the only place in the region making those "Best...
Read More >>
↑