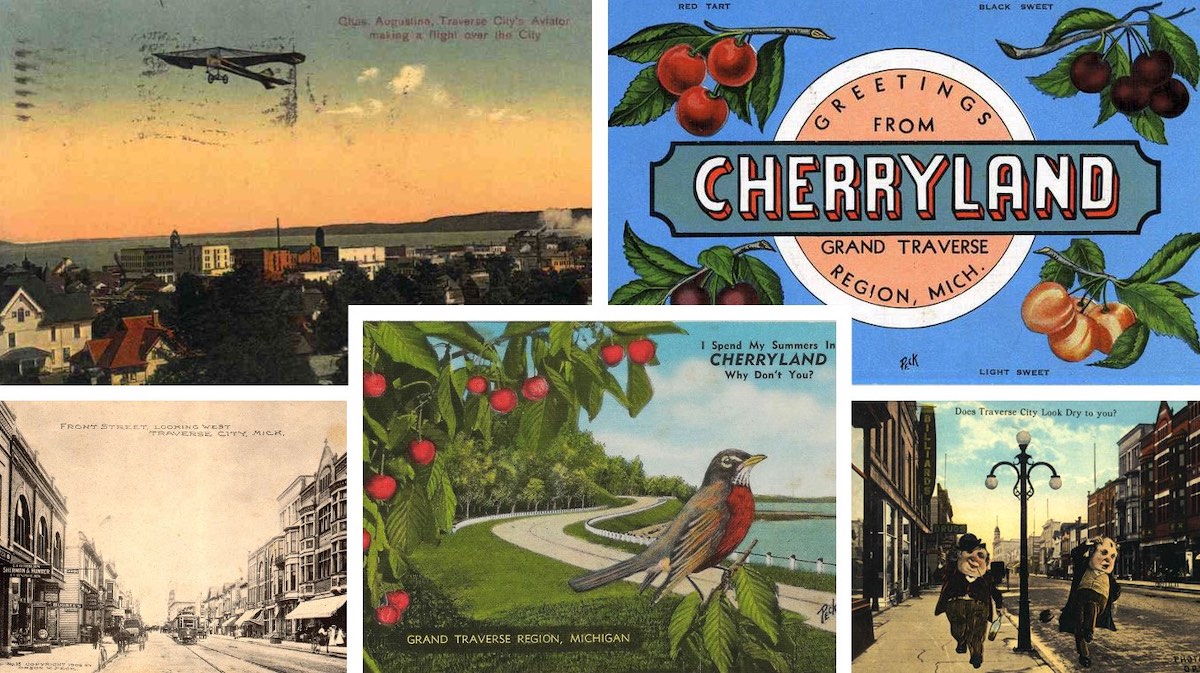 Creative License
Turn-of-the-century photographer Orson Peck and his postcards
By Al Parker | March 18, 2023
Before there was Photoshop or any other image-altering technology, there was Traverse City's own reality revisionist, Orson Peck.
Born in 1875, Peck was a self-taught photographer with a sharp wit and a keen eye. Starting around 1890, he built a bustling business creating and selling postcards that featured the Grand Traverse region. It is estimated he produced hundreds of different postcards of northern Michigan scenes, and the overwhelming number of them were tweaked by Peck.
For example, Peck was never satisfied with a stunning sunrise photo of Grand Traverse Bay or Boardman Lake. He'd sneak in a sailboat, maybe two or three or more. Or a flock of ducks or some early morning swimmers would be testing the waters.
"Peck did things other postcard makers of his time did—manipulating images to enhance certain elements, drawing caricatures, and seeking out popular places to photograph," says Richard Fidler, a Traverse City historian.
"At the same time, he was an artist—as many photographers are, I believe. Some of his work is beautifully done, scenic views and pictures of well-known buildings. Of course, his comical 'A'm not luny, only just spoony' postcard showing a couple in front of the Traverse City State Hospital always makes me laugh."
The Postcard Phenomenon
Peck was born in Saginaw and came to Traverse City with his parents in 1888. His father was a conductor on the Grand Rapids and Indiana Railroad, and young Orson decided very early that he wasn't going to work for the railroad like his father. He fell in love with photography, almost to the exclusion of everything else.
After a courtship and brief marriage to Ida Mae Peck that produced one son and ended in divorce, he lived alone at his house at 807 Washington Street, where he created postcards in a home studio.
Traverse City landmarks such as the Park Place Hotel, Central United Methodist Church, Ford Island (now Power Island), Clinch Park, the State Hospital, Old Mission Peninsula, and more were all subjects of Peck's camera. When he first started, he used a bulky large view camera on a wooden tripod with glass plate negatives, but he kept improving his camera gear over the years.
"Peck kept up with technology, starting with view cameras, adopting smaller handheld cameras and seeking out the best color processors, especially those in Germany before World War I," explains Fidler.
But why postcards? The answer lies in the fact that for millions of people early in the 20th century, the simple postcard was how they stayed in touch with friends and family. There was e-mail, no texting, and very few telephones, and the reduced postage made postcards cheaper than sending letters.
In 1907, the government allowed privately produced postcards to bear messages on the left half of the card's back. Before then, all such private notations had been banned. This change in messaging ushered in the period known to postcard collectors as "The Golden Age of Postcards" from 1907 to 1915, per the Smithsonian. According to the New York State Library, the U.S. Postal Service recorded more than nine hundred million mailed postcards in 1913 alone (Bassett 2016).
During much of this time, German printers dominated the printing market for postcards, and even Peck had his cards printed in Germany. But when World War I broke out in 1914, production was quickly claimed by American printers, who did not have the same skills or technologies as the Germans. The Golden Age was tarnished when the quality of postcards fell, and many lost interest in collecting them.
The Local Touch
One of Peck's most infamous postcards, "Front Street Looking West," shows downtown Traverse City's Front Street in 1906, complete with a horse and buggy, the landmark Traverse City State Bank towering in the background, and an eastbound trolley car rolling along its tracks. The only problem is there was never any trolley car running on Front Street—that was only in Peck's imagination. It's believed the card was part of a campaign to promote trolley transit in TC.
While the trolley car never came to pass, Peck seems to have glimpsed into the region's future craft beer industry, brew pubs, and wineries. His "Does Traverse City Look Dry to You?" postcard features a pair of inebriated pals strutting and staggering down Front Street.

"Speed Boat Race at Traverse City, Mich." captures the excitement of racing crews powering across the waters of Grand Traverse Bay with a view of the downtown in the background. But the boats, their crews, and their frothy wakes were all added by Peck.
"Chas. Augustine, Traverse City's aviator making a flight over the City," portrays an early airplane overhead sometime in 1910. But the plane never flew, although Augustine made great strides in starting an airplane manufacturing business in TC, according to the Traverse Area District Library.
Peck was an enthusiastic supporter of the Grand Traverse region, and that's portrayed in "I Spend My Summers in Cherryland Why Don't You?", showing a winding road along West Grand Traverse Bay with a robin and cherries added.
At times during Peck's career, he hired assistants to help with the postcard production. "He was a perfectionist," said Norma McCotter, who worked for Peck during the 1930s, according to one published report (sarie-jayne.com/tcpostcards). "He would spend hours, sometimes even days, getting the picture he wanted."
"He was a nice man to work for," she noted. "But a stickler for quality. The only time he ever scolded me was one day when I made some mistakes while trying to turn out the cards too fast. He told me he was scolding me not because I made them, but because of why I made them. 'Remember,' he told me, 'In this shop we turn out quality, not quantity.'"
In his later years Peck became somewhat of a recluse. He died on Jan. 15, 1954, and is buried in Traverse City's Oakwood Cemetery.
All images courtesy of Traverse Area District Library Local History Collection
Trending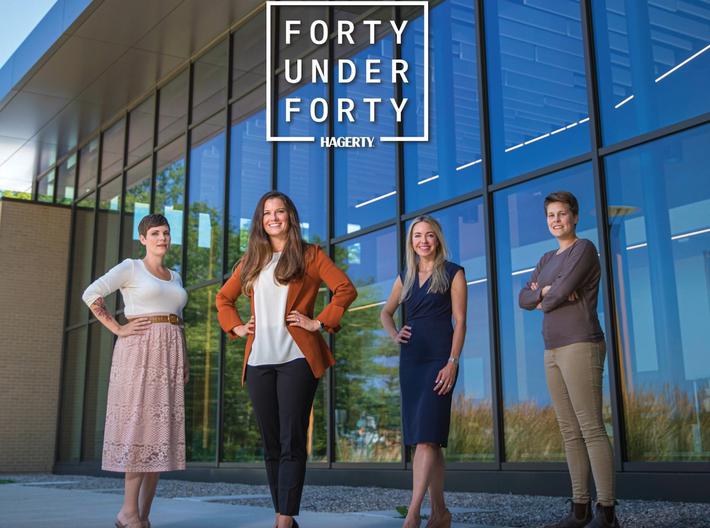 Nominations Now Open for the Hagerty/TCBN 40Under40
For 17 years, the Traverse City Business News, sister publication to Northern Express, has been celebrating the young move...
Read More >>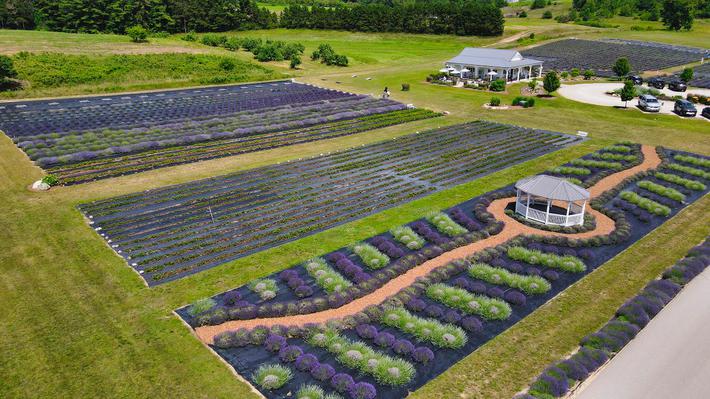 A Secret Garden
Sshh! This one is for your eyes only. The Secret Garden at Brys Estate has opened for the season, and it's time to c...
Read More >>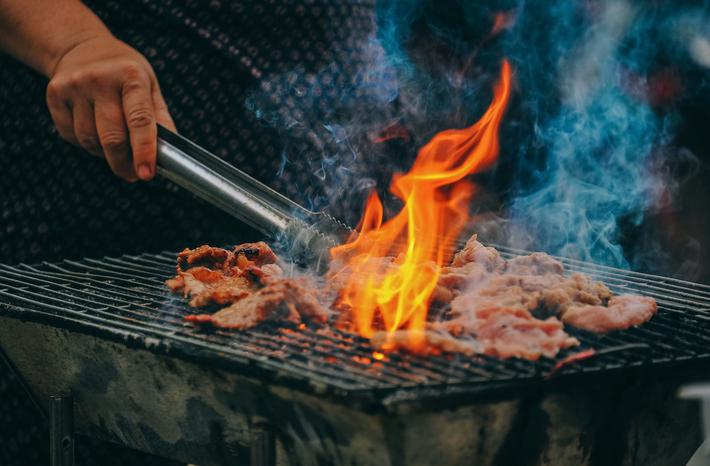 What's Cooking at Shady Lane
Celebrate your dad at Shady Lane Cellars' Father's Day Cookout. Offering a brat and Gruner Veltliner pairing f...
Read More >>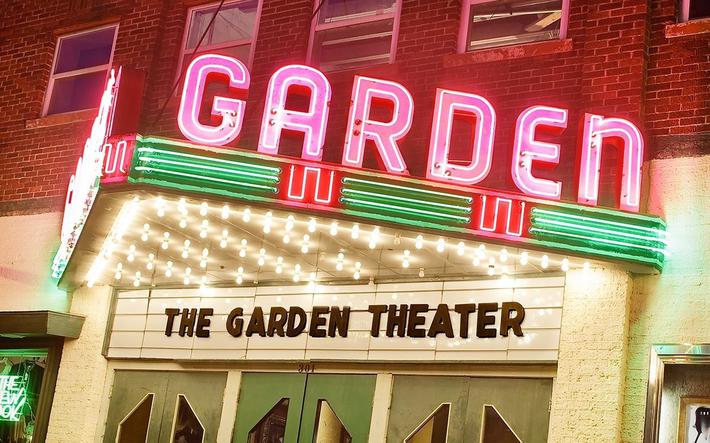 48 Hours in Frankfort
Roll the cameras—the Frankfort48 Film Contest is full of action this weekend! The contest is the trial grounds for t...
Read More >>