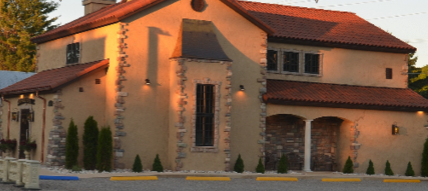 Cross Village's Old World Café
A European journey in northern Michigan
You pull your car up in front of an aged-looking stucco building, with weathered exposed stones peeking out of each corner, black iron lanterns on either side of the door, and a Spanish-influenced clay tile roof hanging over the entrance.

Inside, you're graciously welcomed and offered a leather seat at a marble-topped table, in an intimate dining room underneath a two-story-tall ceiling hung with vintage chandeliers and an overhanging balcony. Colossal paintings depicting far-flung destinations like Venice, Paris, and the Amalfi Coast rest in gilded frames far above your seat, near a black woodstove and a Polish crest tucked into an alcove along with more dining tables.

Have you wandered in to some grand old house in the European countryside?

Nope. It's actually Bo and Barbara Gierak's Old World Café, recently constructed to pay homage to classic European charm.

"Nobody does food or ambiance like this in northern Michigan," said restaurant manager HeidiJo Mikula. "When I saw them building this place, I absolutely had to check it out. It's so different and really impressive. When you walk into the restaurant, you feel like you're in a very old building in Europe. It very much transports you to another place entirely — and we like that. We like people to come in and forget all about the world outside."
AROUND THE WORLD
The Gieraks, originally from Poland, immigrated to America when communism was running rampant through Poland in the '80s. They've lived in northern Michigan for nine years.
In spite of the Gieraks' heritage, however, the Old World Café menu doesn't feature many Polish specialties; they leave that to the nearby Legs Inn. Instead, their menu offers up a grand tour of the world with a very "of the now" approach: Everything offered is homemade, imported, local, or organic — from Ireland's Kerrygold butter, Italy's Pellegrino water and Illy espresso to locally sourced herbs, homemade brioche bread, and Mexican Coca-Cola.
THREE SQUARES
The day at the Old World Café starts with breakfast (9am–4pm), with choices ranging from egg dishes to challah-fruit-bread French toast, a breakfast croissant, or a European breakfast board with meats, cheeses, jams, baguette, and a hardboiled egg.

Lunches (12pm–4pm) offer simple but well-balanced European favorites like crepes; a croque panini sandwich with slow-roasted pork, Black Forest ham, Jarlsburg cheese, pickles and stone-ground mustard on brioche; and a charcuterie board, which arrives on a long wooden paddle capped with a crest.

"That's a wonderful variety of European deli meats and cheeses, served with a baguette, pale ale mustard, and dried fruit," Mikula said. "It's really nice for two people to sit and share and enjoy with hot tea."

A few of the most popular dinner selections (4pm–8pm) include vegetable lasagna, with rich layers of eggplant, zucchini, mushrooms, squash, and mozzarella in San Marzano tomato sauce; seafood Puttanesca, which brings together baby scallops, onions, peppers, mushrooms, and shrimp in a cream sauce over imported Italina pasta; and the impressive layers of flavor that is the Osseuse poulet, seared bone-in chicken served over a bed of mashed celery root and potato, red wine-glazed cippolini onions, and mushrooms.
One of a trio of salads make a great starter, whether you choose the Marche with mixed greens, smoked bacon, carrots, heirloom tomatoes, Parmigiano Reggiano cheese, and balsamic vinaigrette; the traditional Caesar with romaine, Parmigiano Reggiano, and focaccia croutons; or the Caprese, featuring heirloom tomatoes stacked with pesto, fresh mozzarella, arugula, and a balsamic dressing.
PRETTY PLATES
Chef Jeremy Hrisch, who's been with the restaurant since it opened, said that in addition to focusing on fresh and organic ingredients, he cooks and serves with a more old-world approach.

"We cook everything right from scratch," he said, "and we bring a different feel and different plating presentation than many of the restaurants around here. Most people just arrange meat, potato, and vegetable on the plate, and that's enough. But we work to actually design our plates to be as visually appealing as they are delicious."

The restaurant, now well into its second year, is finding this unique approach is working well for them, with a busy mosaic of people seeking out "the new place."

"It's really a come-one, come-all kind of café," Mikula said. "We get couples, families, vacationers, bicyclists, people on their own and parties of 30. So we feel we're doing really well. Being on a busy road right off of the Tunnel of Trees, we thought we'd get mostly tourists — and we do see a lot of tourists — but what's also nice is we are starting to see some of the same faces over and over, which means we also have a local clientele. And for good reason — this is the best place I've ever worked at. It's just fun to be here."

The Old World Café is located at 6352 N. Lake Shore Dr. in Cross Village. Find them online at oldworldcafe.net or call (231) 526-6992. $$$
Trending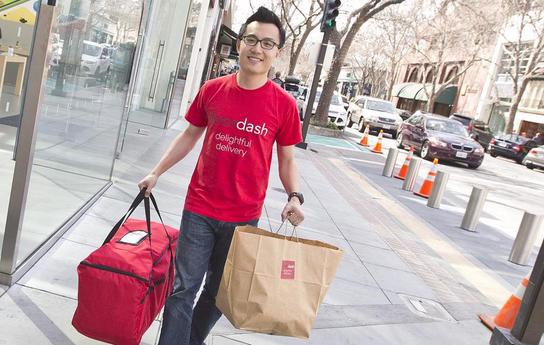 Could Delivery Save NoMi Eateries?
What was once the exclusive province of pizza and sandwich joints has become a means for some restaurants to thrive. But e...
Read More >>
What You Are Voting For?
After voting straight Republican for 36 years, from 1971 through 2007, I have been an Independent since 2008, studying and...
Read More >>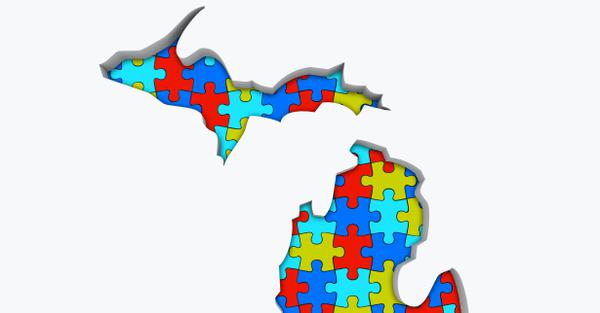 The Democracy Lottery
Mary Burget, a retired Northwest Michigan College math instructor, thought her math skills might be useful in redrawing Mi...
Read More >>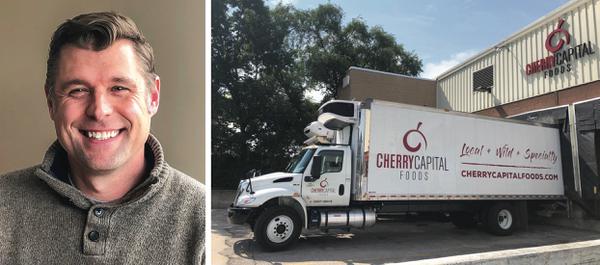 Forged In Fire
As the new managing director for Traverse City's Tamarack Holdings, Michael Lahti is helping to lead a company that ...
Read More >>
↑