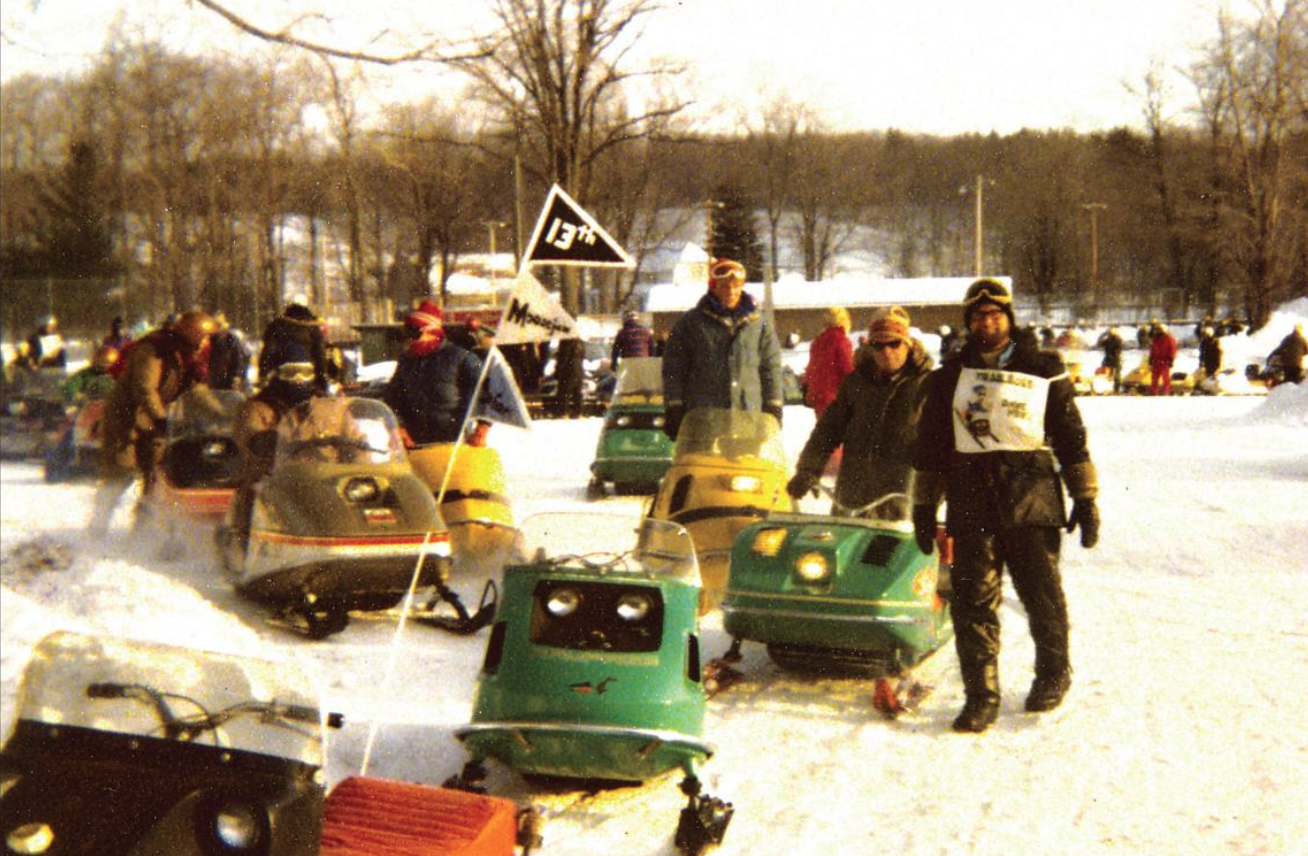 The Legendary Moose Jaw Safari
There's a detour ahead — but history shows it won't be lost for long.
By Eric Cox | Jan. 9, 2021
The nation's longest-running snowmobile event – the Harbor Springs Snowmobile Club's annual Moose Jaw Safari – has shown tremendous resilience.
For 54 years, the 30-mile ride has survived frustratingly warm winters and disappointing, low-snow Januaries, choosing carefully altered routes aimed at sustaining the proud procession of consecutive events.
It worked, and the decades-long string of fun, socially centered annual rides remained unbroken.
Until now.
This time — in what would've been its 55th iteration on Jan. 18 — lack of snow isn't the problem; COVID19 is.
According to Dave Price, a longtime Harbor Springs Snowmobile Club (HSSC) member, former official, and Safari trail boss, concerns about the virus led club officials to cancel this year's event.
"It is disappointing," said Price, who's participated in all but a few of the earliest Safaris. "It doesn't take a rocket scientist to figure out this isn't the year to be doing stuff. It makes no sense. You just can't."
A LONG LEGACY
Though the decision may have been an easy one to make, based on facts, the cancellation is obviously very disappointing for Price and others. The Moose Jaw Safari is said to be the nation's longest-running snowmobile ride, starting in 1965. That's a year prior to the NFL's inaugural Super Bowl.
With nearly six decades under its belt, the Safari is a legendary northern Michigan event, at one point drawing attention from Mort Neff and his Michigan Outdoors program of yesteryear.
According to Price, a Harbor Springs resident named George McKinney came up with the idea for a group snowmobile ride after purchasing a Ski-Doo dealership in 1965.
"[McKinney] just wanted to ride with some of his buddies," Price explained. "So they rode to Larks Lake, about 30 miles north. It wasn't very well organized, and there were breakdowns, and the trails weren't groomed. I don't even think they had a name for the first event.
"That was all before groomed trails or organized trails," Price continued. "They were riding on some county roads and two-tracks through the woods. At the end, they cooked up some bean soup somewhere, and that was the start of it."
Since that first trek to Larks Lake, the annual event has become a regional winter staple, drawing snow machine enthusiasts, revelers, and onlookers alike from all over the region. Price said that, typically, the Safari draws hundreds of sledders to each event and sometimes even hundreds more to the ride's endpoint at Center Township Hall near Larks Lake, across the road from Moose Jaw Junction, a bar/restaurant that's helped support the event for years.
Though the official starting point is at the HSSC groomer barn near Harbor Springs, Price explained that different groups and individuals often link up with other riders along the northbound route, creating a mass of snowmobilers near the end.
A massive, steaming, propane-fired kettle of the race's famed ham and bean soup and hundreds of hot dogs await hungry riders, who converge on the township hall for warming and restroom breaks. Many non-riders show up, too, converging on the small hall in their cars and trucks to party or haul off snowmobiles for friends and family.
A SLED HEAD'S PURPOSE
While the Safari is intended to be more of a fun event than a competition, its end result reaps a big benefit: It serves as a primary fundraiser for HSSC.
"There's no fee or registration for this event," he said. "We just have a big tip jug at the end, and we count on people to give us donations. We use that money to groom snowmobile trails. It's the only reason we're in business. This isn't a social club, and we don't have many social events. That's not our game; grooming trails is."
Founded in the mid-1970s, HSSC currently has 100–150 official and casual members, who annually contribute thousands of combined volunteer hours ensuring sledders in the Tip of the Mitt have quality trails to enjoy. Trails are sectioned off and assigned to volunteer groups for brushing, grooming, and signing – work that's often repeated several times each year depending on winds, storms, etc.
"We do it for love of the sport, and it's a year-round job," said Price. "We take care of 100 miles of trail per year, all the way up to Mackinaw City. For those of us who've been riding since the 1960s, it's a big thing."
A DECADES-OLD TRADITION
The Moose Jaw Safari is also a big Harbor Springs tradition. It's an event whose story is also told in dozens of colorful old photos taken by late Harbor Springs photographer Virgil D. Haynes, who, along with his wife, Audrey, and their children, owned and operated a photo studio/camera shop on Main Street for 28 years.
His daughter, Cynthia Haynes, who's still a Harbor Springs resident, said she was a teenager when the Safari got started.
"My father and brother were early snowmobile enthusiasts," Haynes told Northern Express. "My father bought two Johnson Skee Horses, which were then available at Walstrom Marine here in Harbor Springs. So I would ride around with them and sometimes they'd let me drive."
In 1967, Haynes rode on the back of her father's sled throughout that year's Safari. But because she went away to Alma College, she missed the '68 event entirely. She vowed that she'd return to the Safari in 1969 and drive the event on her own machine.
"So, the Christmas of 1968, my parents got me a gift of a rental of a Johnson Skee Horse, and I used it a few weeks later when I drove in the 1969 Moose Jaw Safari," Haynes said. "I was determined to drive the length of [the Safari]. This Skee Horse had a key-start instead of a pull, and it had reverse — very fancy for the day!"
Haynes said her desire to plunge into such cold-weather activities puzzled her college friends. "My suitemates couldn't comprehend that I was going to go drive a long, cold, snowy stretch for basically an entire day on a noisy machine! But I wanted to do it because it was so much fun to drive one of those snowmobiles. It was a real breakout time. There were lots who went as passengers, but driving was really fun."
In retrospect, Haynes said she's glad she followed through on her vow to go it alone in '69.
"It was exciting," she said. "The driving took some level of skill, and there were certain parts of the trail that demanded a little more driving skill than others. Of course, the excitement for me was getting to drive such a long stretch."
Though her college friends may have been slightly dismayed at her adventure, they were nonetheless curious upon Haynes' return.
"The girls wanted to hear all about it!" she said. "Most of them lived in southern Michigan or other southern points. So it was unusual for them to hear about such things."
TRAIL ENDS, FOOD BEGINS
For most participants, the fun of riding ends at the Center Township Hall near Larks Lake. There, machines are trucked and trailered back to barns, sheds, and garages. But, as the sleds are put away, the legendary Bean Pot takes center stage.
Around this massive kettle, the throngs converge, hungry for the warming comfort of hot ham and bean soup, hot dogs, and beverages, which flow and flow and flow.
It's here, said Price, that non-riders gather to welcome friends and families as they complete the Safari's 30-mile course. The addition of the casual crowd, Price said, has swelled the event's attendance to nearly 500 sometimes, creating a wall-to-wall party atmosphere.
To this day, the party is still centered around the Bean Pot, which each year contains at least 50 gallons of the traditional soup. Price said volunteers have to start preparing the massive concoction — cutting up ham and vegetables, soaking beans, etc., — days in advance of the event. He said it's "quite a process how it all comes about."
"We've got guys that have been cooking quite a few years," he said. "Our previous guy passed away. But things move on to the next generation."
And next year, we trust, it will.
To find out more about the Harbor Springs Snowmobile Club and the Moose Jaw Safari, visit www.moosejawtrails.com.

*** Photo above courtesy of Dave Price.
HOPE AHEAD
Empire's Snowmobile Drag Race is On
Sled heads bemoaning the 2021 cancellation of two of the North's legendary snowmobile events — the Michigan Snowmobile Festival in Gaylord and the long- Moose Jaw Safari in Harbor Springs — turn your tracks toward Empire and hit the gas. The Empire Snowmobile Drag Race Roy Taghon Memorial is on for Jan. 23, 2021. Registration opens at 8am, test runs start at 8:30am (note: you must be registered to test), and the racing begins at 11am. The event, which includes kid and junior divisions, begins at the Empire Airport, aka the William B. Bolton airport. Find more information and the registration sheet at "Empire Drag Race" on Facebook.
Trending
Very Busy Very Fast
This isn't going to be easy. President Joe Biden and his thin congressional majority are walking into troubled times both ...
Read More >>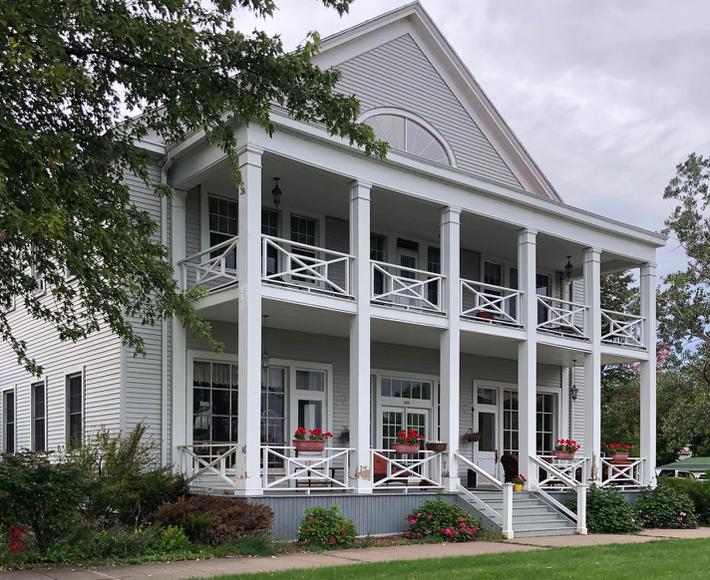 Thunder Bay Inn
Former playground to Henry Ford and part of a famous film and novel based on a real-life murder in the town, the courtroom...
Read More >>
Forty Acres' Spa Day Martini
Myriad methods of cocktail creation are on display at bars around the world. There are flaming drinks, compotes laden with...
Read More >>
He's Gone, Now What?
Wounded and fearful, America watched the 45th President leave the nation's capital. On a hastily arranged stage at a...
Read More >>
↑