Don't Ski? Don't Worry!
Slopeside Suggestions  for Downhill Haters
With so much of northern Michigan's winter culture revolving around skiing, it's tough for those who never took to the sport. But that doesn't mean you can't join friends or family at the lodge! Cheer them on as they head to the ski lift, enjoy an on-site meal and some live music, and then head out on your own to try some of these fun things you can do when everyone's out on the ski slopes, and you're just not into it.

BOYNE HIGHLANDS – Harbor Springs
Relaxing: Outdoor swimming in winter is a longtime tradition at the Highlands. Have you ever floated in a heated pool while gusts of cold wind swirl outside? It's a unique experience you won't soon forget. Another very northern Michigan ski lodge experience is the bonfire and S'mores, which takes place every night from 6pm to 9pm right by the ski valet. Throw in an afternoon of snowshoeing on dedicated trails through spruce and pine trees, and you're living the luxe non-ski life.
Revitalizing: Want to pick up the energy of the ski hill without actually having to ski? The Highlands has two great options. First, rise early and join one of Boyne's snow grooming operators — you get to ride along while they transform the slopes into skiable perfection. Then, get even lower to the ground and pick up some speed at the Highland's Tubing Park, where you can snag a tube and zip down the 800-foot-long tubing run.
BOYNE MOUNTAIN – Boyne Falls
Relaxing: A wide range of calming, rejuvenating services is offered at The Spa at Boyne Mountain, several perfectly suited to the winter months, including the Mountain Melt and the Alpine Bliss. One particular highlight is the Mountain's Hot Toddy for the Body, which starts with a Kentucky bourbon-infused brown sugar scrub for your skin and adds a honey mask.
Revitalizing: Boyne Mountain's Adventure Center has many of the same outdoor options as the Highlands. But one of highlights of the Mountain is a can't-miss if you're spending your time off the slopes: the Zipline Adventure Tour. On it, you'll traverse a series of nine lines that travel up to 4,300 feet, up to 50 feet in the air, at 20–25 mph. The tours let you enjoy the views and speed for at least 1.5 hours, and you can even race a pal!
CRYSTAL MOUNTAIN – Thompsonville
Relaxing: Complimentary activities for guests abound at Crystal Mountain, from board games and family campfires to an indoor pool with dedicated lap lanes. Surrey rides behind the resort's peaceful and friendly Belgian horses take you through pretty winter landscapes, complete with a cup of hot cocoa in hand as you coast along. And another unusual and fun activity are Crystal's scavenger hunts, one seeking objects and the other instructing you to take specific photos; visit Crystal's Park at Water's Edge to get started, then find the answers needed to win a prize, every day from 9am to 10am.
Revitalizing: Grab a Winter Fun 10-punch card, and treat yourself and your family to a host of energetic off-slope activities, including fat tire bicycle, snowshoe, or ice skate rentals; an archery session; or a raucous game of outdoor laser tag in the snow on the resort's own laser tag course, with lots of obstacles to hide behind, and hidden routes for sneaking up on your foes.
SHANTY CREEK – Bellaire
Relaxing: Just because you're on vacation doesn't mean you have to abandon your workout. The resort's Lakeview Fitness Center (free for guests) lets you exercise at a more leisurely pace with some great bonuses; enjoy the cardio equipment and Nautilus weights, and then recharge in the steam room or whirlpool, brighten up in one of the tanning beds (additional fee), and take a few refreshing laps in the pool.
Revitalizing: If you enjoy a little pedal power and you haven't heard about fat biking yet, you're missing out! These special bicycles, equipped with squashy, knobby fat tires, let you pedal across all kinds of terrain, most notably our piles of northern Michigan snow. This is a great alternative to skiing that still gets you a thrill as you careen over the hills of Shanty Creek's groomed multipurpose 5K trail. For the younger set, Mike King brings his Siberian Husky dogs to the resort on Saturdays and holidays for the special treat of a real sled dog ride (riders must be 100 pounds or under).
TREETOPS RESORT – Gaylord
Relaxing: Get out into the wild forests of mid-Michigan in the most relaxing way possible with Treetops' wilderness sleigh ride dinners. A shuttle from the main lodge will take you to Treetops' Project Nature property, where you'll embark on a 25-minute sleigh ride through the woods to the Wilderness Cabin, where you'll enjoy a four-course meal and beverages with a host of new friends. Ice skating and groomer rides are also available on Treetops' grounds.
Revitalizing: Team Evergreen brings its Iditarod-training dogs to Treetops for a special dogsledding experience that both adults and kids can enjoy. Each exhilarating ride will take you through the trails on the Jones Masterpiece golf course and its beautiful scenery. (You can sled alone or with a child.) Later, you can meet the dogs and their handlers up close and personal, to find out more about how dogsledding works.


Trending
Moving Dirt And Stone
This year is taking a toll on me. I'm more sluggish. It's harder to get out of bed each morning. I have muscle pain that I...
Read More >>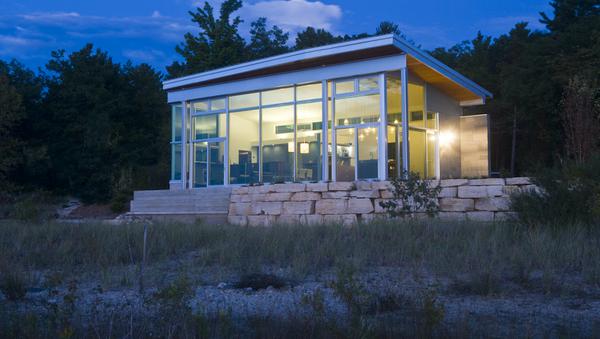 Northern Michigan Modern
From rustic log cabins to Victorian-style homes all the way to more traditional suburban-like developments, northern Michi...
Read More >>
Warts And All
Project 1619, a product of New York Times Magazine writers, is a potential public school curriculum that attempts to redef...
Read More >>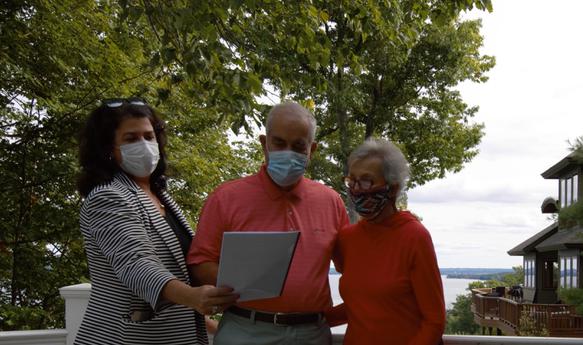 Pandemic Brings Even More Heat To A White-Hot Real Estate Market
There's a mad dash going on in real estate: companies bailing on their massive corporate office buildings, families ...
Read More >>
↑