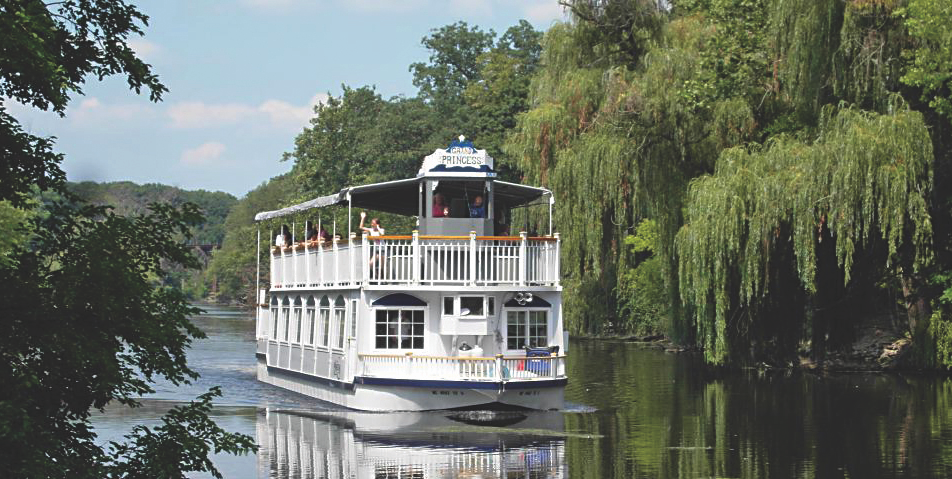 Downstate Destination: A Michigan Princess Cruise
A trio of boats make regular runs around downstate waterways, treating guests to unusual steamboat-style boating experiences in the modern age. But while these boats — all boasting Princess in their name — are a regal fleet indeed, they come from humble beginnings.
"We basically built this company from nothing," explained Captain Chris Chamberlain.
Chamberlain is at the helm of both the Michigan Princess ("my nine-to-five boat," he joked), and of the family business that oversees the Princess, plus two (soon to be three) additional boats that tour guests around the waters of southern Michigan.
It's an impressive journey, whether you're listening to the family's history, or riding on one of the boats themselves.
CANOES TO CRUISES
Chamberlain's parents, John and Karla, started their boating company in the '80s — but it wasn't anywhere near the form it's in today.

"Back then, it was just a canoe rental business at the zoo in Lansing," Chamberlain said. "My father started it to basically just have something to do in the summer. He started with three or four canoes, which turned into ten, then 100, then 150."

Soon, Chamberlain's father noticed that there were a lot of parents standing around with nothing to do while their kids were out canoeing.

"So he bought an old barge and fixed it up steamboat-style, with Victorian-era styling. That was the Spirit of Lansing," Chamberlain said.

Touring parents around on the Lansing while their kids canoed proved profitable. After retiring the first boat, his parents took a break for a few years, and then bought the Princess Laura, which they named after Chamberlain's sister.

"That one ran from 1984 to the early 2000s," he said. "Then, in 1991, they bought the Michigan Princess — that's the boat of ours that everyone knows best — and in 2004, we decided to expand to Detroit."

TRANSPORT TROUBLES
'Expanding to Detroit' wasn't as simple as it perhaps first sounded, though. That boat — dubbed the Detroit Princess — was purchased from Texas, and it took the Chamberlains 104 days to transport the boat from Texas to Detroit.

"We actually physically sailed it from Texas to Florida, then through Canada and into the Great Lakes," Chamberlain said. "When we got to New York state, we almost got stuck — gas prices had gone crazy that summer, going from around $1 a gallon to $4 a gallon, and we weren't ready for it. When you're buying 10,000 gallons of fuel a week to get a boat transported that far, that kind of price shift puts you way over budget!"

Thinking fast, the family sold the Princess Laura to get the money to get the Detroit Princess the rest of the way home.

"By that point, we'd also retired the original boat (the Spirit of Lansing), so we ended up with one boat in Lansing and the Detroit boat," Chamberlain said. "Then we built a third boat to run in Grand Ledge."

Chamberlain has taken over the management side of the company since his father passed away and his mother decided to aim at retiring in 2019. So now the Chamberlain family runs three touring boats, modeled after 19th-century steamboats (although they run on diesel engines). All are overseen by Captain Chris.

UNIQUE ROUTES
Let's start with the Michigan Princess. At 100 feet and three decks, the Princess, based in Lansing, welcomes 500 passengers per cruise, and traverses the Grand River.

"It's the longest inland river in Michigan, and we're in a nice stretch of it," Chamberlain said. "Our round trip for that boat is about six miles, in which we go by the Lansing Country Club, Grand River Park, the house bought by Magic Johnson for his parents, and the governor's mansion. I usually offer a little history about the river, and some facts as we travel along."

The Grand Ledge boat, the Grand Princess (pictured above), carries 150 passengers and stretches just 75 feet. It's the smallest of the Chamberlain's fleet and is only 15 minutes away from where the Michigan Princess is docked.

"The Grand Princess offers a cruise by lots of large rock faces, which are very unusual in Michigan," Chamberlain said. "They're about 45 feet, top to bottom. A lot of people come here to climb them, so it's neat to watch the climbers as we cruise by. We also pass by a half-dozen different islands and go under a 100-year-old railroad trestle bridge."

Finally, the Detroit Princess — the largest of the fleet — offers six decks and hosts 1,900 people at a time, and what Chamberlain called "an unbeatable skyline view."

"We cruise from downtown Detroit at Hart Plaza, up to the mouth of Lake St. Clair and under the Ambassador Bridge," he said. "It's a 16-mile round trip and just spectacular."
TRIPLE THE FUN
Each of the three boats offers a completely different experience, which Chamberlain said is part of the fun.

"The Lansing boat is a small city cruise, the Grand Ledge boat is more of a nature cruise, and the Detroit boat is a larger, urban, metropolitan cruise," he said.

The two larger boats also have full galleys (kitchens) aboard, so you can enjoy a buffet lunch with your fall color cruise in Lansing, or a BBQ chicken dinner with your waterside tour of the Detroit skyline, for a reasonable price that includes the boat trip and food.

"Dinner cruise tickets or 'party' tickets start at $20," Chamberlain said. "We also do some smaller trips that are even more affordable."

Specialty cruises are also part of the fun. The boats have hosted a 'Blues Cruise' with live music from The Root Doctor; a Motown revue show with The Prolifics; and a salsa dancing night. "The salsa night drew over 200 people alone," Chamberlain said.
YEAR-ROUND HOSPITALITY
There are holiday and New Year's Eve cruises every year too. That's right, these boats stay in the water almost year-round.

"We do proms, spring cruises, all the summer cruises, fall color tours, Christmas and New Year's parties — we generally just slow down in February and March," Chamberlain said.

And as for that fourth boat that's in the works, it's being planned for Grand Rapids, and will welcome 250 guests per cruise.

"That boat will start in Riverside Park in Grand Rapids, and will go for a 20-mile round trip," said Chamberlain. "The boat itself is being built now — it's about 65 percent done — and we're looking at starting operations with that one or two years from now."

The draw for the cruises is simple: hospitality, combined with water activities, something that Michigan residents and tourists both love.

"We're kind of like a nice restaurant or banquet hall, but we offer so much more than that," Chamberlain said. "Variety, a leisurely cruise on the water, in a new atmosphere — and it's an especially neat thing to have in the middle of the state, in the more landlocked areas. But all the boats are large, so really more like ships than boats. They're very comfortable."

"And what I love most about them is really the people who ride them. We cater to all demographics, and I end up having the best conversations with our guests. All the people are so nice, and they're all so different, just like the boats themselves."

For tickets and more information, visit michiganprincess.com, detroitprincess.com, and grandprincessriverboat.com.
Trending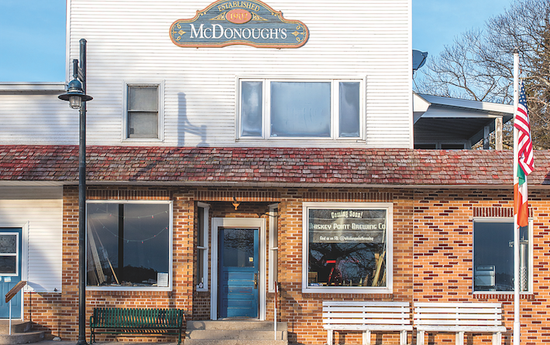 Welcome to Michigan's Most Remote Brewery
After years of planning and honing his beer-making skills, this spring, Patrick McGinnity plans to open Beaver Island's first microbrewery. Opening a craft brewery is challenging. Opening one on a remote island in Lake Michigan that's either a 15-minute plane ride or a two-and-a-half-hour ferry ride from ...
Read More >>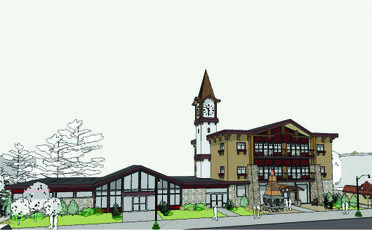 Gaylord: A boomtown Up North
Gaylord native Gary Scott had moved to Indiana, where he and some partners started a business to invest in distressed properties. He was talking to a banker in Detroit about real estate in Bloomington when he asked what kind of deals might be available in northern Michigan. ...
Read More >>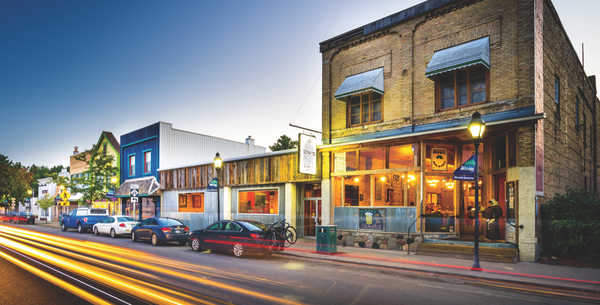 Small Up North Towns on the Rise
Spotlight on Bellaire (pictured)Seems Traverse City isn't the only place in the region making those "Best of" lists. The Antrim County hamlet of Bellaire was recently named to the list of Best Lakeside Towns in the U.S. by Country Living Magazine, alongside the likes of Vergennes, Vermont, Greenville, ...
Read More >>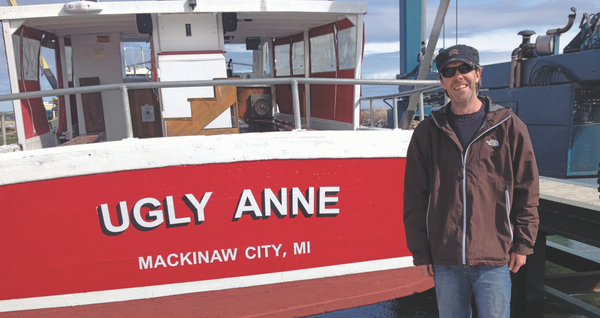 A Wicked Cool Ride Around the Straits
You expect to see boats around Mackinac Island in summer. Sailboats, power boats, cruisers, and the ubiquitous ferries that run residents and guests back and forth across the Straits of Mackinac, sure. But there's a more unusual vessel visible these days — an all-wooden Down East lobster ...
Read More >>
↑