Lucky You: Local Brewers Spill Their Go-to Beers
One they brew, and one they buy 
You won't catch a Ford salesman tooling around town in a Toyota, but seeing a local brewer tipping back a beer in another's pub … ? Well, let's just say it wouldn't shock us. Local beer culture is a community culture. And be it in the name of love, respect, or research, these Up North brew masters were generous in telling us about the beers they reach for — their own and others' — whether for special situations or on an average day. Fact is, a good craft beer is a good craft beer, no matter who in northern Michigan made it.

Josh Thomas
Right Brain Brewery, Traverse City
Mine: "I would say my favorite beer of the moment from Right Brain is probably the Bourbon Barrel-Aged Coffee with Cream," said Josh Thomas, one of Right Brain Brewery's two brew masters. "It's an imperial cream ale with coffee from Roaster Jack that's aged in bourbon barrels from Grand Traverse Distillery. I love my IPAs, but it's nice to have something a little different every once in a while."
Theirs: If I were to say what my non-Right Brain go-to beer would be, I would have to go with the Juniper Rye from Earthen Ales, which has been a consistent go-to for me since they opened."

Tyler Force
Right Brain Brewery, Traverse City
Mine: Right Brain's other brewer, Tyler Force, loves Right Brain's Who Gose There Celery Juniper, a "kettle-soured ale with fresh celery juice and juniper berry, with a hint of celery salt."
Theirs: Force praised the Ball Peen ESB (Extra Special Bitter) from the Workshop Brewing Company in Traverse City, a medium-bodied, copper-hued ale with flavors of malt and earthy hops.

Ryan Hale
Short's Brewing Company, Bellaire
Mine: Hale singled out one of Short's seasonals, the Sticky Icky Icky, a citrusy, fruity American IPA with a 7.1 percent ABV (alcohol by volume). "I enjoy almost every style of beer, but I am a hop-head at heart," Hale said. "Sticky Icky Icky has become one of my favorite IPAs we produce at Short's — and we make a lot of IPAs! I like the balance. It has a nice malt backbone, and a heavy dose of dank citrusy hops without being too bitter. I wish I had one right now!"
Theirs: Hale says that he almost always has a bottle of "some sort of Jolly Pumpkin beer" in his refrigerator at home. His go-to might be La Roja, an award-winning sour ale brewed in the Franco-Belgian tradition.

Michael Wooster
The Workshop Brewing Company, Traverse City
Mine (after snow-blowing the driveway):"As a Master Snow Blower, I understand the importance of the post-blow beverage," Wooster said. "I usually go for Workshop's Tenpenny Blonde Ale, since it's light, refreshing, and conveniently in cans." The Tenpenny is a lightly hopped "session-strength American Ale" with a 4.5 percent ABV.
Theirs: The beer I most eagerly await every year is whatever my good friend Evan, head brewer at Upper Hand Brewery in Escanaba, brings me for his visits during the holidays. This year, it was their Upper Hand IPA, and just like all of their selections, it's a clean brew that represents the style well."

Brian Confer
Stormcloud Brewing Company, Frankfort
Mine: Stormcloud's flagship beers are the Rainmaker Ale, a Belgian-inspired pale ale; and the Whiled Away IPA, a Belgian-inspired IPA. For celebratory occasions, though, Stormcloud's brewmaster goes for the brewery's GBA 228 Tripel. The beer is a Belgian Tripel, a style known for its high quantity of malts and its resulting sweetness and high ABV. Stormcloud's GBA 228 Tripel adds an extra step — aging in gin barrels — for a complex and unique flavor.
Theirs (after the kids have gone to bed): Isn't really a beer at all. Once Confer's sons are down for the count, the brew master enjoys just a hint of beer, by way of Iron Fish Distillery's bourbon whiskey, which is finished in imperial stout casks. The bourbon highlights a growing trend in the world of craft alcohol, where distillers and brewers trade barrels and use the aging process to capture properties of one another's beverages. In this case, Iron Fish Distillery sent American Oak casks to Traverse City's Filling Station, who used the barrels to age an imperial stout. Iron Fish ultimately used the same barrels to create the ultimate cross between beer and bourbon, a whiskey carrying "notes of cherry, dark chocolate, and dried fruit."

Dave Vargo
Paddle Hard Brewing, Grayling
Mine: "My go-to beer after a long, hard shift of brewing is my own Paddle Hard Brewing Marathon IPA," Vargo said. "This IPA is perfect for any occasion." The Marathon IPA balances malt and hops for an easy-to-drink 6% ABV beer.
Theirs: "My favorite beer from another brewery is so difficult to decide — due in part to the fact that we have so many awesome breweries with great beer," Vargo said. "But if I have to decide, I would go with Uncle Green Guy from Hop Lot Brewing in Suttons Bay. It's a great medium body session IPA."

John Niedermaier
Brewery Terra Firma, Traverse City
Mine: A good beer is a must-have for pizza night, whether it's a unique brew to pair with a gourmet pizza, or a classic ale to go with the local pizza parlor's standard pepperoni pie. For John Niedermaier of Brewery Terra Firma, pizza nights tend to skew toward adventurous. "I love to pair our Wicked Garden Honey Rye Beet Wheat beer— made with local beets, local hops, and our own honey from the farm — with my roasted squash, goat cheese, and sage cornbread crust pizza," Niedermaier said. "And we're getting ready to brew it again, so I guess pizza night is coming up!"
Theirs: What better way to follow a pizza-beer pairing than an equally great dessert beer? Niedermaier has that part figured out, too: "I enjoy the Coco Puffin Chocolate Wheat from Rare Bird in Traverse City, paired with Moomers vanilla ice cream with toasted coconut on top — the coconut sizzling from the pan as you top the ice cream."

Matt Therrien
Lake Ann Brewing Company, Lake Ann
Mine: There's something to be said for a beer that goes as well with an afternoon boat cruise in the summer as it does with a fireside chat in the winter. For Matt Therrien of Lake Ann Brewing, that beer is his own Jungle Fungus IPA. "It's a session IPA, and it's almost the only thing I ever drink because I like it so much," Therrien said. "It is my go-to beer for all occasions. Summer; winter; on the boat fishing; with dinner, paired with anything. It's like a pair of blue jeans: it works with everything."
Theirs: Though it's not technically from northern Michigan, Therrien says that the Mosaic Promise from Founder's carries the spirit of the North. "It's so approachable, but it's seasonal, so it's only available four months a year," Therrien said. "It's my desert island beer. If I could only drink one beer for the rest of my life, it would be that one. It's especially great for fall walleye fishing in northern Michigan."

Joe Mulder
Monkey Fist Brewing Company, Traverse City
Mine: Mowing the lawn in northern Michigan's sometimes-oppressive summer heat can be an ordeal —one that certainly calls for a refreshing beverage once the job is done. For Joe Mulder of Monkey Fist Brewing Company, the go-to beer in such a situation is Monkey Fist's State Street Easy, an easy-drinking German-style pilsner with a 5.1 percent alcohol content. "I like things light, bright, and a bit on the lower ABV side when working on a hot day," Mulder said. "This one does great on the farm.
Theirs: "I need a tractor to clear my drive," Mulder said when asked for the beer he craves following a scraping down of his snowy driveway. "It takes a bit of time, and afterwards, I just want to melt into a chair and sip on something full and complex." Mulder's go-to beer for such a moment? Go Juice from Short's, a Milkshake IPA brewed with Ethiopian coffee, marshmallow, milk sugar, and vanilla. Complex indeed.

Thrillest Confirmed: Mitten-Made Beer is Better
It's no secret that Michigan is one of the top states in the country for craft brewing. Not only is the Mitten State surrounded by beer's most important ingredient — fresh water — but it is also becoming one of the country's top hops producers. Last year, when Thrillist ranked states based on their beer, Michigan landed at No. 4, behind only California, Oregon, and Colorado. Thrillist didn't just acknowledge Michigan titan brewers like Bell's and Founder's, either. On the contrary, the website also called out craft beer from both the Upper Peninsula and northern Lower Michigan. "Tiny Traverse City manages to out-beer cities five times its size," Thrillist editors wrote. Amen.

Trending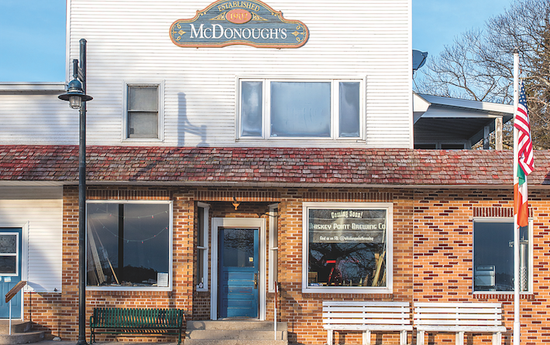 Welcome to Michigan's Most Remote Brewery
After years of planning and honing his beer-making skills, this spring, Patrick McGinnity plans to open Beaver Island&rsqu...
Read More >>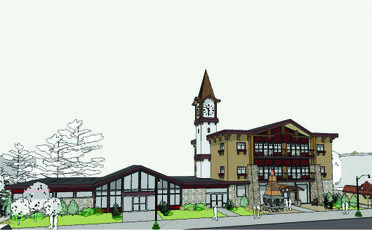 Gaylord: A boomtown Up North
Gaylord native Gary Scott had moved to Indiana, where he and some partners started a business to invest in distressed prop...
Read More >>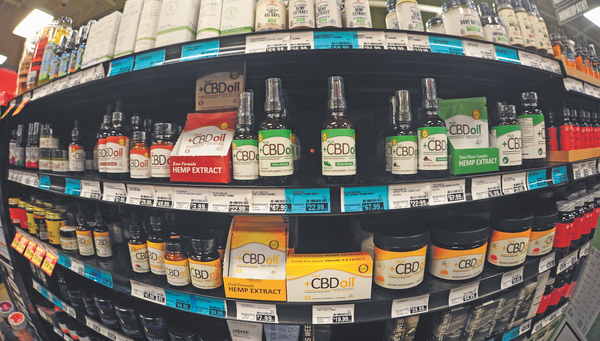 CBD Laws: Dazed and Confused
The sign outside of Family Video in Kalkaska lets drivers know the store has more than just movies. The sign reads: &...
Read More >>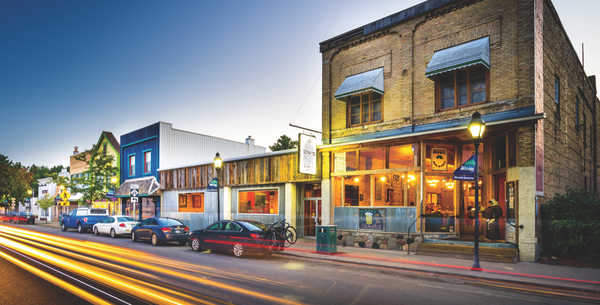 Small Up North Towns on the Rise
Spotlight on Bellaire (pictured)Seems Traverse City isn't the only place in the region making those "Best...
Read More >>
↑