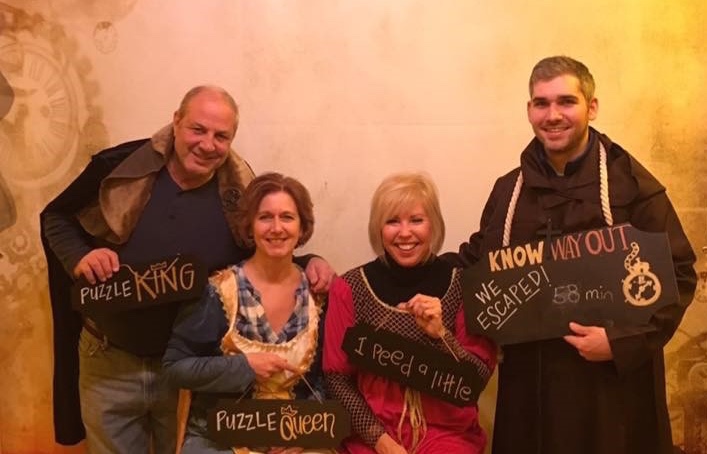 Escape Rooms Hit Petoskey, Traverse City
You find yourself trapped inside an unfamiliar space, with only an hour to escape. There are clues everywhere to help you get out – you just have to decipher them. Is it the scrap of paper with cryptic lettering on the table? That ornate padlocked chest in the corner? You try the lock, but it's fastened tight. Your heart beats fast while your roommates scour everything in the room. Maybe it's that set of test tubes with different colored fluids in each one. What about the map on the wall? Wait – the lights just flashed – does that mean something?
This is an escape room. It's a real–life version of a videogame, a means by which you "survive" and escape using only your wits and those of your teammates. You're not literally trapped, of course (many escape rooms don't actually lock you in, and there are always safety procedures in place should you decide you've had enough) – but the fun is in the playacting, in fully exploring the theme of the room and what is required to solve its puzzles. Whether you're taking on the role of a spy, a prisoner, a pirate, a burglar or any other number of characters, your job is to utilize the clues hidden within the room to escape within the time allowed.
The first escape rooms were developed in Japan. The idea spread quickly throughout Asia, eventually surfacing in San Francisco and then continuing across the Americas, Australia, Europe and Russia, where the wildly popular Claustrophobia Escape Rooms offer several dozen different scenarios.
Competition isn't a big deal with this kind of business, as every escape room facility is unique and offers a whole new set of puzzles to solve; so far, there are more than 3,000 escape room facilities worldwide. Northern Michigan has two of its own: Petoskey's Know Way Out and Traverse City's Escape Routes. But don't expect them to share photos of their rooms – that, after all, would spoil the fun.

Know Way Out in Petoskey
Cindi Dalian–Myers went through several different careers, including computer programmer, bed and breakfast owner and mortgage broker, before realizing she still hadn't found the right niche. Growing up, her family had traveled to Disney World in Florida every spring. As she was trying to figure out what to do with her career, those memories sprang back to life. "I was always awestruck by the décor and architecture and Disney's ability to transport you to another time and place," Dalian–Myers said.

In April of 2016, while on spring break as an adult with her own family, Dalian–Myers tried her first escape room. The setting was Al Capone's apartment, and while she and her family didn't manage to escape, they had a great time. "We had multi–aged participants, and I was amazed by how we were all able to contribute in some way," she said. "I had found a business where I could use my love of decorating and architecture, our family's love of games, my education in technology and my previous business experience. I decided to work on opening an escape room in Petoskey."
She and her family added a few days to their vacation, experiencing as many escape rooms as they could find on their drive back to northern Michigan. Dalian–Myers soon found a Petoskey location for Know Way Out and then hired one of the international companies that designs escape rooms. "I conveyed to them my ideas for each room, and they created the game plays based on my ideas," she explained. "We then worked together to customize and edit the games to fit my vision. We were very pleased with the custom games as a result of this partnership."

Know Way Out currently offers two scenarios: Medieval Mayhem, set in a medieval castle, and Savage Safari, which takes place in Kenya, Africa. A third room, the Mad Hatter's Asylum, is set to open this spring. "We've worked hard to make our experiences as immersive as possible, with meticulously decorated rooms and sound and lighting authentic to the time period and setting of each scenario," explained Dalian–Myers. "Our goal is to send people on a quest to another place and time. The games are specifically designed to draw from many different mind types, and therefore they bring people together to reach a common goal, which I feel is sorely needed in our current political environment."

Know Way Out is located at 622 Howard Street in downtown Petoskey. Each escape room can be played by two to eight people (the recommended age is 13 and up.) The base cost is $25 per person. Reserve online at knowwayout.com or call (231) 881-9688.

Escape Routes in Traverse City
Julie Berle and her mother Kim Berle teamed up to launch Traverse City's escape room facility, dubbed Escape Routes. The Berles were big fans of escape room apps, the virtual escape room games you play on your smartphone or tablet. "After playing many of these games, a relative told us there were live versions of the escape rooms," Julie Berle said. "After hearing this, we immediately booked a room and took the family downstate. We were instantly hooked and thought that northern Michigan could really use a fun experience like this."

Berle, a registered nurse at Munson Medical Center, enlisted her mother's help, and they spent several months planning their escape room facility. "After many conversations, we finally had our main ideas for the room themes," Berle said. "At the time we opened up, there were no other escape rooms north of Grand Rapids. Traverse City continues to grow, and in the winter months, we knew people would want a new experience [to beat] the winter blues."

The rooms they ended up with took several months to construct. "My dad, Frank Berle, and my sister Angie Berle, who is also the lead singer of One Hot Robot, helped us out a lot," Berle said. "Once we completed each puzzle, we had to brainstorm how to tie them all together to lead to the end puzzle. When the end puzzle is finally figured out, you can 'escape' the room." When Escape Routes first opened, the Berles had a group of friends go through the rooms to figure out any trouble spots, so now it's smooth puzzle solving for all their clients and guests.
Two rooms are available at Escape Routes: The Cherry Pit, overseen by Kim, and The Game Room, overseen by Julie. "The Cherry Pit uses Traverse City's cherry theme and incorporates much of the Traverse City area," Berle explained. She added, "The Game Room comes from my love of games. I was a dealer at Turtle Creek Casino for many years and enjoyed learning new games, plus our family grew up always playing games together, so everything in that room has something to do with a game."
Each of Escape Routes' rooms has three free clues that can be used at any time with no minute penalty. The Berles stay in the escape room with each team in order to share the experience and help the teams along if needed. "We enjoy seeing how everyone's mind works differently and watching how much fun people have in our rooms with our puzzles," Berle said.
Escape Routes is located at 221 Garland Street, Suite 1, in Traverse City. Each escape room can be played by up to 10 people. The base cost is $28 per person. Reserve and pay online at tcescaperoutesllc.com (no funds are accepted at the facility) or call (231) 421-9279.

Trending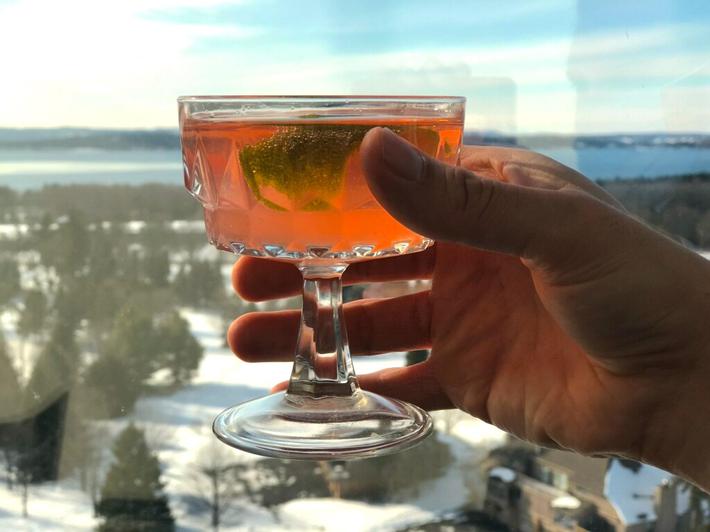 Tiny Pink Bubbles
Hey, ladies, do we have the pink drink for you: Aerie's Tiny Pink Bubbles. With a taste and body as delicious as its...
Read More >>
The Power of Our Example
Every new president faces a daunting array of problems, but 2021 will go down in the history books: Our country is under s...
Read More >>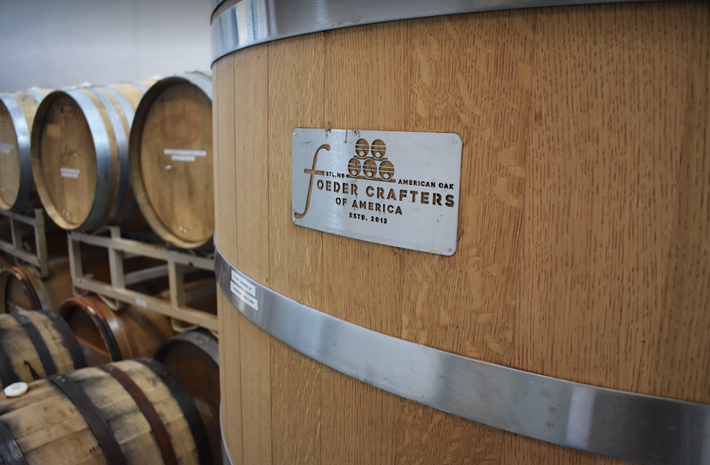 Getting Wild with the Foeder
Drinkers with a discerning eye may have noticed a couple interesting-looking wooden containers in the back of Traverse Cit...
Read More >>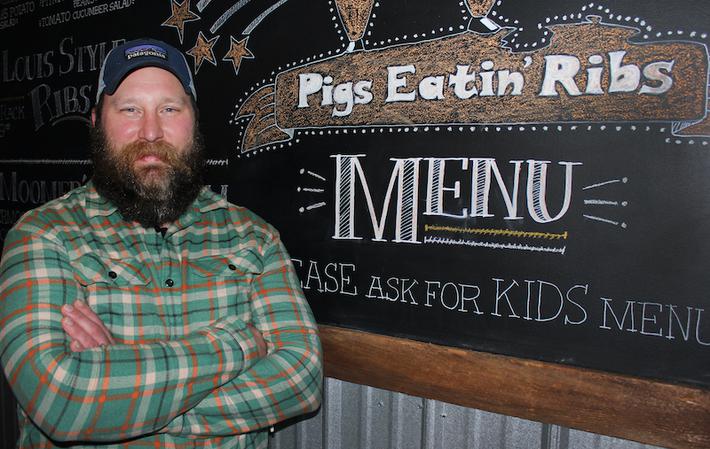 Charlevoix's Pigs Eatin' Ribs
By 2008, Charlevoix Chef Adam Kline had seen and tasted enough. The Northern Michigan food scene had stagnated, he said, i...
Read More >>
↑