Escape to Al Fresco
Idyllic outdoor dining around the region
July 25, 2020
During the past several months, we have all been spending a lot of time inside our homes. And when the weather began to warm up, we were grateful to be able to move outside to our porches, patios and decks, enjoying lunches, dinners and cocktail hours with family or a few close friends. But now that summer is in full swing, and we have adapted to the "new rules," many of us are longing to branch out and spend some time on other porches, patios and decks, namely at restaurants who will be just as happy to see us again as we will be to relax and be served by them again. We've sought out a selection of great options across northern Michigan for doing just that, all the while maintaining "social distancing," yet appreciating the feeling of returning to some normalcy in these anything-but-normal times.
Martha's Leelanau Table
413 North St. Joseph St., Suttons Bay
Entering the secluded patio adjoining the barn-red clapboard house that is Martha's Leelanau Table is like stepping into a scene from a fairytale garden, with lush greenery, flowers and trees framing the idyllic setting. This charming farm-to-table restaurant in downtown Suttons Bay, whose vibe might be described as upscale cottagey, is a must-visit destination on the Leelanau Peninsula year-round, but especially in summer, when its farm-to table menu, inspired by the annual group trips that owner Martha Ryan leads to Europe, is best showcased. Pan-seared Norwegian Salmon (with blackened shrimp, topped with a tomato-basil cream sauce) is a particular customer favorite on the menu of elegant, creatively prepared and presented dishes, complemented by an excellent wine and beer selection. At present, Martha's is serving dinner on the patio only, 4pm–9pm Wednesday­–Sunday, as well as offering takeout. Reservations are highly encouraged for patio seating. (231) 271-2344, www.marthasleelanlautable.com.
Bennethum's Northern Inn
3917 Old US Highway 27 South, Gaylord
Bennethum's, a family-owned and operated restaurant, prides itself on its appeal to a wide range of guests – and one of the most appealing features in the warmer months is its idyllic, flower-lined outdoor brick patio and lawn dining area. The regularly fluctuating menu features everything from chophouse classics to upscale pub fare. Local ingredients mix with those from further afield and almost everything is made in house. Especially popular among regular patrons are Bennethum's Tenderloin Queso Tacos (incorporating char-grilled filet mignon, fire-roasted bell peppers and Spanish onions, bubbling Mexican cheeses, house-made guacamole, chipotle remoulade, grilled flour tortillas, lime wedges and a side of spicy pico de gallo). The restaurant's carefully curated wine cellar showcases bottles from prestigious wine regions in the US and around the world, the bar features six rotating microbrews, and Bennethum's barkeepers are skilled in the art of making handcrafted cocktails. Serving dinner 4pm–10pm Monday–Saturday, closed Sunday. (989) 732-9288, www.bennethums.com
Boyne City Taproom (pictured above)
220 South Lake St., Boyne City
The Boyne City Taproom, just steps from the town's lovely marina, beckons on balmy days and evenings with its romantic and inviting red brick wall-lined patio, which is often enhanced by live music. The restaurant bills itself as an American Bistro, and the menu bears that out with a variety of shareables, classic salads, creative sandwiches and wraps, burgers and entrées (check out the Loaded Mac & Cheese). Although its 40 different beers and ciders on tap are a big draw, craft cocktails are also a specialty here. One such concoction is the Call Me a Cab (Gypsy vodka, lemonade and a house cab floater), a light, refreshing apéritif that would be the perfect prelude to a savory, herby plate of Ebel's Half Smoked Chicken (with parmesan-rosemary fries). A children's menu is also available. Serving lunch and dinner 11am–9pm Tuesday–Saturday, closed Sunday and Monday. (231) 459-4487, www.bctaproom.com
Stafford's Weathervane
106 Pine River Ln., Charlevoix
Jeff's Deck, the Weathervane's enviable outdoor dining venue, overlooks the beautiful Pine River Channel, making it the prime spot for viewing large and small boats as they slowly cruise by, coming and going under the town's iconic drawbridge, which raises dramatically every half hour to let them through. Originally built as a grist mill, the structure was converted to a dining establishment in the mid-1950s. Designed by legendary Charlevoix architect Earl Young in the style of his famous "mushroom houses," the Weathervane has been a local landmark ever since. Its menu highlights American and northern Michigan classics with a twist, including the a full or half rack of signature BBQ Baby Back Ribs (with spicy cherry chipotle barbecue sauce, French fries and coleslaw). In the beverage department, the Weathervane bar provides a well-rounded medley of beer, wine and creative cocktails. Serving lunch daily 11am–4pm, and dinner 4pm–9pm. (231) 547-4311, www.staffordsweathervane.com
Knot Just a Bar
5019 North West Bay Shore Dr., Omena
Sit back, relax and forget your cares on Knot Just a Bar's long, spacious deck as you gaze out at tranquil, picturesque Omena Bay. Order a Leelanau Lemonade or a Knot Punch and peruse the menu of starters, flatbreads, soups, sandwiches and "big plates." Taking first place in the latter category — and in the hearts of regulars — is the (k)not to be missed Knot's Famous Kone (beer-battered and fried pike-perch or shrimp with French fries, creamy coleslaw and tartar sauce). And save room for dessert, because the "monster" Share It Carrot Cake is a feast for the eyes and the taste buds. And if you're nearer to Bay Harbor than Omena? Knot Just a Bar at 820 Front Street there has virtually the same menu and an equally stunning view from its terrace on the yacht harbor. Currently serving lunch and dinner daily at both locations from noon to 8:30pm. Omena: (231) 386, Bay Harbor: 439-2770, www.knotjustabar.com
Beards Brewery
215 East Lake St., Petoskey
Whether you catch a dazzling sunset at night or watch the sun dance on the waters of Little Traverse Bay by day, the expansive deck at Beards Brewery is the place to be when the weather's fine. And not just for the beer — while you're there, don't miss the delicious food that the owners (at least one of them sports a beard) have put together to accompany their wittily named brews, such as Oh! The Citraninity! (notes of citrus and grapefruit, balanced bitter finish) and Copperstar Galactica (hoppy but not bitter, aromas of fruit punch and pomegranate). Pizzas, though surrounded by an enticing array of other beer-friendly menu items, are a big deal at Beards. Go bold and try the Peppadew and Pepperoni version (also with red onion, marmalade, fresh mozzarella, fresh basil, cheese blend and house marinara sauce on a garlic-parmesan crust). Serving lunch and dinner 11:30am to 10pm Wednesday–Sunday, closed Monday and Tuesday. (231)753-2221, www.beardsbrewery.com
NOTE: Al fresco dining is, of course, weather dependent, so it's wise to call ahead and/or check websites/social media before you go to be sure that these outdoor spaces are open.
Trending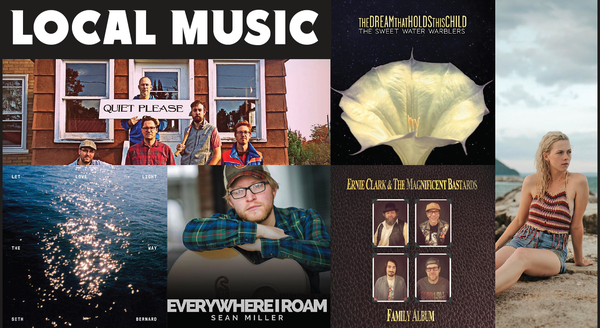 Listen Up: The Latest & Greatest Spins
So 2020 has not been a particularly great year for arts and entertainment. Film releases have been delayed. Concert tours ...
Read More >>

The Libertarians are Coming
Something in the ether, maybe, brought together a bunch of people who over the last year or so declared themselves Liberta...
Read More >>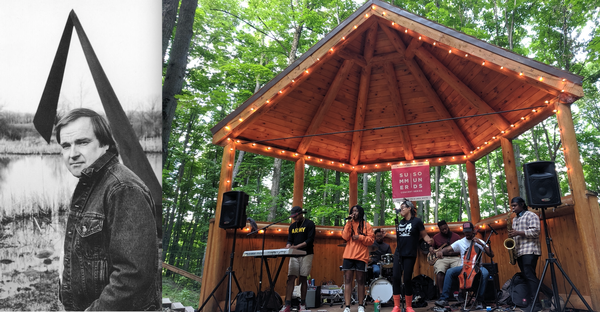 The Other Summer Sounds
As with virtually all venues, the enchanting forest-circled amphitheater inside Michigan Legacy Art Park — like its ...
Read More >>

Say You Were a Fan First
Who are the next big bright stars on the Michigan musical landscape? Who's the next band to become a local favorite ...
Read More >>
↑