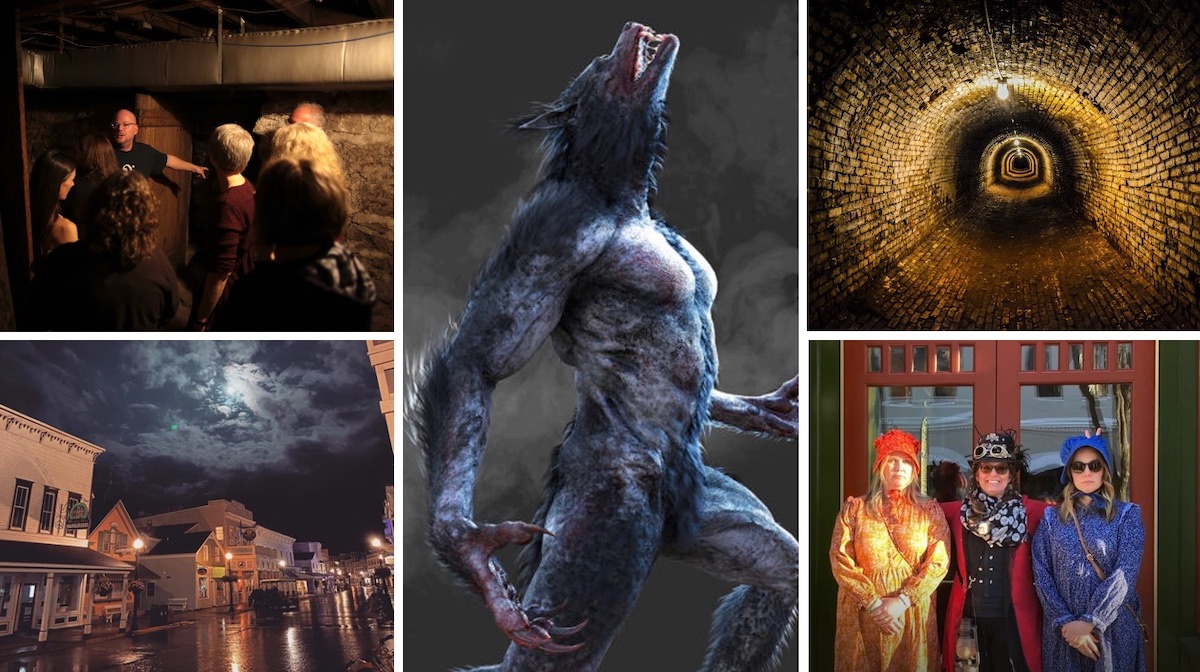 Experience the Mystery
From the haunted to the historic, here are five tours and attractions you won't want to miss
'Tis the season for mysterious and spooky fun. No, it's not Halloween, and there are no headless horsemen or Great Pumpkins rising from the pumpkin patch. But thanks to the fascinating histories and spooky legends of northern Michigan, it's always the season for exploring the outré side of the area.
Mystery Town USA
mysterytownusa.com
In Mackinaw City, Mystery Town USA brings to life (or afterlife) legends and creepy historical oddities. The walk-through adventure was inspired by the vintage roadside Americana attractions of yesteryear, albeit with today's technology. Rotating portals to other realms and underwater passages will take visitors to the Unicorn Forest, Area 51, and beyond.
One of the notable displays is that of the Michigan Dogman, a local legend so popular it has been the subject of songs, podcasts, and even several films. The Dogman is a large, amber-eyed biped with the head of a dog and torso of a man. The first sightings date back to 1887 in Wexford County, when two lumberjacks claimed to have seen such a creature. Fifty years later, a man was attacked by a pack of wild dogs in Paris, near Big Rapids, and said one of them walked on two legs. Various other reports have come from Allegan County, Manistee, and Cross Village.
While the Dogman is Michigan's own, Mystery Town USA includes adventures such as the Bermuda Triangle, Pirate Treasure, Atlantis, King Tut's tomb, Bigfoot, and everyone's favorite, the Loch Ness monster.
Haunts of Mackinac
hauntsofmackinac.com
Islands are often known for spooky tales and paranormal activities, and Mackinac Island is no exception. After a visit to Mystery Town USA, Take a quick ferry ride across the water to the island for a stroll with Haunts of Mackinac. Those interested in history, legends, and ghost stories are sure to find fun (and maybe a bit of fear) here.
Several of the island's hotels and B&Bs carry with them accounts of hauntings, from footsteps in the hallways to furniture moving to specters of one sort or another. At the Grand Hotel, the tales include a man in a top hat playing the bar's piano, while another is a woman in Victorian clothing who roams the halls. The shade of a man named Harvey is reported to haunt Mission Point Resort. Due to a broken heart, Harvey shot himself, and his body wasn't discovered behind the hotel until six months later. (Some stories suggest he didn't commit suicide but was murdered.)
The toys in the Kids' Quarters at Fort Mackinac—the oldest building in the state—always get put away neatly at night, yet staff sometimes arrive in the morning to find the toys out of place as if they had been played with. "Lucy," a young girl with curly hair wearing a light-colored sundress, has been seen following people on the staircase at Crow's Nest Trail, peeking out the windows at Pine Cottage and on several occasions during Haunts of Mackinac tours.
Both Mystery Town USA and Haunts of Mackinac open later this spring.
Petoskey Yesterday
petoskeyyesterday.com
South of the bridge, you'll find more haunted happenings. Take Chris Struble and his Petoskey Yesterday tour company. By day, Struble is a mild-mannered jeweler in the gaslight district of Petoskey. By night, he becomes the city's "Ghost Docent."
When the city asked Struble to take on the role in addition to leading Hemingway tours, he began delving into that side of the city's history. "It was a rough and tumble town," says Struble, and one with a rich history, from its original indigenous inhabitants to its days as a center for the lumber industry.
Struble's Haunted Petoskey tour takes guests to supposed hotspots of supernatural activity include City Park Grill, with speakeasy tunnels beneath the building where illicit liquor was brought in; the Terrace Inn in Bay View, where any number of guests have experienced paranormal activity; and the Perry Hotel, where staff and guests have seen a number of oddities.
Several of Perry Hotel's stories are centered on the Noggin Room, the downstairs bar at the Perry. Struble tells us a tale of three staffers who had left beer taps to soak in a pitcher of soda water. Upon hearing a noise after they'd just locked up, they returned to find the pitcher was now half full—with a book shoved in it—and no water had been spilled.
Other frightful sights include appearances by young children dressed in Victorian-era clothing. "Nobody ever feels alone in the Noggin Room," Struble says.
The Village at Grand Traverse Commons
thevillagetc.com/tour
History or mystery? It's definitely the former at the Village at Grand Traverse Commons. Kate Angove, part of the administrative team at the Minervini Group, says the tours of the former State Hospital are meant to be educational and honor the people who worked there and the patients rather than seek out any sort of spectral visitations.
"We do historical tours. The hospital has a unique history," she says, noting that the tour hosts are extremely knowledgeable about the property and its past.
Which isn't to say the tours don't have a bit of creepiness about them. That's perhaps especially true of the twilight tours, which include an excursion into the basement of a former Men's Ward Cottage as well as the underground steam tunnels. "They were originally filled with steam pipes. It's how the property was heated and cooled," says Angove. "They've now been removed and you can stand up in them. It's a neat feature of the tour."
The 90-minute tours—both the daytime walking tour and the twilight tour—showcase the history of the Village, which opened as Northern Michigan Asylum in 1881. It was one of four Kirkbride Buildings in the state, with wings extending from a central point, all receiving sunlight and fresh air. It was listed on the National Register of Historic Places in 1978 and designated a Michigan State Historic Site in 1985. Ray Minervini purchased the property in 2002, and his company has been working since then to restore the historic structures.
Haunted Traverse
hauntedtraverse.com
Back on the creepy side of the street, Desirae Dine is only too happy to provide patrons a glimpse of the supernatural. Haunted Traverse is geared toward visitors who want to "explore the thrilling side of Traverse City," as the website says. The TC tours are an offshoot of the Halloween-time Ghost Farm of Kingsley Haunted Trail.
"I always thought Traverse City would be a great place for a haunted tour," says Dine. "We wanted to do a different take: historical, highlighting downtown Traverse City, and bringing to light the people that were here before us." Dine and her fellow guides dress for success, with attire that nods to steampunk.
"The history of Traverse City is very centered on the paranormal," Dine adds, noting Wiccan beliefs and civilizations that predated the arrival of Europeans, including Native Americans and mound builders. Among the highlights is the haunted Traverse Hotel, which was located at Front and Union, where there have been reports of hauntings in the basement.
Dine tells us the goals for a tour are to offer a look at the ghost lore in the area to Traverse City's guests, showcase the history of the Traverse City area, and represent northern Michigan with honor and enthusiasm. She says the tours tend to attract more visitors than locals, but who wouldn't like to know more about the spirits who may walk among us?
Trending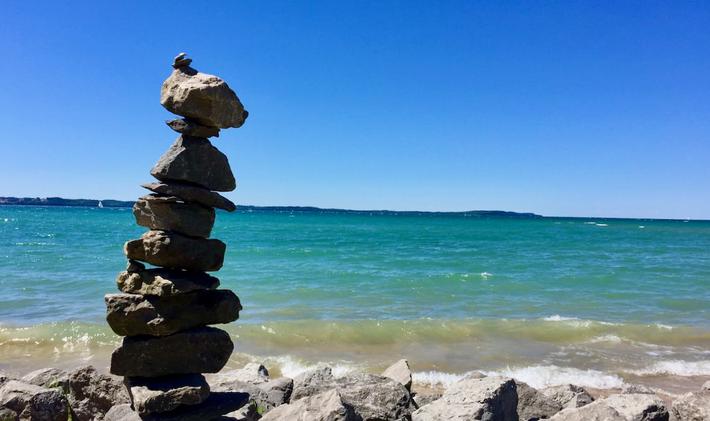 How Healthy Are Our Waters? Experts Weigh in on the Well-being of NoMi Waterways
We're all about to be waist deep in the busy summer season, and for many of us, it's also time to get waist de...
Read More >>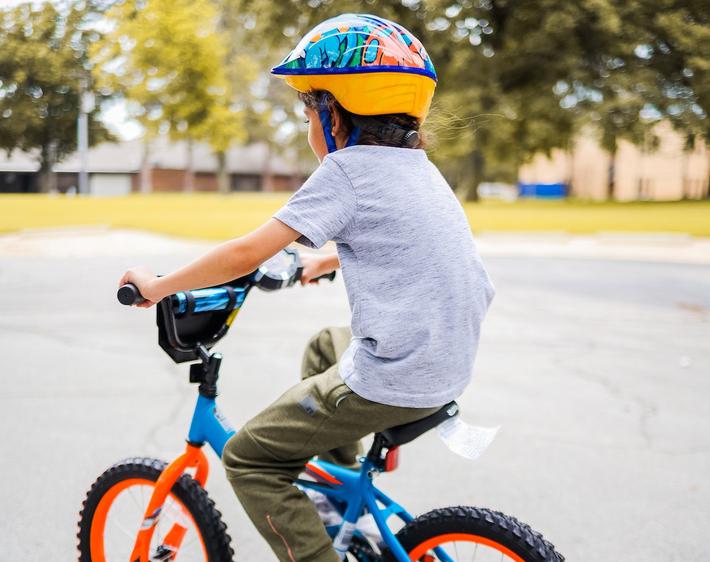 A Bike Extravaganza for the Kiddos
This event is brand new to northern Michigan: The Lynn Duse Memorial Kids' Bike Fest. Duse, the longtime Petoskey bu...
Read More >>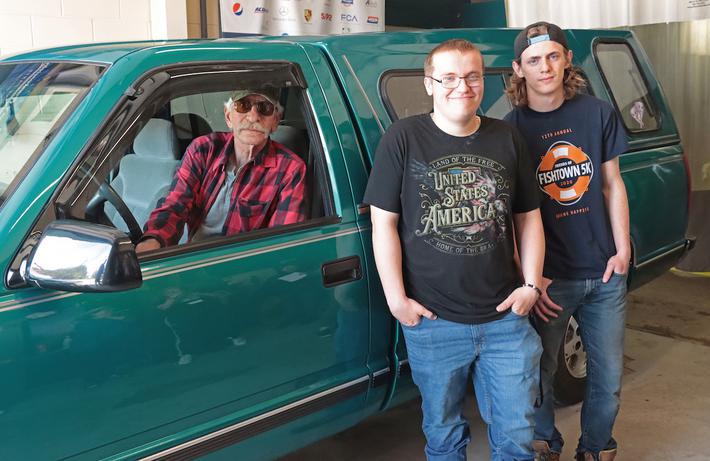 A Year-Long Restoration Complete
When a deadly tornado hit Gaylord last May, it left a trail of destruction to people's homes, businesses, and proper...
Read More >>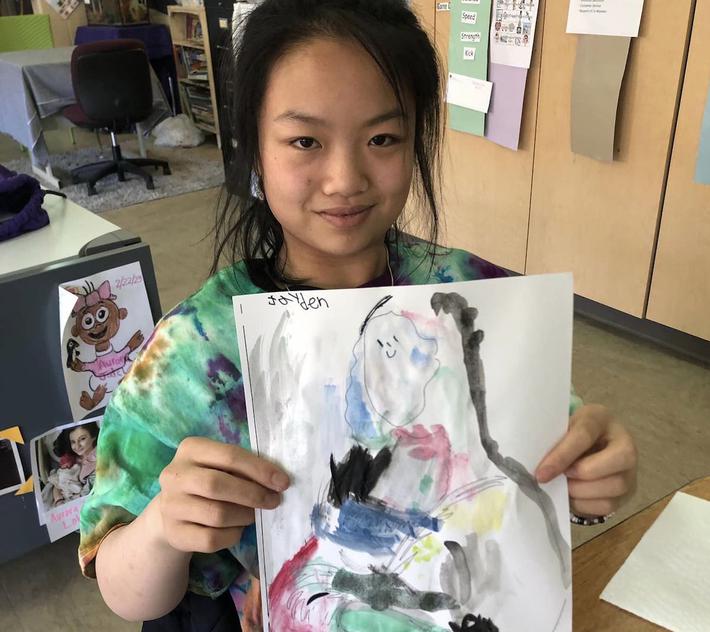 Investing in Local DEI Efforts
The Grand Traverse Regional Community Foundation announced it has awarded $11,000 from its Diversity Equity Inclusion (DEI...
Read More >>