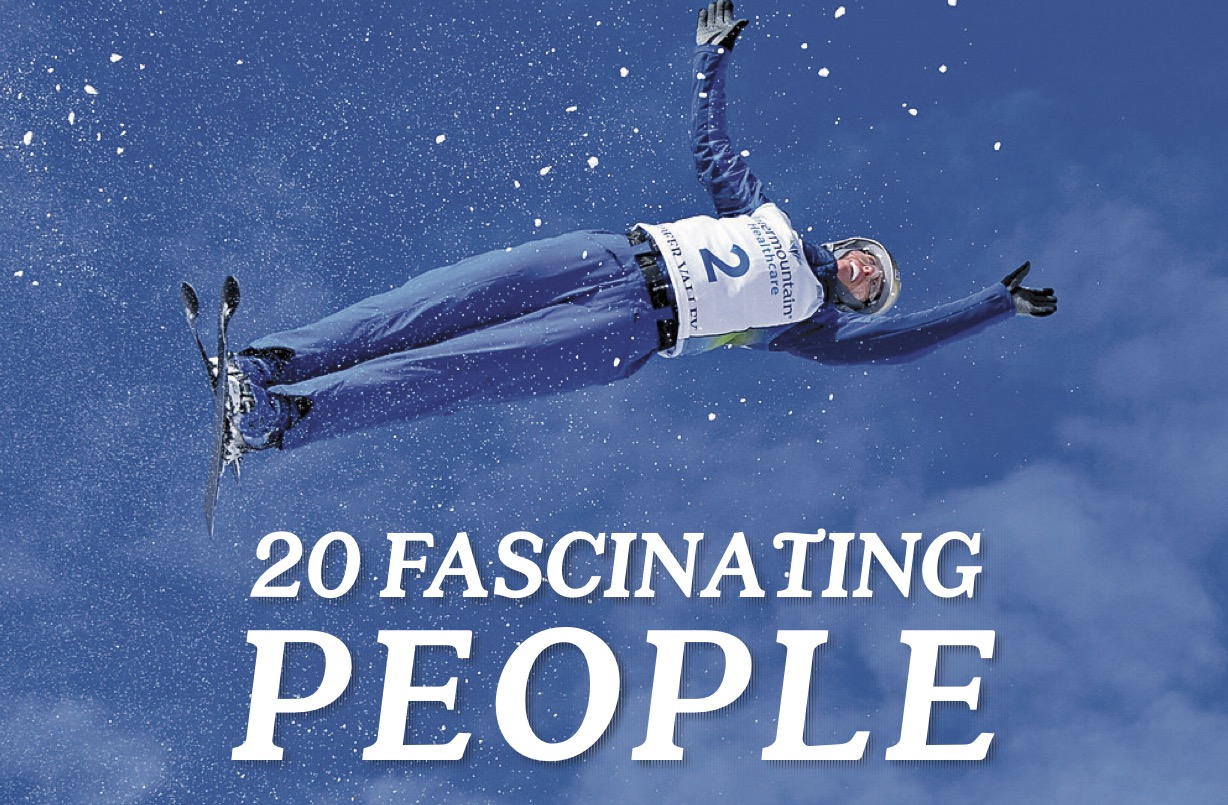 Northerners You Need to Know
2022's 20 Fascinating People
Every year, Northern Express reporters scour the North to find 20 average folks dedicating themselves to a not-so-average existence—people who parlay their passions into something bigger than themselves. Here, our picks for the unsung but undoubtedly fascinating people who reporters Al Parker, Lynda Wheatley, Craig Manning, Geri Dietze, Ross Boissoneau, and Jillian Manning found for 2022:
Paxton Robinson: The Mountain Biker
Most eight-year-olds spend Saturday mornings sleeping in or watching cartoons. On November 4 last year, though, eight-year-old Paxton Robinson whiled away his Saturday doing something else entirely different: riding a prestigious 30-mile bike race through the wooded trails of northern Michigan.
Robinson is a third-grade student at Traverse City's Cherry Knoll Elementary. He is also, as of November, the youngest person ever to finish the full 30-mile Iceman Cometh Challenge bike race. With a top prize of $6,000 for the male and female victors, the Iceman is a big deal, typically drawing 5,000 competitors from throughout the United States. Robinson's 3:32:44 time enshrines him in the event's history,

There's some family history at play here too. Two eight-year-old cyclists crossed the Iceman finish line on November 4: Robinson and fellow local biking enthusiast Asher Schwartz, who is several months older. (Schwartz finished in 2:54:32.) In becoming the two youngest cyclists ever to finish the epic point-to-point course, the pair broke the records held by none other than their respective older brothers.

Indeed, Crosley Robinson and August Schwartz first rode the Iceman several years ago, when they were 10 and 9 respectively. They reigned as the Iceman's two youngest finishers until last fall, when their younger brothers edged them out.
Al Laaksonen: The Captain
Eighty-three-year-old Al Laaksonen fell in love with a princess. Not one of those Disney heroines, but a 65-foot charter boat, The Princess of Ludington. "It was love at first sight," says Laaksonen, who was a charter boat captain for 37 years.
When he purchased The Princess in Wisconsin in 2020, his plan was to offer sightseeing tours of Lake Michigan out of Ludington. He ran 50 tours for more than 1,000 passengers in the short time the Princess was in Ludington. But after a year, docking space for the 48-year-old Princess became an issue. Luckily, officials from Manistee came knocking. They heard about the situation and urged Laaksonen to move north a bit.
"The most meaningful accomplishment, to me, was the outpouring of genuine support from the community of Manistee," says Laaksonen. "The multitude of people walking the river boardwalk who stopped to express their gratitude that we brought the Princess to Manistee was impressive."
Now he offers several types of cruises.
"I'm proud to reveal that we entertained close to 4,000 visitors our first season in Manistee," says Laaksonen. "We provided 18 private cruises for weddings, celebration of life activities, anniversaries, office parties, corporate celebrations, political gatherings, and family reunions."
Carol Greenaway: The Ballerina
Ballerina, teacher, and choreographer Carol Greenaway has performed all over the country, but for years, she's called Frankfort home. The Detroit native began dancing at age three, and by the time she was eight, she was already securing leading roles. "I danced Clara in The Nutcracker with the Ballet Russe de Monte-Carlo," Greenaway says. "My teacher sent me to the audition, and I won."
That was the start of a long career with the Ballet Russe de Monte-Carlo, which operated in the U.S. from 1937 to 1968. Greenaway continued to dance with the company throughout high school, but only on the weekends and "if they were on this side of the Mississippi River," as she didn't want to miss a day of school. After college, she joined the company full time, and says some of her favorite parts were in productions of Swan Lake and Coppélia.
Greenaway left the ballet in the mid-fifties and, thanks to a family connection, made her way to Frankfort. The shift to small town life wasn't easy, but Greenaway began to teach and build the local dance community. Notably, she has worked with fellow choreographer Ingrid Bond and the Ramsdell Threatre in Manistee for renowned productions of The Nutcracker featuring the ballet's original choreography. Although Greenaway is now retired, and jokes that at age 90 "I don't move too fast," NoMi ballerinas will be dancing her steps for years to come.
Mike King: The Outdoor Filmmaker
You might think of him as the quintessential ski bum, working during the summer to go out West to hit the slopes in winter. You'd only be partially right. Mike King does indeed work in the summer and fall at his family's orchards in Kewadin and Central Lake—you may be most familiar with the King Orchards farm stand/bakery/cidery on US 31—and he does frequently travel to Colorado and other skiing locales.
But he's gone beyond that, creating the film "Lake Effect" about some of his professional skiing exploits in the Great Lakes State. Why? "That's a great question. It's for the art of storytelling," he says, though he immediately adds, "it might be ego."
It's definitely the best way he can think of to share and celebrate the pleasure of deep powder in his home state. "It's a platform to show people—parents, friends—what we were doing," King says of the two-year project created during the pandemic when travel was at a standstill. The film took him to "high level ski atmospheres like out West" across Michigan, trading mountains for Midwestern hills. A truncated version was shown at the Fresh Coast Film Festival in Marquette, and the teaser is available on YouTube. The full-length film will be premiering this fall.
Liz Saile: The Rock Hound
Liz Saile traded in precious gems for stones she thinks are just as beautiful…especially because they're from Michigan. Saile started working at Martinek's Jewelry in 1970, which was owned by her mom and stepdad. After her stepfather passed away, her mother decided to sell the business, and Saile began taking classes in silversmithing and rock polishing.
Today, Saile sells her jewelry made from Petoskey stones, Leelanau Blue, Frankfort Green, and Fordite at her shop in Cedar (L. Saile Designer Jewelry), which doubles as a retail showroom and workplace. She's known for the pendants, earrings, and other jewelry she makes herself. Originally, Saile focused on Petoskey stones before branching out to include Leland Blue, the leftover slag from iron ore processing. Next came Frankfort Green, also the remnants of iron ore smelting, but with a greenish hue. Then there's Fordite, formed from the leftover auto paint walls at manufacturing sites across the state.
"Who would have thought?" asks Saile, referring specifically to the Fordite, though she could be speaking about any of the leftover byproducts she uses, as well as the natural coral that eventually became Petoskey stones. "It's good therapy," she says of jewelry making. "Who else gets to say they get to go to work at the beach?"
Mickey Cannon: The World-Traveling Chef
He served as the personal chef to Sandra Day O'Connor. He cooked for four presidents and worked in the Italian Embassy. And he owned one of northern Michigan's most beloved Italian eateries, Tuscan Bistro. He's Mickey Cannon, and today he is the Food & Beverage Director at Odawa Casino.
"I was either going to be an architect or a chef," Cannon tells us. He even went so far as to put down a deposit to attend an architecture program in his youth, but made the switch to cooking at the last moment. This has made Cannon something of a "food architect," a role he got to put into practice when he lived in the Soviet Union in the 1990s while opening the first American hotel in the country. Cannon designed three 4,000-square-foot kitchens in the place, creating his own culinary empire.
Now, with four decades of experience under his chef's hat, Cannon is designing menus for Sage Restaurant and other Odawa outlets in Petoskey and Mackinaw City. We asked Cannon what he'll be eating—and hopefully serving—this spring as Michigan produce comes into season. His answer: "grilled asparagus with prosciutto, a lemon vinaigrette, shaved Reggiano, and a balsamic glaze." (He had us at "asparagus.")
Kaila Kuhn: The Teenage Olympian
From Boyne Mountain to Beijing 2022, Olympian Kaila Kuhn, 18, has been on a trajectory: straight up. How did she do it? At the age of 14, she won the Junior Nationals and took second place at U.S. Nationals. Her 2019 World Cup debut at Lake Placid, followed by two 8th place World Cup appearances in China, proved her bona fides. And two podium appearances in 2021—a 3rd at Yaroslavl, Russia, and a 3rd at Deer Valley, UT—paved the way for her Olympic dream, where she finished in 8th place.
But Kaila's story begins much earlier: alpine skiing at 18 months, competitive gymnastics at age 12, and, at the suggestion of another Olympian, Winter Vineki, Kaila earned acceptance into Park City's Ski & Snowboard Elite Aerial Development Program, which gave her the foundation for success.
What propelled her to such heights? "It's complicated," says her father, Chris Kuhn. "In order to be successful, she's had to be truly self-motivated." That meant leaving home at 13 for full-time training and online schooling in Park City. "She was truly focused and driven to follow her passion," Kuhn adds. Keep an eye on Kaila Kuhn: U.S. Ski & Snowboard, the national governing body for Olympic snow sports, calls her "the future of U.S. aerials skiing."
Winter Vinecki: The Philanthropic Olympian
Freestyle skier Winter Vinecki, 23, of Gaylord, made her Olympic debut at the Beijing 2022 games, earning a 15th place finish in aerials, but her astonishing history as a competitive athlete began much earlier.
Vinecki was just five years old when she ran her first 5k and eight when she completed her first 10k, but it was her father Michael's battle with a rare and aggressive form of prostate cancer, when Vinecki was nine, that brought out yet another side of her character: cancer research advocate and prolific fundraiser. While the family was at the Mayo Clinic in Rochester, MN, for her father's treatment, Vinecki began to seek out marathons and races in the area, using the events as a platform to talk about prostate cancer. To that end, she formed TeamWinter.org, a 501(c)(3) non-profit to raise money for prostate cancer research and awareness.
All the while, Vinecki was competing. She was the 2010 and 2011 Ironkids National Champion and its official ambassador. At age 14, she became the youngest person to complete seven marathons on seven continents. (Her mother accompanied her, also making them the first mother-daughter team to accomplish the feat.) Winter has been honored for her work with the ANNIKA Inspiration Award and the Athletes in Excellence Award from The Foundation for Global Sports Development. To date, TeamWinter has raised over $500,000 for prostate cancer research. Publication of her memoir, Winter's Rising, is set for fall 2022.
Michael Lehnert: The General
20 years ago, United States Marine Corps Major General Michael Lehnert played a key role in establishing and leading the Guantanamo Bay detention camp. Now retired, General Lehnert has long been one of the strongest and loudest voices advocating for the camp's permanent closure.
His advocacy on that front has made Lehnert a national figure, regularly interviewed by major news entities like NPR and Politico. The quieter side of Lehnert's life, though, plays out in northern Michigan, where lives in Williamsburg with his wife, Denise.
Until his retirement in 2009, Lehnert had led a storied military career that involved overseeing every marine base in western Mississippi and commanding 5,000 marines in the 2003 invasion of Iraq. Because of Guantanamo Bay's controversial place in American history, though, much of Lehnert's legacy is tied to the detention facility. After helping to open the camp, Lehnert served as its commander for approximately 90 days before handing off the baton to a U.S. Army commander.

In the years since, the general has stated that his policy was to treat all detainees humanely. That approach fell by the wayside in later years, as the camp became mired in controversies surrounding its use of torture, among other human rights violations.

Speaking to the Los Angeles Times in 2009, Lehnert expressed his believe that the U.S. had "lost the moral high ground" in the war on terror, largely because of those practices. And in 2017, Lehnert told the Northern Express that Gitmo and its tactics had become "a recruitment tool for ISIS."

"It puts our troops at risk," Lehnert explained at the time. "We're supposed to be a nation of laws. We're supposed to be better than this."
Dr. Rachel Sytsma-Reed: The Deep-Sea Explorer
Bay Harbor's Great Lakes Center for the Arts welcomed a new face this winter: Dr. Rachel Sytsma-Reed, whose resumé includes work with Munson Healthcare Charlevoix Hospital, Calvin University, NOAA's Office of Ocean Exploration, and NASA's Astrobiology Institute. We can't decide if we're more impressed by her doctorate in educational psychology or her master's in astrobiogeochemistry—try saying that five times fast!—but we're definitely impressed that she has explored the Mid-Atlantic Ridge with the same deep-ocean research submersible that took the first crewed expedition to the Titanic. (Jack, come back!)
But the depths of the Atlantic have nothing on northern Michigan. Drawn to the beauty of the region since she was a kid visiting in the summers, Dr. Sytsma-Reed made the move to Charlevoix with her family in 2016. She now heads up GLCFA's Next Gen Program, which helps connect Michigan students to free performances and educational programming. All of the roles she's held—from science to teaching—come together at GLCFA.
"I get to work with a fantastic group of people committed to providing opportunities for people of all ages to broaden their senses of art, beauty, creative expression, and possibility," Dr. Sytsma-Reed says. "I get to help children and young people learn to express themselves, in part by helping them see what expression looks like."
Mark Wilson: The Pursuer of Change
Mark Wilson certainly knows how to stay busy. He has served on the Tribal Council of the Grand Traverse Band of Ottawa and Chippewa Indians since 2014, presently as its Vice Chair. Last November, he was elected as a Commissioner for the City of Traverse City. And he's also the owner of New Leonard Media, a Native American-owned multimedia recording studio that offers podcast and vocal production in Traverse City.
"Having grown up during the golden era of hip hop music and culture, I wanted to be an entertainer in the arts of rapping, disc jockeying, and break dancing," Wilson says. This led him to work as an audio engineer, DJ, and multimedia specialist, all of which informed his work as a creator and storyteller today.
Wilson says his different roles in the community come together "in effort to support those who advance positive change." Indeed, Wilson is part of this change, both through his public service and through his podcast called "The Pursuit Of…", where Wilson and friend Ryan Buck interview guests who are in pursuit of making life better through nonprofit work, entrepreneurship, art, environmental protection, and more. You can find them on your favorite podcast platform to hear what other fascinating people and organizations are doing in northern Michigan.
Emily Umbarger: The Green Thumb Educator
Instructor of Agricultural Sciences. Certified Master Gardener. Beekeeper. Emily Umbarger is all these things, and she also serves as the Director of Sustainability at Interlochen Center for the Arts. "It didn't exist prior to 2019," she says of her title. "If you dream it, you can create it."
After PhD studies at MSU, the public-school teacher couldn't find a job amidst the economic collapse. She instead took a position as a guidance counselor at Interlochen the next year. Nine years in, she began teaching about sustainability. In 2019, Umbarger led the institution's efforts in sustainability across the campus, for which it received the US Department of Education's Green Ribbon School award. She oversees the school's initiatives in composting, recycling, sustainability-related outreach, and community education and manages Interlochen's botanical laboratory and school garden complex, the latter of which provides fresh vegetables for the school cafeteria and local food pantry. Umbarger also teaches agriculture science at the academy, where every day the students work with the plants.
Good work bears good fruit: in 2020, the American Heart Association awarded Interlochen the US Teaching Garden of the Year. "It's about food sovereignty, equity, accessibility," Umbarger says. In the summer, she offers an Education in the Garden series for the public, combining subjects like art, learning, and cooking with gardening.
Alex Sanderson: The Strongman
Like so many other high school sports standouts, Alex Sanderson found himself looking for a new athletic pursuit as he entered young adulthood. Sanderson had been a goalkeeper on the Traverse City West Senior High soccer team until he graduated in 2009, and even continued to play soccer in college. As he left his school years behind, though, he confesses to feeling stymied about what to do next.

"I kind of felt lost," Sanderson tells us. "I knew I still wanted to pursue some kind of physical endeavor. But once you've stopped doing sports through school, the possibilities for competitive stuff are pretty limited."

Sanderson ultimately found his new passion in strongman competitions. Those contests put their participants through multiple challenges of extreme strength, such as the "dead lift" (a twist on normal gym dead lifts, which Sanderson says can involve lifting anything from "giant Hummer tires" to cars) and the "log press" (which involves lifting and holding a heavy "log" over one's head for a certain period of time). Competitors fit into weight classes, similar to boxing or wrestling.

Until recently, Sanderson says the closest strongman competitions were downstate, which meant a lot of travel. But a few years ago, the Grand Traverse region got its own contest, the "Great Lakes Strongest Man," which Sanderson says has been a game changer. Competing in that event (and even winning his class two years ago) has been a highlight of Sanderson's post-soccer athletic pursuits.

"It's amazing to have a competition in my hometown," Sanderson says with a laugh. "I have to represent!"
Tawny Hammond: The Schooner Queen
Water and boats have been constant themes throughout Tawny Hammond's life. After growing up in Illinois on the shores of Lake Michigan, Hammond is fulfilling a lifelong dream of combining her love of the outdoors with a vigorous entrepreneurial spirit. She's one of a very small number of female schooner captains on the Great Lakes.
Hammond is the owner and newly minted captain of the Wind Dancer, a 60-foot schooner that provides scenic sailing tours of Lake Michigan. The three-hour tours begin in May and run through September. "As a Wind Dancer guest, you'll not only be treated to great sailing, you'll also get to taste food and drink from around the region as you learn about points of interest from our crew," says Hammond.
Once welcomed on board by the captain and crew, guests kick back and relax. The journey is jammed with photo-worthy moments. "We're eco-tourism," she explains. "We give our guests the opportunity to taste and experience northern Michigan. We really want to create fans of Traverse City and of northern Michigan."
In TC, Hammond also owns The River Outfitters, a family business that offers kayak, stand-up paddleboard, and bike rentals along with trips and tours of Lake Michigan, Boardman Lake, and the Boardman River.
Duane Brandt: The Smooth Operator
"On a busy day, I see the same faces over and over and probably load north of 10,000 people," says Duane Brandt, operator of the six-place express lift, Boyne Mountain's high-speed Doppelmayr. Brandt likely knows hundreds of people by name. "Repetition helps, but I challenge myself to learn ten new names each season. I've watched one whole generation grow up and am working on another," he says.
But thousands must know him: he's the guy in the holiday-appropriate attire, the one boosting the kiddies onto the chair or tucking a piece of candy into the hood of a youngster's jacket. He's the gallant, offering his arm to a lady as she slides through the gates. He's been doing this, and doing it well, for 17 years. In many ways, Brandt is the face of Boyne Mountain.
But safety comes first. "My job is to make sure guests are safely loaded," Brandt explains, "and my responsibility is guest satisfaction." Brandt sends everyone off with equanimity, grace, and, when necessary, forbearance. All are treated well: guests, locals, first-timers, the frightened, the oblivious, the stragglers…that shivering sliver of humanity that one sees on any busy chairlift.
Brandt is the right person in the right job; he loves people (and the feeling is mutual). "I've never had a bad day outside at my lift. I am truly blessed."
Katherine Corden: The Lakeside Painter
Because she lives in northern Michigan, painter Katherine Corden finds inspiration everywhere she goes. Her loose, layered style gives viewers the feeling of "hanging out at the beach" or enjoying the "social culture that surrounds our Great Lakes region."
The Detroit-raised artist made the move up north to capture those moments, both in her art and in her personal life. A former physical therapist, Corden began to lean more and more into her hobby of painting, which had been cultivated from a young age by her art-teacher mother. Now, art is her full-time job and a way to build community, leading her to connect with two of her most-admired northern Michigan artists: Alyssa Smith and James Morse. (Check them out!)
Corden also makes sure to connect back to the natural world she loves. "I donate a small percentage of my proceeds to FLOW," Corden says, referring to the environmental nonprofit For Love of Water. "I live here in Traverse City, and the Great Lakes are so important to me. They inspire my work significantly, and [FLOW is] a cause that's close to my heart."
Corden's paintings can be found in galleries throughout the country, in northern Michigan, and on her website, katherinecorden.com.
Kyle Evans: The Rebuilder
What do you do when you've designed automobiles, multi-family apartment buildings, and even your own home? Apparently you purchase a derelict former health center/hospital. At least, that's what Kyle Evans has done.
The former Detroit resident and his husband Michael "Chet" Chetcuti designed their northern Michigan home—called "Chetonka"—and now split their time between Northport and Miami Beach. Evans attended the College for Creative Studies in Detroit where he learned the basics before applying them for Jeep, later turning to yachts, a multi-family apartment building in Detroit, and an Airbnb development in progress on a former industrial property in Northport. "The car thing is deep in my blood, but I did separate projects on the side. I've always had architecture in mind," Evans says.
Last year, the Northport resident purchased the former Leelanau Memorial Health Center on High Street, which he says boasts fantastic views across its 11 acres. He's unsure about exactly how this next project will take shape, though he says a mix of uses is a good possibility, from housing to retail and beyond. First is demolishing the crumbling structure, then he'll determine how to move forward. "We're taking our time to make sure we address every possible route," he says.
Joe Van Alstine: The Foodie
Joe Van Alstine is a man with many irons in the fire. To start, he's the program director for the Little Traverse Bay Band of Odawa Indians food distribution program. That role eventually led to a seat on the National Association of Food Distribution Programs on Indian Reservations (NAFDPIR), which represents 276 Indian Tribal Organizations throughout Indian Country. He also volunteers his time as chairman of Ziibimijwang Inc., a 300-acre tribally-owned nonprofit farm located near Mackinaw City. And last fall, he joined the board of the Groundwork Center for Resilient Communities.
Collectively, those roles put Van Alstine at the forefront of tribal food sovereignty and food security—not just for the Little Traverse Bay Band and other native tribes throughout the state of Michigan, but also for tribal populations across North America. In the simplest terms, Van Alstine's job is about making sure citizens across Indian Country have access to food. But it's also about taking steps to improve the quality of the food. And in recent years, Van Alstine has even dedicated himself to restoring age-old food traditions for native tribes.

"Years ago, we didn't have fresh produce in the packages, like we do now," Van Alstine says of NAFDPIR food distribution programs. "We've done a lot of work with the USDA to make the food package better and healthier for tribal citizens. We have even been incorporating more of the food that tribes traditionally ate to help restore the diet of the citizens across Indian Country. For example, for us here in the Great Lakes region, we ate a lot of fish and a lot of rice, historically speaking. So now, we have walleye in the food package, and we have wild rice in the food package. Those are traditional foods that our people now have more access to."
Molly Ames Baker: The Outdoorsy Teacher
There was a time when Molly Ames Baker envisioned a different life for herself. When she headed off to college for undergrad, she wanted to pursue degrees in psychology and French. Soon, though, she found she was living for the weekends, when she'd lead fellow students into the wilderness as part of her college's outdoor education program.
That realization led to the rest of Baker's life. Soon, she'd enrolled at the University of Minnesota to earn her master's degree in outdoor education. She and her husband ended up at Colgate University, where they ran the school's outdoor education program for 12 years.

Today, Baker is the founder and director of learning for TOPOnexus Center for Learn Local. The Harbor Springs-based nonprofit seeks to build "a connection to your place and a commitment to your community" by encouraging learners of all ages to explore what's right outside their door. At the heart of the organization, Baker says, is a drive to make learning "fun, interactive, experiential, learner-centered, localized, and always grounded in community."

Current TOPOnexus projects include a partnership with Harbor Springs Public Schools to reshape summer camp learning, an initiative with the National Parks Services to reinvent historic preservation workshops, and work with the Industrial Arts Institute in Onaway to inspire people in the trades to be more civically engaged.
Nancy Bordine: The Writer
Nancy Bordine technically retired from Munson about eight years ago, but she says, "Being a nurse is like being in the Mafia…you can't just walk." If you see somebody in need of something you can provide, she says, "You just do it." Care, you might say, is what Bordine does best.
But her interests and acumen extend farther: Lake Michigan surfing, teaching, history, vintage fashion, historical re-enactment, fostering (one dozen kids and counting), hosting exchange students, running an Elberta B&B—oh, and somewhere in there, interviewing an Anishinaabe medicine man to help her craft diversity education training for Munson nurses. Then publishing a children's book about diversity appreciation and inclusion strategies…via quilting.
Her picture book, What Do You See, will be published by Mission Point Press this summer. Most recently, she finished a YA novel about an Anishinaabe girl training to become a medicine woman in 1850s Omena, right as Michigan was methodically working to displace Native tribes and erase their traditions—and with them, the girl's dreams. Her novel, yet untitled, was picked up by an agent just last week.
Trending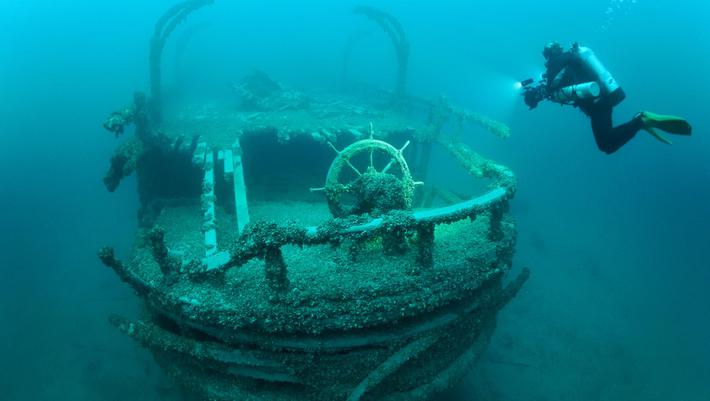 Shipwreck Whiskey: What's Happening with the Westmoreland and its High-Proof Treasures?
Few shipwrecks in the Great Lakes pique the fascination of armchair treasure hunters as much as the Westmoreland, a cargo-...
Read More >>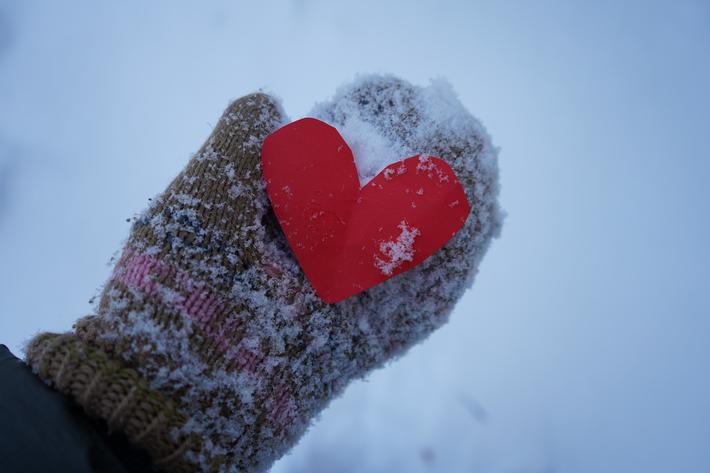 Merry Mittens
The Mitten Real Estate Group of Traverse City is helping make the season bright by kicking off their first Mitten Drive, w...
Read More >>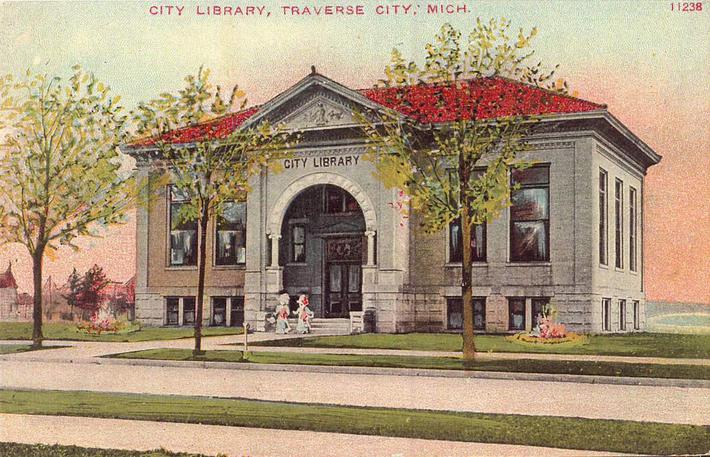 A Literary History of TADL
Next year, the Traverse Area District Library (TADL) will celebrate 155 years of lending books and knowledge in northern M...
Read More >>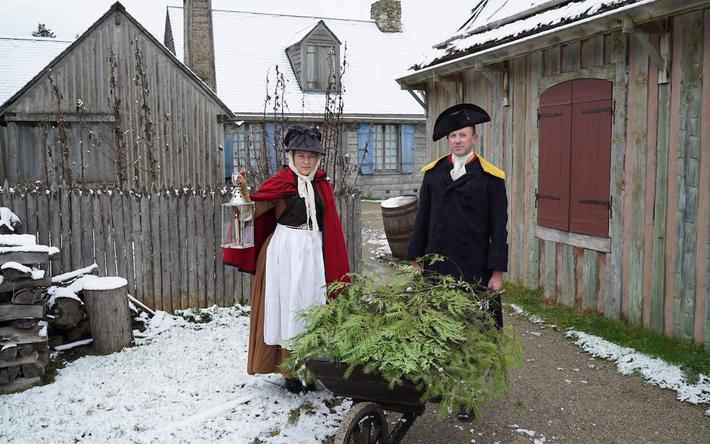 A Colonial Christmas
Christmas is coming to Colonial Michilimackinac in Mackinaw City on Dec. 9. Storytellers will bring to life the stories of...
Read More >>