Northern Express Fascinating People of 2023
20 cool, creative, and community-changing people of northern Michigan
Activists and artists. Beekeepers and bird-watchers. Chefs and coaches. Welcome to the 10th anniversary of the Northern Express Fascinating People issue! Here, you'll find 20 inspiring individuals whose jobs and passion projects have not only taken them all over northern Michigan, but across the world. (And, for one individual, to outer space…at least via sound waves.)
With the help of writers Ross Boissoneau, Kierstin Gunsberg, Laurel Manke, Al Parker, and Sarahbeth Ramsey, we bring you the stories of the 2023 Fascinating People.
Jannan Cornstalk: The Water Rights Activist
Jannan Cornstalk, a citizen of the Little Traverse Bay Band of Odawa Indians and founder of Mackinaw City's Water Is Life Festival, does meaningful work every day to protect our waters.
"People take water for granted," Cornstalk says. "I always say water is our relative. Treat it with the respect you would have for someone you love. It is not a commodity to be controlled or sold; it is something we need to survive."
Five years ago, Cornstalk revived the Water Is Life Festival, a free event held in September in Mackinaw City. The festival celebrates water and our connection to it through music, food, and education. Cornstalk's goal is to connect people through the festival and to engage with youth, tribes, agencies, and communities. She wants to inspire people to talk with neighbors and friends about the issues impacting our waters.
"The youth will inherit what we leave for them, so it is important to get them involved and raise awareness," Cornstalk says.
When asked what the average person can do to protect the Great Lakes and beyond, she encourages everyday action.
"Act through your lifestyle. Do not pollute our land and water. Do not buy bottled water. We can make choices in our everyday life as consumers," Cornstalk says.
Mark Goethel: The Extreme Videographer
Mark Goethel has had a camera in his hand for most of his life. Despite plans to become a physical therapist, reaching professional skier status at the X Games qualifiers, and even participating in the U.S. Freeskiing Open, Goethel was born to be a videographer. He knows this, he says, because each time a new opportunity arose, he would naturally fall back into film.
His latest milestone: At the beginning of this year, he took a leap of faith to start his own business.
Goethel's favorite project to date has been a film series he started at Mt. Holiday in Traverse City, where he also launched the program BaseCamp, a year-round camp that creates a safe environment to learn stunt-type skills on snowboards, skis, or bikes.
From an early age, Goethel's mom, Kristi, worked at Mt. Holiday alongside other families who raised their kids at the community-centric ski hill. Goethel's series features those families and their stories. "Kristi's Story" is the first in the series, a passion project that lends to his full creative direction and skill.
"If you're good at something, find a nonprofit or a person or organization that you support and donate your craft," Goethel says. "Try new things and experiment. When you donate your time, you can be more explorative and try things without money at stake. That's how I learned at Mt. Holiday."
Brianne Farley: The Book Inventor
Like a lot of kids, little Brianne Farley couldn't give a straight answer to "what do you want to be when you grow up?" Author, illustrator, inventor. Unlike most of us though, Farley actually did fulfill that childhood dream when she published Ike's Incredible Ink in 2013, followed three years later by Secret Tree Fort. As for the aspiration of being an inventor she says, "In a funny way, I think making books is pretty similar to that, too."
While she started her career working for Random House in NYC, Farley eventually migrated back to her hometown of Traverse City to focus on illustration full time, away from the big city hustle and bustle. Here, she's found herself enjoying an enthusiastic community of creatives and opportunities to contribute her art through mural work at local mainstays like Dennos Museum Center and the Traverse Area District Library.
Wherever her art appears and whatever form her characters take, they're immediately notable for their diversity and attention to representation, something Farley says is especially important in storytelling.
"A story might be about an experience very familiar to the reader, but happening to someone living a very unfamiliar life," she says. "It might start out familiar—a story just like the reader's—and wind up somewhere extraordinary. Then, they might start to imagine themselves winding up somewhere extraordinary, too."
Allen Telgenhof: The Lawyer Coach
For the past decade, Allen Telgenhof has served as Charlevoix's prosecuting attorney. Recently, he stepped down to return to regular law practice and get more involved in another passion of his: coaching baseball.

Telgenhof says it was rewarding to seek justice for victims and help them through the court system as a prosecuting attorney. However, he acknowledges that it was a demanding, 24/7 job. His transition to a new chapter started when the Alpena Community College baseball coach reached out last June to ask if he would be interested in assistant coaching.
"Originally, I said no—it was two hours away. But after meeting him in person, I was fired up and inspired to help when I could," Telgenhof explains.
He started by driving to Alpena on Fridays and spending the night in a hotel to catch Friday and Saturday practices as a volunteer assistant coach. "I had coached t-ball, travel, and high school, but college was not a level I had ever coached at. I loved it. I wanted more time to do that," Telgenhof says.
Now Telgenhof can be in Alpena more often and was hired to help with the college's athletic program. He works from Alpena a few days a week.
"I just turned 59, and I'm focused on things I love doing." he says. "I love baseball and being around the guys. It is a new challenge."
Jamie Kramer: The Afterlife Thinker (and Politician)
Jamie Kramer had no real calling to enter the political arena, but she was "super upset" about the early childhood millage that had been passed by the voters and then zeroed out by Leelanau County Commissioners.
"My daughter told me if I didn't like it, that I should run. So I did," says Kramer, who spent about two decades working in journalism and broadcast media. In November she was elected to represent Leelanau's District 1.
But her main job is operating Beyond Forests, a natural alternative to cemeteries that helps clients and their loved ones find their final resting place in the beauty of nature, sometimes national parks. Kramer has never felt comfortable with traditional funeral practices ever since she was a child. It all came to a head when a dear friend's mother died and the crematorium packaged up the remains and sent them home.
"An entire life reduced to ashes in a cardboard box?" asks Kramer. "This could not be the ending. I wanted loved ones to celebrate their loved ones in the places they loved most—national parks and beauty—and that's what we've created."
She's also started a nonprofit called Saving Wild Spaces that will allow people to leave a legacy of conservation.
Marshall Collins: The Community Leader
Marshall Collins is inspiring others to do the work he's made his life mission: to change minds and hearts. His why? "It's always for the kids and the community." He envisions a Traverse City community where everyone feels that they belong.
Collins is a former K-12 teacher and is now the health coordinator at Northwest Education Services, where he also serves as a Diversity Equity Inclusion and Belonging (DEIB) Consultant. Part of his job is having those hard conversations surrounding race and inclusion, and he strives to give educators the strength and confidence to teach more about DEIB. Collins is also part of Northern Michigan E3, a volunteer-run anti-racism task force.
"I recently ran into a new friend, and he said, 'thank you for giving me the courage to start doing the work too,'" Collins says. "You think people don't hear you or aren't listening, but speaking out against racism and hate and celebrating who you are takes a special moment. It made me feel good that I'm doing the right stuff because I'm impacting people who will impact others."
While the work is rewarding, it is often challenging. To de-stress, Marshall calls on his creative side. Growing up, Collins' father had a Petoskey stone shop, and Collins often spent upwards of eight hours per day in the summertime helping hunt for stones. Now that the stores have closed and his parents have passed, he still uses the stones to ease his mind. His treasures are found at local art fairs.
JoAnne Cook: The Cultural Champion
Growing up in the 1960s in Peshawbestown, JoAnne Cook faced a lot of challenges…and has seen a lot of changes. Today, as the mother of three adult sons, much of her life is focused on being an active member of the Grand Traverse Band of Ottawa and Chippewa Indians (GTB).
After graduating from Suttons Bay High School and earning a business administration degree from Ferris State University, Cook went to the University of Wisconsin Law School where she earned her juris doctorate. She's served on the Tribal Council, later as a tribal court judge, and is currently the GTB's chief appellate judge.
Her day-to-day work finds her involved in working with crime victims under a Michigan Department of Health and Human Services grant. She's been on several local nonprofit boards and is also involved in the Missing and Murdered Indigenous Women (MMIW) project.
So what does she do in her down time?
"I do cultural activities," Cook explains. "I'm learning to make quill boxes and learning the language, along with one of my sons." And when she's not working on her quill boxes, you might catch her at a tribal event performing as a jingle dress dancer or teaching a class on Anishinaabe history.
Rosie May: The Storyteller
If you've ever been or had a kid in Traverse City, then you've probably munched through every delicious page of Eric Carle's The Very Hungry Caterpillar with Miss Rosie at one of your local library storytimes.
Miss Rosie, who goes by Rosie May when she's not singing, playing, and reading with her littlest fans, first established the Wigglers Storytime programming at the East Bay Branch library decades ago. Though she can now be found in youth services at the Traverse Area District Library's Woodmere location, she's still hosting storytimes every Monday morning. In addition to creating an atmosphere that fosters learning through play, inclusivity and representation are a top priority for May. She incorporates ASL as well as a diverse catalog of stories and celebrations into her programming.
With an estimated 3,000 programs behind her, she's something of a local celebrity to the five-and-under crowd, getting recognized outside of library hours for her years of community engagement with TC's young families.
"The first time it happened I was a little taken aback, but I realized pretty quickly what an awesome responsibility it is to be so loved by children," she says. So beloved, in fact, that over the years she's found that many former "storytimers" return with their own children.
"Funny, I don't feel that old until I see the kids all grown up with kids of their own. It's a pretty special feeling."
Tony Vu: The Culinary Mentor
Tony Vu grew up with a mom who ran a Vietnamese restaurant, so of course he became…a professional drummer.
"I grew up in a restaurant household, but I did not come from a food background. I was a musician in Canada," he says. When his band folded, he decided to travel the world. "It was a soul-searching journey—Peru, mountain climbing, Vietnam. What I found was the power of food." Add that to the inspiration from way back when, and he finally gave in. "If I didn't learn Mom's recipes, they'd disappear."
He started with a beat-up food truck, then moved on to the Flint Farmers Market. He was on Guy's Grocery Games on The Food Network, and that and the Flint water crisis sparked his desire to advocate for food justice. Then came a food/entrepreneurial incubator, the Flint Social Club. "There [was] an immense amount of talent and passion, but not opportunity," Vu says of the inspiration behind the incubator.
Up North, Vu opened the Good Bowl with Soon Hagerty, and the restaurant's dollar-per-bowl giving program has raised over $133,000 for local charities. He's just acquired Flint Coney Island, and next up is Nobo Mrkt, another food incubator program, in the new Commongrounds building in TC. "I wanted to make a difference," says Vu, who enjoys splitting his time between Flint and Traverse City.
Jessie Zevalkink: The Adventurous Photographer
Northport native Jessie Zevalkink has two captivating pursuits—photography and sailing. She has spent the past five winters on a sailboat navigating epic adventures, including a transatlantic trip in 2017 from her dad's house in Northport to her husband's hometown in England and back. Last winter, she cruised from San Francisco to Mexico with her husband and one-year-old. This year, Zevalkink is bringing the adventurous spirit home to the Great Lakes by starting a Northport-based sailing charter business.
"We secured a commercial slip at the Northport Marina after many presentations proposing how our sailing charter business would benefit the village," Zevalkink says. Summer 2023 will begin as an experiment with sunset sails and nights aboard the boat. Her long-term vision is planned itineraries for sails to destinations like Beaver Island and Mackinac Island.
When Zevalkink isn't sailing, she is taking photos of families, weddings, and women through her unique take on boudoir photos, "BodyBrave." Her effervescent photo style evokes fun, simplicity, and freedom—much like her approach to life in general.
"BodyBrave sessions take the boudoir out of boudoir. They are all about nature, girl time, and celebrating the complicated relationship women have with their body or their heart," Zevalkink explains.
John Shepherd: The Extraterrestrial Composer
Featured in an award-winning 2020 Netflix documentary, John Shepherd gained some notoriety for his decades-long effort to contact alien life forms by transmitting music and sounds from his Central Lake home.
The film, John Was Trying to Contact Aliens, examined Shepherd's space-age research and his life in rural Antrim County. "That was a lot of fun and I was glad to be part of it," he says. "The director [Matthew Killip] was great. He had a wonderful vision."
Project S.T.R.A.T (Special Telemetry Research And Tracking) ended more than 20 years ago after failing to connect with extraterrestrials, and Shepherd now focuses on music.
From his residence on two acres in Kewadin, the 71-year-old plays, composes, and records in his elaborate home recording studio. "It's fun," says the soft-spoken Shepherd. "Recently, I've composed for an independent film."
He's been heard on radio broadcasts across the world and recorded albums for several record companies. He's also collaborated with several musicians and poets in recent years. So what's next on his to-do list?
"I'm always looking ahead," he says with a laugh. "Always looking one step ahead."
Nevaeh Wharton: The Voice of the Future
"I constantly have a list of books I want to read," says Traverse City Central High School senior Nevaeh Wharton. Self-described as shy, she can often be found retreating into both required reading and new classics. Wharton doesn't just read books though—she's been writing one, too, ever since the idea for a fantasy fiction story ignited in her imagination a few years ago.
Like many writers, she'd rather sort her thoughts through written prose, but the introspective teen was thrown into the spotlight in the spring of 2021 when she hesitantly gave several interviews to local and national news outlets after finding out she was being "traded" in a racist virtual slave trade created by other students at her school. It's an experience she describes as both tough and eye-opening, "It shaped the reality around me more, and despite how hard it was, in the end, I'm grateful for it."
On the cusp of her high school graduation, she's channeling the momentum of these last two years into her future with plans to pursue an education in clinical psychology. Before that though, she's going to spend this summer buckling down on her novel, which she's hoping to self-publish before fall semester starts. With so much behind her and still so much ahead of her in this next phase of life, Wharton says she's most looking forward to "the freedom I will have to grow, and the new opportunities and experiences I will have."
John Roberts: The Local Librarian
Even though there's an impressive stint at Yale University on his resume, Kalkaska librarian John Roberts insists he's not one of those "smarty pants" Ivy League guys.
He's quick to point out that he was raised in Kalamazoo and studied English and history at Western Michigan University before spending three years as a cataloguer at the Yale Library. He spent a few years at the New Haven Public Library and moved back to Michigan to be close to family. He looked at jobs in Detroit and Muskegon before taking the Kalkaska post in 2017.
Since then, he's been instrumental in expanding the aging village library's offerings. There are programs for infants and toddlers, a bike library in partnership with Norte, and walk-in tech help for folks struggling with smartphones, laptops, and the internet.
One of the most impressive new ventures is Blazer Libraries, which has seen libraries re-established at the school district's three elementary schools, the middle school, and the high school. "It's been really rewarding partnering with the schools," says Roberts.
So what are his favorite books, poets, and playwrights? "I'd have to go with Jane Austen's Persuasion, Philip Larkin for poetry, and Samuel Beckett's Waiting for Godot. Those are all great."
Kay Charter: The Bird Lady
"I'm dedicated to birds."
So says Kay Charter, who says her self-described "obsession" began when she and her late husband Jim left San Diego and traveled the U.S. and Canada for three years, often heading to places just to observe the birds there. But her epiphany came after moving into the home they built on Grand Traverse Bay, when she began to watch a family of rarely-seen winter wrens.
The Charters decided to sell the home and bought 47 acres outside Omena where she could more readily watch and help her feathered friends. That led to teaching others about birds and eventually to the nonprofit Saving Birds Thru Habitat. Charter serves as its executive director.
"I'm 84 and still doing exactly what I've done," she says, including leading discussions and presentations locally and throughout the U.S. She has been a featured speaker at the Missouri Botanical Garden in St. Louis, the Cox Arboretum in Dayton, Morton Arboretum near Chicago, and the 2006 Rivers and Wildlife Festival in Kearney, Nebraska. Her awards and accolades include the first birder being named "Exceptional Outdoorswoman of 2006" by Michigan United Conservation Clubs.
Today, the Omena sanctuary is protected by conservation easements and serves as a haven for thousands of birds, both resident and migratory. The organization offers birding hikes in May with qualified leaders.
Geoff Burns: The Ultra-Marathoner
A 2008 grad of TC West, Geoff Burns is a man on the run—literally. He's a nationally ranked ultra-marathoner, an assistant professor at the University of Michigan, and a physiologist for the U.S. Olympic and Paralympic Committee at its Colorado training center.
"In parasport, every athlete is a hyper-unique case study, so I'm constantly learning new subject matter—from thermoregulation in athletes with spinal cord injuries to circadian patterns of individuals with visual impairments to the biomechanics of prosthetics and their influence on performance—which is all like a drug to me," he says. "I get to then creatively synthesize it all with those traditional sport science tools for the athletes and coaches. It's a total dream."
The veteran runner says his toughest race was the 2018 100km World Championship in Croatia.
"I ran most of the race really well and rolled the dice to put myself in a medal position," he recalls. "I started to really crash with the heat in the last 30 kilometers, but was desperately trying to hold on to a top-five placing. Despite seeing a big pack of guys closing in on me, I went really deep to hold them off. It was a torturous last two hours trying to fight them off step by step, meter by meter. I ended up having to sprint at the finish against the current world record holder in the event and the former world champion. I held both of them off for fifth place."
Tioloman Traore: The Aspiring Nurse
Tioloman Traore's entire life was uprooted in 2019 when she came to Traverse City as a refugee student. "The biggest thing that I learned was the way people here interact with each other. Everything was different, the language, the food, the culture, the little things," says Traore.
She was initially excited to come to the United States but ultimately felt mixed emotions. "I was happy because I was coming to this country for a new life, new opportunities, to go to school, and have family in my life. But I had to leave my friends and the people I knew and spent time with behind. There was a lot of emotion." Not to mention the cold. Citing "too much snow" as the reason she was unsure about Michigan at first, she now says she's embraced it by learning to ski, ice skate, and sled.
Despite the initial hurdles, Traore excelled in her new home, and in 2022 she received Michigan's Outstanding Student Award from the office of Governor Whitmer. Traore believes a combination of personal achievements and extracurriculars helped garner this award, but she speaks most excitedly of the Traverse City Track Club and her love of running.
As for the future, she's applying to the nursing program at Western Michigan University and is open to the opportunities that career path provides for her. She would love to be near her foster family and replies with, "why not Michigan?" when asked if she would want to stay. Why not, indeed.
Willard Kitchen: The Restless Advocate
Advocate for what, you might ask. Well, there's learning, as Kitchen—Will to friends—was a lobbyist for education in Washington D.C. Or technology, as he served as head of learning and development for IBM Asia. Shakespeare too—he and his late wife Maggy founded a Shakespeare festival in Minnesota.
Don't forget cinema, since he started the Frozen River Film Festival. Music? Yep, he ran a concert series too. And obviously traveling as well, as he's lived in Minnesota, Washington, Belgium, New York, and India, among other places, before moving to Traverse City.
"I started as a K-12 teacher, was a librarian. I had my own telecom company and owned radio stations. I have an entrepreneurial spirit. And I'm still a work in progress," Kitchen says, even though he'll hit 70 this year.
Next, he's probably embarking on another project as co-director of the Office of Possibilities at Northwestern Michigan College (NMC). He calls it an idea incubator and active connector of entrepreneurs that works with NMC staff, students, and faculty members along with community partners.
"We want to develop ideas into something tangible," Kitchen says.
Sharon Jones: The Bee Whisperer
On a trip out West almost a half-century ago, Sharon Jones had a close encounter with a swarm of honeybees while waiting for her car to be repaired.
"A swarm landed in the parking lot. I didn't know what they were doing. For over an hour I was fascinated, from a foot and a half away," she says.
That fascination persisted, and three years later, she and her husband, Kirk, got their first hives. By the third year, they had 100 hives and began to diversify their product line, sometimes by accident. A batch of lemon honey cream was mixed with too much water, so Jones suggested making it into mead. "It was wonderful," she says.
Today, their St. Ambrose Cellars is home to numerous meads, wine, beer, and food, while their other venture, Sleeping Bear Farms, produces a boatload of different honeys and honey-infused products. But wait, there's more: Jones' side hustle, BeeDazzled, features a line of beeswax products, including candles, lotions, and lip balms.
Jones continues to pursue her passion through studies and travels around the world (Delphi, Crete, Rome, and England) seeking out the stories and sites regarding the order of Melissa, the Greek goddess of bees. And she passes on her knowledge through her work with Grow Benzie's Bee Guild.
"This love affair with bees … started 43 years ago," she says. "Who would have thought?"
Steve Loveless: The Memorabilia Collector
Overwhelming. That's the first thought upon entering Steve Loveless's home.
Posters of the Beatles, The Who, The James Gang, Traffic, and more line the walls. One might expect the home of a professional photographer who owned a gallery and framing shop for years to display images of his work, but instead it's an homage to a lifetime of collecting. And they all have a story.
"I have tons of Who stuff: a signed performance contract, a Magic Bus poster. I met John Entwhistle after a concert," Loveless says while a live AC/DC concert is blaring from the TV.
Ask him his favorite artists and again he's off and running. "My favorites today are probably the Beatles, Pink Floyd, AC/DC, Andy Partridge, John Mayall, Conrad Schnitzler, Kraftwerk. The Stones, Pere Ubu, Gang of Four, XTC, the Sex Pistols …"
It's more than just the music, however, even though he has thousands of CDs, records, cassettes, and even a few remaining 8-track tapes. It's all about the memorabilia adorning the walls of his living room, kitchen, hall, bathroom, and bedroom. They tell the story of his passion for music and artists, and they all come with stories Loveless is more than happy to share.
Shanny Brooke: The Storied Artist
What do an artist, opera singer, and private chef have in common? They are all jobs held by one person: Shanny Brooke.
Brooke owns Higher Art Gallery, a studio art gallery in Traverse City. Just like the unique art on display, her life has been a beautiful assortment of experiences that have led her to find and pursue her true passion.
Brooke's love of music and opera led her to pursue a degree at the Peabody Institute in Baltimore, Maryland. However, thanks to crippling stage fright, she soon realized she could not perform without becoming sick. Once her first act ended, another curtain rose as a private chef, a role that led her back to northern Michigan, where she and her father opened a restaurant in Elk Rapids.
She returned to square one after a mutual decision to close the restaurant. Then, as fate would have it, Brooke met her current partner, a dog trainer, and she began painting some of the dogs her partner trained. Now, though she no longer paints pups, she has found her true calling: artist and entrepreneur, which brought her to Higher Art Gallery.
"Throughout my life, I have struggled with imposter syndrome," Brooke says. "Sometimes we put so much emphasis on having to have a degree in something to make a living. I've never subscribed to that. If you put in the work and the effort and continue to try to be good at something and feel passionate about it, you'll be successful."
Trending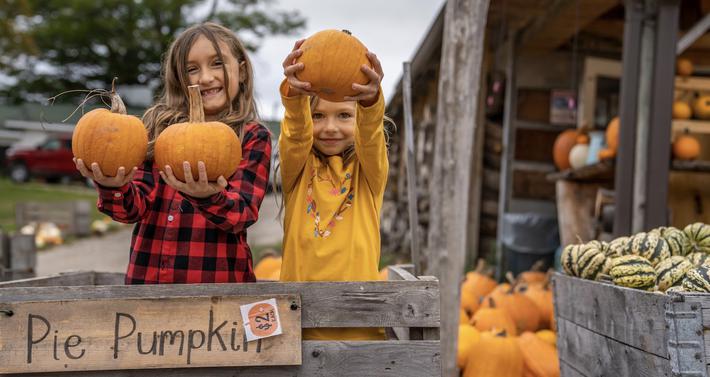 Seven Fall Festivals and Celebrations Around the North
If you ask us, it's impossible to beat the beauty of fall in northern Michigan. Vibrant-hued trees, glowing sunsets,...
Read More >>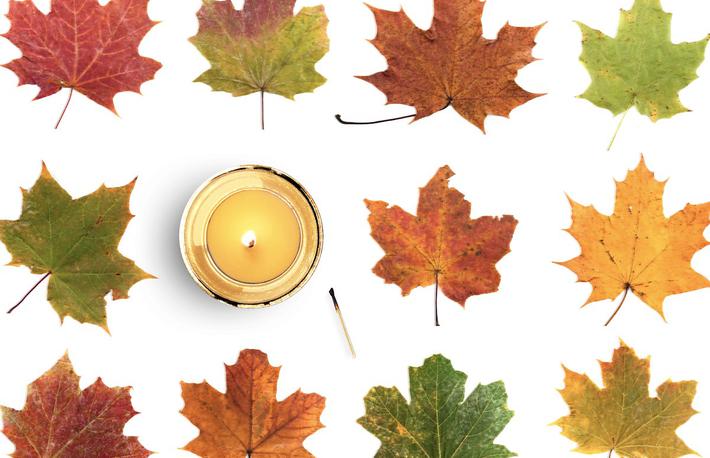 All the Scents of Fall
With the equinox behind us, it's time to go all in on autumn. Traverse City Candle Co. has done just that with their...
Read More >>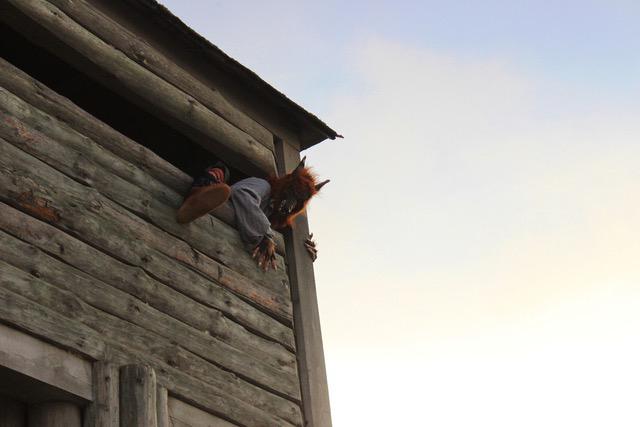 A Night at Fort Fright
This is not your typical haunted house or trail! Make your way through Fort Fright, an 18th-century fort and fur trading v...
Read More >>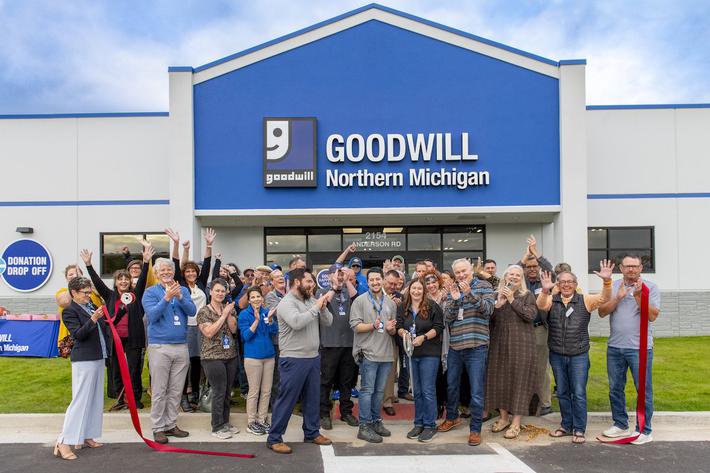 Goodwill Gets New Digs in Petoskey
This past week, Goodwill Northern Michigan opened a new Goodwill store in Petoskey at 2154 Anderson Rd., which replaces th...
Read More >>