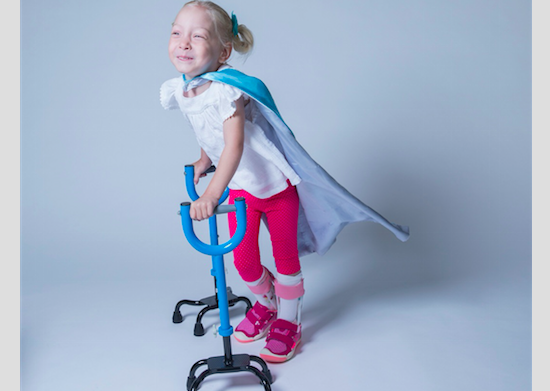 20 Fascinating People 2018
20 Northerners we love to watch
Maya Tisdale
The Mighty One
A child's first steps are a time of excitement for parents. For Maya Tisdale, her first steps brought tears to the eyes of those who saw it, both live and online, where it continues to amaze viewers. That's because Maya's first steps didn't take place until she was four years old, following surgery to treat her cerebral palsy.
She was born at just 26 weeks, weighing one pound, 11 ounces. "She was a super preemie," said her mom, Ann Tisdale. Many babies born so early suffer with lifelong lung or cognitive problems. Fortunately that was not the case for Maya, though she was diagnosed at 1½ with cerebral palsy.
One option for treating those with spastic cerebral palsy such as hers is a selective dorsal rhizotomy, a surgery which destroys the problematic nerve roots in the spinal cord. Maya underwent the procedure with the hope was that it might enable her to someday walk without assistance.
Someday arrived a lot quicker than anyone expected. "The doctor predicted she'd walk independently at some point. We never expected it at seven weeks [post-surgery]," said Ann. Though Maya still uses a walker, the hope is the next step is canes, then one cane, then finally walking on her own.
Ann said the decision to have Maya undergo such a major surgery wasn't an easy one. But not only might it help Maya walk, it would likely reduce the need for future surgeries and spare her a lifetime of pain. "Spasticity takes a toll on your body. The muscles don't grow at the same rate as the bones," said Ann, necessitating orthopedic surgeries of hips and knees. Many patients suffer chronic pain as adults.
Maya, who turns 5 in September, undergoes various physical and occupational therapies five times a week for four-plus hours. They include aqua therapy and hippotherapy (horseback riding). Ann said riding on a horse helps stretch Maya's legs and hips and mimics the human gait, helping train Maya's brain. "I like to ride, and I get to feed the horses," said Maya. "And there was a cat today.
"The thing I like about my family is they're nice," she continued. "Except when Wes [one of her older brothers] will not play with me."—RB
George Colburn
The Hemingway Historian
At age 80, George Colburn's restless energy can put a younger reporter to shame.
"I've never been so busy," says the historian, filmmaker and producer of educational programming as he springs around his basement office in downtown Petoskey.
His films tackle some compelling topics: Navajo code talkers (a group of World War II veterans poorly represented, tribal members say, in the Hollywood movie Windtalkers), immigration (a topic he contends is more relevant than ever), and Dwight Eisenhower's war years (hosted by journalist John Chancellor and, later, Colin Powell).
But the film with the strongest connection to northern Michigan is an engaging new study of Ernest Hemingway's youthful sojourns to Walloon Lake, Horton Bay, Petoskey, and Charlevoix. Relying on local sources and the observations of literary scholars, Colburn's documentary, Young Hemingway and His Enduring Eden, gives the context for the future Nobel Prize-winning author's lifelong attachment to the region based on the 21 summers (and one winter) he spent here.
Hemingway learned about jazz as a cub reporter in Kansas City, the pain of war and heartbreak in Italy, and the literary world during his time in Chicago and Paris, but his fiction — especially through the character of Nick Adams — returns often to the simple joys of life in the Northern woods.
In addition to Colburn's documentary, Hemingway's connection to Up North is now honored by a statue of the young writer. (Fittingly, it stands in Petoskey's Pennsylvania Park, near a bar he frequented.) Also, a section of Horton Creek where he often fished is now known as the Nick Adams Nature Preserve.
Colburn, like Hemingway, started out as a journalist (Grand Rapids Press, Detroit Times, and Chicago Tribune). Gradually, though, he turned to documentary filmmaking. Thirty years ago he founded Starbright Media.
Colburn doesn't claim to be a Hemingway scholar or an expert on all the topics he's taken on. "But I persevere," he says. "I never let go." It also helps that whenever possible he uses the people closest to the events to tell their stories.
Young Hemingway and His Enduring Eden, which was previewed in Paris last month at the annual conference of the Hemingway Society, will be shown at 7pm Tuesday, August 28, at United Methodist Church in Horton Bay. For more information, visit www.HemingwaysMichigan.com or call 231-535-2440.—CM
Rod Cortright
The Extreme DIY-er
Rod Cortright's seeing stars. Literally. The amateur astronomer, who's been living up north since 1975, has always been interested in astronomy, and dug deeper into it when he retired.

"Over the last eight years or so, I've developed a good level of amateur expertise in deep sky photography," said the former MSU extension employee (Cortright was an agriculture natural resources and public policy education agent).
"Shooting images of galaxies, open star clusters, nebula, and other deep sky objects; the most distant object I've been able to ID was one that's about a billion light years away."

But while many people settle for just a simple telescope to skygaze, Cortright decided to get serious about his hobby. Living just north of Boyne City, he gets good dark night sky viewing right from his driveway most of the year, so he already had that going for him.

"At first, like everyone else starting out, I just bought a telescope and mount," he said. "But every time I went outdoors, I had to set it up and take it down again. So I bought a cart to roll it out on — but that was good in the summer, and not so much in the winter."
After two years of dealing with his telescope cart in the snow, Cortright decided to do what most amateur stargazers don't do: He built his own observatory, which he dubbed Wildwood Observatory. He constructed a 10-by-16-foot building on his property with a special observing room.

"It's called a 'roll-off' observatory, because the roof rolls of the top of the building into a special frame," he said.

The observatory has a heated internal room, so Cortright can stand up in it and run his equipment even in the middle of winter; the roof itself opens with the simple push of a button.

He utilizes four different telescopes (a Celestron, an Explore Scientific, a Sky-Watcher, and an Orion) plus a modified single-lens DSLR camera to take his deep sky photos.

He hosts guests in his observatory for monthly meetups of the Northern Michigan Astronomy Club, and also volunteers at the Dark Sky Park north of Harbor Springs.

Oh, and he did we mention he works with NASA?

Well, kind of.

"I'm a NASA/JPL Solar System Ambassador," Cortright said. "We're volunteers who do outreach presentations for NASA and JPL (Jet Propulsion Laboratory), which is really fun." —KK
B Kareem
The Alchemist
With the exotic-sounding name Badaweyah Kareem, it's easy to imagine her turning lead into gold – but she's not that kind of alchemist. Instead, B, as she prefers, goes about her daily tasks at Grand Traverse Distillery, where she turns various ingredients into engaging and unusual cocktails. How unusual are they? They may include aqua vit, a caraway-infused vodka reminiscent of what one might find in Scandinavia. Or instead of using milk or cream in a White Russian, using milk infused with the flavor of – wait for it –Lucky Charms.
B prefers the term alchemist to mixologist. "The mixologist is behind the creation" at the bar, she said, while "the alchemist is behind the menu and the pairings." How did she come by this line of work? According to B, it's something of a family tradition. "My grandmother and great-grandmother were bootleggers. A lot of family were farmers," she said. So she began mixing the two, working in bars and event planning for 20 years in New York City.
That's where she began to make her own bitters, adding different flavors to the drinks, first for her friends, then at work as well. B saw an opportunity to become a bigger fish in a much smaller pond when she was offered a job in Traverse City, from which she then migrated to Grand Traverse Distillery. She's been experimenting with wines, ciders and meads in her creations, as well as farm-fresh ingredients. Pressed for an example, she said, "I love working with elder flower. I also talked with the distiller about making absinthe."
Asked about her rather outré creations with cereal milk, she laughed and said she couldn't take credit for that. "I did not invent that, I just pick the cereals." Another direction she is looking into is including flavored olive oils in her drinks. "I may do some smoke infusions with oil. You'll get the essence of smokiness in your nose," she said.
She said her flavor ideas are likely to come from foods rather than drinks. "Something as basic as a potato, I'll pair it with something outside the box. The flavor, smell, texture – I get all my senses involved."
Bill Koucky
The Mustard King
It seems like it's a long way from biodiesel to mustard. Maybe it's not a straight line, but it's the path Bill Koucky took. He invested in equipment to turn canola oil into fuel for powering engines, but decided it tasted too good to waste on vehicles. Plus, there was the fact he could sell a pint for $10, as opposed to $3.25 per gallon for diesel fuel. Thus was born Grand Traverse Culinary Oils.
From there, it was on to adding flavors and diversifying into sunflower oil. Mindful of rotating his crops, he began planting canola one year, hard red wheat the next. This despite the fact it was a well-known fact that variety wouldn't grow in Michigan's climate.
Oops, another misstep turning into gold. Koucky was right, and everyone else was wrong, much to the delight of bakers from Crooked Tree Breadworks to Zingerman's, who all jumped on board. Koucky said the grain isn't as regular as it is from soft white wheat, meaning those who use it need to be more mindful of their product. In other words, it produces true artisan bread.
And it's not just good for bread. "We're making pasta with our grain, and we're making crackers with it." Ever the experimenter, Koucky even made some flour in a cooperative venture with Black Star Farms, using grape seeds and discarded grape skins.
But wait, there's more. "When Beck's Mustard closed in Elk Rapids, we got some of their equipment," Koucky said. Eventually Superior Foods of Grand Rapids, which had purchased the company name and recipes, decided to discontinue the product because demand was small. The company contacted Sarah Landry Ryder of The Redheads, which used the mustard, and asked if she was interested in buying it. Instead, she turned to Koucky. He was already producing mustard for Zingerman's and Founder's, so why not?
"We're harvesting our first batch of local organic mustard," Koucky said. "I'm working with the folks at Peninsula Garlic Farm. I talked (them) into planting some mustard." Koucky said the mustard seeds and canola seeds are almost exactly the same size and some of the same equipment can be used for each. So it's almost come full circle.
Nate Rook
The Water Baron
Nate Rook's previous job — packline manager and maintenance tech at Short's Brewing Company — had him putting a lot of liquid into portable vessels.
"I dealt with all the equipment that bottled, kegged, and canned beer," Rook said.

Rook's current job has him … putting a lot of liquid into portable vessels.

But while the two positions might sound the same, there's two key differences: "While I was working at Short's, I decided I wanted to bottle water instead of beer, and that I wanted to work for myself," he said.

Now the president of Bellaire Water Company, which bottles water from its own artisan well in Bellaire, Rook said he also wanted to shine a more positive light on water bottled in northern Michigan water — and do something that didn't add to all of the plastic bottles getting thrown into the lakes and along roadsides.
"Obviously first, we wanted to get good water to people, especially with the whole Nestle controversy going on," said Rook.
The well water isn't stripped of its natural minerals; Rook and his crew choose to leave them in.
"So you're getting northern Michigan artisan water that's high in potassium, sodium, calcium, and magnesium," said Rook.

"You don't get that penny-oxidized taste you do with purified water, plus the minerals give you a burst of natural electrolytes."

The art for the bottles was even inspired by the lands from which the water pours, Bellaire itself as well as Torch Lake. "The initial sketch for the bottle label artwork was actually done on a napkin right at Short's," Rook said.

And his way to cope with the plastic litter situation? To offer five cents on every bottle returned in the northwest region of Michigan, encouraging people to return the containers instead of just throwing them away.

"We don't reuse the bottles; we recycle them," he said. "It's our way to make a difference."

For now, Bellaire Water Company water is only available regionally, but Rook has bigger plans.

"We're just trying to get the Bellaire name out there statewide at the moment," he said, "and we're experimenting with 20 different flavored waters right now to see what else we'd like to put out. We may not keep our products solely in Michigan, but we want to focus on our own state first." —KK
Kim Diment
Wild at Art
Kim Diment's passport has a lot of stamps on it.
The energetic artist, who lives and works on a scenic 40-acre tract along the Au Sable River near Grayling, has been all over the world taking photos and doing paintings of animals, capturing their essence in acrylics and oils.
"I've been to Africa 15 times, mostly recently to Kenya for a month in February and March," she said.
Diment loves being at home in rural Crawford County, but the Michigan State University grad caught the travel bug after a college trip to Europe. She first went to Africa in 1990, traveling alone and staying for three weeks. She's visited most of the countries in southern Africa, taking thousands of photos and producing scores of paintings of wildlife, including water buffalo, lions, elephants, warthogs, and zebra.
"Animals always have a story to tell," says Diment, who also works in water colors and sculpture. "One must know and understand them to comprehend these stories … I choose to portray animals because I find them more beautiful, more fascinating, and more symbolic than any other subject matter. I cannot comprehend a world without animals."
She recently finished a 12-year, 12-painting series featuring animals at Tahquamenon Falls State Park and hopes to do a similar series highlighting creatures along the Au Sable River. The Ruffed Grouse Society has chosen Diment to produce a painting that will become their 2019 annual print.
Diment's love for animals got her involved in a special campaign to save the endangered Grevy's zebra of Kenya. She completed a series of paintings to raise funds to help boost the animal's dwindling numbers. Diment has also worked with the Lewa Wildlife Conservancy in Kenya to raise awareness of the plight of the black rhino and cheetah.
Her intrepid pursuit of animal subjects has also taken her across the United States, to South America, New Zealand, Canada, and across Europe. But not all of her philanthropic works are overseas. She's been active closer to home supporting Ducks Unlimited, Trout Unlimited, the Humane Societies of Iosco and Crawford Counties, and the Michigan Safari Club. Her works can be seen at the Main Branch Gallery in downtown Grayling. — AP
Dave Caroffino
Native Protector
Northern Michigan locals and visitors alike enjoy whitefish, a staple dish at many northern Michigan restaurants.
But what happens if the Lake Michigan whitefish population were threatened?
That's on ongoing issue for Dave Caroffino, a fisheries biology specialist for the Department of Natural Resources. Based in Charlevoix, Caroffino is responsible for overseeing biological aspects of the 2000 Consent Decree, a negotiated settlement between the state, federal government and five Indian tribes related to allocation and management of fish stocks in the waters covered by the 1836 treaty.
Caroffino is co-chair of a key committee involved in the research and assessment of the whitefish and lake trout populations in lakes Michigan, Huron and Superior. "I'm just one small part in a bigger thing charged with implementing the consent decree," said Caroffino.
Twenty years ago the whitefish population was at record levels, according to Caroffino, who is part of the team that calculates and sets the harvest limits for whitefish and lake trout. They monitor catches and collect biological data from commercial fishers about the fish taken. Their assessment areas are Muskegon, Bay De Noc and Leland.
So how healthy is the current whitefish population?
"Things are not so good," said Caroffino. "We've hit a floor. It's not zero, but it's much less than it was 15 years ago. There is some recovery in the Leland area, but the Muskegon area is not strong."
The decline began about 10 years ago, and the key culprits are quagga and zebra mussels. "They've changed the dynamics in Lake Michigan," said Caroffino."Quaggas have the most impact."
Quagga mussels are prodigious water filterers, removing huge amounts of food particles that fish thrive on. Removing that food source has had a major impact on the number and size of fish in the Great Lakes. Each coin-sized quagga can filter up to a liter of water daily, stripping away plankton that for thousands of years sustained the native fish.
It's caused fewer young fish to grow to a mature age. "In Muskegon last year, only 10 percent of the whitefish were less than nine years of age," said Caroffino. "The fish are older with few young ones to replace them."—AP
Karin Reid Offield
The Dark Horse
For Karin Reid Offield, it starts with a love of horses and filmmaking. Mix the two, let it marinate for four decades, then put it together, and you have the recipe for Harry and Snowman. The film is the story of an immigrant who rescued a horse bound for the glue factory, and the two went on to become show jumping champions in the '50s and '60s.
Offield was inspired by the Warren Miller ski films, which showcased the sport with slow-motion and close-up shots. "When I was a little girl I wanted to do the same thing with horses," she said. She shot film and collected photos for years, until she finally had enough to make a movie — but she didn't have the funds to do so.
Fast forward some 30-plus years, and Reid has married, moved to Harbor Springs, gotten divorced, and opened a small private horse farm. She never lost her desire to create a movie, and finally had the money and partners with which to work. But there was one problem: The material was nowhere to be found. "The lab [where it was stored] had gone into bankruptcy." Following some detective work, Reid found the material — spread out among six states around New York. Once the material was back in her hands, Reid set about selecting a director, writer, editor, and all the other personnel necessary to turn it into an actual movie. She served as executive producer of the documentary, which won critics' hearts and numerous awards following its release.
Today she continues her love affair with equine sports by working with those who share her enthusiasm at Breknridge Farm, a.k.a. Offield Farm. "It's an island paradise for horses you can drive to," she said with a laugh.
Her original idea was to work with kids. "I wanted one-third of all the grandchildren in Harbor Springs," she said. For five years, she and her small crew worked seven days a week from 9am to dark. "We had amazing kids. Some took equine competition in college," she said. These days the farm is open just for anyone who wants to learn, young to old. —RB
Mitch Roman
The Roman Catholic
He'd always been interested in business, starting his own lawn care business, then majoring in business and moving into the corporate world after college. But Mitch Roman felt something was missing. When he heard of an entrepreneurial program in Boston, he quit his job to check it out. "At the end I didn't have a job, and I was still searching," he said.
The time in Boston wasn't in vain. He found a mentor there who invited him to a retreat at a monastery. "I didn't even know what a monastery was," Roman said. He had always been involved in the Catholic church, but said he never had a personal relationship with the Lord. He returned home to Empire and spoke with the priests at St. Philip Neri and Fr. Don Geymon at the Diocese of Gaylord.
After much consideration, he decided he wanted to enter the priesthood. "I looked at the bread crumbs. God was nudging me. God can call people in unconventional ways," Roman said. "I committed to a year, and it fit like a glove." He was asked by the Bishop to go to Rome to study. He's since learned Italian and served for Pope Francis. He will be ordained a deacon in late September and as a priest on June 29 of next year.
He said his family wasn't sure when he first told them he wanted to become a priest. "My mom would still love grandchildren, but my sister and brother are her go-tos now. My dad was initially skeptical. My siblings — one was "Good for you;" the other is now excited for me. They all see how happy I am."
Roman knows the lifestyle is hard for some to understand, given that a priest must be celibate and doesn't control where and with whom he will live. He said he uses the gospel as a starting point. "The fishers who were called didn't know what they were getting into either. They were called to fall in love with God.
"You don't have to figure it all out right away," he said. "All the other things fall into place. It gets easier. It's not going to be a lonely existence."—RB
Shane Bagwell
The Auteur
The vast majority of students who attend Interlochen Arts Academy go on to study at colleges across the globe — more than 90 percent, in fact. Shane Bagwell will not be one of them. Though he was accepted at one of the most prestigous filmmaking programs in the country, at New York University, and will be living in New York, he won't be attending school. Instead, he's part of the handful who are going directly to work in their fields.
In his case, that's filmmaking. "I'm taking a year off and working on film. I've made over 40 short films and I've established some connections in New York. So why lose the momentum? [Working] is a way to make money, contacts, and learn from industry professionals," he said.
Bagwell's interest in the medium first developed at Traverse City East Middle School, where he worked in the school's broadcast journalism program. "The teacher saw I was into narrative more than news," he said. He eventually enrolled at Interlochen in the academy's film program.
He loves to be behind the camera. "It takes every art form and groups them into one," he said of filmmaking. "As a cinematographer, you are using a camera and lighting to tell a story." He said the audience sees the cinematographer's work but typically doesn't consider it the way they do the acting or writing. "Everyone sees my , but they're not consciously thinking about it," he said. But things like the angle of the shot, how far from the subject the camera is, and the lighting all help to move the action forward. "It's all about the storytelling," Bagwell said.
He said his long-term goal is to be a cinematographer for feature films. In the meantime, Bagwell is eager to soak up as much experience as he can, whether it is for documentaries or commercials, short films, or any other related position in an effort to learn as much as he can as quickly as he can. "I'm going in a little blind. I'll take any job."
And if he ever does feel the need to learn in an academic setting, school will always be there. "If [working in film] doesn't [work] I've got a backup plan."—RB
Stan Otto
The International Local
When Stan Otto retired after a distinguished career as a U.S. State Department senior diplomat, he and his wife weighed three retirement destination options: Paris, Tokyo, or Elberta, Michigan.
They already owned a small farm just south of the Benzie County village, so northern Michigan eventually won out. It's a move for which Otto has no regrets, in part because of the unusual sanctuary he and his wife, Liz Buck, have built for themselves.
They live in a barn that, at least on the inside, they have meticulously turned into a Japanese farm house, a project that took three years.
What makes the place Japanese? Otto says it is the Brazilian teak wood floors, artwork on scrolls, pocket doors, intricate woodworking throughout the house, and, of course, interior walls and windows made of Shoji panels, those latticed frames covered in paper.
Otto and Buck were fortunate to have found a master woodworker — Forrest Archey of Kingsley — who was willing to study several volumes on Japanese architecture and who constructed the fixtures they needed, even offering ideas for motifs on his own.
"We were extremely lucky. Normally, it would be very hard to do it," Otto said. "This guy studied it, and he really got into it."
After the couple settled in to their new home, they decided this summer to share it with some of their neighbors. They offered "An Authentic Japanese Experience for Four with Stan Otto" as a live auction prize for this year's Oliver Art Center annual fundraiser.
For the winner, the couple has planned a traditional Japanese dinner, in part from ingredients they've raised in their garden, which includes Japanese eggplant and spices. They plan to serve sake and give a talk about their Japanese art, about Japanese culture, and about what life is like in Japan.
The winning bidder will need directions to find the place, however. What's so striking about the couple's residence is, perhaps, from the outside, how it looks just like an ordinary barn.
"On the outside, it just looks like any red barn, maybe one painted more recently," Otto said. "A hundred-year-old Norwegian barn." —PS
Brian Confer
The Brewmeister
Brian Confer liked the work — photographing northern Michigan for publications like Traverse, Northern Michigan's Magazine and Midwest Living — but he thought there must be something more.
"I was looking for a way out of photography. I didn't want to leave northern Michigan, but I didn't want to retire as a photographer in northern Michigan," Confer said. "I was just trying to find what was next."
Confer grew up in Saginaw and moved to Minneapolis for art school. He ended up back in Michigan when he and his wife realized they were always returning to Michigan whenever they had time off.
"Once you decide to move back to Michigan, there's only a handful of places I was willing to move to," Confer said.
He got a job as a photographer at Traverse, where he stayed for four years. For years after that, Confer worked as a freelance photographer.
Once, while on a freelance assignment, he met Joe Short, founder of Short's Brewing Company in Bellaire and discovered what his life was missing: beer. Inspired by Short, Confer decided to begin brewing his own beer.
For a decade, he freelanced while he honed his brewing skills. He took advantage of the technological advance of digital photography — it enabled him to turn his home darkroom (equipped with a giant sink, cold storage, and ventilation) into a brewing room. The rhythm of a photographer's life also enabled Confer to devote time to study.
"As a photographer in northern Michigan, you're busy all summer long, and then you just twiddle your thumbs all winter," he said.
In 2013, he took his home-brewing hobby public. He teamed up with local businessman Rick Schmitt to co-found Stormcloud Brewing Company in Frankfort, a Belgian-beer-influenced microbrewery that quickly earned accolades and became an unofficial stop on any northern Michigan beer tour. Earlier this year, Stormcloud opened a canning facility and began to sell in stores.
"I think we are a fortunate combination of location, and I do think we're making good beer," Confer said. "I jokingly say that we're at the end of the sidewalk — you have to want to be in Frankfort. We do see more and more people making the drive; we have become a destination for a certain segment of beer consumer."—PS
Jerome Rand
Around the World in a 32-foot Sailboat
There's nothing like accomplishing the mammoth task of sailing solo around the world to put the little things in perspective.
"Every time you eat anything, anything, a ham sandwich or whatever, it's like, 'Oh my god, it's so good,'" said Petoskey native Jerome Rand, of his state of mind since he completed his round-the-world sail.
The 39-year-old completed his journey in May. He set off aboard the 32-foot Mighty Sparrow from Gloucester, Massachusetts in October, and he returned nine months later, having lost 45 pounds.
"I lost about 45 pounds on the trip, and I didn't have 45 pounds to lose, so it was something else," Rand said.
Rand said he decided to attempt the feat because it's the "holy grail" of sailing; he started thinking about it six years ago while hiking the Appalachian Trail.
"I don't know any sailor that hasn't thought about it or talked about it at one point or another," Rand said.
Along the way — the way being 29,800 miles — he sailed unsupported and unassisted around Cape Horn and the Cape of Good Hope and under New Zealand and Tasmania. It wasn't easy sailing: his water pump broke and for weeks he needed to collect rain water in order to survive, and he also ran out of food at one point, stopping offshore at the Falkland Islands for a re-supply. (Rand managed to arrange delivery so he could avoid going ashore.)
Rand, who has sailed professionally for 20 years and taught sailing on Walloon Lake and in the Caribbean, spent years planning the adventure and working to save the money to purchase his boat.
Now that's he safely back ashore, Rand has a speaking tour planned this fall. He plans to speak at boat shows and yacht clubs up and down the Atlantic Coast, from Maine to Florida. He eventually wants to write a book. He doesn't know what next great adventure might be in store.
"I don't know. My mom doesn't even want me to talk about it," he said. "I put her through enough stress with this one."—PS
Anabel Dwyer
The Nobel Winner
Military exercises with nuclear-armed warplanes over the Straits of Mackinac disturbed life-long disarmament activist Anabel Dwyer.
She was part of a coalition — the Michigan Nuremburg Campaign — that sought to stop the practice. In 1991, she wrote a petition and brief calling for an end to the exercises because they constituted "crimes against peace, crimes against humanity, and war crimes."
While Dwyer can't say for certain how much impact she and her fellow activists had at the time, not long after that, the federal government closed Wurstmith Air Force Base in Oscoda, and the flights ceased.
"It was a decade's worth of research, demonstrations, and arrests," Dwyer said. "We actually got rid of nuclear weapons in Michigan."
Over the years, Dwyer stuck with anti-nuclear activism.
That's how the Mackinaw City-based attorney was on a team that won the 2017 Nobel Peace Prize. Dwyer works with the U.S. Lawyers' Committee on Nuclear Policy and the International Association of Lawyers Against Nuclear Arms, partners with the International Coalition to Abolish Nuclear Weapons (ICAN), which was awarded the prize.
The Peace Prize was awarded in recognition of the ICAN Treaty to Abolish Nuclear Weapons adopted by 122 countries, Dwyer said.
Dwyer said she believes that nuclear weapons — along with climate change — pose an existential threat to human life, and she sees "many young people organizing along with us elders for a humane and healthy future."
"People must continue to face realities and say 'No More Hiroshimas, no More Nagasakis,'" she said.—PS
Rick Clark
The Remote Patroller
This ski season will mark Rick Clark's 60th as a member of the Otsego Club ski patrol.
The 75-year-old started skiing at the resort when he was 4 years old, and though he has never lived in Gaylord, he's been coming north to the outdoor sports mecca for weekends throughout his life.
"I've never lived in Gaylord, but my mom and dad started me up there when I was four years old in 1946," Clark said. "We were driving up from downstate all the time, and we would stay in various cabins and resorts, and they eventually bought a little tiny house."
Clark's dad was a charter member of the Otsego Club in 1939, and his dad started the ski patrol at the resort — formerly known as Hidden Valley — in 1947. He was director for three decades; the service became a family tradition.
"It became kind of a family thing that we would just automatically become ski patrollers," he said.
Clark said he believes the function of ski patrol is misunderstood.
"A lot of times people think that we're policemen, but we're not. Our biggest role, our biggest function is first aid," he said. "Anytime anyone gets injured, that's when the ski patrol is most necessary."
In the years that Clark has been on the ski patrol, he's seen the requirements become more stringent and advanced. There's always been first aid training required, but today the course is akin to what's required to become an EMT, he said.
Ski patrollers also need to know how to use a toboggan to evacuate someone, they need CPR and defibrillator certification, and they have to be trained on how to get people safely off of stalled chairlifts.
All of that takes a lot of physical strength, and that's why Clark is considering that perhaps his 60th year on the ski patrol might be his last. He said he plans to continue to come north and ski — he'll just do it as a civilian.—PS
Zander Cabinaw
The Changemaker
Zander Cabinaw became concerned about the health of the Great Lakes and decided to do something about it.
At first, the 14-year-old envisioned literally doing something — he thought he'd find some physical work he could do to help rid the water from an invasive species.
Cabinaw was inspired by a teacher at Cherryland Middle School, Kwin Morris, who is notable for co-founding Stand Up for Great Lakes, a group led by four men who have paddled their stand-up paddle boards across Lake Michigan and, most recently, Lake Superior to raise money for charity.
"I came to him with the idea that I was just going to go and clean up the waters, and he thought I should do more," Cabinaw said.
Thus, the Great Lakes Floatila, a canoe-kayak-SUP rally, was born.
"All school year we were planning and coming up with the idea," Cabinaw said.
The event took place on East Grand Traverse Bay on June 3, a Sunday, the week before the end of the school year. Despite poor weather that kept a lot of people out of the water, the event raised over $1,000 for Stand Up for Great Lakes.
Cabinaw's mother, Rachel Steelman, said she was pleased to watch her son come out of his shell as he took care of details and sat for interviews on radio and television and with print reporters.
"It was neat for me to see him" overcome his shyness, Steelman said. "You hear so much negative on the news — it was wonderful to hear something positive."
Cabinaw will be a freshman at Elk Rapids High School this fall, and he plans to play football. He said he doesn't intend to bring back the event next year, but if any 8th grader wants to take it over, he'll lend a hand.
"I learned a lot, especially about how helpful everyone is," he said. "People, they see what's going on and even if they can't help you, they point you to somebody who can."—PS
Nancy Vogl
Madam Speaker
Nancy Vogl was making plans to move her business into a van and travel around the country when she had to take time out to have a brain tumor removed three years ago.
The operation was a success, and Vogl moved forward with her travel plans. But in the process, she sacrificed an affordable rental house in Traverse City so that she could hit the road with her husband.
Vogl, who started her company Nancy Vogl Speakers Bureau in the early '90s and who regularly books speakers around the world, is also a songwriter, screenplay writer, and a grandmother to 16. She is also a speaker herself, albeit one who specializes in speaking to other speakers.
Vogl was on her way back to Traverse City from speaking at a National Speakers Association meeting in New Orleans three years ago when she got the idea to buy a van after reading an article in an in-flight magazine.
Soon, after a nine-hour surgery and days in a downstate hospital, Vogl was ready to hit the road. The 65-year-old didn't let the brain tumor slow her down.
"I booked a speaker two days after my brain surgery, from my hospital bed," she said.
She and he husband, David Strange, would move out of their rental house near Sleder's and use their savings to buy a van. Vogl was surprised, though, when she found out how much money vans cost, especially newer ones that didn't have a lot of mileage.
"We had to find a van, and we only had so much money," she said.
She said that after searching for weeks around the country and finding prospects that were either too old or too expensive, they found one within their $16,000 budget that, while a 1995 model, had low miles and would be convenient to purchase.
"It was within $10 of what we had saved, and it was in Traverse City," she said. "It was just a miracle."
They left in September 2015 and spent almost seven months on the road, visiting hundreds of clients, traveling 22,000 miles through 34 states.
"I worked from the passenger seat as if I was sitting at my desk in my office," she said. The couple repeated the trip for five weeks in 2017 and four weeks this year.
But after giving up their low-cost rental, Vogl said she and her husband returned to northern Michigan unable to find a suitable house that they could afford to buy or rent. They've hopped around between friends' places and expensive rentals ever since.
"We looked and we looked and we looked and we could not find anything," Vogl said. "It just came to the point where we said, "This is not working. Traverse City is not addressing affordable housing for people."
So Vogl is returning to Lansing, where she grew up.
"We want to come back to Traverse City badly," she said. "But our mortgage (in Lansing) is only $215 per month. Rent on Suttons Bay was $1,000."—PS
Karl Crawford
The Print Preserver
In 58 years of working at the Greenwood Cemetery, first as a laborer and today as superintendent, Karl Crawford has come to see a connection between the bodies in the ground and the stories of our past.
In recent years, under Crawford's direction, Greenwood has become the holder of local history for the Little Traverse region. Staff are scanning and preserving the archives of all of Emmet County's newspapers dating back to 1875, and they've taken over the photo and clip files from the Petoskey News-Review.
The history project began in 1985 when water got into an office and damaged some records. They decided they needed to make sure the records were safe, and they began to keep duplicate copies. Crawford said along the way, the cemetery began to clip obituaries for people who were buried there, and later they saved all of the obituaries from the News-Review.
"It all started out as a desire just to make our own records safe, so when someone would come in and ask for information about a burial, we wouldn't have to say, 'We don't know,'" Crawford said.
That eventually led to the local history project.
"We decided that if we were going to be a repository of human remains, we should be a repository of the history of those people that are buried here," he said.
As far as Crawford knows, that makes Greenwood fairly unique.
"I would be surprised if there was another cemetery in the world that was doing this type of thing," Crawford said.
Greenwood recently received a $15,000 gift to ensure it can get all of the historic Emmet County newspapers scanned and saved, and staff are working through 160 boxes of material from the News-Review that contain old clips and 100,000 photos. They've already got 31,000 photos online in a searchable database.
Crawford said the project doesn't have a budget because the work is done by staff when they have spare time, usually in the winter. No one has been hired to work on the project. He said he knows that the local history collection is a valuable resource in some intangible ways.
"I had a fellow whose uncle was killed overseas in World War II, and I had come across some newspaper clippings related to his family, so I sent him those, and he started reading through the newspaper archive," Crawford said. "He said he found out things about this uncle and his family that he had never known before. I don't hear that a lot, but I get a lot of 'thank yous' from people who said, 'We couldn't have found this information anywhere else.'"
At age 71, Crawford has no plans to retire. Nonetheless, he said if stopped working tomorrow, he believes staff would continue the project. He said his assistant superintendent is interested in carrying on after he is gone.
"I think even if something were to happen to me, I think the project is ongoing," Crawford said.
Sarah Shoemaker
The Recasting Director
In third grade, seventy-plus years ago, Sarah Shoemaker realized she would be a writer. It wasn't really a decision. She simply understood her own nature.
Over the years, she's raised three (now grown) children, lived two years in Turkey and three years in Greece, worked as an English teacher and a librarian at the University of Michigan and at age 20 married her life partner, mathematician/teacher Kent Shoemaker. The couple recently celebrated their diamond anniversary.
In the late 60s her youngest child started school. She returned to her dream of writing. Over the next few years, she published international thrillers, writing mostly under the pseudonym S.K. Wolf. (Her editor suggested she disguise her gender because "men read this genre, but they won't buy the book if it's written by a woman.")
A few years ago, she was ready for a change in direction. Her latest book, Mr. Rochester (published by Grand Central in 2017), marks her initial foray into literary fiction. It's also the first time she's published under her full name.
She got the idea for the book at a Northport book circle discussion of Charlotte Bronte's mid-19th century novel, Jane Eyre. Shoemaker noticed that for many readers, the book's central male protagonist, the (of course) wealthy Edward Rochester, is a lout.
She understands that reaction. He courts two women at once and carefully hides the fact that his violent, mentally ill wife is locked away upstairs.
Nonetheless, Shoemaker, who considers herself a feminist, thinks there are – or should be – more positive things to say about Rochester. The problem she says, is that Bronte never satisfactorily explains the character, neither his past nor his hot/cold personality. So, based upon extensive research of the era, Shoemaker sets out to (fictionally) fill in the blanks of Rochester's life.
"I see him differently, very positively," Shoemaker tells Northern Express. "He's not perfect, but he tries to do his best."
A note discovered after publication of Mr. Rochester seems to back up that view.
Bronte writes, the "Years improve him; the effervescence of youth foamed away, what is really good in him still remains."
Trending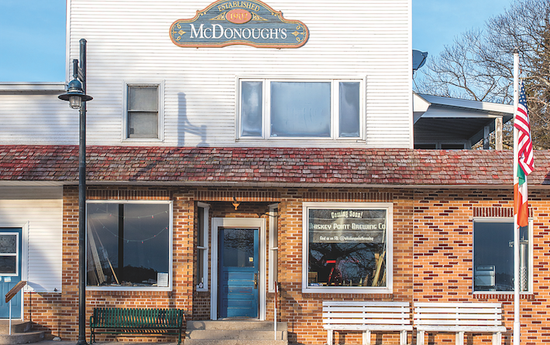 Welcome to Michigan's Most Remote Brewery
After years of planning and honing his beer-making skills, this spring, Patrick McGinnity plans to open Beaver Island&rsqu...
Read More >>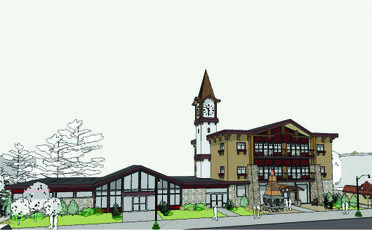 Gaylord: A boomtown Up North
Gaylord native Gary Scott had moved to Indiana, where he and some partners started a business to invest in distressed prop...
Read More >>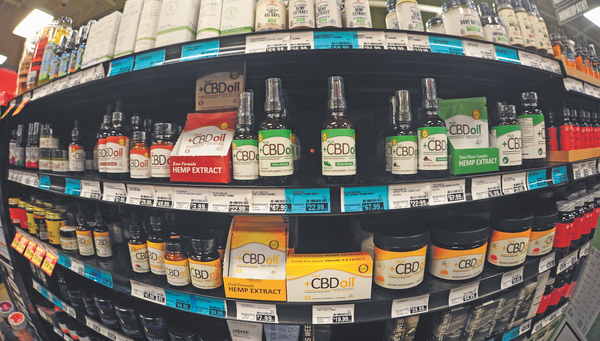 CBD Laws: Dazed and Confused
The sign outside of Family Video in Kalkaska lets drivers know the store has more than just movies. The sign reads: &...
Read More >>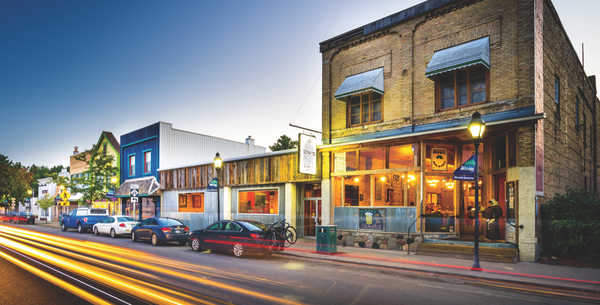 Small Up North Towns on the Rise
Spotlight on Bellaire (pictured)Seems Traverse City isn't the only place in the region making those "Best...
Read More >>
↑