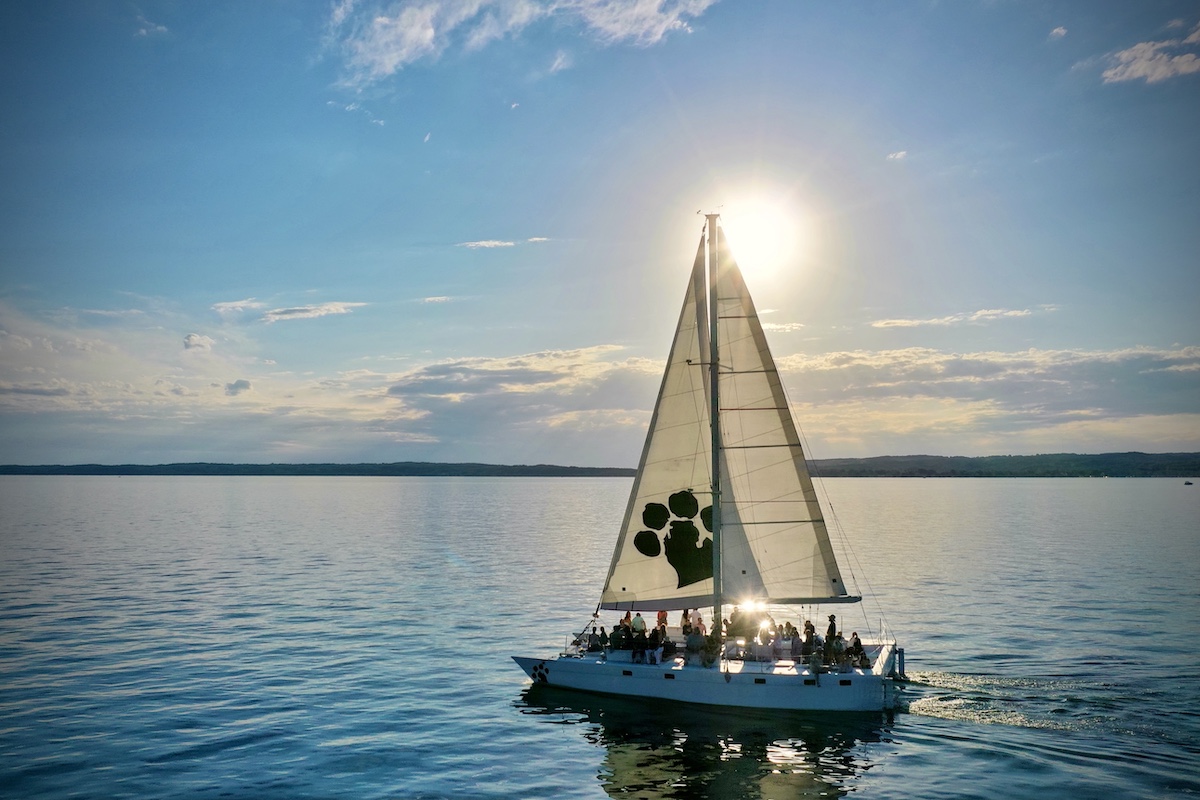 Feeling Nautical
A Q&A with Captain Chien Nowland of the Nauti-Cat
If you were to ask Chien Nowland what he does all summer, you'd likely be more than a little jealous of his response. Since 2007, Nowland has been operating and sailing the Nauti-Cat, Traverse City's touring catamaran, around Traverse Bay.
Four times a day, seven days a week, all summer long, Nowland and his co-captain Chris Coulfton load up nearly 50 passengers onto the Nauti-Cat and set sail around the bay. The cruises range from bright and sunny afternoon adventures to romantic sunset sails where passengers can sip champagne. We spoke with Nowland about his experience as captain…and to find out what's in that delicious Nauti-Cat cocktail.
Northern Express: This seems like a dream job. How did you get started on the Nauti-Cat?
Chien Nowland: I started working on the Nauti-Cat when I was 14; it was my first job. At the time, I wasn't old enough to work the adult cruises where alcohol was served, so I ran the kid cruises and spent a lot of time making balloon animals and whatnot. It wasn't until a few years later when the old captain went overseas for a few months that I got to experience running the boat. He gave me the keys and told me to take care of it. I took my friends out a few times, learned the ropes, and the next year my dad and I leased the company. I've been captaining the boat ever since.
NE: How many people are you hosting on board during a typical summer week?
CN: There are four cruises a day, seven days a week, and each cruise holds 49 people. Throughout the season we get around 15,000 people total, so a little over a thousand a week.
NE: We all know the saying about how if you don't like Michigan weather, wait five minutes. Do you guys have a protocol for inclement weather?
CN: If the weather isn't great we don't want to force it. If it's just a light drizzle or a little chilly, we'll probably still go out, but if it's raining or there's a storm we offer people a refund or offer to reschedule their tour. It's tough because a lot of people are only in town for a week or less, and the cruises are usually booked out for the rest of the week, so rescheduling can be tricky, but sometimes it acts as a reason for people to come back and visit again.
NE: Even on calmer weather days, do you run into issues with people struggling with the combination of alcohol and being out on the water?
CN: Yes, naturally that problem comes up a bit, particularly during our evening cruises. I call it "shipmatized."
NE: And what do you guys do in those situations? Has anyone ever fallen overboard?
CN: Thankfully, we've never had an overboard incident. Typically if someone has clearly had enough, we give them some water and snacks and ask their friends to look after them. The bartenders keep a pretty close eye on people to make sure it doesn't happen too frequently, but sometimes the sun and day spent enjoying the area catches up to people. For the most part, people are really cooperative and help us monitor anyone who might not be in the best shape. We also don't let people onboard in the first place if it's clear they've had too much to drink.
NE: Speaking of drinking on the Nauti-Cat, do you mind sharing what exactly is in that magical happy hour cocktail?
CN: It's called "Catnip," and it's basically just a rum punch, so it's got some rum, orange juice, lime juice, and some other stuff in there. I like to say that one isn't quite enough and three is too many.
NE: Are there any particular cruises that you prefer?
CN: I think there are a lot of opportunities to offer something exciting and different on the boat, which is part of what makes it so cool. I really love the cruises for the fireworks and air show during Cherry Festival. Fireworks out on the water are epic, and we get around 1,000 feet from them, so you get an incredible view of the show plus the reflection on the water. It's unlike anything else, truly.
NE: Do you have any recommendations for people who haven't been on a Nauti-Cat cruise before?
CN: A lot of people don't realize this, but the Nauti-Cat allows people to bring their own food aboard, so if you book an afternoon cruise, have a family, or want to pack your own picnic, you can bring on any food you want. I personally think the best way to experience one of the cruises is to pack a picnic and take an afternoon cruise, or to make dinner reservations and take the happy hour cruise before you go to dinner. They're a really fun and pretty inexpensive way to get out on the water.
You aren't allowed to bring your own drinks aboard, but we try to keep things pretty affordable. Drinks are $5-$7 for beer, wine, and well cocktails, and we have specialty cocktails from Mammoth Distilling that are $11. Honestly, it's cheaper than most of the bars in town, plus you're guaranteed an amazing view of the lake.
Captain Chien Nowland and Captain Chris Foulton operate all of the Nauti-Cat cruises, which take place throughout the summer. Tickets start at $40 and can be purchased at nauti-cat.com. Nowland strongly suggests booking out your trip aboard the Nauti-Cat in advance, as most of the tours fill up several weeks out.
Trending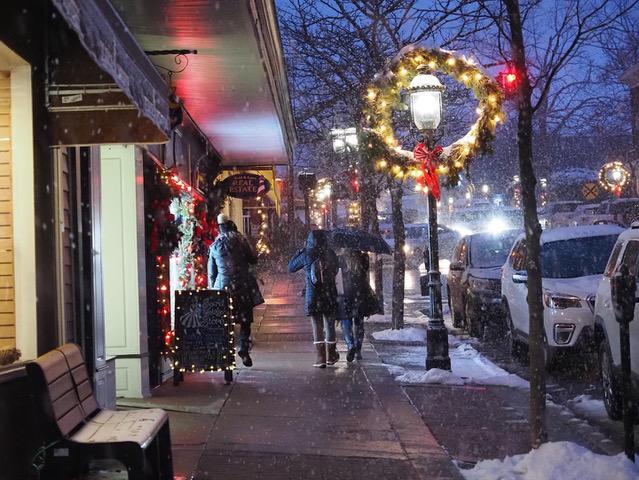 Jump Start Holiday Shopping
Downtown Petoskey hosts their Holiday Open House on Friday, Dec. 2, from 6-9pm as Santa flies into town to light the giant...
Read More >>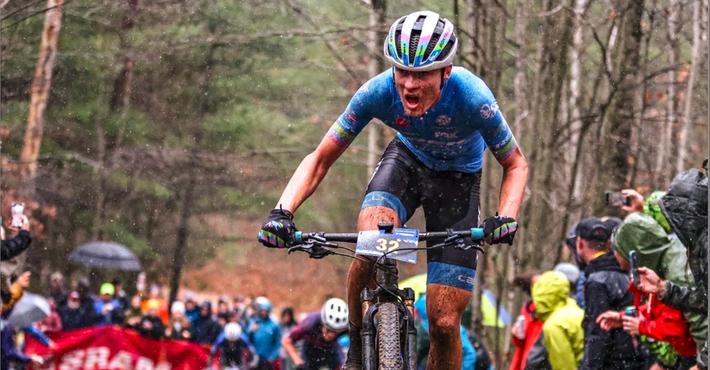 A New Gear
If last week's snow made you think the two-wheeling season is over, think again. Tuesday, Nov. 29, is the official l...
Read More >>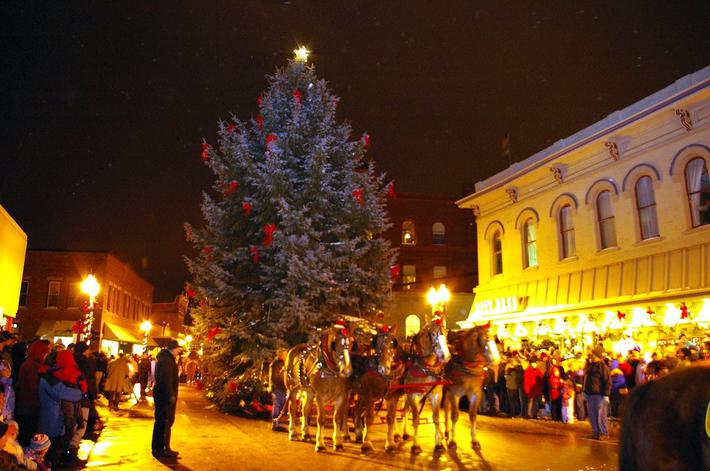 Jingle All the Way to Manistee
The town of Manistee is going into full holiday mode—and going back in time—this weekend. Friday, Dec. 2, the ...
Read More >>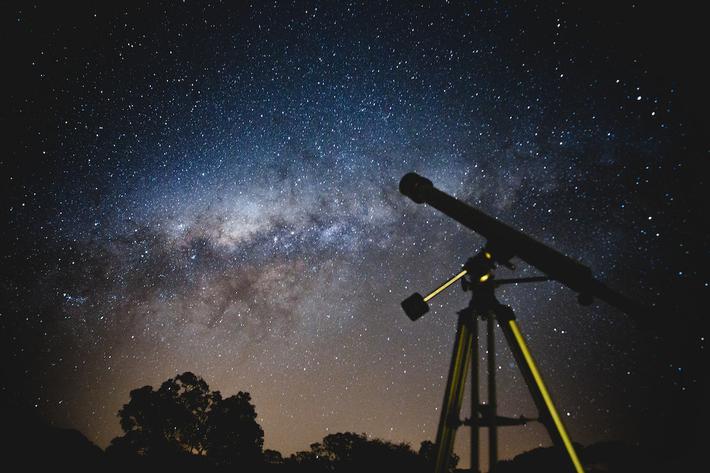 Aim for the Stars
Aliens may walk among us, but this weekend it's our turn to wander through the galaxy. On Saturday, Dec. 3, the Denn...
Read More >>