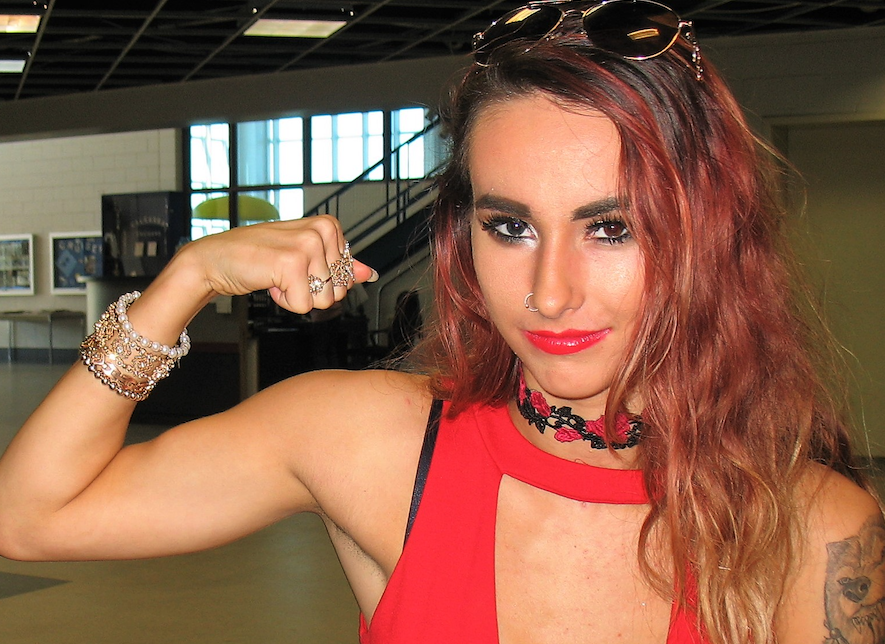 Femme Phenom Angel Schauer, Mancelona High's first female wrestler
When the two wrestlers met at the center of the mat, the Pine River grappler smirked, then openly snickered at his opponent, who glared back with steely determination.
Within seconds, the Mancelona wrestler — a relatively inexperienced sophomore — went for a favorite move, a Sunset Flip, and the cocky Pine River lad found himself pinned to the mat by Angel Schauer, the first female wrestler in Mancelona school history.
"The guy laughed at me, and I got angry," said Schauer with a wide smile. "I pinned him in 25 seconds. He was really shocked when the ref blew the whistle. It was like 'What Happened?'"
The video of that sudden pin shows Schauer slipping a right arm under her opponent's neck while her left arm gets under his right arm. She quickly rolls back, smoothly flipping him over, then ends up on top for the sudden pin.
It was only one of 70-plus wins that Schauer posted over her four-year high school wrestling career. The wrestler graduated from Mancelona High School in June.
A big turning point in Schauer's wrestling life took place in 2014 when, as a sophomore, Schauer went to Oklahoma for a national competition. "I won my first match and went from there," she said. "It was a mouthful of competition."
Competition has always been a way of life for Schauer. Her dad, Brandon Schauer, was active in mixed martial arts and ran a gym in Mancelona where Angel trained since she was a little girl. Dad coached her until some health issues made that difficult.
Schauer cites Mancelona coaches Scott Crothers and Joe Johnston with helping her become a better wrestler.
"Angel is a dedicated, hard worker," said Johnston, who coached her during her junior and senior seasons at Mancelona. "She never bowed down to her competition. Even if her opponent was 10 pounds heavier, she'd go after it with all she had. She's very goal-oriented. I never had to worry about her making weight or eligibility or anything."
"My biggest competition is myself," said Schauer. "Before each match I would drill my moves and play out in my mind how the match would go. Skill and style make the match. I like the flashy moves, like the Sunset Flip. I also like The Olympic, sort of a judo flip, where you grab a wrist and flip your opponent over your hip. It's an almost-instant win."
Schauer admits that as a freshman wrestler she wasn't very good.
"But I decided to get better, and I worked my butt off," she said. "My team was super supportive. I didn't get many wins as a freshman, but I got more serious as a sophomore and decided to put my very best forth on the mat. As a junior and senior, I dominated."
During her senior season, Schauer was joined on the Mancelona team by another female, Breanna Benham. But still there were very few other women wrestling on the squads the Mancelona team competed against, including those from Kalkaska, Pine River, Grayling, Manton, and Roscommon. "Ninety percent of the time I was wrestling guys," said Schauer. "But I encourage other women to try the sport."
During Angel's matches, her mother, Mary Schauer, and brothers, Coby and Brandon, would cheer her on. "I've always been proud of her," said Mary, who works at Munson's Wound Care Center in Traverse City. "We always supported her, but I was nervous seeing her go against the boys. But she's determined. She's gonna prove her point. I'm the worrywart who cheerleads."
During her wrestling career, Schauer trained furiously six days a week. A typical day began with a 5am workout at home, then it was off to school, where she would work out during gym class. After school, it was time for two hours of wrestling practice, followed by a session at a Mancelona gym in the evening.
A typical workout would start with lots of stretching to loosen her muscles, followed by drills on an array of wrestling moves, including take downs and arm clinches. She'd add in some work on new moves and techniques, followed by at least 30 minutes with a 25-pound kettle bell to build strength and stamina and develop strong hands.
"Lots of kettle bells," she said with a laugh. "That gave me an iron-on grip. I would leave bruises on the arms of my opponents. Someone called me 'The Arm Taker,' but I don't really have a nickname. I'm just Angel."
Nickname or not, Schauer belies any stereotypes one might have about a woman wrestler. Rather than muscle-bound, she looks more like a beauty queen — which she also is. In October 2016 she was chosen for a one-year term as Miss Mancelona.
It was just another form of competition in which the 18-year-old excelled.
While in high school, Schauer was in the public safety program at Traverse City's Career Tech Center. She plans to study law enforcement at Northwestern Michigan College in the fall. But wrestling is not totally in her rearview mirror. She plans on starting a wrestling club at NMC, which does not have intercollegiate sports programs.
"I'm just trying to make the world a better place," she said. "I'm self-driven. I love the competition, but at the end of the day, it's all for me."

Angel Weighs In
Wrestler shares her take on Mayweather-McGregor fight
As a lifelong mixed martial arts fan, Angel Schauer is looking forward to the Aug. 26 showdown in Las Vegas between boxing champion Floyd Mayweather and MMA titleholder Conor McGregor.
Mayweather is 49–0 with 26 knockouts, while McGregor is 21–3 in MMA contests. Betting in Las Vegas opened with Mayweather as a huge favorite, but recent odds show -800 on Mayweather and +500 for McGregor. That means a $100 bet on McGregor would win $500 plus the original wager back if he were to win. In order to win $100 with a Mayweather victory, someone would have to wager $800.
So who does Schauer see winning this big showdown?
"I hope Conor wins," she said. "That will shock the world."
Trending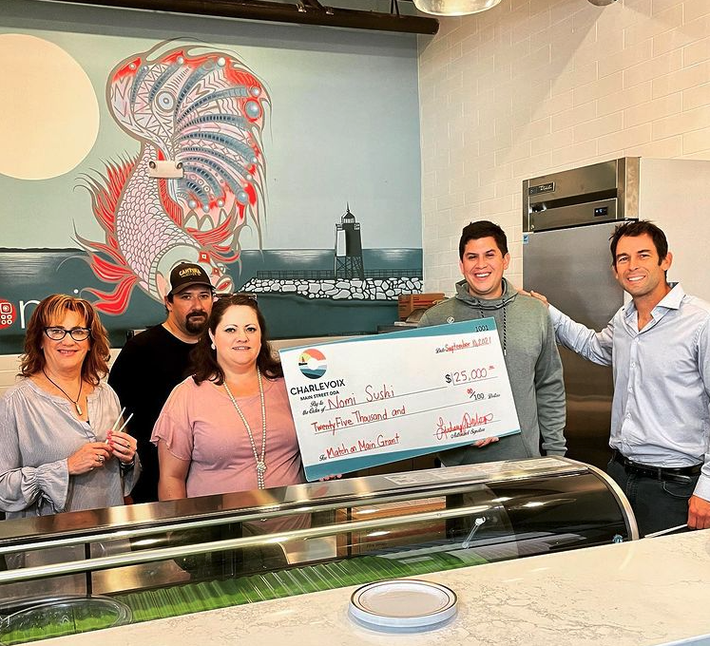 Big Boost for NoMi Sushi
Typically, restaurants don't begin earning money until after they've opened. NoMiSushi, which opened up earlie...
Read More >>
The Unfriendly Skies
A woman on a Southwest Airlines flight refuses to fasten her seat belt or put on her mask. The video, taken by another pas...
Read More >>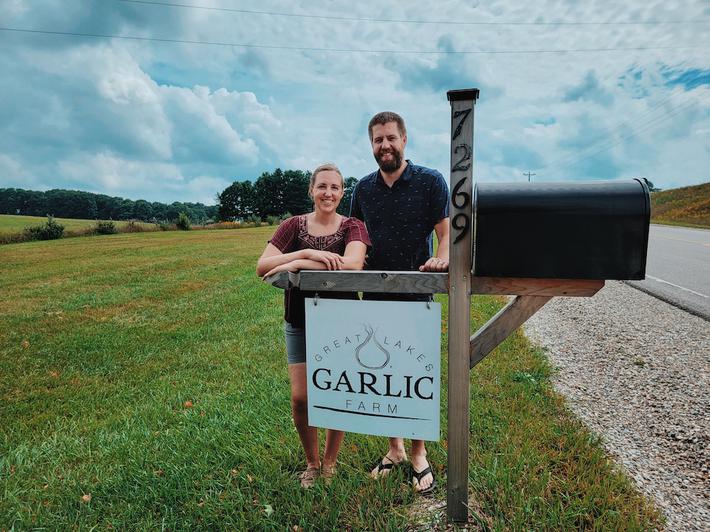 A Matter of Life & Breath
When it comes to cooking, you'll be hard-pressed to find anyone opposed to throwing in a few extra cloves of garlic. Human...
Read More >>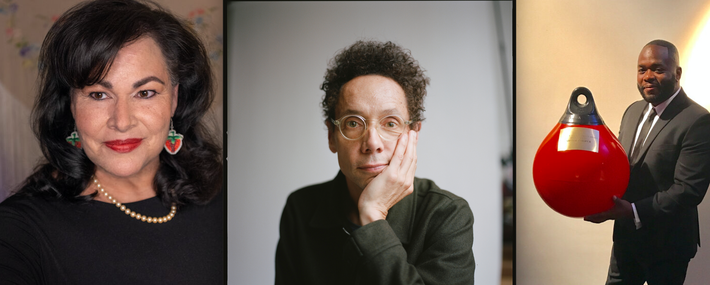 Read 'Em and Meet
Bibliophiles rejoice: The Harbor Springs Festival of the Book is returning Sept. 23–25, with a slate of authors, in-...
Read More >>
↑