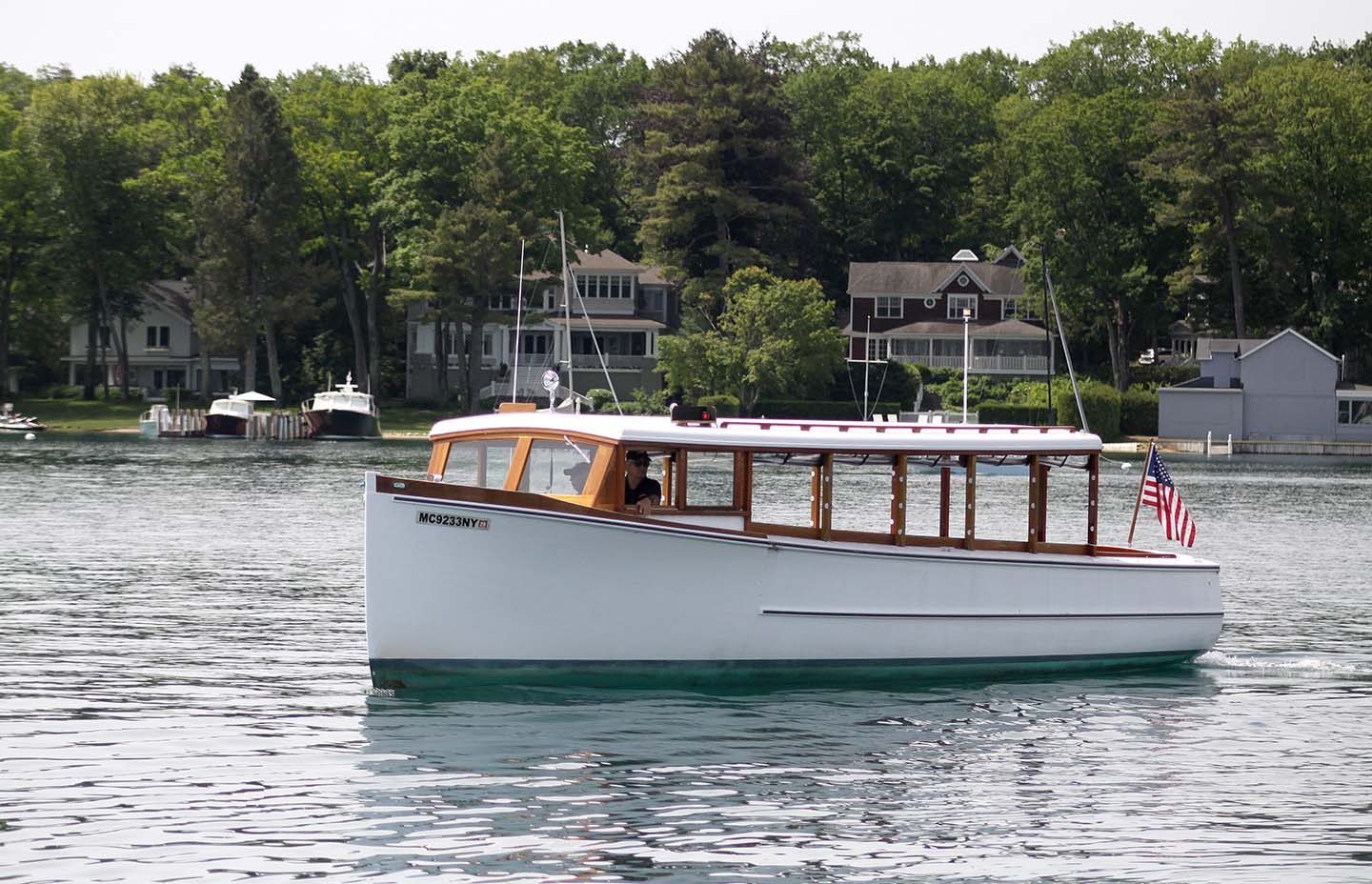 Float Back in Time on Little Traverse Bay's Pointer Boat
Plus: New Little Traverse Bay Ferry Co. Coming 2020?
By Eric Cox | July 6, 2019
Each summer, tens of thousands of people flock to northern Michigan in search of lakeside refreshment. But not all visitors have a way of actually getting out on the azure waters, where the views are often more satisfying than the cool lake breezes themselves.

A solution for that recurring tourist conundrum floats dockside at Stafford's Pier Restaurant, set in the ultra-picturesque village of Harbor Springs. The Pointer, an historic 34-foot water taxi resurrected and redeployed by two local businessmen, is an ultra-classic way to float Little Traverse Bay while taking in an hour-long "backyard" tour of the tony old estates peppering exclusive Harbor Point and gorgeous Wequetonsing.

Restored with painstaking authenticity in 1989 by Van Dam Wood Crafts of Boyne City, the Pointer can hold 12 passengers and two crew members, Capt. John Shaw and First Mate Carol Parker, on the slow troll around Harbor Point and back. Along the way, Parker shares the area's history and interesting anecdotes about the area's original settlers, the Odawa, and other lore about the eventual development of Harbor Springs, Harbor Point, and Wequetonsing.

ORIGIN STORY
The Pointer hasn't always been a commercial craft. In fact, the boat, owned by Marvin Dudley and Stafford Smith, has seen a colorful past.

According to Dudley, the Pointer was built by Finnish craftsmen in Chessel, Michigan, on the Upper Peninsula's Keewenaw Peninsula, in 1934. Conceived as a working vessel for nearby waterways, the Pointer began its local life in 1948, when it was brought down to Harbor Point to replace its original 1928 water taxi, a boat Dudley said had deteriorated because it was cheaply built with inferior woods.

Its successor — today's Pointer — was quite the opposite, a sturdy vessel whose bones are crafted from durable oak and cypress. As Harbor Point's sole water taxi, Pointer ferried residents, Harbor Point Hotel guests and workers to and from Harbor Springs, landing in town at the central dock, now the home of Stafford's Pier Restaurant.

In the early 20th century, cars weren't permitted on Harbor Point, leaving cottage owners and their employees with the choice of walking, riding by carriage, or traveling by boat. Likewise, guests at the hotel found the Pointer useful in dashing to town for dinner, parties and shopping.

In 1962, however, area officials felt the Harbor Point Hotel had outlived its economic feasibility, and a decision was made to raze it. Pointer was then sold to private owners, and its ownership changed hands several times over the next few decades. According to Dudley, the various other owners used the craft for personal expeditions, and the boat even made the rounds at Beaver Island for a few years.

ALMOST FORGOTTEN
One winter, the vessel was — like many northern Michigan boats — tucked away in a barn to wait out the damaging snow and freeze. Unlike the others, however, the Pointer wasn't trailered back to the lake that spring. Instead, it sat inside its upstate barn for an untold number of years, perhaps forgotten, until the death of its owner prompted a property sale. Thankfully, a community-minded local realtor, who was charged with selling the property, alerted Smith and Dudley when the barn's new owners requested the old boat's removal.

"Stafford and I took ownership in 1988," Dudley told Northern Express. "We set out to completely restore it because we appreciated its historical significance to the Harbor Springs and Harbor Point communities."

In 1988, a two-year overhaul of Pointer began in Boyne City. Completed in 1989, Dudley and Smith decided to moor the vessel at Stafford's Pier Restaurant, intending it to serve primarily as an historic showpiece for guests, some of whom enjoyed the occasional courtesy cruise.

That's the way Pointer stayed for about 25 years — a non-commercial, unlicensed, nonprofit conversation piece. But, after a spate of tragic mishaps involving similar vessels occurred around America, the U.S. Coast Guard (USCG) began taking more interest in un-inspected boats like Pointer.

Eventually, Coast Guard officials forbade Pointer's use as an unofficial watercraft, no matter how narrow or infrequent its use. Dudley and Smith debated the pros and cons of bringing Pointer into USCG specifications.

GOING FOR BROKE
Finally, they opted to make it official, pulling the boat out of service for two years in order to complete the necessary upgrades that would qualify the craft as a USGC-certified boat for hire.

Rigorous testing, safety education, fire drills, and more were all carried out to meet the mark. "In 2015," Dudley said, "we put it back into service as a commercial boat. We complied with every rule they threw at us. Now it's a charter boat for hire, through the Pier Restaurant.

"We're making history every day," he added. "When people come up here, they don't just want to look at the water — they want to get on the water. This is one way they can do that."

TAKE THE TOUR
Want to take a tour on the Pointer? Pointer passengers get a close-up view of some of northern Michigan's most beautiful and storied coastline. From million-dollar, luxury yachts and other vintage vessels, to massive summer "cottages" owned by millionaires and billionaires — many whose names you'd recognize — tour passengers are guaranteed a gorgeous eye-full.
Cost is $27.50 per person, though the junket is not recommended for children under age six. Anyone can buy out the entire boat (maximum of 12 passengers) for $325.
Additionally, passengers can pre-order food from the Pier Restaurant, allowing for a beautiful lunch or dinner on the lake. (Outside food and beverages, and non-service animals) aren't permitted.
Seasonal tours depart daily at 11am, 1pm, 3pm, 5pm, 7pm, and — often but not always —8:30pm. Tickets can be purchased at www.staffordspier.com or in person at Stafford's Pier Restaurant, 102 E Bay St., Harbor Springs. (231) 526-6201

POINTER FACTS
· Built by Finnish craftsmen in 1934, Pointerwas originally a working vessel on the Keewanah waterway in Michigan's Upper Peninsula.
· The boat is 34 feet long and 10 feet wide. Its upper structure is made of mahogany, while the lower part is constructed of white oak.
· Pointer's Westerbeke four-cylinder diesel engine generates 70 horsepower. The vessel runs at an average speed of 4.5 miles per hour. This efficient system burns only about 600 gallons of fuel per season.
· The engine has about 6,800 tour hours on it. Operating at 4.5 mph, the owners estimate it has traveled a total of about 34,000 miles, or approximately one and a quarter times around the planet.
· Pointeris USGC-licensed to travel only one mile west of Harbor Point, two miles east of Harbor Point, and a quarter mile offshore. The vessel is not licensed to cross Little Traverse Bay.
· The city of Harbor Springs licenses Pointer as an official harbor boat, a certification process for which occurs once every five years.

***New Ferry on the LT Bay Horizon***
Two communities are clearing the way for a ferry company hoping to offer a simple "Point A to Point B" travel option across Little Traverse Bay.

Both Petoskey and Harbor Springs officials are making moves in support of the Little Traverse Bay Ferry Co. (LTBF), which hopes to establish a ferrying service between the two bayside towns.
Owners of the fledgling business believe the cross-bay link will enhance tourist spending and alleviate car traffic along the two towns' connecting roads.

In attempts to blend their vessel with the area's aesthetic, LTBF officials plan to use a converted fishing boat, specifically a Chesapeake Bay drake tail craft. Aside from hosting 24 passengers, the ferry would also accommodate luggage and bicycles. One-way tickets will reportedly cost $8 ,and proposed hours of operation are 10am–10pm, though no official schedule has been announced.

The company has been approved to set up shop at Petoskey's Bayfront Park Marina. Company officers are still trying to work out docking arrangements on the Harbor Springs side. If all goes well, the ferry could begin operating in May 2020.

Trending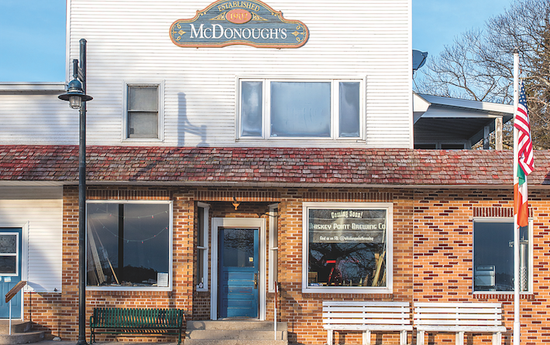 Welcome to Michigan's Most Remote Brewery
After years of planning and honing his beer-making skills, this spring, Patrick McGinnity plans to open Beaver Island&rsqu...
Read More >>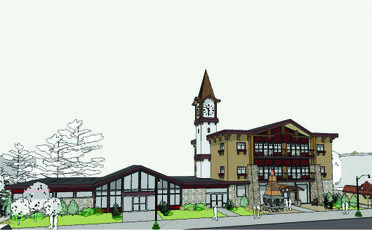 Gaylord: A boomtown Up North
Gaylord native Gary Scott had moved to Indiana, where he and some partners started a business to invest in distressed prop...
Read More >>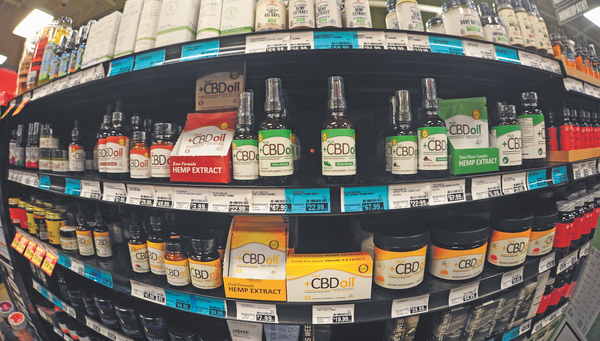 CBD Laws: Dazed and Confused
The sign outside of Family Video in Kalkaska lets drivers know the store has more than just movies. The sign reads: &...
Read More >>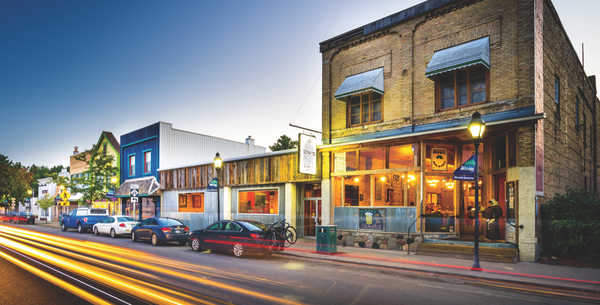 Small Up North Towns on the Rise
Spotlight on Bellaire (pictured)Seems Traverse City isn't the only place in the region making those "Best...
Read More >>
↑