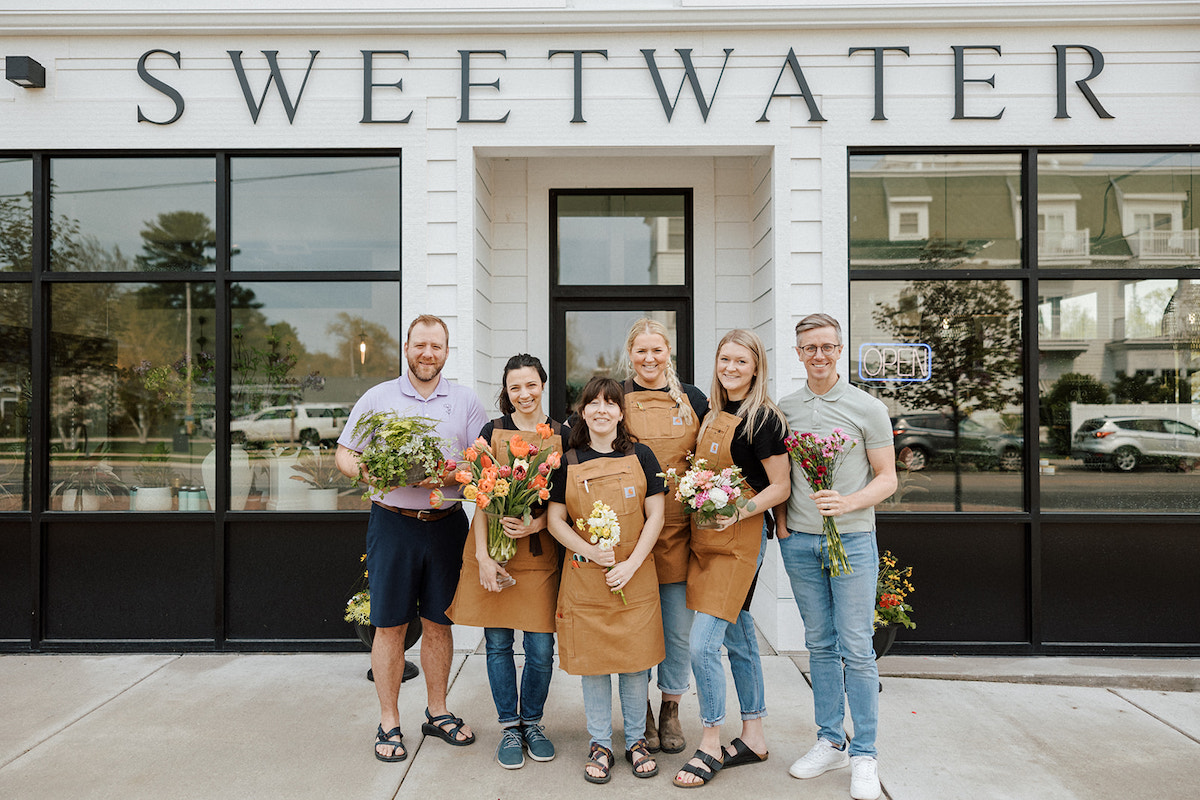 Flower Magic in Walloon Lake
A look inside Sweetwater Floral
"We firmly believe in: the joy flowers bring, locally grown blooms, statement flower moments at any life event, [and] wildflower seed confetti…"
So writes Kalin Sheick in a recent Facebook post about her floral design business, Sweetwater Floral, which opened its first retail space in Walloon Lake at the beginning of May, just in time for the Mother's Day flower rush.
For Sheick, what started as a hobby and then a part-time gig out of her Petoskey home has grown into a thriving business. In her very first season in 2015, Sheick provided floral designs for eight weddings in northern Michigan. Last year, the Sweetwater team handled more than 100. Add in the retail space and an array of wildly popular workshops, and you can tell Sweetwater is growing something magical.
From a Simple Start…
Though the business has blossomed in the last eight years, Sweetwater Floral began as a tiny seed. A part of her journey that Sheick has never shied away from sharing is that she's entirely self-taught. Prior to 2015, Sheick worked in journalism as a local news reporter, but she was looking for a creative outlet during her down time when she wasn't at the station.
That's when she discovered the beauty of flowers and all things green.
Sheick had moved into her first apartment and thought, "Oh, I need a houseplant!" She'd always been curious about gardening but had never lived in a space where she had the opportunity to try it out.
"I loved houseplants and terrariums, so I cut my green-thumb that way," says Sheick. "I decided to start teaching myself [floral arranging] as a fun hobby and then fell in love with it."
Sheick's ability to infuse the Sweetwater brand with her own story and authentic personality appears to be one of the secrets to her success. She posts regularly on Instagram and Facebook—where she's amassed over 25,000 followers—regularly writing funny, poignant, and heartfelt observations about life, family, flowers, and her work. She says she's always aimed to be transparent about the adventure of starting and cultivating a small business, sharing that story of steady growth day by day through all the ups and the downs.
"Business ownership is not easy," says Sheick. "It's a different challenge every single day…you need to be resilient. The biggest challenge has always been navigating the growth in a way that feels natural to us. We're very measured in our risk and our change as we take on new things."
…To a Retail Store…
Throughout all that growth, Sweetwater remains firmly rooted in Michigan and committed to their local community. That's one of the reasons Sheick chose to feature the cosmos—her all-time favorite flower—in Sweetwater's logo. The cosmos is a freely flowering annual that grows well in Michigan and reminds her of "a laid-back, Up North summer by the lake."
An appreciation for "the fresh water that surrounds us" has been a part of Sheick's vision for the Sweetwater brand from the beginning, so it's fitting that their first brick and mortar shop is located near Walloon Lake. Sheick and her husband, Matt, were married on Walloon Lake, so the village has also played a role in their own family's story. (That family now includes three young children and two dogs.)
In the winter of 2022, Sheick acquired retail space at 4128 N. M-75 in the village's downtown—a corner unit with large windows that will allow passersby to view Sweetwater's team designing floral arrangements in a beautiful, light-filled workshop. The shop sells pre-made bouquets kept fresh in coolers, custom floral designs, houseplants, succulent gardens, and Sweetwater Floral merchandise featuring the cosmos logo.
"Opening a retail space here was a no-brainer," says Sheick, adding that she's most excited about what's in store for the shop during its first summer season. "I can't wait to see how the shop does! I can't wait for everyone to come visit… Nothing beats a Friday morning in the summer"—historically one of the busiest days for florists, when customers stop by for fresh-cut flowers before the weekend.
Although she adores wedding season, this "everyday" aspect of running a retail space is something else Sheick is looking forward to—the ability to connect with local families and provide customers with flowers throughout the week and outside of major events.
In fact, many of Sweetwater's most loyal supporters started out as wedding clients who then became lifelong customers. Sheick says she's grateful for the opportunity her team has to continue playing a role in people's lives long after the wedding is over, whether that's by providing floral design for baby showers, anniversaries, or other special moments.
Given the way Sheick and her team are able to infuse a variety of venues and events with the joy of flowers, it's no wonder customers and staff alike call the work they do "Sweetwater magic."
Beginning June 24, the Sweetwater shop will feature a pop-up series in partnership with other women-owned small businesses in the region. They will also host several summer-themed workshops on centerpiece design and hand-tied bouquets.
…To Wildly-Popular Workshops
Workshops are another area where Sweetwater shines. Once she founded Sweetwater Florals and had a few weddings under her belt, Sheick's business branched out in another direction. In addition to designing award-winning wedding florals, Sheick and her team began hosting educational workshops, both in person and online, to teach the art of floral design.
The very first workshop Sweetwater hosted was for 12 participants. Last year at WreathFest—one of Sweetwater's most popular events during the holiday season—Sheick and her team taught more than 600 people how to design their own wreaths. (Save the date: Sweetwater plans to host this holiday floral festival again in 2023 at Boyne Mountain on November 11.)
What exactly is it about wreaths that draws in 600 greenery enthusiasts from all over the state? According to a post on Sweetwater's social media, "Wreaths are the great equalizer. Everyone loves one. Everyone has a story about one. And anyone can make one (with a little professional instruction from a tall corn fed midwestern woman)."
Sheick also hosts entrepreneurial trainings for those interested in starting a floral business or a "bloom-filled side hustle." She says becoming an educator was born out of her desire to share the joy she'd found in flowers with others.
"Everyone is creative," Sheick insists. "Our job at Sweetwater is to help people fit it [creativity] into their lives."
Find Sweetwater Floral at 4128 N M-75 in Walloon Lake or online at sweetwaterfloral.com.
Photo courtesy of Michael Murphy IV Photography
Trending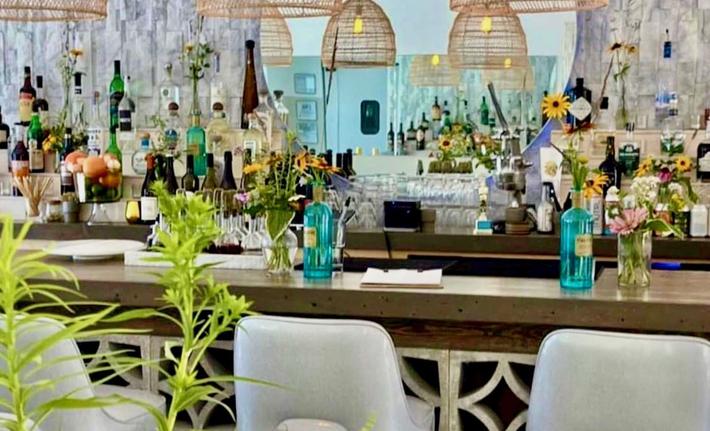 Your Fall Restaurant Guide: Six Spots to Stop for a Bite in Northern Michigan
The weather may be cooling down, but the culinary scene in northern Michigan is heating up. This summer, we explored six n...
Read More >>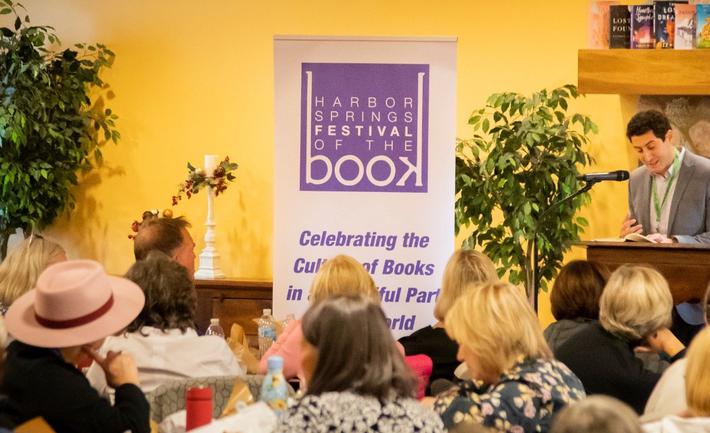 A Weekend of Books
It's a bookish weekend in Petoskey, Bay Harbor, and Harbor Springs! (Be still, our literary hearts!) First up is the...
Read More >>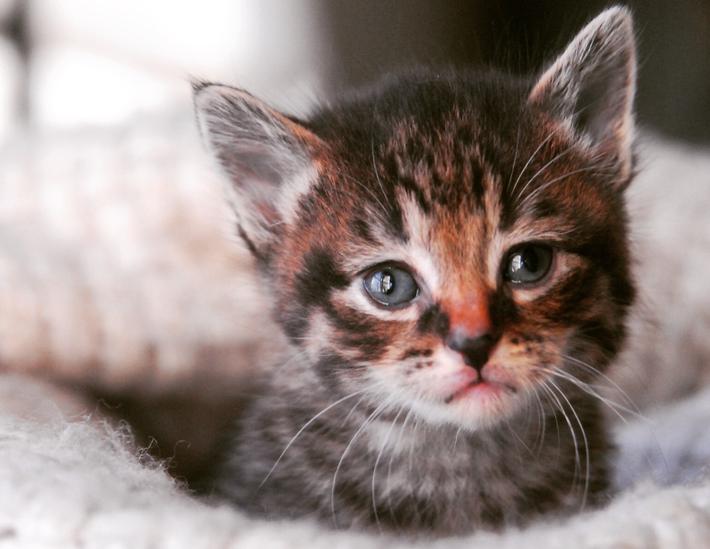 Make Your Pet Famous!
Every fall, Northern Express puts together our Pets Issue, which features stories about our beloved furry friends. As part...
Read More >>

Transformation on the Trail
It's no secret that the Boardman Lake Loop Trail in Traverse City is a popular spot for a stroll. And after a summer...
Read More >>