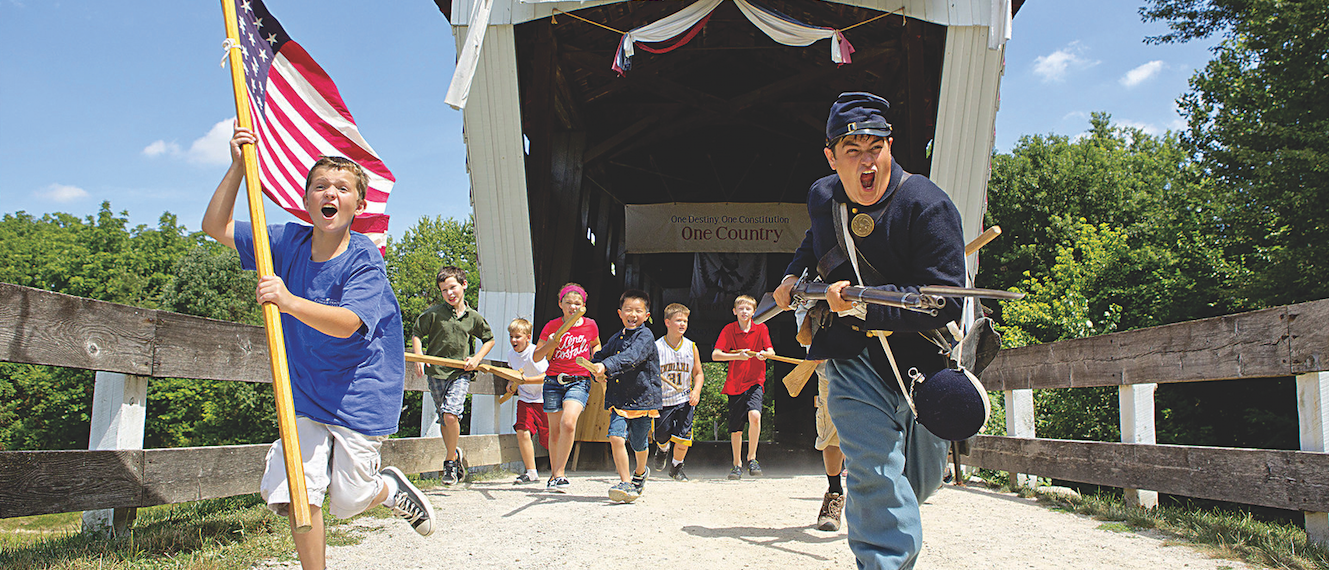 Four Mini Road Trips
Fun within a six-hour drive or less
Longing to get the heck out of Dodge, but don't feel like venturing too far away? Check out these easy-to-get-to destinations. Each are a sweet six-hour drive — or less — from northern Michigan but promise plenty of spring break fun for you and your family.
Frankenfun
Nicknamed "Michigan's Little Bavaria," the town of Frankenmuth, Michigan, is only three hours from Traverse City and Petoskey. It leans heavily on farming and tourism, and the latter is where you'll benefit. You can dine at a plethora of Bavarian-themed, kid-friendly restaurants (The Frankenmuth Brewery is a favorite for parents) and fun boutiques. One must-visit: Bavarian Specialties, which offers authentic German clothing like lederhosen and dirndl, plus treats like soft, cakey lebkuchen.
Whatever you do, don't miss Bronner's Christmas Wonderland, which bills itself as "The World's Largest Christmas Store" (it's nearly as big as two football fields) and is stuffed with 50,000+ holiday goodies and gifts, plus a snack area with refreshments and the delightfully festive "Christmas Lane," which is illuminated nightly year-round.
You want museums? Frankenmuth has 'em, from the Michigan Military and Space Heroes Museum, which showcases authentic flight gear, military equipment, and more for your cadets) and the Lager Mill Museum, which shows the story of the city's brewing history.
Get the wiggles out at the Frankenmuth Aerial Park (zipandclimb.com, opening April 28), where you'll find multi-leveled challenges through a combination of rope bridges, zip lines, and a fun aerial obstacles course, all amidst a dense stand of woods. Get zippy riding down an 850-foot luge track designed by U.S. Olympian Frank Masley (msports.org); or get spooked at the super-popular Mirror Maze, a "bewildering visual adventure" that uses reflective trickery to create endless reflections, dead ends, and confusing circles to keep you from escaping.

Happening Soon in Frankenmuth!
March 26 – Make your own snacks by learning pretzel rolling at the Bavarian Inn (bavarianinn.com).
March 26–31 – Get ready for springtime's biggest holiday when the Easter Rabbit visits Bronner's (bronners.com).
April 12 – Check out a performance from the energetic STOMP at the Dow Event Center (doweventcenter.com/15 minutes away in nearby Saginaw)

More Information: frankenmuth.org

The Belle of Spring Break
So here's the conundrum: You want to go somewhere tropical, but you don't really want to leave the state. And you don't have as much time as you were hoping for spring break — merely a weekend. No problem! Head downstate to the Belle Isle Aquarium and enjoy a delightful mini-escape that will have you feeling like you've headed to the tropics.

Located 4.5 hours south of northern Michigan, the Belle Isle Aquarium is truly a hidden gem. It was designed by famed architect Albert Kahn and opened in the early 1900s, making it the oldest aquarium in the U.S. It spent several decades living a fairly quiet life, until it was revamped and then reopened in 2012. Since then, attendance has tripled — and for good reason. The museum continues to add new exhibits, events, and fish, making this both a historical destination and one that's a favorite of aquarists.

Did we mention it's on a tiny island? So, see — you are living that island life (well, kind of) on this particular spring break trip.

Beyond the aquarium's Beaux Art-style entrance and dolphin-festooned archway (it used to be a speakeasy back in the 1920s!), its interior features skylights and rare green opalite glass tiles glimmering from the vaulted ceiling, the perfect Waterworld-like setting for the fish themselves.

Visit the fish of the tropics, and of other regions of the world, throughout the facility. You'll find both exotic varieties of fish as well as those indigenous to the Great Lakes. Dedicate a full day to the aquarium, and you'll have enough time to leisurely view the fish without rushing through. After your visit, try the pub food at the Thompson House in Windsor (find them on Facebook), or the great Mediterranean/vegan fare at Carrots N Dates, also in Windsor.
Happening Soon at the Belle Isle Aquarium!
April 21 – Add a little environmental action to your vacation by joining the fun Belle Isle crew on Earth Day weekend for their yearly spring tidy-up.

When Spring Arrives: Keep an eye out for the blooming of the floral clock, which features over 2,000 flowers (in-season) and welcomes visitors at the aquarium/park entrance

More Information: detroitaquarium.weebly.com

Little Break on the Prairie
A pleasant six-hour road trip from northern Michigan is Fishers, Indiana, where you'll find Connor Prairie (pictured), the first Smithsonian affiliate in the state and one of the most visited museums in the nation. Blending science, history, art, and nature, this is one of those terrific mega-places that truly offers something for everyone in your family.

Being a Smithsonian affiliate means that exhibitions and items from the Smithsonian's national collection rotate through Connor Prairie over the year, including major works of art, scientific specimens, and historical icons.
But it's Connor Prairie's outdoor exhibits — a major part of the Prairie's draw — that you'll really find yourself digging into. The outdoor portion reopens on March 27, just in time for you to take part of your spring break down to the Hoosier state. Step back into 1836 Prairietown, where the people, buildings, objects, and happenings are just as they were over 150 years ago.

Take the 1859 Balloon Voyage, and literally soar up above the museum grounds to experience it from a different perspective. Explore what life was like during the Civil War and "enlist" to help defend the state. Or visit the Lenape Indian Camp to get a peek into early Native American life.

Also outdoors, you can climb up into the park's four-story treehouse. Take a nature walk along the White River (you can even "equip" yourself first with a special backpack), or spend some time in the barn of a real working farm, where you'll meet farm animals and see how things work.
And back indoors, you'll find craft and discovery stations around every corner, plus the Create.Connect indoor exhibit that celebrates innovation, invention, and change in Indiana and beyond.

Happening Soon at Connor Prairie!
April 14 – Passport to Hi-Tech, a hands-on event where kids and teens can learn about STEM and how they can participate.
April 15 – The Prairie Plates event offers sophisticated foodie fun for adults featuring farm-to-table cuisine from Taxman Brewing Co.
April 28-29 – Shear Fun, where you'll meet sheep, watching herding demos, and learn about yarn.
More Information: connerprairie.org
Springtime Sciencetime
If you seek science for your springtime fun, then the Cranbrook Institute of Science — located in Bloomfield Hills, Michigan, about a four-hour drive from Up North — has mastered the art of making education fun.

The on-site Acheson Planetarium allows viewers to escape into space; its state-of-the-art Digistar projector (accompanied by a booming 5.1 surround sound system) virtually takes you through galaxies and around planets. The Cranbrook Observatory features three new telescopes and a new dome for a remarkable night sky viewing experience that will also allow safe live observations of the sun in the daytime.

The Motion Gallery allows you and your kids to play with physics in fun ways, as you balance, spin, and collide various objects in hands-on, on-site experiments.
Love the Ice Age movies? Learn more about the actual history behind the cute cartoons at Cranbrook's Life Changes Over Time, Mastodons, and dual Ice Age galleries, in which you can see a full-sized Tyrannosaurus Rex dinosaur cast, learn about mastodons, and discover how our own state's geography was changed by the moving of glaciers.

And nature aficionados will especially enjoy Cranbrook's natural world exhibitions, which include Our Great Lakes Watershed (you can even make it rain, sleet, or snow by adjusting moisture levels in one section of the exhibit); the Woodlands Den, a look at Michigan plants and plant habitats; and the Mineral Study Gallery, which has grown to over 11,000 fascinating specimens.
Happening Soon at the Cranbrook Institute of Science!
April 2-6 – Spring Into Science with this earth-friendly spring break workshop series all about our planet and its environment
April 21 – Astronomy Day invites you to join Cranbrook astronomers and members of the Warren Astronomical Society to learn more about the universe

More Information: science.cranbrook.edu

Trending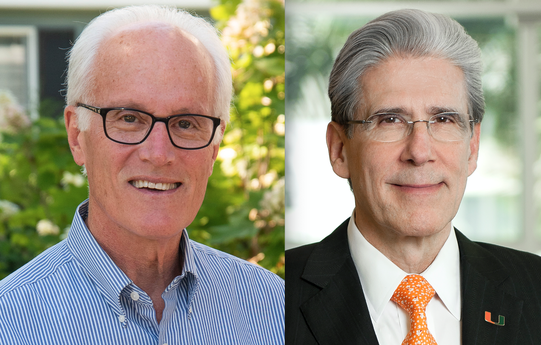 Listen In: Two Global Health Experts — one in TC — to Talk Pandemic
This week, the Traverse City International Affairs Forum at Northwestern Michigan College opens its 27th season ...
Read More >>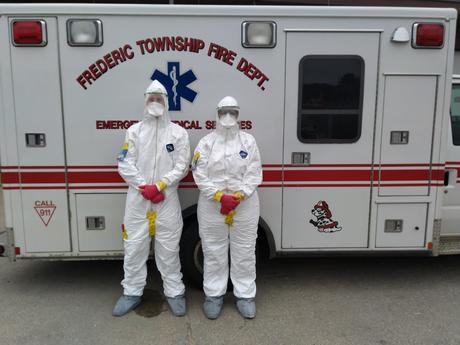 What First Robotics Teams Did on Their Summer Break
When the coronavirus pandemic first hit, masks, face shields, and other personal protection equipment, aka PPE, were hard ...
Read More >>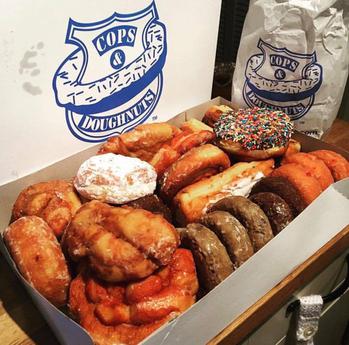 Gaylord's Cops & Doughnuts
There's a cop shop in Gaylord where the phrase "D.W.I." has nothing to do with adult beverages or erratic driv...
Read More >>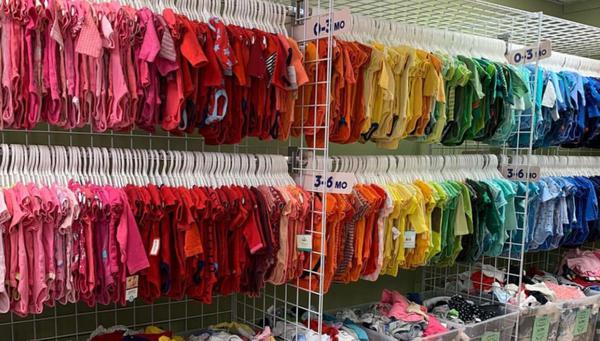 Resale is the New Black
It's a common tradition at this time of year: parents flocking to clothing stores in the last weeks of summer to get...
Read More >>
↑