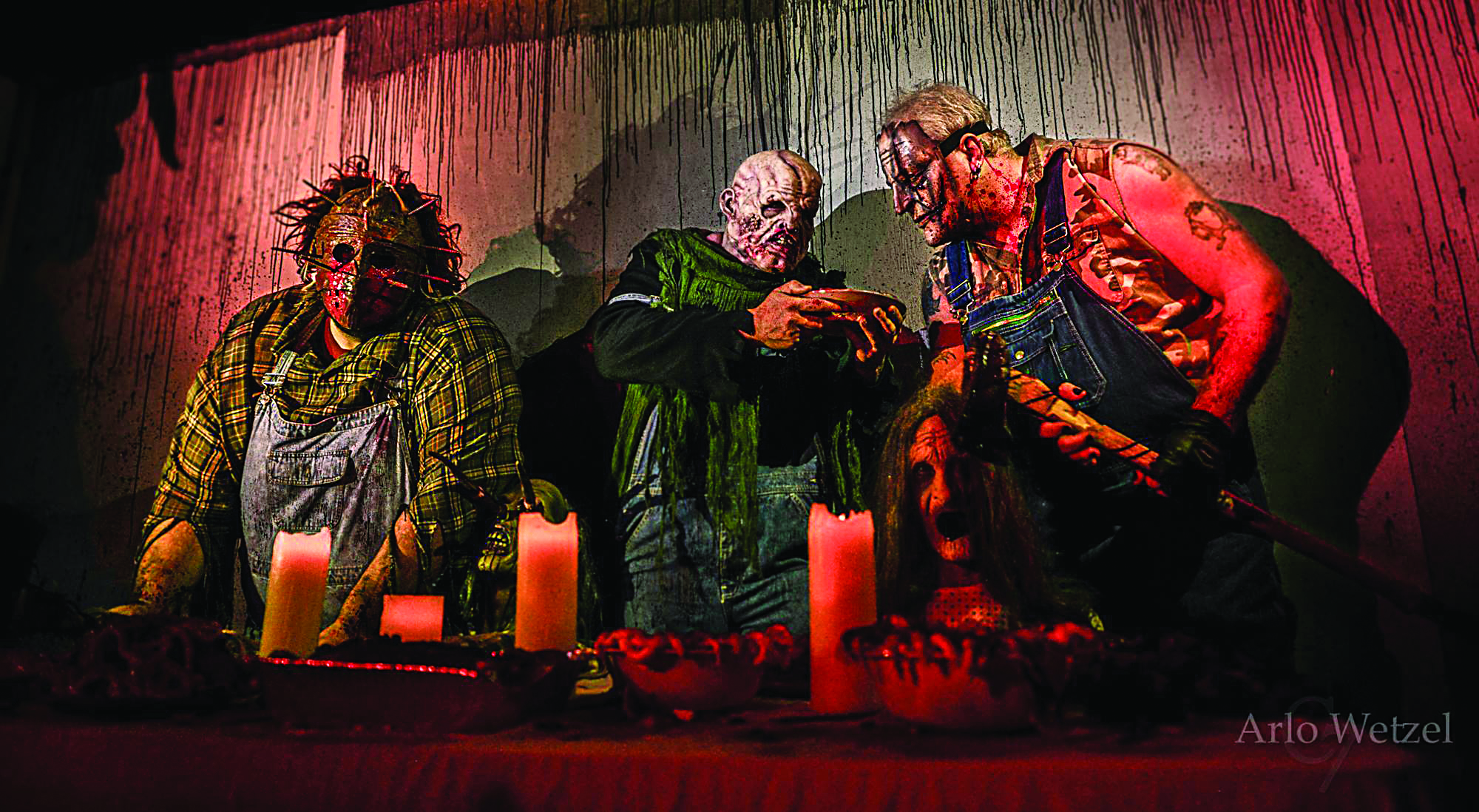 Get Scared
Halloween haps around the North
Looking to get frightened, fooled, spooked, or scared? Or just looking for a place to show off your awesome costume and enjoy some Halloween treats? We've got the scoop on some neat happenings around northern Michigan this Halloween.

SCREAMS IN THE DARK (pictured)
Oct. 5–28, Fridays–Sundays only
Every other Halloween event in the region too wimpy for you? Then this is your scarefest. A walk from The Mausoleum to Grimfell Asylum, the Pandemonium, and the Swamp of Suffering, where legend tells of failed experiments that were dumped into the swamp to die … but instead made the swamp their domain, corrupting everything from the overgrown pathways to dark, deserted shacks. If you can't handle this more serious side of scary, then your best bet is the Haunted Hayride, but while it's still considered family-friendly, even that one is several broken, cobwebbed steps above your "normal" Halloween attraction (how so? Example? Recommended age range?).
Scare Score! 9/10
Find It: Northwestern Michigan Fairgrounds, 3606 Blair Town Hall Road in Traverse City
Admission: $5 for Haunted Hayride/Trail, $15 for all attractions ($10 for kids)
More Info: www.evernighthaunt.com

PUNKIN' CHUNKIN'
Oct. 22–23
It's always 1932 at Wellington Farm, a mid-Michigan vintage destination that offers a detailed look into farm life in the rural Midwest during the Great Depression. While we're not entirelysure if folks actually were flinging Halloween pumpkins with a giant trebuchet back then, the Punkin' Chunkin' has become an annual ritual at the Farm, with pumpkins being flung as far as they can be fly starting at 10am daily. You can purchase some pumpkin 'ammo' if you want to see how far you can get one of these orange gourds to go and also enjoy plenty of other autumn activities on the farm, from tours of historical buildings and displays to the simple pleasures of cider and donuts. [provided, to buy?]
Scare Score! 1/10
Find it: Wellington Farm, 6944 S. Military Rd., Grayling
Admission: $10 adults/$7.50 seniors/$6 kids through high school; separate fees for punkin' ammunition.
More Info: www.wellingtonfarmpark.org, (989)-348-5187
FRIGHT NIGHT AND HEADLANDS CHALLENGE
Oct. 27
Two different doses of Halloween scares are available at this yearly event. The first, Fright Night, which starts at 5pm and ends at 7pm, takes place at Heritage Village near Mackinaw City. The village itself will be decorated for the festivities, with ghouls and goblins around every corner — but much like Casper, these are friendly ghosts, ready to pass out some treats! The Pavilion at the village will serve fresh doughnuts and apple cider throughout the event. Guests are encouraged to wear their best Halloween costumes. The second, and slightly scarier option, is the Headlands Challenge at the Dark Sky Park (8pm to 10pm), where you'll wind your way down the park's 1-mile paved entrance path guided only by the light of candles. Be prepared, because you'll see plenty of spooky things along the way. Once you reach the main building, you'll be able to browse fun gifts in the gift shop, and join astronomers out on the viewing platform for some Halloween sky viewing through telescopes.
Scare Score! 5/10
Find It: Fright Night is at Heritage Village, 1425 W. Central Ave. in Mackinaw City. The Challenge is at the Headlands, 15675 Headlands Rd., just south of Mackinaw City.
Admission: Free
More Info: Visit middarkskypark.org or call (231) 427-1001.

TEE LAKE HALLOWEEN SPOOKTACULAR
Tee Lake has stepped down the scariness of their Halloween offerings from last year's over-the-top drive-thru haunt CarnEVIL to this year's family friendly stroll through Halloweentown. Happening every night in October, 7pm–10pm, the walk features low-key scares and Halloween-appropriate music. You can fully capture the slightly spooky experience by staying overnight at one of Tee Lake's themed cabins — Igor's Hideaway or The Witch's Cottage — and snag some spooky souvenirs at the Voodoo Gift Shop, too.
Scare Score! 3/10
Find It: 3987 Tee Lake Rd., Lewiston
Admission: free
More Info: www.terroratteelake.com
What's NOT Happening This Halloween
Looking for 2018 info about Nightmare on Challenge Mountain, the massive annual Halloween event in a remote corner of Boyne Falls that tours you through scary scenarios like the Grateful Dead Graveyard and the Deadly Witches Cottage? You're not alone.
But the nightmare has ended for this interactive Halloween extravaganza. After years of production and thousands of dollars raised for Challenge Mountain (a park that works to enrich individuals with disabilities by involving them in adaptive recreation opportunities), coordinators Terry and Jim Baker have retired.
The project has been taken over by longtime volunteer Burton Jones, but he's opted not to open Challenge Mountain this year; instead, he devoting his efforts to restructuring the team, reorganizing all of the sets and props, and readying for a return — an event renamed "What Nightmares May Come" — in October 2019.
Also out of action this year is Wolverine/Gaylord's annual Halloween event "Scream in Wolverine." After 14 years, its organizers have decided to close down the Scream until further notice, due to shrinking staff and the sale of the property where the event has long been held.
Finally, in Boyne City, the Boyne Firefighters won't be holding their annual haunted house event this year. But they will be passing out candy at their firehouse between 5-8pm, at 319 North Lake St., following the city's Halloween parade, which starts at 4:30 on Pine Street.
Trending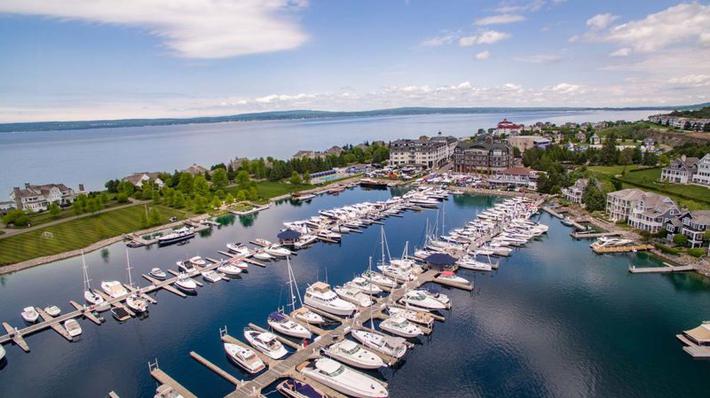 We Like Big Boats, and We Cannot Lie
Since buying your own yacht isn't likely this year due to supply and demand issues, what's the harm in dreamin...
Read More >>
Ending the Filibuster
The filibuster, much in the news lately, has an interesting if not usually glorious history. From the French word...
Read More >>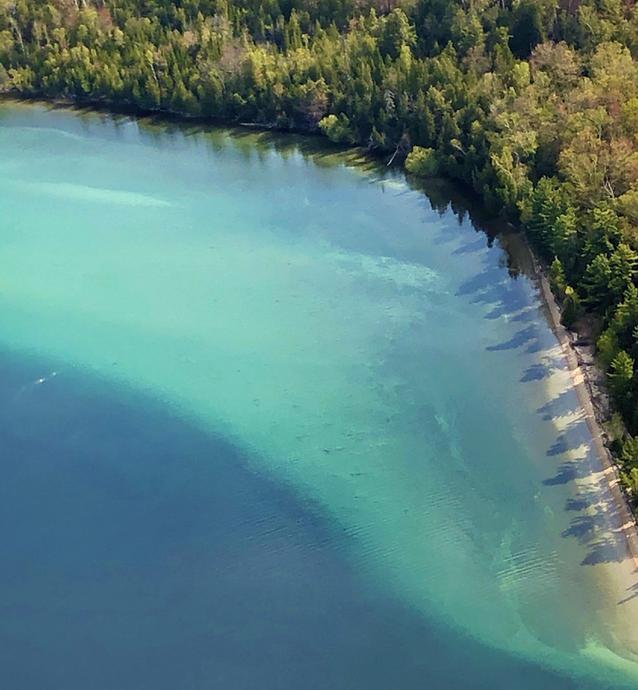 Torch Lake Takeover
You don't need to live on the shores of Torch Lake to know how breathtakingly gorgeous it is. A massive inland lake ...
Read More >>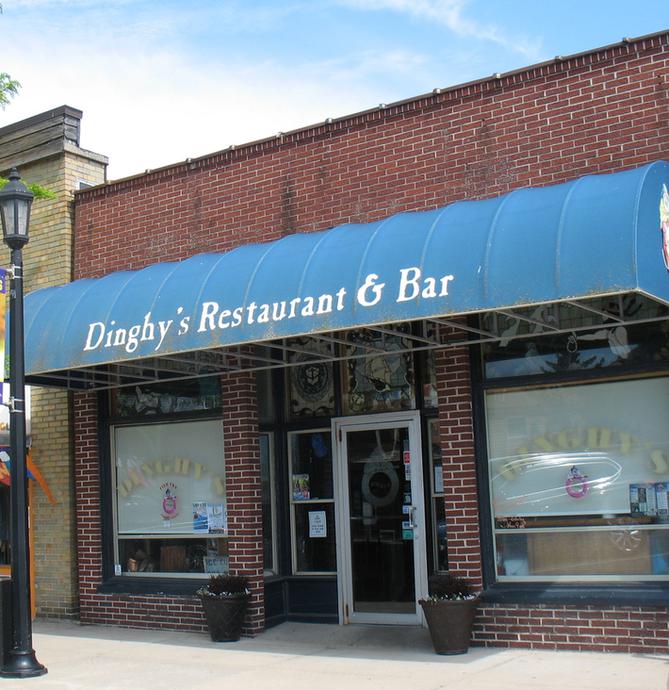 Dinghy's Restaurant & Bar
Kelly Sandman chuckles at a customer's joke, runs a cloth across a section of the 33-foot-bar, then greets a famishe...
Read More >>
↑